Alcor is a BPO company that knows how to orchestrate all your operational tasks, including the hiring process of solution developers. I will highlight the main challenges, pitfalls, useful tips, and cases from my professional experience to help you find the best IT talents in your software development team structure.
Keep reading to discover how to hire a solution developer, which responsibilities do such specialists have, and what are some tricks to ensure an effective recruitment process. Let's start!
Who are Solution Developers and What Do They Do?
Solution developers are unique IT specialists who cover a wide range of responsibilities. Apart from software development, they also communicate closely with a customer, present their ideas, strategies and provide budgets. Once the customer approves the project plan, the coding part starts. Solution developers have to assess clients' needs carefully, handle troubleshooting and deployment. Such an approach enables them to create custom products to accomplish the goals the client has set. As regards the requirements of customers, they can vary from computer programs to graphic designs.
The qualification needed to apply to a solution developer position differs depending on the company. For instance, for some enterprises, a university degree in computer science is a must. Others give preference to Microsoft-certified solution developers. They are the experts who deliver customized software using a variety of tools from the MCSD package. A specialist who obtained such a certification is recommended by Microsoft as a trained professional to provide solutions as required by the business. Since Microsoft has announced the shift to role-based training a couple of years ago, MCSD is now substituted by Azure Developer Associate certification. Therefore, I advise programmers to update their CVs with this role-based accreditation. 
Alcor Model to Hire a Solution Developer Fast
If you are looking for a skilled solution developer, consider Alcor as a reliable provider. We can provide e-commerce, AI, IoT, healthcare IT recruitment, and more. Our IT recruiters have an effective and stressless strategy to assemble your custom solution development team. Firstly, we will create a profile of your ideal candidate based on your requirements and prepare a catchy advert for an open position. After that, we will request references, conduct test assignments and job interviews with the best applicants, and send you CVs of verified software solution developers in up to 5 days. Our team will keep you up-to-date throughout the entire hiring process by weekly reports on the work done. We also invite you to take an active part in the final candidate selection. 

Our recruitment services can be leveraged as a part of a bigger solution – your own R&D center. That means that Alcor operates as an all-in-one place to support you with legal, real estate, payroll, and accounting services for running your business in Ukraine. With our BPO company, you will be able to focus on programming instead of administrative matters and time-consuming documentation.
People.ai is a software product company from the United States that discovered the benefits of such cooperation. It develops an innovative business platform for B2B sales with the help of machine learning technology. The company decided to expand its development team abroad because of the lack of skilled human resources in the USA. Eventually, Alcor managed to hire 25+ IT talents for People.ai and successfully established a fully-backed up R&D office just in 1 month. With our full-cycle support, the enterprise received complete operational comfort for doing business in Ukraine. Recently they got a $100M investment that marked their way to IPO!
3 Tips to Find and to Hire a Solution Developer Expert
1. Make a checklist of professional skills.
Custom software solution developers spend a lot of time communicating with clients and other IT specialists. Therefore, for this type of engineer, soft skills are especially important. The perfect candidate usually demonstrates excellent verbal and written technical communication skills, has the proven ability to build solid working relationships with internal and external partners, and strong attention to detail. To build rapport with a customer, a solution developer ought to be a responsible contractor and a good listener to understand all the requirements clearly.
To communicate clients' requests concisely to the rest of the team, an applicant should have sufficient technical knowledge. When it comes to hard skills, the resume must include Java, Python, or/and Shell programming languages. Experienced solution developers have a strong understanding of integration techniques and are able to handle debugging, testing, and recoding of web-based applications. Nevertheless, most of the required abilities depend greatly on the industry the client is working with, whether it's healthcare, fintech, education, or e-learning.
2. Prepare a hiring strategy.
In order to hire dedicated IT engineers and move a part of your business abroad these days, you should have a step-by-step strategy – and that's not an exaggeration. To begin with, it's better to shorten the recruitment process to save the precious time of the candidates and don't let them slip away to another IT company. Limit the hiring process to 2-3 stages and think carefully before adding time-consuming technical tests. They may be redundant in case you request a portfolio with the previous projects. I also advise you to prepare a list of selling points and include them in the presentation of your company. For instance, the product stack, impressive social package, or enterprise-level clients are the aspects worth emphasizing to persuade a specialist to join your solution development team. 
3. Choose an offshoring destination carefully.
Another point worth taking into account when hiring IT talents abroad is the offshoring location. First of all, it will affect your business expenses and the quality of software development. For this reason, hiring Ukrainian software developers is a good option because of the large talent pool of university graduates and governmental tax incentive program, which implies only 5% tax of the income. To illustrate the difference in relevant pay scales across Ukraine and the United States, let's have a look at the table down below. Please note that the mentioned rates are presented in gross.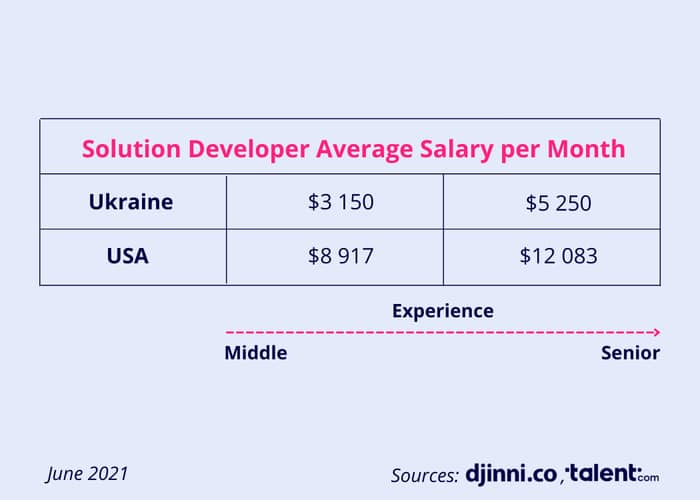 If you also need other IT specialists in your remote development team, check out the average ETL developer salary, Software Team Leader salary, Django developer salary, the wages of .NET and React.js programmers.
Final Thoughts
To sum up, a solution developer is a multitask professional who definitely can make a positive contribution to the software development of your product. Due to the diverse liabilities of this full-stack specialist, you should check both hard and soft skills carefully. Alternatively, you can cooperate with a reliable vendor to hire excellent remote experts.
Alcor provides a wide range of BPO services and a turnkey solution for IT product companies looking for offshore software developers in Ukraine (as well as setting up an R&D center). Apart from fast and quality recruitment, we can also take care of legal compliance, accounting, real estate, and additional services. If you ever wondered how to recruit software engineers efficiently, write us! We know the answer.