Whenever tech leaders need to get experienced software developers on board, they choose between two business expanding models: offshoring and outsourcing. Some companies may also view IT outstaffing as a viable alternative to outsourcing because of more effective communication with the team and enhanced management.
Today, I would like to focus on offshoring and talk about the different types – such as nearshoring, onshoring, and mainly offshoring – the main pros and cons of these solutions, and offshoring cases that made this staffing option the #1 on the IT market.
What Should You Know About Outsourcing and Offshoring?
Outsourcing is a business practice that involves hiring an outside provider to perform a task or project. To make this solution for staffing crisp and clear, I'd like to describe it with the example of People.ai, an IT product company based in the USA that provides an AI platform for B2B sales. If People.ai needed to outsource programming, they would hire a third-party company, sign a contract with them, get some results, and pay for their services. But they chose to delegate development via offshoring.
Offshoring presupposes transferring either a part of, or the whole business, to distant countries with big IT talent pools, reduced labor costs, and favorable tax incentives. For instance, People.ai offshored their business operations to Eastern Europe and decided to open their own R&D office with Alcor. As a result, the new development hub for People.ai was ready in 1 month. Besides, we hired more than 25 developers within a few weeks, prepared all the necessary documents to comply their business with local laws and American ones, and many more other things.
What is Nearshoring and Why Do Tech Leaders Use It?
Nearshoring is a type of offshoring that allows CTOs to delegate business processes to neighboring countries. For instance, if a company headquarters is located in the United States and it decides to nearshore, they would find a vendor in Canada or opt for IT outsourcing to Mexico.
Offshoring vs. Nearshoring: What is More Beneficial for Your Business?
To compare nearshoring vs offshoring (or farshoring), let's consider the main factors IT companies need to consider before choosing any of these staff engagement solutions.
Access to talented developers
When top managers need to bridge the tech-skills gaps in their companies, they compare offshoring vs nearshoring. While nearshoring provides a quite scarce supply of seasoned programmers, offshoring opens the door to millions of IT professionals ready to land jobs. For example, Eastern Europe connects international business with over 1 million tech specialists.
Financial benefits
With nearshoring, cost-effectiveness is hardly measurable, especially if you're based in the US and nearshore to Canada. On the other hand, offshoring provides up to 70% of savings on expenses in such countries as Poland because of both lower developer salaries and lower taxes. Most local programmers there work as individual entrepreneurs and pay only 8,5%-12% of income tax each month.
Time zones
What is nearshoring regarding time zones? It's the solution that lets you have a similar time and get an immediate response from your provider. However, offshoring offers an unexpected benefit of time differences – non-stop business processes. This is especially useful for companies that delegate technical support because they are always available for their customers.
Management process
In contrast to nearshoring, companies in tech used to offshore less because their leaders couldn't regularly visit overseas offices. But the pandemic has made remote work a necessity, the locations of workers are no longer important, and offshoring is now a trend. Tech companies manage their teams through online tools such as Zoom, Slack, or Skype even if they are 1,000 miles away from each other.
Intellectual property rights
Every forward-thinking business leader wants to keep IP in-house when they develop web or mobile apps via outside providers. It's not clear how nearshoring partners ensure IP rights safety for their clients, but experienced offshoring companies always specify who owns the intellectual property in the contract.
What is Onshoring for IT Companies?
Onshoring is also a type of offshoring that involves relocating some tasks to providers in the same country but in a different region or city. For instance, a company may have headquarters in California and open another onshore representative center in Texas or other states. This allows for cutting some expenses and extending the team.
Offshoring vs. Onshoring vs. Nearshoring – What's the Big Difference?
One of the main distinctions between offshoring vs onshoring vs nearshoring is talent availability. If you're based in America and plan to onshore, you might have trouble with hiring because around 70% of American employers struggled to hire professionals in 2020. In this case, nearshoring and offshoring supplement skill gaps more efficiently.
Another difference between these three team extension options is cost-efficiency. For US-based companies, onshoring is the most expensive type of offshoring because of high rent prices, taxes, and developer salaries – for instance, Middle JS Developers in the States make around $90,000 a year. In comparison, their Polish and Romanian counterparts charge three times less in general for the same services, which is worth considering offshoring as the #1 staffing option.
But what is onshoring in terms of time zones and management? If you compare onshoring vs offshoring vs nearshoring, you'll see that onshoring lets you receive quite fast feedback from the provider and supervise software development. But the IP rights question is still open because no one knows whether you will be the owner of the source code and intellectual property or not.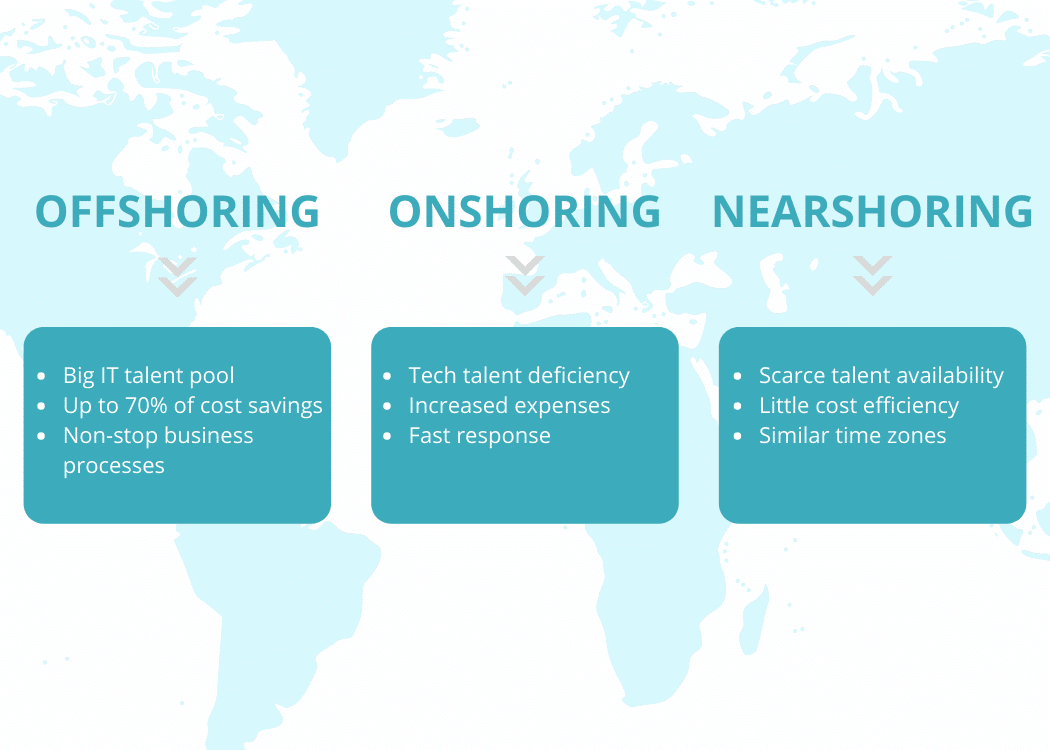 What's Better — Offshoring, Onshoring or Nearshoring?
No matter if you're a startup or an enterprise, you need to take into account all the arguments of offshoring types that I have described above. As you can see, only offshoring appears to be the most skill-friendly, cost and time effective, and secure staffing option.
If you want to make use of offshoring, you may do it through two models: your legal entity or an offshore software development center. Remember that the former will require you to take care of business compliance with laws in your country and offshore place, hire workers, pay them salaries, and be held responsible if anything goes wrong.
If you want to avoid these tedious operational procedures, create your development hub with a vendor that can do it for you. For example, Alcor is the leading business process outsourcing services provider in Eastern Europe that offers a full cycle of back-office functions for IT product companies, such as:
Our IT researchers and recruiters will always be of help especially if you need fast and quality IT recruitment services. They will select the best middle-, senior-, or higher-level engineers to build your custom website or application. Having a database over 600,000 Eastern European developers, we guarantee to recruit 20+ IT specialists in 3 months for you!
Our lawyers provide IT legal & compliance services to ensure that the Alcor model becomes a reliable shield for your company – we will make sure your business operations are lawful and consult you on local legislation changes and taxes in the US vs the EU at any time.
For instance, when Grammarly, the top writing assistance provider for more than 4 million people, needed to legalize their foreign developers and obtain residence permits for their families in Eastern Europe, we made it happen and even saved the client's time regarding paperwork and procedures – so they could focus on their core business.
Our company's finance department will oversee payroll, pay taxes, perform an audit, and do many other processes to let your R&D center legally function in Eastern Europe.
Before the pandemic, we would find, redecorate, and supply procurements to our clients' offices. By now, our real estate managers have already renegotiated lease terms with existing clients in Eastern Europe, helped them with transferring their office equipment to developers' home offices, set up infrastructure for remote working spaces, and stayed in touch 24/7 in case our customers need us.
If you need to promote your brand, get help with business travel, or move your overseas employees to one of the Eastern European countries, we will do this and even more.
Final Thoughts
All offshoring types – nearshoring, onshoring, and offshoring – come with a range of benefits and risks. While nearshoring and onshoring provide immediate communication because of similar time zones and thus result in decreased management from your side, these business practices cannot offer enough talents and consume your costs.
That is why offshoring is a win-win solution here, especially if IT companies adopt it by setting up an R&D office. The Alcor BPO company can assist you in this process and take care of all IT BPO services, such as recruitment, legal, accounting, remote office, and so on.