With AI and machine learning being on the rise, the IT sector is at its best. However, Korn Ferry informs us that by 2030, 85 million tech vacancies could not be closed due to the lack of skilled candidates on the US market, resulting in approximately $8.5 billion in annual revenue going unrealized. To combat talent gaps and save money on IT recruitment, companies offshore software development to financially attractive locations. So, in this article you'll find some comprehensive research of IT professions and offshore software development rates by country and region. 
Average Offshore Software Development Rates by Region
Software Development Statistics
Due to the Great Resignation trend and a growing talent shortage, the need for qualified devs in the US is projected to rise by 25%, which equals to more than 400,000 vacancies, between 2021 and 2031, states the U.S. Bureau of Labor Statistics. With regard to this, IT Outsourcing sector revenue is forecast to grow by more than 8% until 2027, adding to market value which will equal more than $580 billion. On the other hand, other regions all over the world are training more and more tech professionals, becoming a silver lining for the talent gap that the US is facing. 
Most Marketable Tech Specializations
The tech spheres attracting most attention these days are cloud computing, cybersecurity, web development, mobile development and AI/machine learning. In conclusion, most demanded professions are: 
Cybersecurity Specialists
Front & Back End Developers
Full Stack Developers
Mobile Developers
DevOps Engineers
Cloud Engineers
Blockchain Engineers
AI Professionals
Data Scientists
Business Analysts
UX designers
As for skills, the industry centers around such programming languages as JavaScript, TypeScript, Java, SQL, Python, Kotlin and Swift, plus such libraries & frameworks as React Native, React, Angular, Vue.js and others. 
Based on these trends, we picked 7 professions and included most needed skills into our research of offshore development rates below. 
Average Region Hourly Rates 
Here is the breakdown of software development rates by region, based on the countries analyzed below and the average hourly pay for professions and skills in each.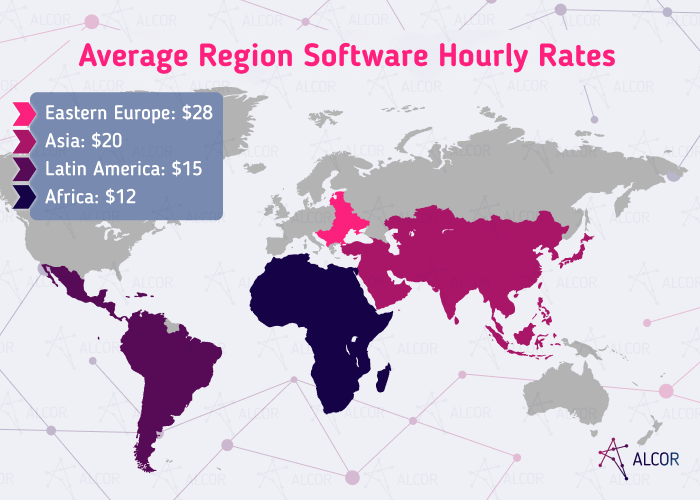 However, keep in mind that the average number by region doesn't fully represent the rates in each country, and that's why we went even further with our research. 
Hourly Offshore Software Development Rates by Country
Analyzing each sector, we've described its key features and presented offshore rates for software development for professions that are gaining traction. This is average hourly pay, calculated with the help of salaries of junior, middle and senior programmers. Additionally, you'll find a table with the wage for specialists using in-demand frameworks, languages and libraries for each region.
Important note: the following rates don't factor in any additional bonuses for software engineers which might range from $1,000 to $2,000 per month depending on their experience and expertise. 
Eastern Europe
Eastern Europe is famous for its vast over-a-million talent pool, which has helped it become an offshoring haven for USA and Western Europe. What's more, the number of tech specialists is growing, with Poland and Romania leading the way, each graduating more than 10K qualified programmers per year. 
Another major factor contributing to the rapid growth of its IT sector is the high level of English. According to the English Proficiency Index, Poland comes second after Croatia with very high proficiency, while Slovakia, Romania, Bulgaria and the Czech Republic rank 15th, 17th, 21st and 23rd accordingly. Culturally, the Eastern European mindset is close to that of the US and Western Europe. Therefore, there won't be any serious stumbling blocks in communication between the in-house and remote teams.
What makes this region attractive in terms of software development is its well-developed startup ecosystem, favorable business environment and more reasonable taxes compared to the US. Software engineers display solid tech expertise and, moreover, versatility of knowledge. When we were assembling a professional team for Dotmatics, we had a chance to once more highlight exceptional engineering skills of Eastern European software developers. The company was on the verge of expansion to the EE market and actively seeking professionals for their scientific software company. Not only did we manage to hire a Director of Engineering, Node.js programmers, React developers and a DevOps engineer, but we also filled two positions of a Front and Back End developer with a seasoned Full Stack developer. In the end, our client was on cloud nine and emphasized more than once how perfectly the candidates fit into the team both professionally and culturally. 
Below you can see offshore developers' rates for different professions in the most popular EE countries.
| | | | | | | | |
| --- | --- | --- | --- | --- | --- | --- | --- |
| | Full Stack Developers | DevOps Engineers | Cloud Engineers | Blockchain Developers | Mobile Developers | IT Security Specialists | UX designers |
| Bulgaria | $16 | $14 | $16 | $12 | $12 | $13 | $11 |
| Czech Republic | $24 | $21 | $23 | $16 | $28 | $24 | $20 |
| Poland | $23 | $21 | $23 | $33 | $21 | $22 | $17 |
| Romania | $18 | $14 | $16 | $10 | $10 | $16 | $11 |
| Slovakia | $20 | $19 | $26 | $13 | $14 | $23 | $19 |
Most sought-after languages, libraries and frameworks in Eastern Europe include Kotlin, Java, Goland, React.js, Vue.js and React Native. As can be seen below, such additions to the tech stack impact the software engineer hourly rate considerably.
Front End Developers
Back End Developers
Mobile Developers
React.js
Vue.js
Java
Golang
Kotlin
React Native
Bulgaria
$44
$47
$25
$36
$43
$29
Czech Republic
$28
$38
$34
$39
$39
$29
Poland
$45
$50
$26
$37
$40
$34
Romania
$34
$40
$28
$38
$37
$40
Slovakia
$47
$52
$31
$38
$41
$36
To conclude, Polish and Czech programmers have the highest wages ($16-$28 and $17-$33), while Romanian and Slovak developers are paid a bit less ($13-$26 and $10-$18). The smallest range is noted in Bulgaria — $11-$16 per hour. Regarding specific skills, it is clear that Vue.js and React.js developers are in demand with the highest rates across the EE market ($28-$47 and $38-$52). Meanwhile, React Native experts have the lowest rate in this comparison ($29-$36 per hour). 
Latin America
The Latin American market has been the number one IT outsourcing destination for US companies due to two main reasons: its cultural proximity and overlapping time zones. These benefits definitely make it a nearshoring location worth considering. As for the level of English proficiency, Argentina ranks #1 in Latin America, followed by Brazil, Colombia, and Mexico. However, the command of English in South America is not as good as in Eastern Europe. 
The South American talent pool amounts to more than 1 million developers, with 900,000+ in Argentina, Brazil, Colombia and Mexico, not to mention the rest of the countries on the continent which has been experiencing rapid growth in the tech sector. On top of that, each aforementioned country is leading in at least one IT sphere — Brazil, with its largest software developer talent pool on the continent, is at the forefront of cybersecurity, while Mexico and Argentina are gaining momentum in their mobile development sector. These trends are reflected in our offshore software development rates comparison. 
| | | | | | | | |
| --- | --- | --- | --- | --- | --- | --- | --- |
| | Full Stack Developers | DevOps Engineers | Cloud Engineers | Blockchain Developers | Mobile Developers | IT Security Specialists | UX designers |
| Argentina | $11 | $11 | $12 | $11 | $14 | $10 | $9 |
| Brazil | $18 | $17 | $18 | $14 | $11 | $17 | $14 |
| Colombia | $10 | $9 | $9.5 | $7 | $8.5 | $9 | $8 |
| Mexico | $16 | $14 | $16 | $13 | $14 | $14 | $12 |
Speaking about the overall tech scene, languages and frameworks, Colombia has a robust startup ecosystem and paves the way in JavaScript, having gathered the biggest tech programmer community in the Latin American region. For that reason, one of its main cities, Medellin, has been dubbed "the Silicon Valley of Latin America". Argentina is a thriving tech scene for more than 1,000 startups. As for unicorns, 60% come from Brazil, 17% from Argentina and 11% have been founded in Mexico so far. 
Brazilian, Argentinian, Mexican and Colombian developers are considered to be skilled in Python, Ruby on Rails, Java, SQL and more. 
Front End Developers
Back End Developers
Mobile Developers
Node.js
TypeScript
Python
Ruby
Java
Swift
Argentina
$13
$15
$14
$18
$24
$27
Brazil
$22
$25
$27
$17
$26
$30
Colombia
$12
$14
$20
$20
$16
$12
Mexico
$18
$20
$16
$15
$13
$15
Summing up, devs with various tech stacks from Colombia and Argentina earn slightly less than those from Mexico and Brazil: $7-$10 and $9-$14 as opposed to $12-$16 and $11-$18 per hour. Furthermore, the cloud computing industry development is reflected in higher Cloud Engineer rates in these two more highly-paying countries. More than that, the rise of mobile development can be witnessed in connection to the higher average rates for Java and Swift — $13-$26 and $12-$30 — across all the countries mentioned. 
Asia
The Asian market has long been at the top of offshore destinations in the world thanks to its affordable rates and the sheer number of developers. India is reported to have more than 5 million programmers in 2023, while China, with its 7 million software developers, adds up to at least 12 million in these two countries alone. However, Japan, South Korea and the Philippines are also widely known as outsourcing locations. The data from GitHub only confirms the fact that Asia has the highest number of developers in the world and, what's even more stunning, this number is increasing every year. Thus, there's no talent shortage in comparison with the US. 
Being an English-speaking country, the Philippines is known for its fluent devs. South Korea and India, in comparison, have a moderate level of English, and China is regarded as having relatively low proficiency (according to the EF Index 2022). 
However, there is a number of drawbacks you should be aware of if you decide to outsource your development to Asia. The first point relates to copyright issues in Asian countries, i.e. the employer runs the risk of code leaks which can potentially crush their software products. The second concern is that many people choose software engineering as their major due to potentially high salaries and opportunities for immigration, thus doesn't necessarily guarantee the best quality and commitment to the project. For instance, just 60% of Indian developers write clear code. 
Therefore, the Asian IT outsourcing market, albeit popular and developed, comes in third after the Eastern European and Latin American markets. 
Another thing to consider is how software engineering contract rates differ across Asia. 
| | | | | | | | |
| --- | --- | --- | --- | --- | --- | --- | --- |
| | Full Stack Developers | DevOps Engineers | Cloud Engineers | Blockchain Developers | Mobile Developers | IT Security Specialists | UX designers |
| China | $23 | $22 | $24 | $21 | $21 | $24 | $18 |
| India | $8.5 | $8 | $9 | $7 | $7 | $12 | $7 |
| Japan | $32 | $35 | $36 | $27 | $23 | $33 | $25 |
| South Korea | $23 | $26 | $29 | $21 | $23 | $32 | $23 |
| Philippines | $7.5 | $7 | $8 | $6 | $6 | $9 | $7 |
JavaScript topped the list of most used programming languages worldwide and, along with TypeScript, is well in demand in Asia, especially China and Japan. Other sought-after skills include Python in India and C++ in the Philippines.
Front End Developers
Back End Developers
JavaScript
TypeScript
C++
Python
China
$28
$27
$25
$22
India
$8
$8
$11
$9
Japan
$32
$32
$22
$48
South Korea
$29
$20
$21
$29
Philippines
$8
$7
$8
$8
In conclusion, Japanese and South Korean developers are accustomed to higher rates ($23-$36 and $21-$32) than their Chinese counterparts ($18-$24). Indian and Filipino professionals, though, earn much less with a negligible difference in terms of their specialization, with rates ranging from $7 to $12 per hour at most. Among back end programming languages, Python pays off the most, reaching an uncommon rate of $48 per hour in Japan, whereas the rate for C++ programmers doesn't rise above $25 per hour. 
Africa
Google underlines the quick growth of the IT industry in Africa — now the continent has more than 700,000 developers. Three most noteworthy countries are South Africa and Nigeria, highly proficient in English, and Egypt with a lower English level. Together, they offer a talent pool of up to 300,000 tech experts. 
Time differences require consideration when hiring in Africa, but African developers are excellent communicators. On the other hand, the region still experiences educational difficulties and aims to develop this industry. For instance, there are only 143 ICT universities in the whole region, while Eastern Europe abounds with more than 300 higher institutions training STEM graduates. In addition, Eastern European universities are much higher in the international rankings, while African institutions are mostly not included, which might have led to low software contracting rates in Africa.
| | | | | | | | |
| --- | --- | --- | --- | --- | --- | --- | --- |
| | Full Stack Developers | DevOps Engineers | Cloud Engineers | Blockchain Developers | Mobile Developers | IT Security Specialists | UX designers |
| Egypt | $5 | $6 | $5 | $4 | $4 | $6 | $4 |
| Nigeria | $6 | $5 | $5 | $4 | $4 | $5 | $4 |
| South Africa | $19 | $23 | $19.5 | $16 | $17 | $30 | $15 |
According to the State of the Software Developer Nation report, JavaScript dominates in South Africa, with Java, Node.js and Python being widespread across the whole region. Here's the table with such tech stacks considered. 
Front End Developers
Back End Developers
JavaScript
TypeScript
C++
Python
Egypt
$8
$9
$12
$18
Nigeria
$8
$8
$10
$17
South Africa
$17
$17
$25
$24
Being the least developed region among the four, Africa offers rather low hourly rates: $4-$17 for Nigeria and $4-$18 for Egypt, with Python being the most well-paid skill. South Africa, nevertheless, is closer to Eastern Europe rates, starting from $16 and reaching $30 per hour. What's also peculiar is that, even with strong expertise in a particular language, African rates don't surpass the Eastern European ones. 
Overall Comparison and Key Takeaways
Concluding our extensive research, I can point out the following tendencies about offshore software development rates in the regions which stem from the sample of the countries chosen for our analysis:
The highest offshore rates for software development are seen in such countries as Brazil, the Czech Republic, Japan, South Korea, South Africa and Poland. 
The lowest rates are most common in Nigeria, Egypt, India, Colombia, Bulgaria and the Philippines. 
IT Security Specialists, Cloud Engineers, Vue.Js, Python and Full Stack Developers make the most — up to $52 per hour, which is still lower than the average US rate of $51-$71. 
UX designers earn the least, with $4 per hour in Egypt and Nigeria and $25 — in Japan. 
Rare and trending languages & frameworks — Kotlin, Golang, Swift, etc. — can increase the hourly software developer rates up to two times. 
Overall, the salaries differ based on a specific tech stack, but what's important to note is that the lowest rates don't always equal high-quality results. The educational approach and tech ecosystem, along with the level of English in a country of your choice, influence the results of offshoring to a great extent. Sometimes, while paying lower rates, you still risk getting into trouble with low-quality code. Such poor code will make you lose time on debugging or replacing your programmers and, what's even more daunting, can put you off outsourcing in spite of its numerous benefits. 
Still, if you choose wisely, offshoring can turn out a viable solution. Most of the time, software product companies tend to hire offshore programmers in more developed locations, where the IT ecosystem has already been established and is growing by leaps and bounds, such as Eastern Europe. Such growth usually illustrates that educational institutions work hand in hand with the governmental incentives for the tech sector. Also, countries with the largest talent pools, such as Poland and Romania, offer more versatile tech backgrounds to choose from. As a result, you are more likely to collaborate with professionals, achieve your company goals and develop a positive view of this best practice. 
Looking for a Pro Offshore Development Team? We Can Hire Developers for Your Needs! 
If you're thinking about hiring an offshore tech team, we at Alcor will be glad to help you out. Our team is an international provider of IT recruitment services in Eastern Europe — namely Poland, Romania and Bulgaria. Over 10 years, we've assembled a team of 40 experienced recruiters that never fail to keep up our astonishing 80% CV pass rate. On top of that, we offer IT BPO services, including legal & compliance, accounting & payroll and employer branding support. 
Just recently the Alcor team hired 6 software developers — a product manager and 5 full-stack software engineers — in 6 weeks for GoTransverse, a cloud-based software company from the US. After a disappointing experience with other providers, GoTransverse reached out to us with a request to hire remote programmers in three EU countries and was astounded with our results. Alcor managed to select such candidates that 95% of CVs resulted in a hire. We also took care of legal employment in Eastern Europe, helping the company to hire without the need to set up a legal entity, as well as managed all paperwork and finance operations. As we say at Alcor, we're ready to go the extra mile for our clients.