Rapid tech sector development and high-quality IT talent growth have brought Romania to the foreground of the Eastern European market and the top 35 locations for software outsourcing in the 2021 Kearney Global Services Location Index. 
But is this country really worth transferring your product development to? In this article, I am going to dwell upon key aspects of outsourcing in Romania (pros and cons), debunk some myths about its IT market, and compare this location with other offshoring destinations in Eastern Europe. In case you would like to get not just outsourcing services but your own engineering team in Romania, Alcor – IT recruitment company with 10 years of experience – is always ready to help you!
Romania: Outsourcing Advantages
Attractive Price-to-Quality Ratio
The first and foremost thing you will benefit from when outsourcing in Romania is its balanced price-to-quality ratio. As known, low cost does not always equal high-quality services. However, it's not the case with Romania, as this country has both qualified IT specialists and modest wages. For instance, the median annual C# developer salary in the USA usually ranges from $106K to $112K, while in Romania it keeps within $23K – $28K. 
It means that if you are an owner of an American IT company, you can reduce your expenses by 3-4 times when choosing Romania as an outsourcing destination. Impressive, don't you think? If comparing Romania to other Eastern European countries, it still has the lowest cost of labor. Poland offers annual remunerations which span from $37K to $45K, Hungary – $33K – $37K, and Czechia – $41K – $44K.
Outstanding tech expertise
According to the International Trade Administration, Romania has the largest number of certified IT specialists in Europe and is ranked 6th in the world, with density rates per 1,000 inhabitants (greater than in the USA). Romanian software developers are well-crafted in a wide array of technologies, starting from such popular ones as Java, JavaScript, C#, and Python to more specialized ones like React, Angular, HTML, and CSS. 
This deep tech qualification is provided by 5 technical universities and 59 domain-specific educational institutions that bring up almost 7,000 new ICT professionals each year. This is another reason that makes IT outsourcing in Romania appealing to international tech companies.
Blossoming Startup Ecosystem
Even though Romania is the youngest Eastern European country in terms of IT sector development, it has already proven itself as the market with a strong startup scene that evolves in leaps and bounds. Romania is ranked 39th in the Startup Ecosystem Report 2022 – a vivid rise by four spots since 2020. Today, this destination has more than 1,500 startup companies, scale-ups, VCs, and PEs, about 100 incubators & accelerators, and 60 rounds of startup investment. Among local success stories are such startups as UiPath, FintechOS, Elrond, 123FormBuilder, and TypingDNA.
Business-Friendly Climate
What else makes Romania one of the most favorable outsourcing locations is its business conditions. This Eastern European destination has the biggest number of incentives & perks for doing tech business. Among them are 0% income tax for software engineers and R&D employees, 0% income tax for R&D companies for 10 years, and additional deductions of R&D eligible expenses. Thanks to these incentive programs, the 50 largest tech companies in Romania have quadrupled their businesses and teams during the 2009-2019 period, reaching an overall turnover of over $3+ billion and employing more than 50,000 specialists. It's not only the local IT businesses that have been taking advantage of these perks. Such leading tech giants as Google, Microsoft, Huawei, Samsung, Amazon, Oracle, Motorola, and Adobe opted for Romania to build their own development teams. 
Convenient Location
One more advantage of going with software outsourcing to Romania is the country's strategic location. It borders Ukraine, Hungary, and Bulgaria which allows foreign IT companies to easily tap into neighboring markets' potential. It takes only 2-4 hours by plane to get to the largest IT centers in Europe, which makes Romania a perfect destination for nearshoring. In addition to that, Romania is only 1-2 hours ahead of Western European countries. When it comes to time zone differences with the US, though, it's more significant – 6-10 hours. Some people see it as a disadvantage for IT outsourcing. Romania, however, has hundreds of international tech companies which have been benefiting from round-the-clock business functioning in this Eastern European destination. If you are concerned about effective remote team management, check out our article to get some valid tips.
Debunking Myths about Outsourcing in Romania
Stumbling IT sector development
Many IT executives still believe that the Romanian tech sector stands at the beginning of its long journey to becoming a mature and strong participant in the global technology scene. However, this IT industry has been growing at an unprecedented pace during the last 10 years. According to the Romanian Employers Association in the Software Industry (ANIS), volume of their local IT market is expected to reach $7.4 billion in 2022, meaning it's going to see a growth rate of 25%. The Romanian ICT sector is seen as the main pillar of the national economy, with its software development services contributing 6.2% of the national GDP. Moreover, the Romanian outsourcing industry is already among the top ones in the world, as it accounts for 5% of the offshore software development market. 
Insufficient number of tech specialists 
Supposedly, a small talent pool is another misconception that stops foreign tech entrepreneurs from choosing this country for outsourcing IT. Romania, in reality, is ranked 3rd in the number of IT specialists in Eastern Europe – 143,000. However, you may be right when speaking about Romanian IT hubs. There are only 3 ripe ones, Bucharest, Cluj-Napoca, and Iasi, which have a huge concentration of software engineers and a developed business environment. There are also 2 emerging IT hubs: Timisoara and Sibiu. This fact can make the process of recruiting remote employees in Romania somewhat challenging. But if you partner with a professional IT recruitment service provider, you won't have to worry about time-consuming talent acquisition.
Poor knowledge of English
What else can make Romania software outsourcing seem risky is its presumably low level of the English language. However, this destination is actually ranked 15th in the EF English Proficiency Index, placed even higher than Poland and Hungary. Moreover, English is not the only language Romanian developers know. It's not uncommon for these IT professionals to have a good command of German, French, or Italian, providing easy and effective communication with foreign IT companies. This fact serves as another reason for choosing software development in Romania.
And the final myth about Romania outsourcing is substantial cultural dissimilarity. All Eastern European countries have a close affinity with western culture and business ethics, and Romania is no exception. Let's assume you decide to scale up your IT business in this destination. In that case, you will get a top-notch development team where each member demonstrates exceptional cultural adaptability, open-mindedness, dedication, and a desire to take your product to the next level.
Romanian Outsourcing vs other Eastern European Destinations
As you are now aware of the key aspects of outsourcing in Romania (advantages and disadvantages), it's time to find out how this destination performs in the Eastern European arena.  Let's do a location comparison.
| | | | | |
| --- | --- | --- | --- | --- |
|   | Romania | Poland | Hungary | Ukraine |
| Talent pool size | 143,000 | 450,000 | 82,000 | 228,000 |
| Median annual IT salary | $39,000 | $47,000 | $41,000 | $43,000 |
| Core technologies | PHP, C#, Java | JavaScript, Java, Python | JavaScript, HTML/CSS, Python | Java, C#, JavaScript |
| Tech rank | 23rd | 3rd | 4th | 5th |
| English level | 15/112 | 16/112 | 17/112 | 40/112 |
| Number of IT hubs | 3 | 6 | 3 | 5 |
| Ease of doing business | 55/190 | 40/190 | 52/190 | 64/190 |
                                                                                  Sources: SkillValue, EF English Proficiency Index, World Bank's Ease of Doing Business Ranking        
From the table above we can see that Poland has the largest talent pool in Eastern Europe – 450,000 developers. For its part, Romania ranks 3rd (143,000), having almost double the amount of programmers than in Hungary. In terms of the annual employee costs compared, the price tag for Romanian developers is on average $8,000 lower than for their Polish colleagues. This fact makes Romania a truly cost-effective outsourcing location for foreign IT companies. 
When it comes to coding skills, Romania gives in to all of the countries presented, being ranked 23rd by SkillValue. However, in relation to English proficiency, Romanian software engineers are taking the lead in the region. Even though Romania has only 3 developed IT hubs, its business conditions are almost on the same level as Hungary. 
In conclusion, Romania is quite a competitive IT destination that has limitless potential. You will be able to get quality work for a reasonable price, as Romanian outsourcing is not a bad but winning option for your tech business.
Romania: Common Outsourcing Destination Services
If you have already decided to opt for Romania, but still unsure what to outsource, consider the following 3 outsourcing services to choose from. 
Business Process Outsourcing (BPO)
Outsourcing business-related processes is a widely used practice among IT companies, as it allows them to hand over secondary activities to a third-party vendor while focusing on product development. You can choose from a wide variety of back-office services, including tech recruitment, HR management, employer branding, payroll & accounting outsourcing, legal compliance, and procurement of equipment. It's not rare to see front-office operations (marketing, software development, customer support, etc.) among the BPO services. However, if you are an owner of a product company, it's better to refrain from their delegation, since it's the core of your business.
Software Development Outsourcing
There are over 280 software development companies in the Romanian outsourcing destination. They deliver a wide spectrum of services, starting from web page and application development, software testing, and product design, to information security services, consulting, IT infrastructure maintenance, and support. Even though software outsourcing is a common business practice, it's not devoid of risks and limitations for product tech companies. By cooperating with an IT outsourcing provider, you may face cloudy pricing, possible data leakage, loss of complete control over the software development process, and fail to receive additional funding from investors. Therefore, to keep your essential activities in-house, consider setting up your own engineering team in Romania. 
IT Recruitment Outsourcing
For those IT companies that want to feel all the advantages of offshoring software development in Romania, this option comes in handy. The cooperation with a competent IT recruitment company will enable you to get only seasoned engineers in your team, set competitive annual remunerations and attractive EVP (employee value proposition), receive full coverage of the hiring process, and get in-depth consultations on the local tech market. By having your own team of Romanian engineers, you won't have to deal with any IT outsourcing consequences, but get IP right protection, transparent pricing, and an opportunity to swiftly scale up.
Consider Alcor BPO as Your Reliable Recruitment Partner in Romania
Once Dotmatics was also at the crossroads. This American product company wanted to develop its software for biologists in Eastern Europe but didn't know which business practice to opt for. When Dotmatics reached out to Alcor, they got exhaustive information concerning offshore team building, and decided to pick this option over IT outsourcing. And during just 1 year of cooperation, our client got a fully backed team of 30+ developers (including Director of Engineering, Full Stack, React, QA Automation, DevOps engineers) in Eastern Europe! 
Alcor assigned 4 headhunters to perform a full-cycle IT recruitment which presupposed vacancies adjustment, appealing EVP and ideal candidate profile creation, executive search, job interviews, and comprehensive support. We also provided one of our best accounting managers to make the hiring process for the client go even smoother. In addition to that, a lot of Dotmatics positions were filled with the first candidate, such as Product Manager and QA Engineer, as our client received only the most qualified programmers. Their team continues to grow and show outstanding results!
Would you also like to assemble your own development team just like our customers Dotmatics, People.ai, Ledger, and Sift? Then Alcor BPO is your way to go! We provide IT recruitment services in Romania, Poland, and other Eastern European countries for international product companies. If you need programmers of a high expertise level, it's exactly what Alcor specializes in.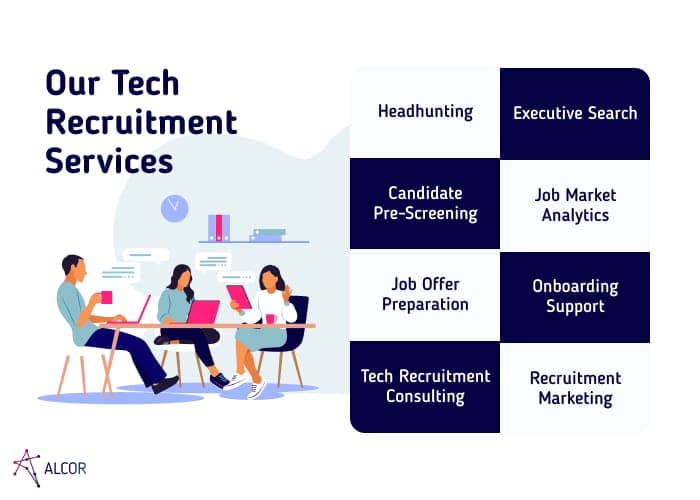 Our team works for the result; therefore, as soon as we start collaborating we will:
provide you with a definite closing time for your positions (usually takes 3-6 weeks);
send only relevant CVs (on average it takes us to send 8 CVs to get to 1 accepted offer);
conduct job interviews with the best matching developers (4 out of 5 candidates that we introduce to our clients are considered good and invited for an interview).
You can learn more about our services, guarantees, and IT vacancies for developers in Romania on our website.