For tech managers, the recruitment process is about time-consuming sourcing, endless interviews, and burdensome expenses. It sometimes seems like a dead end, but then they encounter an IT staffing agency that promises to painlessly solve everything. But are employment IT staffing agencies worth it? Is a staffing agency a good idea for your business, or it is better to refrain from this? In this article, I want to dwell on these questions while illustrating some real cases. Keep reading to find out all the pros and cons of using an IT staffing agency.
How Do IT Staffing Agencies Work?
An IT staffing agency is a company that acts as a third party between developers and product tech companies. Although it sounds clear enough, you may still wonder: 'How do IT staffing agencies work?' The procedure of working with an IT staffing company is pretty coherent. A client resorts to an IT staffing agency to find tech specialists. The former specifies their requirements, the number of developers to hire, and sets a timeline. Going by this information, the agency starts posting vacancies on job boards and its website. It also conducts an active search and uses internal instruments for sourcing.
From this, the recruitment team selects potential candidates and sets up interviews. Then recruiters compile a review on each of them and discuss it with the employer, who then makes the final decision. It's as simple as that! Now let's clarify all the pros & cons of working with external recruiting agencies.
5 Benefits of Using IT Staffing Agency
Let me start with the advantages of using an IT staffing agency which are so appealing to tech companies.
Time saver
Finding precise tech talent could take weeks or even months of searching. And when you want your company to grow quickly, there is no time to keep a position open. Time-saving is a sound advantage of outsourcing the recruitment process to professionals. The reason for this is the ability to focus on core product development activities, spending little time on continuous sourcing. IT staffing agencies aim at fast recruitment, so they spend hours and days headhunting while you operate your business more efficiently.
Broad talent pool
Among other benefits of recruitment process outsourcing is access to a broad talent pool. Agencies have vast databases, global networking, and advanced HR resources that open up doors to an ample quantity of tech specialists. Companies also opt for offshore staffing agencies to find more developers with rare skills. This is common in recruitment outsourcing, and Eastern Europe has become a desirable destination for this purpose. Eastern European countries offer a vast tech talent pool; for example, Ukraine numbers 285,000 developers, Poland nearly 401,000, Slovakia 39,000, while the Czech Republic and Romania are home to more than a quarter million IT employees. Apart from this, Eastern European IT specialists have experience in different spheres: from blockchain to machine learning or IoT.
Note: Finding developers abroad not only enables hiring talents with rare skills, but may also reduce your expenses due to notable differences in salaries. For instance, in Romania, the average annual salary for a 3-5 year experienced Full-Stack software developer is $54,500, compared to $140,000 in America (sources: Glassdoor, Jobber.ro). As you can imagine, this dramatic difference could work in favor of your budget.
Flexibility
Tech companies experience a heavy workload when they don't have enough manpower resources to develop their IT product. An urgent need to hire new IT specialists arises by itself, but hiring a full-time developer is sometimes not a way out, due to short-term service necessity. Thus, a middleman will provide you with temporary workers to handle the pressing work.
With a web developer staffing agency, you can take full control over the recruitment volume. It means that one can optimize the hiring process in accordance with the current company's state. For example, if the company is experiencing critical times, it can immediately refrain from recruitment services via their external provider. On the contrary, you could also request more IT specialists to hire if needed. Quick, reliable, and cost-effective.
Knowing the ropes
What really stands out from the pros of using an IT staffing company is that IT hiring agencies know the recruitment process inside out. Having great expertise in this, they know HOW to hire proper developers. It is by no means easy to handle this process in-house, especially when you don't have recruiters in the team. The agencies vet a candidate from different perspectives, including personality traits, handle qualification tests, and evaluate whether a job seeker is a good match for your company. A multifaceted approach to the hiring process reduces the risks of employing the wrong developer, saving your internal resources. Moreover, when you enter the foreign market, IT staffing agencies are the ultimate key to this door. They know the specifics and nuances of the local market much better.
SBTech is a provider of betting B2B solutions, having more than 50 partners worldwide. The company struggled with filling 20 positions with a tight deadline, so recruitment process outsourcing appeared to be a helping hand for them in Eastern Europe. An external team of recruiters opted for a fundamental approach, starting from compiling a detailed candidate profile and finishing with blind CVs discussion with SBTech. The professional approach took little time to show solid results: 16 filled vacancies in just one month! Now, SBTech continues to work with these highly-qualified developers. Read more here about the company's success story.
Technical pre-screening
Most IT staffing companies conduct technical pre-screening before giving a test task or passing a candidate to you. This procedure includes different questions on the candidate's on-hand experience with technologies and usage of programming languages. The series of pre-screening questions shows whether the applicant's CV is factually correct. Thus, you may be sure that a pre-screened developer will fit your requirements to cope with the tasks assigned.
3 Disadvantages of Using IT Staffing Agency
Indeed, the set of benefits of using staffing agencies to recruit employees is quite catching, but let's have a look at some potential flaws. It will help you get clear-eyed insights.
Lack of employer branding
One of the most prominent disadvantages of using an IT staffing agency is a weak employer brand. When you conduct the hiring process in-house, you boost your company's reputation. You present your business under your own steam and promote yourself as an employer in the way you wish. As a result, potential employees recognize you among hundreds of other companies. However, when you address an IT staffing company, that's another story. The agency sets the tone of the hiring process and acts as your ambassador. Thus, a lack of control over the interviews may lead to a distorted company image perception. That is why you should ensure that your provider is ready to assist in your employer branding enhancement in the local market.
Numbers but not quality
Not all IT staffing agencies are reliable and client-friendly. They may not put enough effort into finding the needed candidate, aiming at closing positions as fast as they can. Being focused on the number of filled positions, recruitment agencies might neglect crucial details while interviewing the candidates, such as command of the English language, soft skills, and even technical aptitude. Insufficient recruitment influences the workflow and quality of your product and as a result, you are forced to look for a new developer again. To avoid this unpleasant situation, choose your partner thoughtfully: find and read cases or reviews, study their typical process with clients, ask for guarantees, etc.
Rapport issues
While speaking about the cons of using an IT staffing company, team bonding is a point to mention. Agencies may neglect the company's values and corporate ethics while sourcing and interviewing candidates to hire. Hence, you could get inconstant engineers who are not really into your product development and objectives. At the early stage of your collaboration with an IT staffing agency, outline the key values and corporate culture of your company, and place special emphasis on the importance of selecting candidates in accordance with your culture.
Are IT Staffing Agency Services Worth It for Your Business?
While weighing all cons and pros of IT staffing companies you may still wonder whether it's the right choice for you. Some IT product companies opt to hire an IT recruitment services company when they simply don't have their in-house talent acquisition team (being the earliest stages of their development). And sometimes tech companies approach a service provider even when they have their own recruitment department. The main motives are a lack of experience in hiring tech talents or the need to scale up quickly. In both cases, no regrets from working with a good RPO provider are guaranteed. For example, if you are pressed for time to find new developers to carry out your product development process, partner up with a reliable staffing agency and set up a team within a few weeks.
5 Questions to Ask Yourself Whether You Need an IT Staffing for Your Company
Proceeding from these key reasons, I've compiled a set of questions that will lead you to a comprehensive outlook on the relevance of hiring via an IT staffing agency.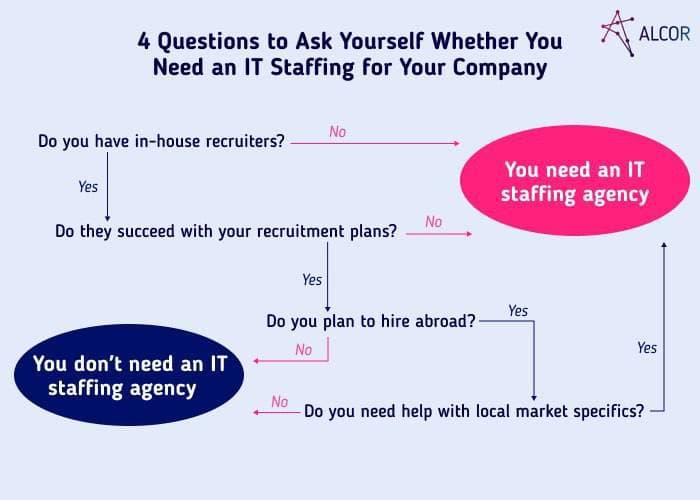 Thus, in case you have your in-house team of recruiters and are satisfied with its performance, that's half the battle. Your intention to hire software developers abroad is another factor to consider. If you want to keep the hiring process onshore, you can do it without a third party. Otherwise, think over whether you know the specifics of a foreign market. If it's not a problem for you, then you still can handle this process by yourself.
When one of the factors shrinks (e.g. you don't have your recruitment team, or you need a helping hand in hiring tech talents abroad), you should consider teaming up with an IT staffing agency. A reliable partner will take heed of all your requirements to meet target objectives as well as ensure that all hiring processes go smoothly, without a hitch.
If You're Looking for IT Staffing Services:
Consider Tech Recruitment from Alcor BPO
If you came to the conclusion that you need IT staffing services, make sure to select a reliable agency. Alcor is a professional IT recruitment & IT recruitment process outsourcing provider that operates in Poland, Romania, and other Eastern European countries to support your rapid business expansion. We have an exclusive focus on tech positions for IT product companies and over 10 years of market experience. Our team of 40+ IT recruiters and researchers specializes in sourcing rare software developers, following our clients' requirements. They know how to hire skilled Romanian, Czech, Hungarian, Slovak developers, and Polish developers with a proven track record and cultural compatibility. We have an 80% CV pass rate which means that 4 out of 5 candidates get to the interview stage, while 98,6% of all programmers that we hire pass the probation period successfully. To promote your brand in the Eastern European market and attract the best IT specialists, we can also handle employer branding and recruitment marketing activities. With us, you can get 5 talented developers within one month and 100+ within a year.
But if you wonder how to get the most out of using an IT staffing agency, I've got an answer – recruiting services via opening your own R&D center! Yes, you heard it right. Alcor can provide IT staffing solutions as a part of outsourcing R&D services that are aimed at managing multiple back-office operations. Upon request, we serve as a BPO company and deliver services required for launching and maintaining an offshore R&D hub. For example, our real estate managers can find a perfect office or a co-working space for your team. If you are looking for legal advice, our lawyers will help you with tax planning, IP & labor law. Our accounting department can manage tax calculations, all bookkeeping, and organize the payroll process.
To see how it works, let's have a look at the People.ai case. This IT company from the USA is our happy client that had the intention to find talented software engineers abroad. Eastern Europe was the company's choice, as local developers are known to be competent and experienced tech specialists. The firm partnered with Alcor as a service provider to engage top programmers with rare skills. Our recruiters hired more than 25 software developers who specialize in Python, Scala, Java, React, Javascript, BigData, Kafka, and AWS. Apart from that, the client delegated additional back-office operations to us to stay focused on core product development activities. Therefore, our team also assisted People.ai with payroll and accounting. Along the way, the company decided to take advantage of using real-estate services and got their own software research and development center for the newly assembled team in just 1 month. Now, People.ai takes full control over its R&D office in Eastern Europe, staying legally compliant.
Final Thoughts
Are IT staffing agencies worth it for your company? Now you know it for sure. If you are looking for an experienced recruitment service provider, consider Alcor as your reliable partner. Once you get your team of developers, we are ready to go the extra mile to assist you in setting up your own software research and development center. Feel free to contact us and take the first step toward your business advancement!