Are you exhausted by mundane hiring operations like searches for candidates, collecting recommendations, pre-screening, or interviews, etc.? Then it's high time to cooperate with an IT recruitment services company. Such a decision blends effective hiring practices with devoted recruiters and appears to be a reliable solution for those who want to focus on their core business functions, instead of micro-managing operational ones. Sounds appealing? Keep reading to discover everything you need to know about the recruitment process in the BPO industry.
What is Recruitment Process Outsourcing?
Those who have ever considered getting external recruiting assistance have probably heard about RPO — Recruitment Process Outsourcing. This stands for the procedure of delegating all or part of your internal talent acquisition process to external service providers. The model often includes consultations on IT recruitment services, analytical reports, and executive search for developers.
Having access to RPO specialists can help you with the acquisition of rare IT talents and recruiting navigation through an unpredictable post-pandemic environment. According to a recent report, recruitment process outsourcing agencies can quickly adjust to updated business needs like speed and quality of hires, help build a robust talent pipeline, and select candidates with the proper experience and attitude. In this article, you will get exhaustive answers to common RPO questions: What is an RPO? How does it work? What are the benefits of outsourcing IT recruitment assistance? Is there any difference between RPO and BPO? And many more…
RPO: Recruitment Advantages
RPO companies can easily scale up or down ongoing recruiting activities based on client demands. It doesn't matter how many talents you need. You are the one to set the limits. It is also up to you whether to delegate all or only some of the hiring tasks (and to what extent).
Another prominent benefit of the outsourced process of talent acquisition in IT is the possibility to spend less on in-house HR resources. Headhunters can provide you with an effective HR outsourcing model with optimized hiring expenses and lower costs per hire.
Outsourcing IT recruitment is famous for its immediate results. With a broad contact network, it takes less time for providers to fill each of your open positions, thus empowering your business to grow faster and hire more engineers.
The RPO model goes far beyond just cost and time optimization. For instance, for big enterprises the recruiting activity is first of all a matter of quality. This is especially relevant for IT companies that experience a lack of skilled software engineers, analysts, designers, or managers. Using advanced analytics, in-depth personality and behavioral analysis, RPO providers ensure increased retention rates and well-versed candidates with common cultural points. As we all know, that's the key to comfortable working relationships.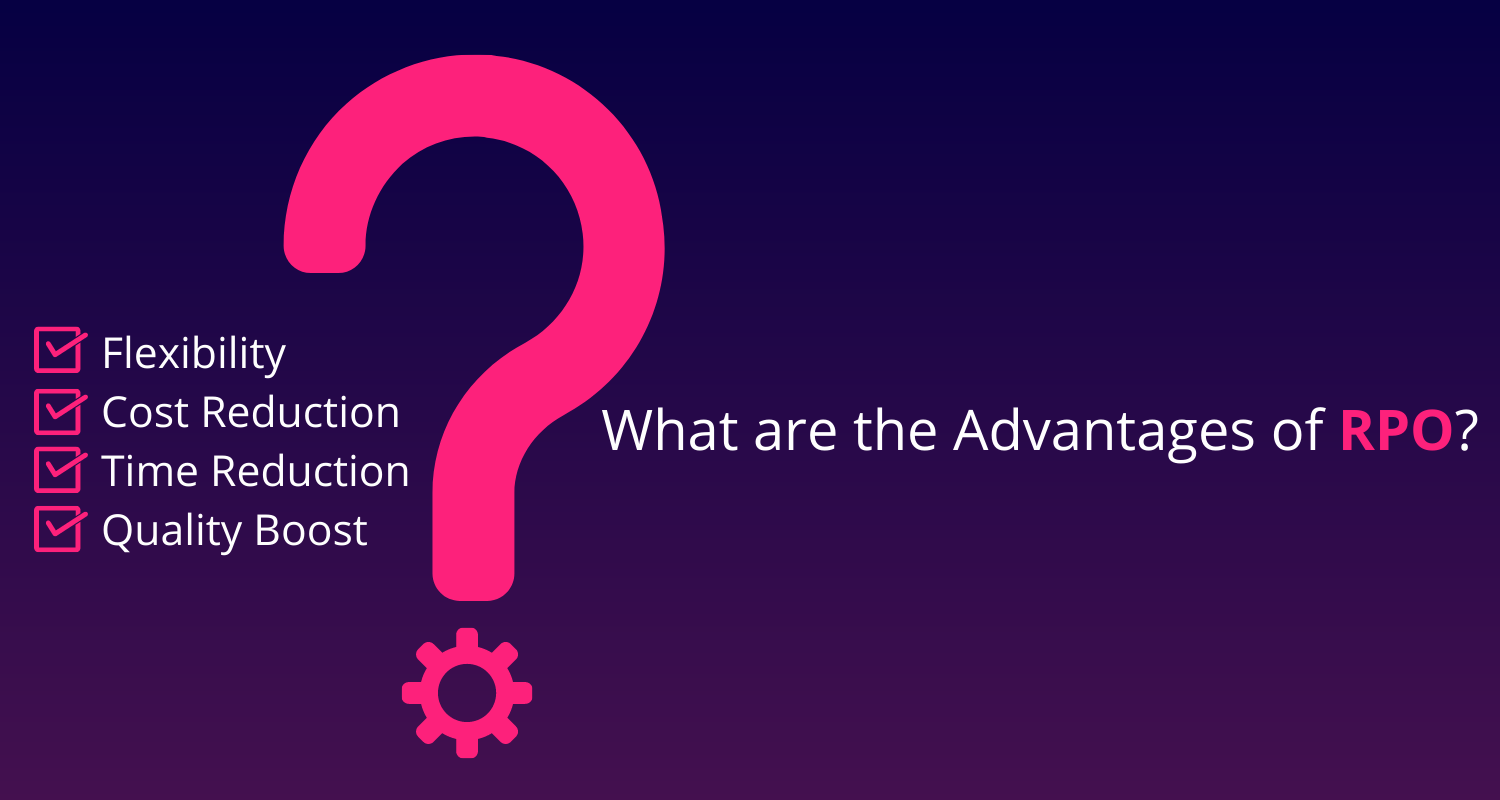 RPO Provider vs. Staffing Agency: Main Distinctions
Before we go any further, let's consider how an outsourced recruitment solution differs from the staffing method. Firstly, IT recruitment process outsourcing means reduced cost and high-quality hiring. Unlike staffing agencies, the recruitment process outsourcing business model ensures a wide range of services like human resource planning, candidate assessment, and employer's brand management, etc. Accordingly, RPO recruiters are interested in long-term cooperation that is aimed at contributing to your business.
Contrary to this, staffing firms usually establish higher prices and fill positions within a shorter time. They are mostly interested in short-term projects and have a narrow focus on outsourced recruitment. Such firms get paid when a vacancy becomes occupied by the person they have found. In contrast, RPO providers usually work under a management fee model. Their income can vary according to different factors, such as the candidate's productivity.
Based on your requirements, at Alcor we can provide customers with either/both recruitment solutions.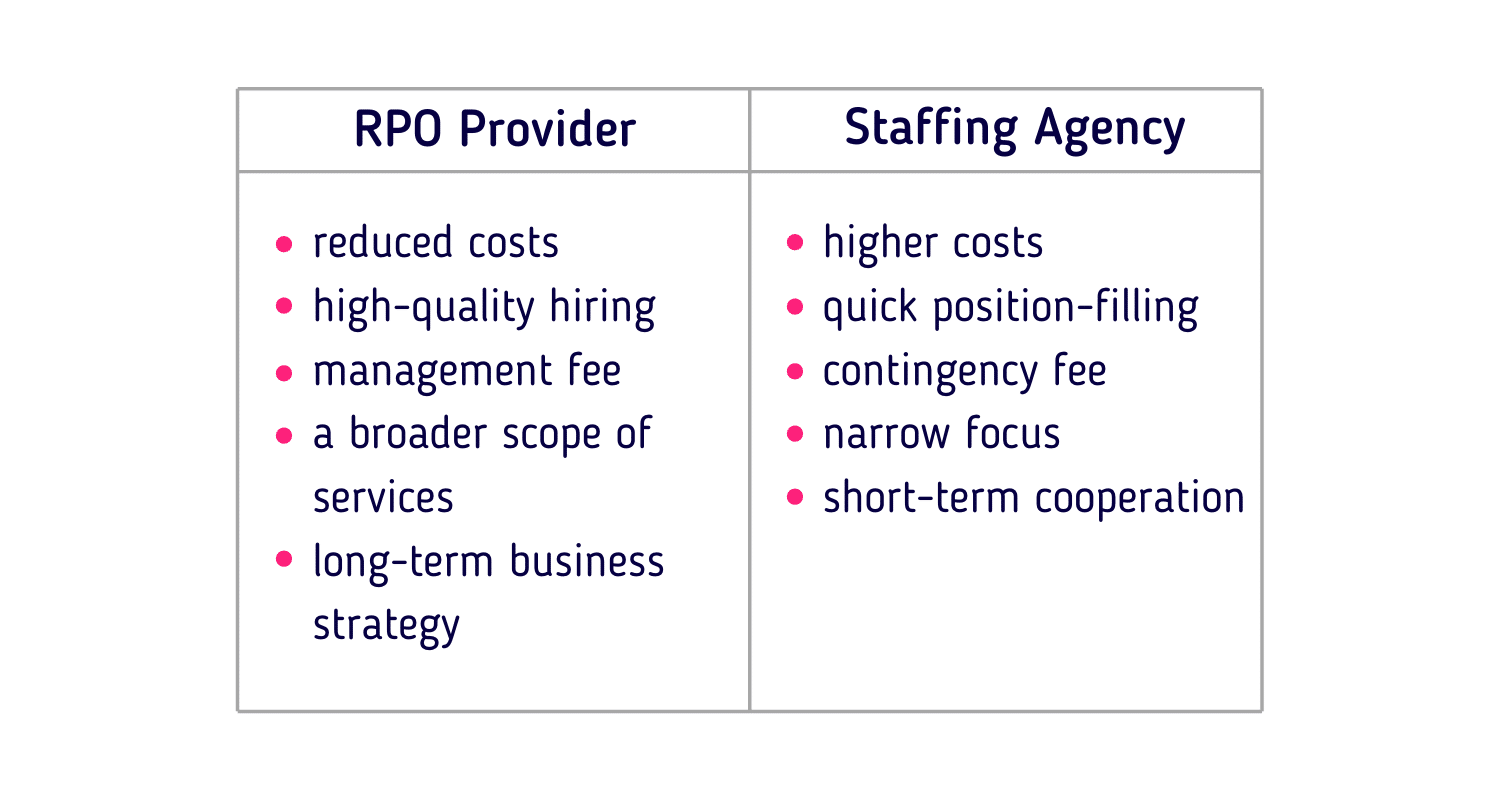 Basic Types of RPO
Once you've decided to use the RPO for hiring developers, you have to choose a specific type that works well for your business. The most common ones include Project-based RPO, Recruiter On Demand, Hybrid, and End-to-End RPO.
The Project-based Model implies having an agreement that specifies a defined number of roles within a fixed period. Such an RPO solution is a great choice for companies that are satisfied with their in-house daily recruitment, yet want to engage external RPO providers for particular projects.
Similarly, having a Recruiter On Demand means engaging a qualified hiring specialist in your internal recruitment team exactly when you need that. During the year, companies can have diverse hiring needs depending on the current business season. Accordingly, these IT recruitment outsourcing services appear to be useful in the case of a sudden spike in hiring. Just imagine having a partner who can give you a hand immediately whenever it's necessary.
The Hybrid RPO Model involves delivering part of your recruitment functions to the RPO provider, while the other part is managed by your internal team. Therefore, it provides a high level of flexibility regarding what is outsourced and what is not.
Finally, the End-to-End RPO Model is a magic formula for those who seek a full-service (end-to-end) hiring solution. All you need to do is sit back and relax while the RPO company takes care of all major and minor recruiting tasks.
Related article: Nearshoring VS Offshoring
BPO vs. RPO
As I've already noted, RPO stands for transferring all or several recruitment activities to a third-party vendor that operates as an extension of your in-house HR department. Companies cooperate with RPO providers to ensure quality filling of positions in conditions of talent scarcity, high-market demands, tight deadlines, or unique business problems.
In contrast, BPO refers to Business Process Outsourcing and implies the delegation of diverse operations that are not related to core activities. Normally, if there's little value in having in-house staff perform these processes, executives choose to transfer them. For instance, BPO often includes legal compliance, payroll & accounting, real estate services & IT infrastructure management, as well as recruitment.
In other words, RPO is a part of BPO. The main difference lies in the range of services a vendor provides. However, the common goal of these models is to enhance the efficiency of your overall business and let you focus on the main tasks that generate income.
In case you're interested in IT recruitment in Poland, Romania, or other Eastern European countries, consider choosing Alcor's IT headhunters to assemble a development team within a month! We have 40+ professional IT researchers and recruiters on board and over 10 years of market experience to ensure a streamlined recruitment process outsourcing for your company. On average, it takes us less than 6 weeks and 8 CVs to close any position. Nevertheless, we strive not only for recruitment speed but also quality: 98% of our candidates pass their probation period in the client company. To run a stressless collaboration, we vow to hire:

However, depending on your requirements, Alcor can serve either as an RPO or BPO provider. Although we focus on IT recruitment for tech product companies, we don't mind going extra mile for our clients. For instance, our experienced lawyers can assist you with tax planning, labor law, IP law, visa support, and more. If you're interested in transparent accounting and salary processing, our financial department will handle that. In addition, our real estate managers can find outstanding office premises in Eastern Europe or establish remote workplaces for your development team. We are able to provide a comprehensive solution for your business expansion, but you can select and pay only for the services you need!
How Does the RPO Model Work: Recruitment Steps
RPO (recruitment process outsourcing) is designed to take care of multiple hiring stages using various IT recruitment tips and tricks. Let's jump right into the key steps of the RPO solution:
1) Developing a hiring plan based on the client's business needs. The defining feature of the RPO model lies in the individual approach and personalization of existing hiring strategies to your specific demands.
2) Meetings with the client. A provider contacts the client to present blind CVs and agree on the profile of an ideal candidate (hard & soft skills). After that, the vendor provides consultations and analytical reports on pay scales and benefits.
3) In-depth sourcing to get the best candidates. Targeted strategies and talent pipelining are applied to find both passive and active job seekers. RPO agencies use their internal database, premium tools, then conduct an active search in the market (combined with headhunting if necessary).
4) Screening of hard & soft skills. Recruiters conduct HR interviews with the best candidates. They pay attention to the personality of a candidate and check their references, so you receive verified professionals with values similar to yours.
5) Candidate selection process and offer management. The client makes a final decision as regards the candidate selection, however they don't have to handle stressful salary negotiations or work with counter-offers, as that is what the RPO provider is responsible for.
6) Reporting on outcomes. The recruiting firm keeps you up-to-date and provides detailed analytics regarding the above-mentioned procedures. It includes the number of processed candidates, their salary expectations, and other insights.
7) Effective onboarding process. Naturally, the adaptation to a new corporate setting might take some time. To ease first-day anxieties, recruiters interact with a new employee and assist with any arising queries. However, further offshore team management is the client's responsibility.
2 Successful Recruitment Process Outsourcing Examples
Tonic Health
Tonic Health is an IT product company from Silicon Valley that develops a leading patient data collection platform with CRM features. The company aimed to hire Senior developers in Eastern Europe but at first candidates were declining their job offers. This problem brought Tonic Health to Alcor.
We found out that top programmers were reluctant to work at Tonic Health because it was a no-name company in the Eastern European market. Therefore, we started an employer branding campaign that significantly accelerated the hiring process. As a result, the company was placed among TOP-100 Employers and every second candidate who came to the job interview noted that they had heard about Tonic Health before.
We managed to attract top candidates and fulfill the recruitment plan in the shortest term possible. The client was amazed by these offshore recruitment process outsourcing results, so they decided to open an R&D center in Eastern Europe and increase the scope of services they receive from us. 
SBTech
SBTech is another tech business that decided to outsource IT recruitment because of an urgent need for software developers with high competencies. The company is an industry-leading provider of interactive sports betting solutions. The client was unhappy with IT staff augmentation providers, so this time they cooperated with several recruitment agencies including Alcor.
Our experienced IT recruiters and researchers applied the best sourcing and screening techniques to meet their tight deadlines and provide the client with a big pool of eligible candidates. We even reported two of the most problematic positions, which made the client reconsider the job requirements. With our help, SBTech filled the gap of 16 vacancies within 1 month. Alcor superseded other agencies and hired IT specialists on the most favorable conditions in compliance with Eastern European laws.
RPO Provider Selection Tips
Once you've decided to outsource the IT hiring process, it's essential to choose a reliable recruitment provider. Ask these questions to have a pleasant experience with your RPO partner:
Do they specialize in the IT industry?
The truth is that not all RPO agencies have sufficient experience in talent acquisition in IT sector. Ask your potential provider if they have any relevant case studies and search for client reviews. If the provider explains away the absence of cases due to non-disclosure agreements, they probably don't have any success stories to share.
On the contrary, those who have extensive experience in the market usually showcase the most prominent examples of their work. Moreover, such recruiters also possess impressive databases of candidates that enhance the chances for brilliant hiring.
How do they organize the recruitment process?
Usually, the most efficient recruitment agencies divide their work between researchers and recruiters. While the first group of professionals sources the candidates, another one does pre-screening and arranges interviews.
Responsible providers also stick to agreed time frames, send weekly reports on the number of processed CVs, and conducted interviews. They're always ready to give additional recommendations, consultations and adjust your vacancy to the local tech market.
How do they select the best candidates?
Firstly, experienced headhunters provide the client with blind CVs to approve the necessary hard & soft skills of future employees. Afterward, they thoroughly check candidates' knowledge and analyze personality features. A good cultural fit is another important point for consideration.
Recruiters should also collect recommendations and give test assignments so that only the best candidates are forwarded to the client.
What about the pricing?
To identify a reliable provider, I advise you to ask some questions regarding their guarantees and pricing model. Large upfront investments and lack of transparency during the first stages of negotiations are "red flags" that are likely to result in hidden fees in the future.
Final Thoughts
In essence, engaging employees who are committed to a company's mission is the plan for success. If you are looking for extra hands to manage your IT recruiting operations, then you should consider Alcor as an RPO provider. With us, you'll receive individual support, weekly reports, pieces of advice regarding the Eastern European tech market, and verified candidates with proven track records.
Watch the video to get detailed information about our outsourced IT recruitment services.
A team of skilled professionals can be leveraged as a part of the bigger solution. Once the team is all set up, Alcor can take care of legal support, accounting, and payroll. Taken all together, these services can make up your own R&D office.
Doing business with Alcor doesn't just sound easier – it actually is!