IT recruitment process outsourcing lets companies not only reduce the time to hire new employees by over 3 times but also save from $125,000 to $3 million per year. Cooperating with RPO solutions agencies can easily help you with the acquisition of rare IT talents and recruiting navigation through an unpredictable post-pandemic environment. But is adopting tech RPO the best decision for your company? To answer this question, I prepared this article and elaborated on the essence of recruitment process outsourcing, main advantages, types and pricing models of RPO, successful examples of outsourcing IT recruitment assistance, and the best way to adopt IT recruitment process outsourcing services. 
What is Recruitment Process Outsourcing?
Recruitment Process Outsourcing is a business practice that presupposes involving an external service provider to perform all or a part of your internal talent acquisition process. RPO includes everything from conducting consultations for your team to working with objections from candidates and counter-offers. 
RPO: Recruitment Advantages
Quality Boost of Internal Expertise 
A tech recruitment process outsourcing vendor trains your internal IT hiring team on how to recruit software engineers using effective hiring methods. These include working virtual recruiting ideas, advanced analytics, in-depth personality & behavioral analysis and many more. Together these approaches upgrade the way your team profiles and selects candidates. 
Complete Understanding of Your Needs
A tech RPO specialist not only assists you in closing your vacancies but also gets onboarded to your team just like an in-house employee. This lets them dive deeper into your product and better understand your corporate ethics, so they know exactly which candidates would be a perfect fit for you. 
In case you previously had an issue with attracting and interviewing enough candidates to fill your positions, an RPO vendor can solve this problem. By going through their own candidate network, in addition to searching candidates from scratch, they will help you increase your candidate pipeline. 
Another prominent benefit of the outsourced hiring process in IT is the possibility to spend up to 30% less on recruitment. Headhunters can provide you with an effective HR outsourcing model with optimized hiring expenses and lower costs per hire. 
Powerful Employer Branding
In case you experience frequent offer rejections from candidates due to poor representation of your company on the market, there is a solution. Professional RPO vendors offer their support in promoting an employer's brand by developing a better employee value proposition, PR, social media, as well event participation and/or sponsoring. More awareness around your brand leads to boosted motivation of software engineers to opt for your company over your competitors.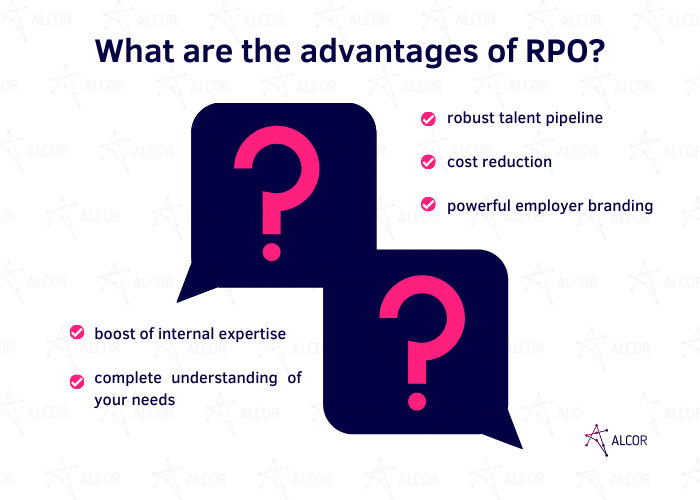 Basic Types of RPO
Once you've decided to use tech RPO, you have to choose a specific type that works well for your business. The most common ones include Function-Based, Recruiter on Demand, and End-to-End RPO. 
Function-Based recruitment process outsourcing is used to boost a specific activity that at present may be hindering your recruiting process. For instance, if your hiring team hasn't enough experience in IT executive search or needs to learn how to work with counter-offers, RPO comes to the rescue. 
The Recruiter–on–Demand model means engaging a qualified tech hiring specialist in your internal recruitment team exactly when you need that. This type of RPO is helpful if your company has diverse hiring needs throughout the year, especially during peak season. Other than that, strengthening an internal staffing team with a tech recruiter on demand is beneficial to hire the right programmers for a certain project. Just imagine having a partner who can give you a hand immediately whenever it's necessary. 
Finally, the End-to-End RPO Model is a magic formula for those who seek a full-service (end-to-end) hiring solution. All you need to do is sit back and let the RPO company take care of all major/minor talent acquisition tasks. 
IT RPO Pricing Models
Depending on the volume of your IT staffing needs and duration of cooperation with an RPO provider, different pricing models are used for outsourcing IT recruitment process: 
1) Cost per hire 
This tech RPO pricing solution is commonly used when the tech company needs to hire a few software engineers in a short time or has a small staffing request once in a while. You are charged only in case of successful candidate placement, which saves you from the loss of financial resources during times of hiring halts. 
2) Fixed monthly fee 
A service fee pricing model is the most suitable if you decide to work with a technical RPO firm for several months or even sign a permanent contract with such a partner. It presupposes paying a fixed amount of money to your outsourced recruiting partner on a monthly basis in exchange for high-quality candidates that match your expectations. 
3) Fixed monthly fee + cost per hire 
The fixed service fee with a cost per hire model is one of the most used pricing solutions for temporary and permanent RPO services. At first sight, you might think that this hybrid payment solution comes with the highest prices, as you seem to be covering both monthly and success fees. In reality, the monthly fee in this case is always reduced and you pay for a candidate only after they get hired. 
RPO Provider vs. Traditional Staffing Agency
Before we go any further, let's consider how a recruitment process outsourcing solution differs from the traditional staffing method. Firstly, IT recruitment process outsourcing means that an external recruiter joins your internal team for the purpose of increasing your hiring expertise. Secondly, the RPO solution has several pricing models suitable for different scenarios. Moreover, it takes RPO vendors less time to close a vacancy – 4-5 weeks. 
Contrary to this, a traditional staffing firm completely takes over the talent acquisition of your company. Thus, you don't even need to have an internal hiring team. In terms of pricing, it's usually a fixed fee that is negotiated between you and your vendor individually. Vacancy closing usually happens between 3 to 6 weeks.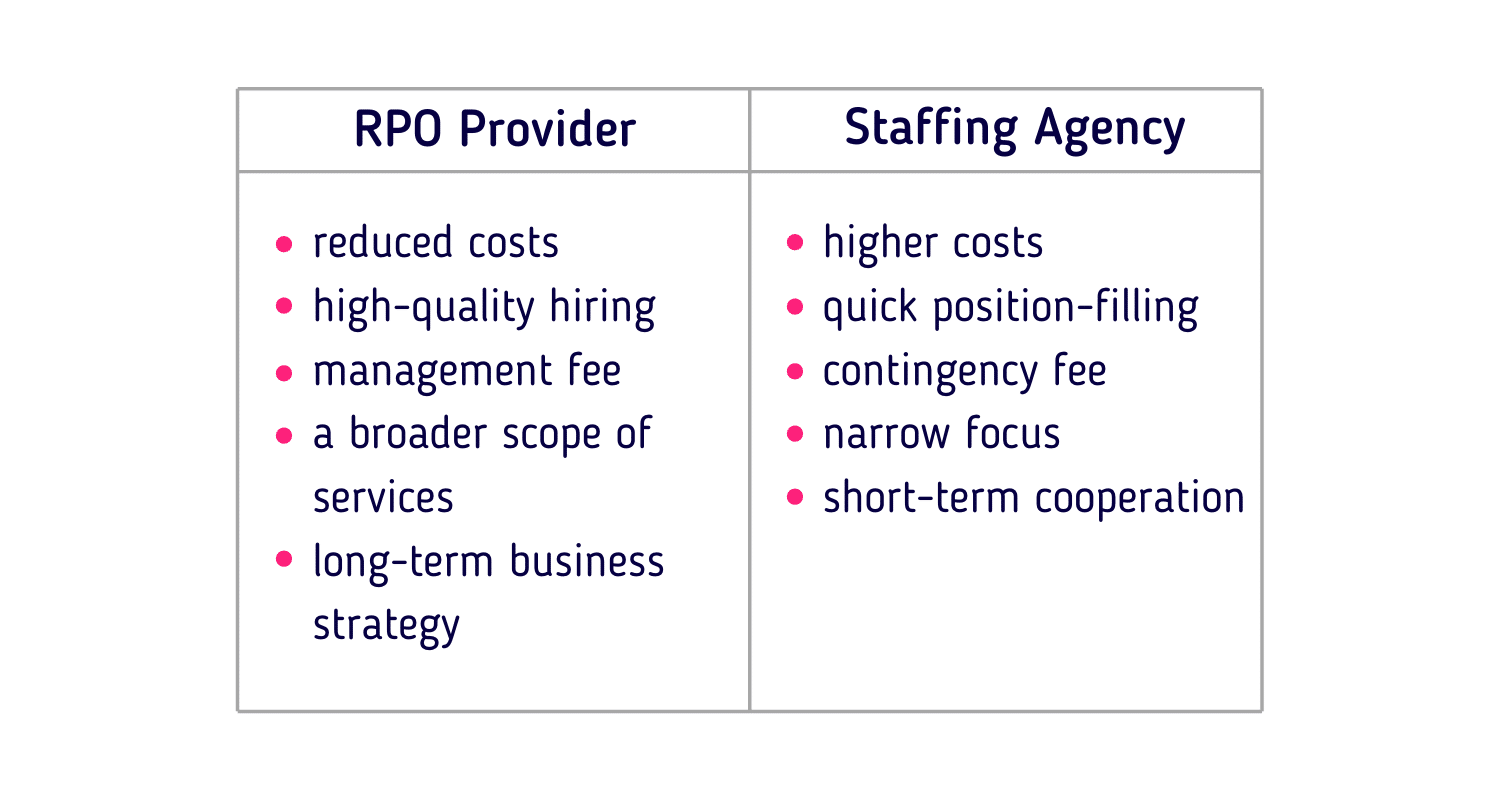 Based on your requirements, Alcor can provide you with either/or both solutions. We offer IT recruitment in Poland, Romania, or other Eastern European countries, as well as professional tech RPO services. Alcor's IT headhunters can assemble a team of 5 programmers in a month for you. In order to complete this and even more, we have 40+ professional IT researchers and recruiters on board. With over 10 years of market experience, our team ensures a streamlined recruitment process for your company. On average, it takes us less than 6 weeks and 8 CVs to close any position. Nevertheless, we strive not only for recruitment speed but also quality: 98% of our candidates pass their probation period in the client company.  
Our IT recruitment services company always goes the extra mile for our clients. For instance, our experienced lawyers can assist you with tax planning, labor law, IP law, M&A deals, and more. If you're interested in transparent accounting and salary processing, our financial department will handle that. We're able to provide a comprehensive solution for your business expansion! 
How Does the RPO Model Work: Recruitment Steps
The IT RPO model is designed to take care of multiple hiring stages using various IT recruitment tips and tricks. Let's jump right into key steps of the RPO solution: 
1) Developing a tech recruitment strategy based on the client's business needs. The defining feature of an IT RPO business model lies in the individual approach and personalization of existing hiring strategies to your specific demands. 
2) Meetings with the client. An RPO provider contacts the client to present CVs and agree on the profile of an ideal candidate (hard & soft skills). After that, the vendor provides consultations and analytical reports on pay scales and benefits. 
3) In-depth sourcing to get the best candidates. Targeted strategies and talent pipelining are applied to find both passive and active job seekers. RPO partners use their internal database, premium tools, then conduct an active search in the market (combined with headhunting if necessary). 
4) Screening of hard & soft skills. Both your internal and RPO recruiters conduct HR interviews with the best candidates. They pay attention to the personality of a candidate and check their references, so you receive verified professionals with values similar to yours. 
5) Candidate selection process and offer management. The client makes a final decision as regards the candidate selection, however they don't have to handle stressful salary negotiations or work with counter-offers, as that's what the RPO provider will streamline in the client's internal hiring team. 
6) Reporting on outcomes. The RPO specialist keeps you up-to-date and provides detailed analytics regarding the above-mentioned procedures. It includes the number of processed candidates, their salary expectations, and other insights. 
7) Effective onboarding process. Naturally, adapting to a new corporate setting might take some time. To ease first-day anxieties, RPO recruiters interact with a new employee and assist with any arising queries. However, further offshore team management is the client's responsibility. 
2 Successful Recruitment Process Outsourcing Examples
3 years ago a French cryptocurrency hardware company, Ledger, decided to expand its software development team in Eastern Europe. They realized that in order to do this effectively and in accordance with local laws, the company needed to cooperate with an experienced provider that could both offer tech recruitment and legal compliance services. Alcor became the #1 choice of Ledger for this purpose. 
Our team assembled 10 of our best tech researchers and recruiters to form a QA team for Ledger. In order to hire a QA Manager, we conducted interviews with 5 qualified candidates in one day which let our client make an offer to one of them that same day. Overall, our IT recruiters hired 26 more people for Ledger. Beyond that, our legal team handled legal consultations, risk management, tax processing, SLAs and other documents, IT security, and invoices with 100% transparency. Our candidates still work at Ledger and immensely contribute to the company's growth. 
Dotmatics is another client of ours that needed exceptional recruiting quality and operational support. However, the main pain point of this client was control over their scientific software development, which they could never achieve while working with IT outsourcing vendors. After selecting Eastern Europe as their go-to destination for business expansion, Dotmatics reached out to us for assistance. 
First of all, we conducted various consultations not only on the Eastern European tech market but also peculiarities of hiring local software engineers. Only after that, we updated the client's job descriptions, created their employee value proposition, and composed a profile of a perfect candidate. Eventually, we recruited 24 people into Dotmatics with Node.js, JS, AWS, React, Java and many other skills. Hiring a Product Manager, QA Engineer, and a C++ Software Developer even led to a WOW effect from the client. Other than that, our team took over administrative support which freed up time for the Dotmatics in-house employees to perform more strategic tasks. 
RPO Provider Selection Tips
Once you've decided to outsource the IT hiring process, it's essential to choose a reliable recruitment provider. Ask these questions to have a pleasant experience with your RPO partner: 
Do they specialize in the IT industry?
The truth is that not all RPO agencies have sufficient experience in talent acquisition in the tech sector. Ask your potential provider if they have any relevant case studies and search for their client reviews. If the provider explains away the absence of cases due to non-disclosure agreements, they probably don't have any successful stories to share. 
On the contrary, those who have extensive experience in the market usually showcase the most prominent examples of their work. Moreover, such recruiters also possess impressive candidate resources that enhance the chances for brilliant tech hiring. For instance, our internal candidate network exceeds 600,000 verified software developers in Eastern Europe. 
How do they organize the recruitment process?
Usually, the most efficient IT recruitment agencies divide their work between researchers and recruiters. While the first group of professionals sources the candidates, another one pre-screens the candidates and arranges job interviews. Responsible providers also stick to agreed time frames, send weekly reports on the number of processed CVs, and conducted interviews. They're always ready to give additional recommendations, consultations and adjust your vacancy to the local tech market. 
How do they select the best candidates?
Firstly, experienced headhunters provide the client with CVs of verified candidates within 5 days. Besides this, they thoroughly check candidates' knowledge and analyze personality features since a good cultural fit is another important point for consideration.  
In terms of the number of job interviews, it always depends on the company and position. Nevertheless, the industry standard is up to 5 interviews to prevent programmers from dropping out of the recruiting process. What is more, when it comes to technology recruitment, outsource only HR interviews to your professional IT RPO vendor. Conduct technical interviews and/or give any test assignments to software developers by yourself, since this is the best way to make sure they are strong in terms of tech skills. 
Which guarantees do they provide? 
Reliable RPO providers offer their clients guarantees to demonstrate the level of confidence in their services. For example, they should inform you of the date when your RPO recruiters join your team, the average time for closing one vacancy, how many of their candidates get interview invitations, the number of CVs until 1 accepted offer, and whether they will substitute the candidate who didn't pass probation. 

What is their pricing model? 
Regarding pricing, the first thing you should do is to ensure that your RPO vendor doesn't require any large upfront investments. Secondly, ask them about their pricing structure. For instance, we charge only the success fee. Last but not least, make sure that your RPO provider prepares detailed invoices to keep your finance management 100% transparent. 
Final Thoughts
If you're looking to outsource the IT recruitment process, consider a professional tech RPO or traditional recruitment provider that will present verified candidates with proven track records, as well as prepare weekly tech hiring reports & consultations. For ensuring strong hard skills of a candidate in tech recruitment, outsource only HR interviews. Carefully choose such a partner according to tech specialization, recruiting process organization, candidate selection approaches, guarantees, and pricing. This way you will reap all the benefits of engaging an external tech hiring partner in your talent acquisition process!