The complexity of hiring IT professionals has become a burning issue among tech companies. Since the competition on the market is rising, the shortage of qualified developers is becoming more evident. The most direct and cost-effective approach to dealing with this matter is to hire them from abroad. But where to find skilled tech specialists?
Having 10 years of experience in hiring developers from Poland, Romania and other Eastern European countries, my team and I prepared some vital research concerning the IT market and software developers in Slovakia (advantages and possible challenges). In this article, I'll also share the salary rates of developers in Slovakia and some viable tips on how to successfully recruit engineers in this country.
IT Market Overview in Slovakia
For a long time, the Slovak Republic has been known as a manufacturing powerhouse of automobiles and electronics. However, after joining the European Union in 2004 and the eurozone in 2007, Slovakia chose the path of a technologically developed country, investing substantial funds in the ICT sector. From a country with limited technical resources, it has been turned into one of the top destinations for IT outsourcing and doing business in Eastern Europe. Let's have a close look at 3 main factors which attract foreign entrepreneurs to enter the Slovak IT market.
Emerging ICT Sector
The ICT industry serves as a potent accelerator of the Slovak economy, which contributed 4,2% to the national GDP in 2020. With the development of the tech industry, its exports increased by 45% to $1.6 billion in 2016-2020. Moreover, the IT sector creates more than 87,000 job opportunities, with the total number of ICT employees growing by 70% since 2016.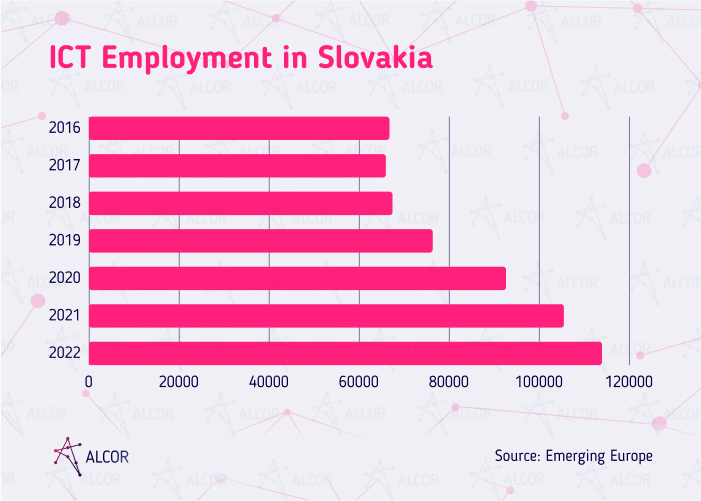 Each year the number of foreign and domestic IT companies is growing. Currently, there are 3,572 software development businesses. When it comes to the leading fields of the Slovak IT sector, one can distinguish: software engineering, mobile application development, digital marketing, game development, cloud computing, and web development. One of the most outstanding tech fields is game development. Its revenues doubled over the last two years, generating a record high of $75 million in 2020. Today, there are over 1K game developers in Slovakia and 55 game development companies & studios which have released around 500 games in total.
Notable Tech Hubs
The emerging Slovak IT workforce mostly lives in Bratislava, Kosice, Zilina, Trnava, and Nitra, with the vast majority of software developers located in the first two (as their tech scenes are more elaborated). Let's proceed with more details concerning these local tech markets.
Bratislava is the capital of the Slovak Republic and the largest IT hub at the same time. Its geographic proximity to Austria, Hungary and the Czech Republic makes this city a convenient location for running an IT business, as companies get the possibility to tap into several huge markets. In addition to that, Slovakia offers a ripe tech talent base, affordable office spaces, and well-organized business environment. Major tech companies including AT&T, Lenovo, Dell and IBM already have their offices in Bratislava. Apart from it, Bratislava also hosts many tech events and conferences, such as: International ITAPA Congress, Testing United Conference, SANAE BEER.EX, and one of the most famous ones is International Conference on Computer Science, Machine Learning and Big Data. 
Kosice is another major tech center in Slovakia. Having Polish, Hungarian and Ukrainian neighbors allows this city to draw more IT enterprises to the local market, as well as develop its booming startup ecosystem. Another aspect which makes Kosice a convenient destination is its lower wages and modest prices for office rentals. This city also houses one of the biggest IT clusters in Slovakia Kosice IT alley which constantly works on tech education elaboration and creation of innovations.
Business Climate
Well-versed and adaptable Slovakian workforce, strategic location in Central and Eastern Europe, competitive wages, investor-friendliness and attractive business environment are the key factors that result in Slovakia being among top destinations for business offshoring.
Tax incentives are a pleasant bonus which only increase the appeal of Slovakia's IT market. The corporate income tax rate has been decreased to 21%, while companies with R&D activities can now benefit from a special tax regime. Using a calculation of the income tax, an additional 200% of R&D expenses can be deducted from the tax base, which allows companies to save a decent sum. Currently, there are 65 BPO, SSC/GBS, IT, & R&D centers in the country which employ 37,000 specialists.
Why Hire Developers in Slovakia?
In addition to greatly developed IT market, doing software development in Slovakia has one more significant advantage – its IT talents. Here're 4 reasons why hiring web developers in Slovakia is so appealing to product tech companies.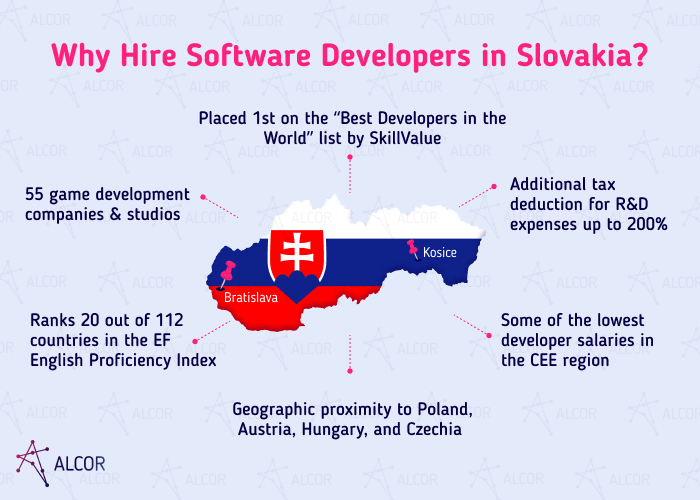 Skilled Talent Pool
This country can boast of over 53,000 IT specialists with different tech stacks and skills. What's more, exceptional talent frequently brings Slovak developers to the top positions in various rankings. According to the SkillValue report, local programmers are the most skilled globally, ranking them 1st on the "Best Developers in the World" list and the best at Python. Other programming languages and frameworks widely used by Slovak developers are PHP, Microsoft ASP.NET, and Node.js.
Technical Education
The Slovak government pays special attention to the quality of its education system. There are 6 national universities with 7 ICT faculties which bring up about 3,000 tech graduates per year. Among the well-known ones are The Slovak University of Technology in Slovakia, The Technical University of Košice, and Comenius University. Due to the dual education framework, cooperation between domestic IT firms and technical higher institutions is tight, thus the tech knowledge of Slovak graduates stands out. 
Moderate Salary Rates
The software engineer's average salary in Slovakia is significantly lower than the American developer's one. For example, mobile app developers in Slovakia earn ca. $55K a year while their colleagues from the US get, on average, $100K. Later in this article, I'll share the rates for different positions and skills to give you a bigger picture. Notably, average gross salaries in the IT sector are higher by 64%, however, they are still lower than in Western European countries. This is also one of the reasons why companies from the EU consider nearshoring to Slovakia.
Proficiency in Foreign Languages
Apart from all-around tech education, software developers in Slovakia are good at languages. About 88% of Slovaks speak at least one other language besides their mother tongue. According to the EF English Proficiency Index, Slovakia is ranked 20 out of 112 countries. German, French, Italian, and Spanish are commonly used by these engineers as well, which also plays a crucial role for western companies while weighing the pros and cons of Slovak developers.
Possible Difficulties When Cooperating with Slovak Developers
Despite multiple advantages of running businesses in Slovakia, there are still some challenges which could be faced by foreign product companies. Let's examine 2 main challenges of hiring Slovak developers.
Insufficient Number of IT Specialists
The Slovak tech talent pool is not as prominent as in its neighboring countries. According to Dealroom.co and PFR report, Slovakia is only ranked 8th among countries of the CEE region by the number of developers. The possible reason for that is a slow response of the national higher education institutions to fast-paced market needs. This problem is also accompanied with a lack of IT centers in the country where only two cities, Bratislava and Kosice, are fully adapted for the comfortable running of an IT business. Thus, if you want to hire IT experts in Slovakia with ease, find an experienced recruitment service provider who knows all the nuances of this IT market and software developer facts can promptly recruit the right specialists for your team.
Taxation System
Taxation systems in all countries have their own peculiarities, and Slovakia is not an exception. Briefly speaking, there are direct and indirect taxes in the country. Direct taxes are subdivided into income (personal and corporate) and local taxes. Personal income taxes range from 5% to 25%, while the corporate tax rate is usually 21%. However, companies engaged in R&D activities are provided with an allowance equal to 100% of R&D costs and expenses that may be deducted from the tax base. For their part, indirect taxes are divided into VAT (20%) and excise duty rate (on certain products). If you are thinking of entering this market, best to consult professional tax advisors, so you can run your IT business without worrying about tax liabilities and payroll in Slovakia.
Average Slovak Developer Salary Rates
Although Slovak developers' rates in the ICT sector are above the national average, they remain significantly lower in comparison with western countries and still competitive in the CEE region. That's the reason why more and more international companies are willing to hire Slovak developers, as they can save costs and at the same time get highly competent and hardworking specialists. So, let's compare the gross annual software developer salary (Slovakia vs USA) rates to find out their divergence.
Position
 Junior
 Middle
 Senior
Slovakia
USA
Slovakia
USA
Slovakia
USA
Full-Stack Software Developer
$24,000
$92,000
$45,000
$112,500
$54,000
$133,500
Front-End Software Developer
$21,500
$84,000
$44,000
$105,000
$52,500
$130,000
Back-End Software Developer
$22,000
$106,500
$46,500
$127,000
$56,000
$148,000
Mobile App Developer
$24,000
$85,000
$48,000
$108,500
$58,500
$140,000
Game Developer
$25,000
$81,000
$46,000
$100,000
$55,000
$122,000
Data Engineer
$26,500
$97,500
$52,500
$123,000
$61,000
$160,000
DevOps Developer
$26,000
$95,000
$50,500
$120,000
$59,000
$141,000
QA Engineer
$20,500
$72,000
$37,000
$100,500
$47,500
$118,000
Embedded Developer
$24,000
$89,000
$44,500
$112,500
$52,500
$130,500
Slovak salaries were converted to US dollars at a relevant exchange rate for March 2023.
According to the compensation metrics collected by my team, the average Slovak developers' salary rates are approximately 3-4 times lower than the ones provided in the US. When it comes to job positions, QA Engineers have the smallest annual wages: Slovakia ($20K – $47K) and the USA ($72K – $118K), while Data Engineers receive the highest remunerations: Slovakia ($26K – $61K) and the USA ($97K – $160K). 
In terms of tech-stack rates, C++, JavaScript developers, and PHP developers in Slovakia are paid the lowest annual salaries, while Slovak Python developers and TypeScript programmers get the most generous compensations in the compared countries. You can see the software engineer's average salary in Slovakia and the US for these skills in the table below.
| | | |
| --- | --- | --- |
| Programming language | Slovakia | USA |
| JavaScript | $46,000-$56,000 | $125,000-$142,000 |
| Java | $44,500-$52,500 | $125,000-$141,000 |
| C# | $44,500-$52,000 | $122,000-$138,000 |
| PHP | $37,500-$48,000 | $117,000-$138,000 |
| Python | $47,000-$55,500 | $124,000-$138,000 |
| C++ | $45,500-$51,500 | $118,000-$137,000 |
| ASP.NET | $40,000-$48,000 | $121,000-$137,000 |
Slovak salaries were converted to US dollars at a relevant exchange rate for March 2023.
Guideline to Hire Slovak Software Developers
– Scrutinize the local market 
Before forming a team of developers in the offshoring country, I recommend you make sure this destination meets your business needs and expectations. Explore the available IT hubs to choose the most suitable for you. Firstly, check out their labor markets: the size of the talent pool and existing tech specializations to know if you'll be able to get the exact expertise needed for your product development. Then compare the average remuneration rates, so you could set a competitive salary for your candidates. Proceed with examining the state of infrastructure and business environment to be aware of both pros & cons of doing business in the chosen location.
– Set your job requirements 
To hire suitable IT professionals for your company, you need to make an ideal candidate profile. Depending on the position and expertise levels (junior, middle, senior), the qualification may differ. For instance, if you are seeking a senior-level ETL engineer, make sure your candidate has not only advanced tech skills, but also knows how to make great use of "big data" and, possesses exceptional soft skills, project management and communication ones in particular. 
– Conduct job interviews
The final and most complicated step is all about choosing a best-matched candidate. Therefore, you should prepare for a job interview thoroughly. Compile a test assignment that will help you to estimate the coding skills of candidates, and make a list of essential questions. They should cover topics about tech tools, programs, equipment used for software development, approaches to project execution, and working in a team. During the job interview, pay special attention to the professional skills and experience of the candidate, their portfolio, and references.
Three Prevalent Ways to Hire Slovak Developers
1. Hiring IT specialists from freelance platforms
If you are seeking a software developer for the short term, this option may suit you well. You can easily find the right IT talent in Slovakia for your team by using one of the multiple freelance websites. Since such employees work as independent contractors, you don't need to worry about any employment contracts or spending money on social packages & taxes. However, if you'd like to have a dedicated programmer, consider other alternatives.
2. Collaborating with software companies in Slovakia
Another way to hire developers in Slovakia is by partnering with a local software company. This option works on the basis of staff augmentation, where an outstaffing vendor selects the required expertise needed for your project fulfillment. If alterations occur, they can substitute any team member with some other specialist. Although this option can save you some costs, in the long perspective it will imply additional expenses (such as buy-out and service fees). Moreover, you may put your IP rights at risk because of the lack of dedication from the vendor's team of engineers.
3. Finding a recruitment service provider
If you are a product company that wants to cut expenses and at the same time maintain full control over software development, then the best option for you is to cooperate with a professional recruitment service provider in the offshoring country. In this way, you'll assemble your own development team, as well as save costs and secure your IP.
You can select Alcor as your trusted partner and experience all these benefits just like our clients Samsung, Huawei, Grammarly, Tonic Health, BigCommerce, and thredUP do. 
We provide a whole spectrum of IT recruitment services, starting from local market research, executive search for rare specialists to consultations on recruitment outsourcing and employer branding. It takes us 3-6 weeks to close a vacancy, while out recruitment quality speaks for itself – 98,6% of our candidates successfully pass the probation period. 
Alcor BPO's exclusive solution also presupposes some back-office operations to be covered in case our clients are interested in the creation of an offshore development team in Eastern Europe.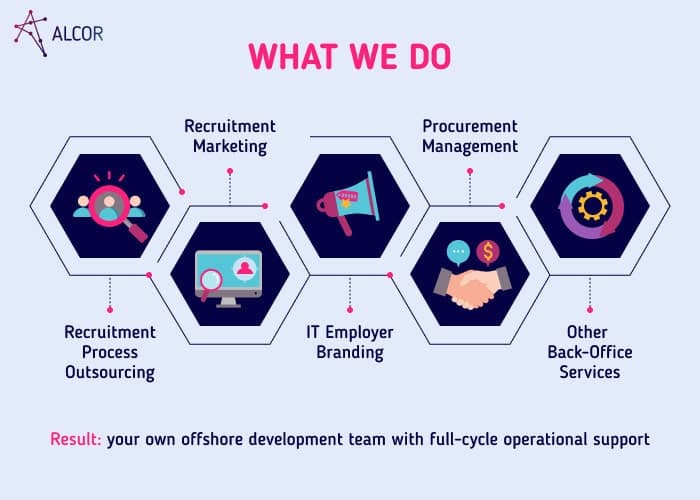 That's what happened with People.ai, a US-based software product company. Before finding out about our all-in-one-place solution, the company tried to get an offshore team by working with several vendors simultaneously for months (which didn't turn out well). By contrast, when cooperating with Alcor, the company got 25+ developers within 4 weeks. Our team also took over payroll & accounting and legal compliance services to ensure the uninterrupted functioning of their team. People.ai continues to amaze the world with its cutting-edge technologies and achieve unbelievable success.