By 2030, 85 million tech jobs could go unfilled due to the lack of software engineers. But what if you're a product company planning to scale and grow in the next few years?
If you're relentless, you'll search for talent elsewhere, and staff augmentation in Eastern Europe is one of the ways to get tech geniuses on board.
I'm Dmytro Ovcharenko, Alcor's CEO and founder. Alcor is a top-market R&D services and full-cycle IT recruitment agency. We bridge US clients with expert engineers from Eastern Europe and Latin America. 
Today, I'll share exclusive tips about IT staff augmentation in Eastern Europe. In this article, you'll learn what team extension means, why you can't go wrong with destinations in Eastern Europe, and how to achieve all-time-high results.
Staff Augmentation: Quick Overview
The staff augmentation model means engaging software developers of an IT outstaffing provider to temporarily supplement the capacity of an internal team. 
More flexible than outsourcing, it allows for replacing outstaffed workers on the go and lets the client maintain control within the extended development team. 
Why Tech Companies Choose Eastern Europe for Staff Augmentation
Booming IT Outsourcing Sector
Eastern European team augmentation is not hit-and-miss. The IT sector is growing at a 9.43% CAGR rate. So, by 2028, the market volume will amount to over $23 billion, with IT outsourcing generating more than $5 billion in revenue. 
Extensive Talent Pool
The tech talent pool is over 1 million and counting — Poland and Ukraine are leading the way. More than that, up to 80,000 skilled specialists will graduate from more than 1,000 higher education institutions available in the region. 
Impressive Tech Stacks
Rumor has it that EE engineering expertise is unparalleled. The region is a treasure trove of programmers proficient in Python, SQL, Java, JavaScript, and TypeScript. HackerRank is confident that the trend for these languages is here to stay, so team augmentation in Eastern Europe is your go-to choice. 
To beef it up with a story from Alcor. Once our US scientific software client Dotmatics set a goal to get a team of 30+ remote devs in a year. Of course, we fulfilled this request. But then came a surprise — a Back-End developer we hired had enough qualifications to join the team as a Full-Stack engineer. Talk about getting two devs with one recruitment partner!
Business-Friendly Environment
Regarding economic innovation, Eastern European software development ranks in the top 50 globally. Topping that off, investment incentives, IT community networks, and mature startup ecosystems guarantee a quick launch of an augmented development team. 
Significantly Lower Costs
Team extension in Eastern Europe is also affordable: a Senior JavaScript Developer in the US earns $120K a year, while Eastern European average salaries for the same position amount to $64K. Not to mention taxes! 
Similar Work Ethics
Lastly, you'll quickly get along with your development team during augmentation in Eastern Europe thanks to a Western-like work mindset, the same project management approaches, and high delivery standards. 
Top Staff Augmentation Destinations in Eastern Europe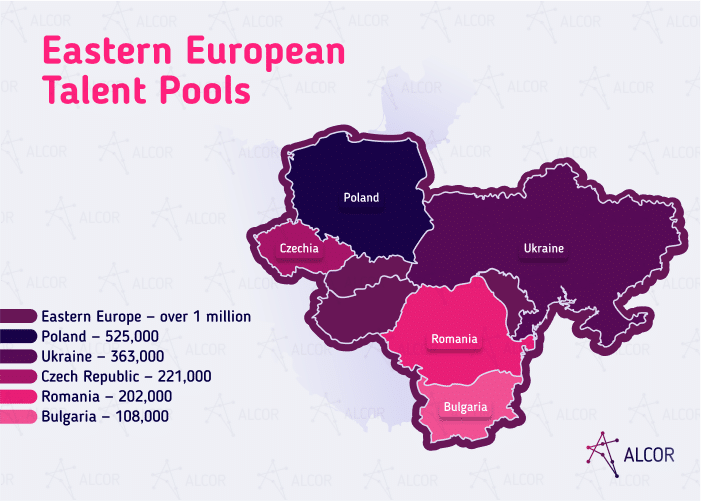 Poland 
Talent pool: 525,000
ICT graduates: 20,000
IT businesses: 60,000+
IT hubs: Warsaw, Krakow, Wroclaw, Poznan, Lodz, and Tri-city (Gdansk, Gdynia, Sopot)
IT Exports market: will reach $13 billion by 2026
Higher education institutions: 400, 22 in QS World University Ranking 2024
Most-prized tech skills: JavaScript, Java, Python, Ruby, Shell, TypeScript, PHP, C#
Global English proficiency ranking: 13th out of 111
Taxes: 19% corporate income tax; 19% personal income tax OR 8.5%-12% lump tax
Ukraine
Talent pool: 363,000
ICT graduates: 27,000 
IT businesses: 5,600
IT hubs: Kyiv, Lviv, Odesa, Dnipro, Kharkiv
IT Exports market: will reach $5.49 billion by 2028
Higher education institutions: 300, 11 in QS World University Ranking 2024
Most-prized tech skills: JavaScript, Java, C#, Python, PHP
Global English proficiency ranking: 35th out of 111
Taxes: 18% corporate income tax; a simplified tax system with 5% personal income tax and 22% social security tax
Czech Republic
Talent pool: 221,000
ICT graduates: 16,000
IT businesses: 7,700
IT hubs: Prague, Brno, Ostrava
IT Exports market: will reach $531.5 million by 2028
Higher education institutions: 70, 16 in QS World University Ranking 2024
Most-prized tech skills: Python, Java, JavaScript, C#, HTML, Swift
Global English proficiency ranking: 23rd out of 111
Taxes: 19% corporate income tax, 15%-23% revenue-dependent personal income tax 
Romania
Talent pool: 202,000
ICT graduates: 10,000
IT businesses: 7,930
IT hubs: Bucharest, Cluj-Napoca, Iasi
IT Exports market: will reach $1,576 million by 2028
Higher education institutions: 100, 13 in QS World University Ranking 2024
Most-prized tech skills: JavaScript, Java, PHP, C#, Python, React, Angular, HTML, and CSS
Global English proficiency ranking: 17th out of 111
Taxes: 1%-16% revenue-dependent corporate income tax; 10% personal income tax
Bulgaria
Talent pool: 108,000
ICT graduates: 6,100
IT businesses: 10,000
IT hubs: Sofia, Burgas, Plovdiv
IT Exports market: will reach $2.6 billion by 2026
Higher education institutions: 50, 1 in QS World University Ranking 2024
Most-prized tech skills: C#, JavaScript, Java, Python, SQL, PHP, .NET
Global English proficiency ranking: 21st out of 111
Taxes: 10% corporate and personal income tax; 32.7% to  33.4% social security tax divided between the employer and the employee
Additional sources: Statista, 2023 Future of IT Report, EEF Index, The State of CEE IT Outsourcing and Offshoring Report, IT Association Ukraine Report, Skillvalue, HackerRank, Coursera Global Skills Report
Challenges of Team Augmentation in Eastern Europe
Entering the Scene 
Not all staff augmentation companies in Eastern Europe can help you establish your employer presence in the local market. It involves numerous tasks, such as crafting an employer value proposition (EVP), adjusting it to a foreign audience, gaining access to local communities, and promoting it on social media and other platforms. 
Still, being well-known in the market works best when attracting specialists with rare tech stacks, especially if there's a need for more vacancies along the way. 
In this case, the best strategy is engaging employer branding. That's how we did it for Sift, a US online fraud detection company.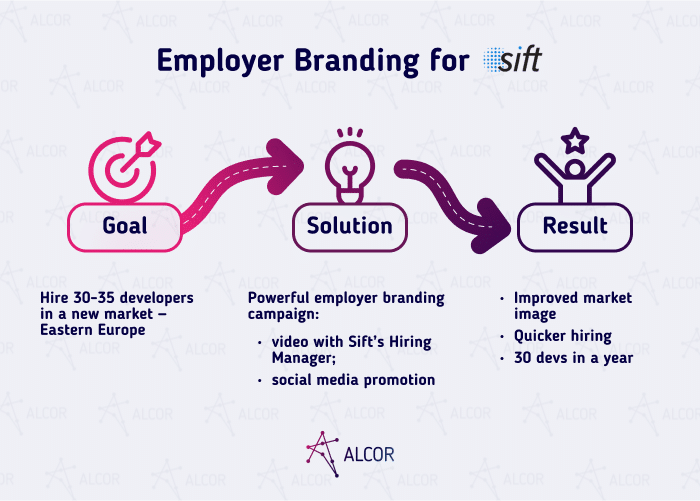 Navigating the Market 
Getting the hang of local legislation, taxes & payroll on your own is no mean feat. While feasible, it's also time-consuming and risky, as it's easy to overlook the rules and laws of augmenting your staff in a different location.
So, if you're serious about team extension, consider only those staff augmentation services in Eastern Europe that include legal compliance as part of their solution. 
Ensuring Loyalty
The team extension model is efficient but short-lived. Similarly to Eastern Europe outsourcing, you need to start all over for every new project. Affiliated with team augmentation companies in Eastern Europe, software engineers are not loyal to your product — apart from your project, they have many more. 
Besides, you're not their direct employer. 
Unfortunately, low dedication and short-term contracts might take a toll on software quality, so I'd suggest looking at other models if this is crucial. 
Finding a Provider
With a dime a dozen companies that provide IT team augmentation services in Eastern Europe, it's easy to get lost. Make sure you choose a well-rated partner with transparent pricing, a result-oriented attitude, explicit guarantees, and flawless process management. 
3 Alternatives of Staff Augmentation in Eastern Europe
So, Eastern European staff augmentation will allow you to hire EE specialists with a particular tech stack for short-term projects and give you more control than when you outsource the tasks. 
On the other hand, apart from the abovementioned challenges, this model has one more drawback — buy-out fees. You'll have to pay them to hire a developer in-house. 
What are the ways to do so straight away? 
Here's a brief overview of alternatives:
EoR (employer of record) stands for hiring already-found candidates in the provider's company on behalf of the client. 
Pros: HR payroll, legal compliance, and tax & accounting managed, convenient in an unfamiliar market
Cons: the recruitment of software developers falls squarely on the client's shoulders
IT recruitment is a full-cycle service aimed at hiring the best tech specialists. 
Pros: long-term projects, hiring in-house and building teams from scratch, payroll & legal support may be included
Cons: not suitable for hiring temporary employees or when scalability is not the client's goal
The R&D center combines the perks of IT recruitment but guarantees payroll & legal support with office premises in a chosen EE country. 
Pros: your own branch in another country, recruitment, legal compliance, payroll & back-office support
Cons: might be pricy for non-tech or micro businesses
Opting Out of Staff Augmentation in Eastern Europe? It Can Get Easier with Alcor
We at Alcor can lead you through all the pitfalls of getting top talent in Eastern Europe. Our tested-and-tried locations include Poland, Romania, Bulgaria, and Ukraine. And the list doesn't end here.
Be it full-cycle IT recruitment or IT recruitment & R&D services you need, our team of 44 tech recruiters and your key account manager will hit the target quickly: with an 80% CV pass rate, we recruit 5 devs within 1 month. If we fall behind the deadlines, we'll hire the rest free of charge. 
Excited to try? We're looking forward to your message!