The global IT industry is developing at the speed of light, integrating more and more cutting-edge technologies, from AI and machine learning to robotic process automation and blockchain solutions. The market currently reaches a whopping $8852.41 billion worldwide and will only continue to expand. However, the flipside of this mind-blowing progress is a soaring software developer shortage, as 64% of IT executives consider it a major barrier to effective tech adoption and business growth.
So, is there a way out? Keep reading this article to get a holistic picture of this burning issue and learn about a workable solution to address talent shortages.
Overview of the Worldwide Software Developer Shortage
The global talent shortage is not a storm in a teacup but a real concern. Some estimations claim that it may exceed 85 million by 2030, resulting in companies losing over $8,5 trillion in revenues if markets fail to narrow the talent gap. According to the McKinsey & Company survey, 87% of companies have already faced a talent shortage or assume to experience it in the next couple of years.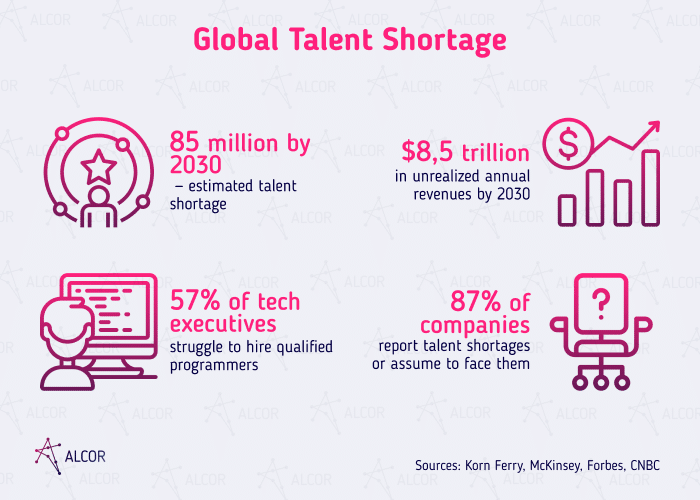 The most severe skill gaps relate to the developer shortage, especially in the fields of AI, data analytics, web design, and cybersecurity. As the data shows, there are only 65 potential candidates for every 100 new vacancies. It takes 61 days and $20K on average to find and hire the right software developer in-house. No wonder why about 57% of tech executives see hiring qualified programmers as their biggest obstacle. 
Now let's look at the worldwide software developer shortage by location.
Europe
The European continent is now in the grip of a developer shortage crisis, as three-quarters of companies are struggling to find workers with relevant skills. Despite the 51% growth in the number of ICT experts over the last decade, the EU member states still risk facing a lack of over 8 million ICT professionals by 2030. In fact, a recent survey shows that IT recruiting is an uphill battle for over 58% of European companies. 
For instance, in the United Kingdom, 68% of executives encounter the challenge of hiring the right tech specialists, with 45% claiming that it is due to the deficit of qualified applicants. This statement is proven by the Gallup and Amazon Web Services study that found that only 11% of British workers possess advanced digital skills (like AI, ML, or cloud architecture, etc.). At the same time, about 87% of IT experts have either quit their jobs or thought about doing so in 2022.
In Germany, the number of unfilled IT vacancies increased by 12% in 2021, hitting a record high of about 96,000. The tech talent gap in the country is expected to grow from 700,000 open positions in 2023 to 780,000 by 2026. The main factor affecting these dynamics is the software engineer shortage, which reached almost 320,600 specialists last year. 
The situation with the skill crunch is quite similar in France. According to the Korn Ferry report, the local talent shortage is forecasted to balloon from half a million in 2020 to 1.5 million by 2030. Among the top roles that should be filled in the upcoming years are information security, big data analytics, and digital product development. 
The prompt development of the Scandinavian tech startups brought the gap between supply and demand for software engineers to the foreground. For example, the Swedish IT industry needs about 70,000 skilled specialists to keep on growing, while Norway experiences a programmer shortage of over 60,000 talents, with the most sought-after tech job being software engineer. 48% of decision-makers in Norway admit being in urgent need of a competent tech workforce.
Asia
One of the main providers of IT services in the world, India, also struggles with a massive shortage of developers. About 74% of tech executives view IT talent scarcity as a burning threat to their businesses. In fact, only 49% of Indian tech professionals aged between 22 and 25 are actually employable, while 50% of the current IT workforce needs some reskilling. It is estimated that over 2 million jobs in AI, Blockchain, and cybersecurity will remain unfilled in 2023.
According to a recent report, China will see a 10-million-person gap in its technology industry due to the economy's focus switching to smart and higher-end production. The developer talent shortage is expected to soar to 5.5 million by 2025.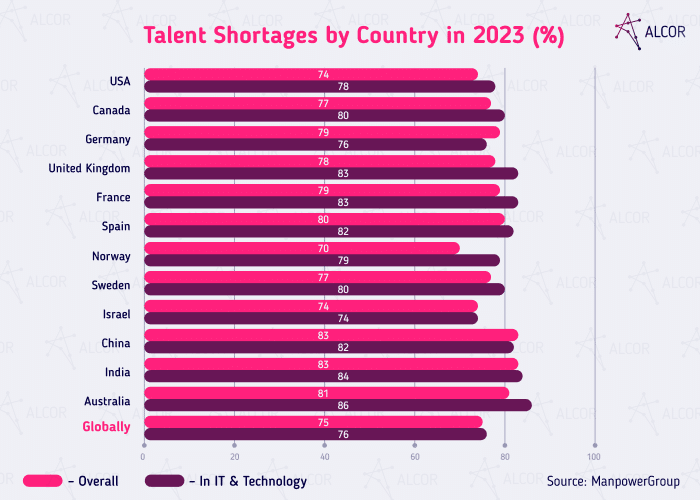 Overview of Software Developer Shortage in the USA
Among other countries with a shortage of software developers is the USA. Its tech market is one of the most heated in terms of competition for IT talent. According to ManpowerGroup research, tech jobs are among the top ten most difficult to fill, as 69% of American IT companies have a hard time finding the needed experts. To win the race for well-versed developers, many businesses resort to salary raises, which has already made the IT profession the most well-paid in the market (the average tech wage now exceeds $110,100 a year). However, this measure can't put an end to the rising shortage of software developers. 
In fact, the US Bureau of Labor Statistics states that the need for software developers will only increase, hitting 22% between 2022 and 2030. Currently, the number of software engineers in the USA constitutes about 4,4 million, which is still not enough to satisfy the market's needs. It is estimated that the shortage of programmers in this country will skyrocket to almost 1,2 million by 2026.
Besides having a severe software engineer shortage, the US IT market is also struggling with high staff turnover rates which now amount to 13.2%. According to the Dice report, around 52% of IT specialists are likely to change employers this year due to a variety of reasons, including poor compensation, work-life imbalance, absence of opportunities for growth, and lack of flexibility. This issue not only slows down the development of the technology sector but also rips off employers, as they spend 50-250% of the salary for replacement. That's why many IT companies have already resorted to hiring freezes or even layoffs just to save up and weather the storm. Keep reading this article to find out about a cost-effective solution to overcome the talent shortage and keep your IT business flourishing. 
Factors Contributing to the Software Developer Shortage
Swift technological progress
The technology industry has never evolved as quickly as it does today. Just 4 years ago, global tech spending constituted about $3,8 trillion, while in 2023, it is projected to reach $4,6 trillion, with IT services taking the largest share. Despite the side effects of the pandemic, it was a perfect time for businesses to accelerate digital transformation, bringing to the fore cloud solutions for data sharing and storage, blockchain technology to enable a secure and decentralized way of managing transactions, data privacy enhancing technologies, and IoT. Now, it's all followed by roaring AI-generative tools (like ChatGPT), quantum computing, and robotics, which produce an excessive number of new jobs in the market. 
As businesses are trying to harness the full power of technology to win the primacy, hiring of qualified IT professionals becomes mission impossible. Almost 50% of recruiters struggle to find candidates with skills that match their job requirements. There are a couple of reasons for that. Firstly, it's the inability of higher education to promptly adapt to emerging tech trends and meet the software developer demand. Secondly, it's the lack of up-to-date skills which is relevant for both freshers and old-timers of the IT industry. The problem is that it's hard for tech professionals to stay constantly abreast of new technologies. Because of that, hiring managers are now more inclined to hiring boot camp graduates who possess relevant coding skills. 
Another issue that contributes to the tech talent shortage is the unequal representation of women in IT. This problem is especially visible in Europe, where only 1 in 6 tech specialists and 1 in 3 computer science students are women. If the EU could double the number of female IT professionals to about 45% by 2027, the talent gap would be closed, and the countries' economies would see an extreme upturn. To cope with this burning problem, the EU set up the European Year of Skills when countries work on inclusive programs and training. 
How the Shortage of Software Developers can Impact your IT Business
The ongoing shortage of IT professionals makes the quest for innovation and business growth unfeasible. The rapid disruption of technology made many tech executives rethink the requirements for candidates. Nowadays, companies need experienced software developers who not only understand the ins and outs of technology trends but also can easily master new skills. Because of high candidate expectations, many companies miss out on talented specialists and end up at the dead end of prolonged, costly, and ineffective recruitment. Consequently, many businesses put their projects and recruitment on hold, which inevitably leads to business stagnation.   
Therefore, many IT companies consider alternative ways to meet their staffing needs and keep on growing. A survey conducted by Deloitte found that about 87% of tech businesses opt for nearshoring or offshoring in order to combat skill gaps and at the same time reduce labor costs. Basically, both strategies presuppose expansion of their markets with huge pools of available workforce, lower costs, and tax incentives. While nearshoring is about tapping into neighboring markets' potential, offshoring presupposes hiring in distant locations. Let's have a closer look at destinations which are frequently picked by American IT businesses.
Recruiting Global IT Experts as a Key to Fighting Internal Talent Shortage
Nearshoring in LATAM countries
When it comes to nearshoring, most US IT companies make their choice in favor of Latin America, as this region boasts about 900,000 IT professionals, has low salary rates, and geographic proximity. Here is a short overview of 2 LATAM locations where such tech giants as Google, Amazon, Dell, Airbnb, and Netflix have their software developer teams:
Mexico
The Mexican IT industry possesses one of the biggest talent pools in South America: 225,000 software developers;
Nearshore software development in Mexico is much cheaper than in the USA. For instance, senior DevOps Developers in the US receive about $160,000, while their Mexican colleagues earn about $58,000 a year;
Mexico has 3 overlapping time zones with the USA, and it takes just 3-4 hours by plane to get to major IT centers;
There are 5 tech hubs in Mexico, such as Guadalajara, Monterrey, Mexico City, Tijuana, and Merida;
US tech companies can enjoy free trade and protection of IPR under the USMCA.
Argentina
The tech pool in Argentina exceeds 100,000 programmers;
A senior-level software developer on average earns from $45,000 to $68,000 annually. This allows US IT executives to save 50%-70% on labor expenses, if outsourcing software development to Argentina;
The country is ranked #1 for data science skills in LATAM and 22nd globally in coding languages like Python, Cloud APIs, SQL, and NLP;
Argentina is only one hour ahead of most American cities which guarantees productive cooperation between the in-house and remote developer teams.
Offshoring to Eastern Europe
Another region that can help tech companies combat shortages of software engineers is Eastern Europe. Its talent pool surpasses 1 million IT experts who are well-versed in a wide range of modern technologies, have outstanding soft skills, high English proficiency, and western mentality. Ease of Doing Business 2020 identifies most EE countries as beneficial destinations for investment and starting a business, with affordable salary rates and taxes being some of the main drivers for that. 
Poland
Poland has over 500,000 IT specialists which is the largest talent pool in the CEE region; 
Polish developers have deep expertise in modern technologies (like Java, JavaScrip, Python), taking top positions in reputable rankings: SkillValue, Google Code Jam, and TopCoder;
With IT recruitment in Poland, US tech companies can pay much lower developer rewards. The annual salary of senior developers here ranges from $60,000 to $80,000;
If hiring programmers on a B2B basis, it's possible to save a decent sum, as Polish taxes for tech businesses constitute only 8,5%-12%;
This offshoring destination has 6 ripe powerhouses, namely Warsaw, Krakow, Wroclaw, Tri-City, Poznan, and Lodz.
Romania
Bulgaria
There are over 110,000 tech experts, 28% of which are women — the highest proportion among  the EU countries;
Bulgarian developers are particularly good at mobile development, cloud computing, software engineering, and web development;
If using IT recruitment in Bulgaria, American product companies can save up to 70% on labor expenses. For instance, a senior Mobile App Developer will cost you about $58,000, while a Data Scientist of the same expertise level charges less than $65,000 a year; 
Corporate and personal income taxes are only 10%.
Overcome the Talent Shortage via Alcor IT Recruitment Agency
If your IT company is going through a talent drought, it's time to dive into the Eastern European ocean of hiring opportunities. Our company Alcor will be glad to serve you as a beacon in the local market! 
For over a decade, we have been providing IT recruitment for software product companies, making the most ambitious staffing goals a reality. 
For instance, our client Sift wanted to expand their team with 30 Polish, Hungarian developers and Slovak developers in just a year. Alcor not only closed all positions under the established terms but also provided back-office support, covering legal compliance and payroll operations. Another successful case was hiring 10 QA engineers during 6 months for IT company Ledger. Our recruiters exceeded all client expectations by closing 1 QA Lead and 3 QA Manual experts in just 2 weeks! 
We guarantee such "WOW" results to all our clients, as we vouch to hire the first 5 developers in a month and even provide a 3-month candidate warranty. On average, it takes us only 8 CVs to get to one accepted offer, while 98% of all candidates successfully pass the probation period.