The Czech Republic is a country in central Europe that has already caught the interest of Google, Microsoft, Oracle, and many others for building their software R&D centers there. So, what makes it such a viable option?
At Alcor, we focus on IT recruitment in the Czech Republic and other Eastern European countries & Latin America; hence have plenty of expertise and insights into tech markets in this region. In this article, I'll overview the Czech IT market and local tech talent pool, compare salary rates in Czechia and the US, and share the best solution for software development in the Czech Republic.
IT Market Overview in the Czech Republic
IT sector in the Czech Republic is vibrant and growing — it's ranked 11th in Europe with a total worth of €3.9bn and 3.7% year-on-year growth. The forecast for upcoming years is also promising, as local software market revenue is expected to increase by a total of $531.5 million.
It's also worth mentioning that the Czech government is highly supportive of various ICT industries and initiatives. For instance, the National Center for Big Data and Cloud Computing, established by the government, provides development support and certifications for promoting new solutions in the public sector. The startup ecosystem is also in the interest of the state. There are plenty of programs that support their growth and expansion. One of them is the Czech Accelerator, a program that provides mentorship, help with business processes and networking opportunities for startup companies. What's more, the local authorities understand the importance of digital transformation and recently implemented new policies and strategies to improve digital infrastructure, enhance the digital skills of the populace, and ensure the security and safety of digital systems.
Cybersecurity Expertise & Innovation
These are not the only technologies that are highly developed in the IT industry in the Czech Republic. This country also stands out for its robust cybersecurity. One of the most world-known antiviruses, Avast, originated in Czechia and has headquarters in Prague as well as offices in other countries around the globe. In addition, the Czech Republic is a member of the European Union Agency for Cybersecurity and has various research groups and centers around the country that focus on this domain.
Business Climate & Tax Benefits
The land of a thousand spires can also boast an extremely business-friendly ecosystem. According to the 2023 Index of Economic Freedom, Czechia is ranked 21st in terms of business and investment freedom, followed by Austria, the UAE, and the US. The Czech software development market also offers a cost-efficient taxation system – a flat corporate income tax of 19%, one of the lowest rates in Europe. Depending on the employee's income, the personal income tax for IT specialists has tax rates of 15% to 23%. Besides, employers are required to pay certain social contributions, specifically 9% and 24.8% of the employee's gross salary, while the employees themselves contribute 11%. This fact appeals to tech entrepreneurs from the US and even from Central Europe who opt for nearshoring in the Czech Republic to cut down on operational costs.
Czech Tech Talent Pool
With more than 10 million population, there are 130,000 Czech software developers, which makes it one of the biggest talent pools in Eastern & Central Europe. Apart from that, there are some more interesting points to mention about Czech tech specialists:
Versatile skills and tech stacks
Software developers in the Czech Republic possess great skills in various coding languages and technologies. Some of the most popular programming languages among them are Python, Java, JavaScript, C#, HTML, and Swift. Notably, the Global Skills Report 2021 also singles out their cutting-edge skills in computer networking & programming, databases, mobile development, theoretical computer science, and web development. 
Recognized engineering expertise 
IT talents from this country often appear on top of reputable rankings in terms of their programming competence. HackerRank's Best Developers list placed them 9th, while the SkillValue report ranked Czech tech enthusiasts 6th.
Sound command of the English language
Apart from profound tech competencies, devs from Czechia demonstrate high proficiency in the English language. According to the EF English Proficiency Index, the Czech Republic stands 23rd in the list out of 111 countries.
No wonder the skills and experience of a Czech programmer are widely recognized globally, as the country has a strong tradition of education and innovation. Its higher institutions are among the top global universities on the QS World University Rankings list, attracting not only local but plenty of international applicants to study IT in the Czech Republic. Every year there are more than 16,000 graduates in the field of ICT. In addition, numerous nonformal coding schools and boot camps such as Coding Bootcamp Praha, Czechitas, and Socialsharks offer exceptional opportunities to acquire practical IT skills.
Czech Developer Salary vs US Salaries
One more burning question that interests tech entrepreneurs who decide to do software development with a team in the Czech Republic is cost. Let's compare Czech developer salaries vs the US wages to get a bigger picture. The table below represents the salary rates of key roles in a software development team with different experience levels. My team collected this data from Glassdoor, SalaryExpert, and Talent.com.
Positions 
 Junior
 Middle
 Senior
Czechia
USA
Czechia
USA
Czechia
USA
Full-Stack
Software Developer
$43,000
$90,000
$62,000
$130,000
$77,000
$150,000
Front-End
Software Developer
$25,000
$75,000
$40,000
$110,000
$50,000
$130,000
Back-End
Software Developer
$27,000
$85,000
$45,000
$120,000
$54,000
$145,000
Mobile App
Developer
$21,000
$80,000
$33,000
$115,000
$45,000
$140,000
Game
Developer
$22,000
$80,000
$36,000
$100,000
$50,000
$140,000
Data
Scientist
$29,000
$110,000
$40,000
$150,000
$54,000
$170,000
DevOps
Developer
$23,000
$100,000
$45,000
$135,000
$55,000
$160,000
Software Development
Engineer in Test
$22,000
$60,000
$33,000
$90,000
$41,000
$121,000
Embedded
Developer
$25,000
$90,000
$46,000
$107,000
$58,000
$132,000
Czech salaries were converted to US dollars at a relevant exchange rate for May 2023.
Didn't find needed positions? Use our software team cost calculator to compose your team and see how much it costs in Eastern Europe!
As you see, the wages offered by the Czech Republic software market markedly differ from those of the US. On average, a middle Czech developer's salary is approximately 60% lower than the American dev's, while senior tech experts about 40% less.
Software Development Hubs in the Czech Republic
While speaking about the Czech Republic's development sector, local IT hubs cannot go unmentioned. Let's have a close look at each of them:
Prague
The Czech capital city stands out not only for its stunning architecture and rich history but also for its dynamic tech ecosystem. Prague is home to more than 60,000 IT talents, with 5,700 ICT graduates every year. Some of the most well-known universities that offer technical programs are the Czech Technical University in Prague (ČVUT), Charles University, and the University of Chemistry and Technology (UCT Prague). This city also hosts plenty of tech events such as Prague Tech Fest, Czech Automation Days, conferences on agile development (Agile Prague, Agile Lean Europe), quality assurance (QA Fest, Agile Testing Days), project management, and others. Its convenient location in the heart of Europe lured plenty of global tech companies to establish their offices here. The most well-known are Facebook, Google, HP, Amazon, IMB, and many others.
Brno
The Moravian metropolis is the second biggest IT hub in Czechia, with 20,000 developers and over 3,000 yearly graduates in software engineering. Brno is also often referred to as the city of universities and academic activity. Masaryk University and Brno University of Technology are among the most prominent educational institutions in the city. Similar to Prague, plenty of IT events and conferences take place here. They cover thriving trends in user experience (UX Brno, World Usability Day Brno), data integration (DW/BI & ETL Summit), etc.
Ostrava
This is an emerging hub in the Czech development sector. Its talent pool numbers are estimated at 5,000 software engineers and more than 1,000 ICT graduates annually. The most popular tech university is the Technical University of Ostrava which offers a variety of engineering programs. This city also hosts a Google developer conference called DevFest Ostrava and an annual event dedicated to cybersecurity – Cyber Conference Ostrava.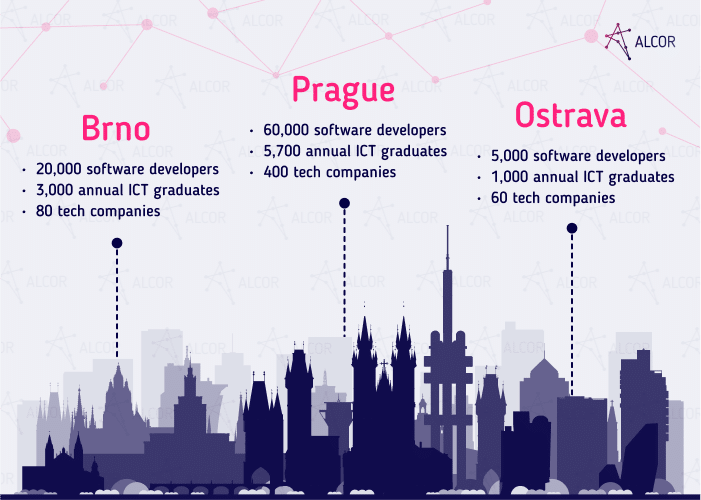 How to Hire Czech Software Developers?
If you decide to do software development in the Czech Republic, IT outsourcing may seem like a cost-efficient solution for this. However, this model of cooperation has certain risks and limitations, such as a lack of control over product development, poor software quality, and weak IP rights protection.
Another option to work with an IT team in the Czech Republic is via outstaffing providers. This model provides you with access to a larger pool of candidates and a high level of flexibility since you can scale up the development team following your needs. Yet you can hardly expect any commitment or dedication to your product, which in the worst-case scenario, can lead to data leakage among other teams within the provider. With an outstaffed team, you're also likely to face hidden fees regarding team maintenance and remuneration. In the end, it's expensive and a troublesome experience.
To overcome all the pitfalls of the abovementioned collaboration models and ensure the maintenance of effective teamwork, tech companies opt for building their own development teams via recruitment agencies that help with IT recruitment in the Czech Republic. Generally, such companies have big IT recruitment departments with experienced headhunters and researchers. They are well-versed in the best practices in recruiting developers and know how to overcome daunting IT recruitment challenges in the local employment market. Our company Alcor is one good example.
Reaching out to a reliable IT recruitment services provider was Sift's choice. This is an American IT product company that develops online fraud detection solutions by using machine learning and AI. Sift's plan to expand in the foreign market with its own development team led it to Alcor. First, we engaged our experienced IT recruiters, researchers, and one account manager to work on the company's requests – to hire 30 software developers within a year. After agreeing on the details of their open positions, we launched sourcing and recruitment processes. As a result, we helped Sift hire those 30 skilled software engineers in 1 year, ensured its legal compliance in Eastern Europe, and provided professional assistance in tax management, labor & contract law, and IP rights protection. In 2021, Sift became a unicorn company and continues developing great solutions with its own development team.
Final Thoughts
The flourishing Czech tech industry, skilled workforce, and beneficial salary rates attract plenty of tech companies to do their business there. If you're planning to write your success story in Czechia with full-cycle IT recruiting, consider Alcor as your trustworthy partner. We have already helped Gotransverse, Dotmatics, and Ledger build their development teams there!
At Alcor, we help product tech companies with IT recruiting in the Czech Republic, Poland, Romania, Bulgaria, Ukraine, and other Eastern European countries. Our recruitment department consists of 40+ experienced headhunters who can find top-notch Senior/Lead programmers and software engineers with rare tech stacks for your development team. We can also help you with legal compliance, payroll, equipment procurement, and employer branding. Share your hiring needs, and we'll take care of everything else!