The IT field is always bursting with an abundance of captivating product ideas that are just waiting to sweep the market. In the pursuit of this goal, businesses often opt for product development outsourcing with the intention of both leveraging tech expertise and speeding up the development process. But is it as beneficial as it seems?
Keep reading this article to delve deeper into this collaboration model, discover the pros and cons of product development outsourcing, and learn about several outsourced product development alternatives to maximize your success.
Outsourcing Product Development: Overview
Outsourced product development refers to the practice of delegating product development and other related tasks to an external third-party organization or team. All in all, the global IT outsourcing market is estimated at USD $525.2 million in 2022 and projected to reach USD $725.6 million by 2030, growing at a CAGR of 4.1% during 2022-2030.
According to STX Next's 2021 Global CTO Survey, 89% of CTOs plan to outsource product development in the upcoming years, outlining hiring as a big challenge now. Meanwhile, around 60% of companies outsource at least a portion of their application development tasks. According to Statista, the application outsourcing industry generated a substantial revenue of $109.10 billion in 2021, promising sustainable growth in the nearest future.
Outsourcing Product Development Model 
The outsourcing product development model allows both IT and non-tech companies to better develop their software solutions. In this way, companies can choose to focus on their business processes while entrusting software development activities to external partners. In addition to that, this model can assist IT companies in various stages of product development, including software creation, design, testing, and more. Therefore, the client could be a small start-up, big technological enterprise, or even an SMB lacking in-house development expertise.
Before getting acquired by Facebook, a world-leading tech giant WhatsApp had opted for outsourced software product development services and used to outsource software development to Eastern European IT talents. Shortly after this, the app appeared in top rankings in GooglePlay and AppStore and was close on Facebook's heels. And not only did WhatsApp go offshore, but also chose Eastern Europe as the go-to destination for this purpose. This region also appealed Google, Adobe, Sift, Gotransverse, and other companies who built their dedicated offshore development center there.
Note: Read our article on nearshoring, offshoring and onshoring to find out which outsourced business model suits your IT business best. 
Pros & Cons of Product Development Outsourcing 
Pro: Access to a wider pool of IT specialists
Outsourcing companies provide access to a vast pool of tech talents, both locally and globally, offering a wide range of expertise and knowledge in various frameworks, platforms, and additional skills. This abundance of talent allows businesses to select IT experts who align closely with their specific project requirements and objectives.
Con: Underqualified developers
On the other hand, unscrupulous outsourcing companies often prioritize their own profits over the needs of their clients. Despite the client's intention to engage and pay for Senior Developers, the vendors may assign Middle or Junior Programmers instead, compromising the expected product quality and delaying deadlines. This mismatch not only results in overpayment but also introduces uncertainties that can hinder overall project success.
Pro: Cost optimization
Cost reduction stands as one of the main motives driving tech companies towards outsourcing software product development. Opting for offshore locations offers a substantial reduction in salary expenses, given that many regions boast significantly lower costs compared to salaries and tax rates in Europe and the US. This advantage presents an appealing opportunity for companies seeking to optimize their budgets while maintaining the desired level of technical expertise.
Con: Cloudy pricing & hidden costs
While initially appearing as a promising cost-effective solution, outsourcing product development may not always be the optimal choice in the long run. One key factor contributing to this is that some outsourcing companies impose additional fees for unnecessary services without the client's awareness. These hidden charges, coupled with the cost of hiring software engineers, can significantly inflate the final invoice, exceeding the client's anticipated budget.
Pro: Flexible team expansion
Many tech businesses opt for external providers with the intention of temporarily expanding their in-house development teams. This approach allows IT companies to handle heavy workloads during peak seasons or when faced with tight project deadlines. Once the project is completed, the client can cease collaboration and get back to usual team size.
Con: Poor dedication and commitment
Yet flexibility has another side of the coin, causing one of the biggest challenges of outsourcing product development for tech entrepreneurs – lack of dedication. Software engineers in outsourcing companies work with different companies and products. As soon as one project is over, they switch to a new one and so on. When a team consists of indifferent programmers, they may not prioritize the success of your company, your product, or align with your corporate values and goals.
Con: Lack of control
When you opt for an outsourced product development process you may experience a loss of control over your core element, which is the product development. Therefore, evaluating the performance and quality of your project in a timely manner can become a challenging task.
Con: Questionable data security
While safeguarding the confidentiality and security of your corporate data is of utmost importance to you, it may not be top priority for the outsourced product development company. This might lead to a heightened risk of unintentional (or even intentional) data breaches that could compromise your sensitive information, even if a non-disclosure agreement has been signed.
3 Reasons not to Use Outsourced Product Development 
1. Planning to scale up the foreign markets 
If you have ambitious plans for business expansion in new countries and regions, product design and development outsourcing may not be the best solution. When you keep your core operations in-house, it lets you adjust to the local market's requirements, aligning it with your business strategy and company goals. Outsourcing agencies can't offer such deep undertanding of your business needs and product. 
2. Seeking investment opportunities  
Product development outsourcing for startups and big IT companies reduces the possibility of attracting investments to fuel their growth. In this case, potential investors may question the company's capabilities of handling tech processes in-house as well as its commitment to the product.  
3. Retaining complete independence over business operations 
For many tech companies it's crucial to keep full control over their internal process. This approach not only shapes and defines their corporate culture and values, but also enables them to uphold stringent standards of product quality control. It also provides a comprehensive oversight on the company's current state, allowing them to closely monitor and manage their growth trajectory.
Outsourced Product Development Alternatives 
Dotmatics, a US-based technology company, made a strategic decision to take a different approach to their software product development. Rather than opting for IT outsourcing, they chose to develop their products in-house, leveraging the expertise of an expert software engineering team. To enter a new market successuflly and hire dedicated software engineers, the company teamed up with a reliable IT recruitment services provider, Alcor.  
Alcor's headhunters utilized a combination of internal databases, premium HR resources, and extensive social networks to identify perfect-fit candidates. After this, we conducted a series of interviews with the top candidates, ensuring a thorough evaluation process. The final decision was ultimately made by Dotmatics, considering both the technical expertise and cultural fit of each candidate. The outcome was remarkable—within a year, Dotmatics successfully built their own team of 30 highly skilled and dedicated programmers in Eastern Europe.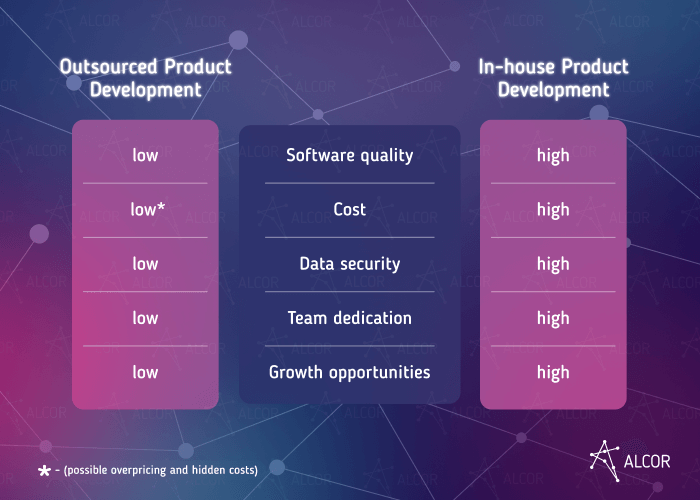 At Alcor, we focus on hiring Senior/Lead software developers from Poland, Romania, Bulgaria, and other Eastern European countires. Our model is distinct from traditional IT outsourcing or outstaffing providers. We help product tech companies to assemble and retain their own dedicated software teams, granting complete control over the software development process. We also follow a pay-as-you-go approach without hidden costs or shady services, providing clear and transparent guarantees.  
It takes us 3-6 weeks to find software engineers with desirable skills for your team, and on average 4 out of 5 of our cadidates are invited for an interview. Apart from full-cycle IT recruitment, we can also help you with legal compliance, payroll, equipment procurement, and employer branding. Just share your hiring needs!  
Final Thoughts 
Considering all benefits and risks of outsourcing product development, it's up to you to decide which collaboration model will suit your business needs best. Generally, small startups opt for the outsourcing model since it can offer a viable solution to quickly launch their products within tight timeframes. On the other hand, large tech companies often find it more advantageous to develop their products in-house, leveraging their extensive resources and capabilities. And considering the Alcor option, if you want to develop your software solutions with "your own team of skilled software engineers" in Eastern Europe, we're here to help you out!