Water cooler small talk, coffee breaks, corporate lunches, and everyday office buzz used to naturally create a pleasant working environment and build strong team morale within the tech team. Covid-19 changed the game, forcing over 85% of software developers to work either remotely or in a hybrid mode. This has already led to about 97% of companies facing a lack of employee engagement. 
So if you want to be in the lucky 3% and learn how to maintain staff morale in remote work that helps your tech professionals truly enjoy their work, feel appreciated by colleagues, and have a sense of belonging to your company, keep reading this article.
Why is Team Morale Important?
To start with, team morale is a concept that implies the satisfaction, dedication, enthusiasm, and optimism of a group of colleagues who have common aspirations and tasks. Experienced c-level managers and tech team leaders have already realized that high workplace morale results in various benefits:
Boosted dedication to your company
Software teams that are satisfied with their working conditions and united by the same goals demonstrate a high level of loyalty to the IT company. This is especially evident when comparing in-house tech teams with outsourced IT crews. The former grow into a valuable asset for the company and acquire a sense of ownership over the product, while the latter are a replaceable resource used to address temporary issues and rarely become attached to the company. 
Prior to starting cooperation with Alcor, the US product company Dotmatics had quite a lot of experience with IT outsourcing teams, which didn't provide them sufficient control over their product. Therefore, they made a decision to set up their own software team in Eastern Europe with Alcor. While hiring candidates for long-lasting cooperation, our recruiters were especially attentive to correspondence of the developer's personality with the main values of the company: being science-driven, customer-centric, and united. The results were marvelous: during our cooperation, Alcor hired 24 dedicated software developers who still work at Dotmatics. 
Reduced turnover rates
Enhanced loyalty in the tech team leads to another positive outcome of powerful team morale – reduced turnover rates. Even though the IT industry has a high turnover rate of 12.9%, dedicated software developers tend to stay longer with a company, helping it decrease employee turnover and get around the global IT talent gap.
Enhanced well-being of the tech team
IT companies that give enough space for flexibility and don't micromanage their tech teams often observe improvement in employees' mental sustainability and work-life balance. When your employees feel that you trust them, they can manage their tasks more efficiently without getting burnt out.
Increased creativity
According to various studies, a positive state of mind tends to encourage out-of-box thinking that leads to proactive creativity for generating revolutionary ideas. This is possible to achieve in business by cultivating a company culture of psychological safety and team support, helping software engineers become more capable of interpersonal risk-taking and create fertile ground for suggesting new solutions.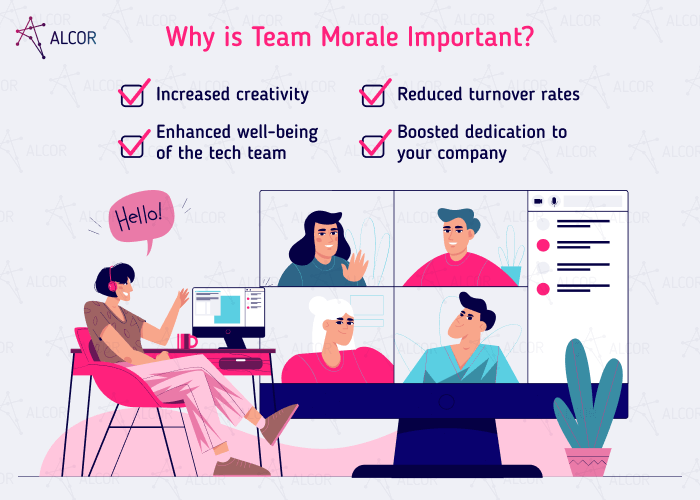 10 Ways to Build Team Morale Remotely
In order to let you know how to boost employee morale when remote working, my team and I described 10 powerful approaches that will assist you in this process:
#1 Align your team with corporate values
For People.ai, corporate values are a functional framework that employees can use to find solutions to any situation. Apart from this, they help companies create a comfortable working environment by gathering like-minded people to work on the product. So the first tip on how to build employee morale when remote working is to make sure your employees share your company values. Here are 4 main steps to do so:
Clearly explain your values to your remote team;
Perform corporate training on this topic. Make sure to reveal all details about using values as a framework in the decision-making process;
Survey your team to understand whether they use your corporate values properly;
Conduct value-based interviews with new candidates to see their alignment with the company's values and evaluate their potential fit.

In fact, value-driven companies tend to attract more people and encourage their teams to perform with 400% higher returns.
#2 Communicate and manage expectations
To be on the same page as regards success is essential if you're wondering how to boost morale among remote team. To do this, you need to clearly identify your business goals and set employee expectations in accordance with them. It's even more effective to make sure your IT team also shares their expectations from you as their employer, including career, financial, and moral goals. Mutual understanding is the key to high performance. 
#3 Ensure professional development 
You can build employee morale when remote working by encouraging the professional development of your tech team. Offer them training programs and courses to upgrade specific skills they need in their position. This can be done through online courses, on-site workshops, or conferences. Another option is to ensure opportunities for mentoring as it allows IT specialists to gain new knowledge from experienced colleagues. And the last thing, offer certification programs for your IT professionals, such as Microsoft Certified Solutions Expert or Certified Information Systems Security Professional. Those will provide valuable recognition of their expertise and help them expand future career opportunities.
#4 Provide clear feedback
One more effective way to maintain staff morale in remote work is to give detailed and transparent feedback to your remote software team. This includes not only constructive criticism of your programmers but also appreciation and recognition of their results. This part of working ethics is an engine of motivation that allows IT specialists to identify their progress and celebrate success. 
You can try implementing the C.O.I.N. formula to make the feedback even more powerful:
Context: always start by describing the situation you want to discuss;
Observation: point out the behavior or action of the employee you want to give your feedback to;
Impact: clarify what is a possible effect of certain actions of the worker;
Next: finally, propose a solution to fix or improve the situation.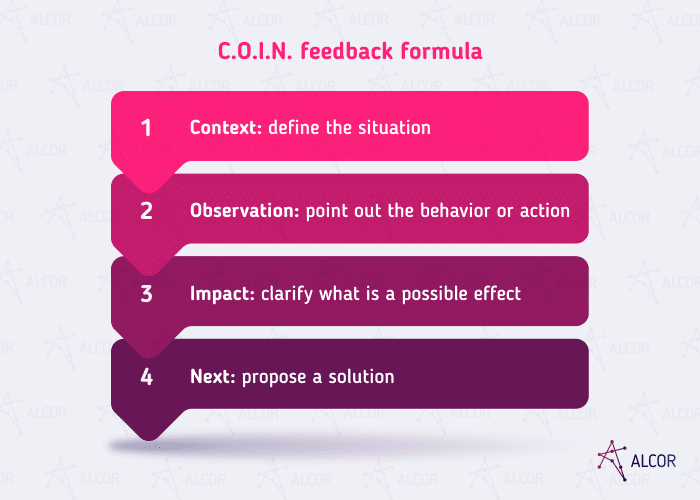 #5 Implement one-to-ones 
Following up on the feedback topic, I'd like to stress the importance of providing it at one-to-one meetings. This way you can boost employee morale when remote working even more since employees who have regular 1:1 meetings with their managers have 30% higher chances to be engaged at work. This happens because each employee receives individual attention and stays on the same page with management. Thus, you should use this time wisely to address issues and remove roadblocks.
#6 Offer small benefits
Providing your software team with those small benes is a good tip on how to build team morale in remote work. Some bonuses you can offer to your tech specialists are funds to set up a home workspace, paid language courses, medical or health insurance, gym membership, presents for kids, or childcare options. An even better morale booster that usually leads to a WOW effect among new team members is a welcome pack with things like notebook, shopper, pen, cup, t-shirt, or stickers. These perks make the life of your employees easier and more pleasant, which increases their motivation to perform tasks at a top-notch level.
#7 Spread awareness about health
Stress, anxiety, constant fatigue, and burnout can be the outcomes of an intense software engineering workload, which can greatly fray the mental health of your tech team. That is why you should promote mental health awareness by teaching your software developers how to maintain a work-life balance and give them some basic tips on how to deal with mental health issues. You may also organize a Health Week at work and invite experts to give lectures on improving the lifestyle of the team. Such a caring approach is very likely to help your employees facilitate their mental state and boost morale among a remote team.
#8 Conduct random coffee 
Random coffee is a simple and cost-free tip on how to build team morale remotely. All you need to do is just pick two random people from your company, schedule a suitable time for video conferencing, and let them enjoy a happy hour talking to each other with a cup of coffee. This activity serves as a fun icebreaker while introducing the members of different departments to each other and contributes to easier cooperation between them in the future. 
#9 Commemorate birthdays and anniversaries
Another way to build team morale in remote work is by keeping track of their birthdays. Use corporate communication tools for acknowledging employees' birthdays, work promotions, and tenure milestones. This simple gesture of recognition can make team members feel valued and foster a sense of belonging and community within the organization.
#10 Play team-building games
A game night session is a great way to  build team morale remotely and bring team collaboration to a new level. Such online team-building activities as Lightning Scavenger Hunts, Mafia, Conference Call Bingo, Trivia, Guess Who, or Truth or Dare let employees learn the best ways to communicate and organize teamwork with their colleagues.
Consider Alcor BPO Your Trusted Partner 
Building strong morale in a remote tech team is critical for developing and maintaining a successful software product. And the best time to start this process is at the early interviewing stages. Our international IT recruitment agency Alcor always starts cooperation with clients by discussing their IT staffing needs and creating an ideal candidate profile that includes hard & soft skills, as well as other characteristics that perfectly fit our client. 
After that, we begin looking for such software engineers in our own candidate network of 600,000+ skilled software engineers in Eastern Europe. To be more specific, we provide recruitment services in Bulgaria, IT recruitment in Poland, and IT staffing in Romania. Top tech companies like Sift, Ledger, Globality, and BigCommerce already entrusted us with their recruitment processes and found their perfect matches. What's more, 4 out of 5 applicants make it to the interview stage, while 98,6% of our candidates successfully pass the probation period. Let us find you a perfect engineer!