Alcor BPO provides both enterprises and startups with a comprehensive solution for the effective software development process and global expansion. In this article, we will figure out: why do companies outsource IT services? What are the outcomes of such a decision? I will clarify the main risks of outsourcing activities and help you decide whether this type of strategy works for your business. Don't worry, in case you don't want to skate on thin ice, I have prepared a better option for your company's growth. 
But first things first! Let's understand the reasons why companies outsource their IT functions.
Why Do Companies Outsource IT?
1. To Reduce Business Expenses
The first reason why companies choose to outsource work on their IT product is the hope to cut costs by various means. For instance, several of them may choose offshore locations with cheaper economies and a workforce to save money on salaries. Others could opt for outsourcing in order not to fritter away the money on recruiting, especially the training period for new employees. Although these points may sound tempting, there are loads of financial pitfalls in outsourcing that every business owner should be aware of. 
To begin with, while a firm outsources its software development to external contractors, numerous defects can arise at the core of a product. This is for the reason that only your own development team might have the required background and solid understanding of customer needs. Consequently, you end up spending precious time and budget on adjustments and fixes. What is more, outsourcing could be a risky practice for the reason that loads of providers charge large upfront investments or hidden costs. Often, companies overpay for the services they don't even use because of cloudy pricing, according to which all the payments are merged into one category called "provider fee".
2. To Expand the Talent Pool
Another reason why firms outsource their IT functions is the desire to get access to new talent pools, whether onshore or offshore. This decision is commonly made by companies who face a lack of IT talents. Outsourcing enables them to use the skills and knowledge of remote developers for many kinds of problem-solving. It also implies a certain degree of flexibility because they can easily bid goodbye to the IT specialists once the work is done. Obviously, it is not the same with in-house employees. 
However, driven by the intention to cut costs, enterprises tend to outsource their product development to not-so-talented pools of indifferent programmers. Recently there was some news about a giant telecommunications company that decided to delegate its software development to Asia. The region was considered to be a popular offshoring hub because of its low-cost solutions. However, as a result, quality was seriously undermined. The vendor failed to deliver services at a desirable level, so the client was forced to bring the development process back to the in-house team. In essence, the company received nothing but financial problems and a stressful legal battle. Therefore, choosing a reliable provider and talented developers is a real challenge.
Nevertheless, there is a new trend: in the search for excellent service quality, western enterprises are gradually moving parts of their businesses to countries of Eastern Europe with a long-lasting engineering tradition and growing IT ecosystem. For example, they often receive countless benefits from hiring Polish, Ukrainian, Czech, or Romanian developers.
3. To Free Up Resources
As the business grows, a company may need its brilliant minds to take up new roles and functions. Consequently, while the existing experts are busy with new projects, their old liabilities ought to be transferred to someone else. Such restructuring of a company is one more reason why businesses outsource the tasks that were previously managed by the whole department of in-house employees. 
There is nothing wrong with such an approach from first sight. Nevertheless, the outcomes of this decision depend deeply on the nature of outsourced tasks. Just take a moment and think about whether a certain process is crucial for the success of your business. Then ask yourself to whom would you like to delegate it: to external people who know nothing about your product and mission, or reliable employees who root for the company's victory? You got it right. Software development is the core process for tech enterprises, so it's better to keep it in-house. This point is especially important for startups that try to get funding. The truth is that outsourcing can have a negative impact on the investor's decision, as the first thing they pay attention to is the team. As long as there are no IT talents to bring great ideas to reality, investors won't give their money away.
Note: If you work with Java tech stack, check out the advantages of outsourcing java development and its risks.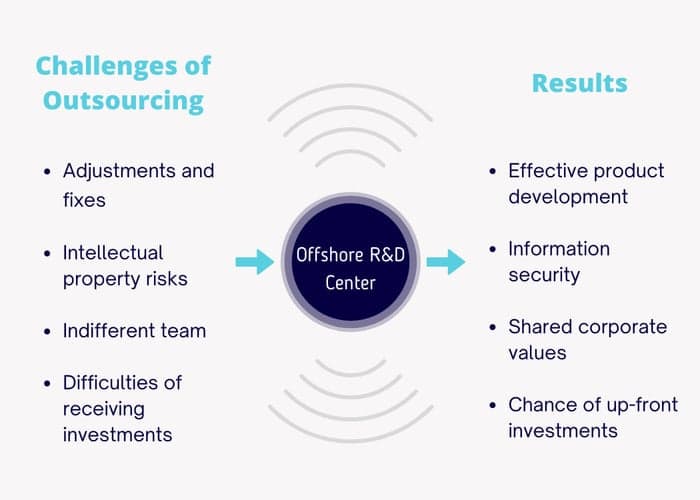 So Is Outsourcing IT Services a Good Idea for Your Business?
There are several scenarios when IT outsourcing can turn out a beneficial solution for your business. So when should you outsource and why?
1. You need external help for MVP development to test whether your idea is a worthy one. This strategy will also allow you to avoid risks in case there would be no demand for your product on the market.
2. You want to solve a short-term task and don't require in-house employees for constant cooperation on this matter. While your core team will be focused on the main processes, an outsourcing company will handle the secondary ones.
In other cases, it's better to refrain from IT outsourcing if:
1. You want to build up a brand. Your own development team will not sit in the middleman's premises but work under your company's wing. By boosting your employer branding and knowing how to motivate your team, you'll attract new talents and receive recognition on the market.
2. You are concerned about intellectual property rights and corporate insights. There are far fewer risks of data leakage if you decide to assign confidential tasks to entrusted IT experts.
3. You want to assemble a dedicated team of developers with no intermediaries. Together you will create a corporate culture to reach a common mission.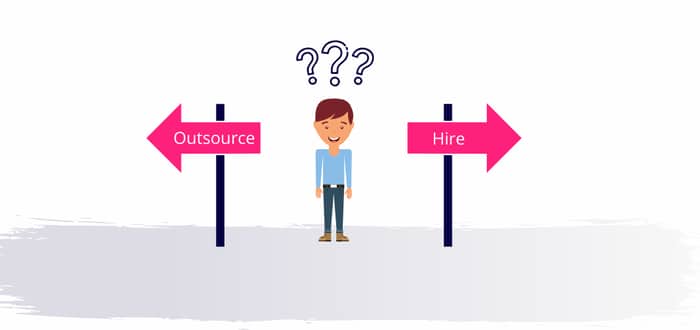 Consider Alcor BPO as Your Trusted Outsourcing Partner
Fortunately, there is a solution for those who are tired of the drawbacks of traditional outsourcing. Have you ever considered launching your own development center in Ukraine? Because that's exactly what Alcor has to offer. Our BPO services include recruitment, legal compliance, payroll, accounting, real estate, and additional services. You can pay only for what you need or receive all these services together to enjoy our comprehensive solution and forget about all the operational headaches. With us, you'll get full pricing transparency with no buy-out or other hidden fees, as well as the possibility to run a legal and profitable business in Ukraine. As you can see, our company serves as an all-in-one place to set up a successful development hub. To make a long story short, let's have a look at a case study that illustrates the specific results of our work.
BigCommerce is a tech company from the United States and the world's leading cloud e-commerce platform that provides innovative solutions for more than 60,000 brands. Before reaching out to Alcor, they used to work with Ukrainian and Romanian outsourcing providers because of the lack of experienced programmers in the USA. However, BigCommerce soon understood that global expansion requires more decisive actions. Therefore, they chose Alcor as a trustful partner to assemble their dedicated team and establish a fully-backed-up office. In total, our professional recruiters engaged 30+ developers, our lawyers helped the company to become GDPR compliant and our financial team managed all the payments in accordance with local laws. Today this client enjoys its own branded office with managed IT infrastructure and thus focuses solely on its core business. 
Final Thoughts
To sum up, the key reasons why companies outsource their software development lie in the intention to cut costs, expand the existing talent pools, and free up resources. Nevertheless, the outsourcing process is not as smooth as it seems at first glance. Organizations often encounter hardships such as hidden costs, poor quality of the delivered services due to indifferent teams, obstacles in receiving investments, intellectual property risks, and so on. For all these reasons, I advise you to consider launching your own development office to reach your initial goals and combat the drawbacks of outsourcing (thus gain even more).
Alcor is a BPO company that is ready to take this great idea to reality. Our team will handle all your operational processes, including recruitment, legal compliance, accounting, plus provide you with real estate and additional services. That's how we ensure your successful business operation in Ukraine.