Alcor BPO provides both IT enterprises and startups with a comprehensive solution for effective software development and global expansion. In this article, we will figure out: why do companies choose to outsource IT services? What are the outcomes of such a decision? I will clarify the main risks & challenges of outsourcing activities and help you decide whether this type of strategy will work for your business. Don't worry, in case you don't want to skate on thin ice, I have prepared a better option for your company's growth. 
But first things first! Let's dwell upon the reasons why companies outsource their IT functions.
Why Do Companies Outsource IT?
1. To Reduce Business Expenses
One of the fundamental reasons why companies outsource information technology is the hope to cut costs by various means. For instance, some may choose offshore locations with a cheaper workforce to save money on salaries. Others could opt for IT outsourcing so not to fritter away the money on recruiting, especially the training period for new employees. Although these points may sound tempting, there are loads of financial pitfalls in outsourcing that every business owner should become aware of. 
To begin with, when a firm outsources its software development to external contractors, numerous defects can arise at the core of a product. This is because only your own development team might have the required background and solid understanding of customer needs. Consequently, you could end up spending precious time and budget on further adjustments and fixes. What is more, technology outsourcing can be a risky practice for the reason that loads of providers charge large upfront investments or hidden costs. Therefore, companies overpay for services they don't even always use because of cloudy pricing, according to which all the payments are merged into one category so-called a "provider fee".
2. To Expand the Talent Pool
Another reason to outsource IT functions is the desire to get access to new talent pools. American companies often outsource software development to Mexico or opt for Argentina outsourcing, as these markets have huge availability of IT experts, offer low-cost services and convenient locations. Outsourcing enables them to use the skills and knowledge of remote developers for many kinds of problem-solving. It also implies a certain degree of flexibility because they can easily bid goodbye to IT specialists once the work is done. Obviously, it is not the same with in-house employees. 
However, driven by the intention to cut costs, enterprises tend to outsource their product development to not-so-talented pools of indifferent programmers. Recently there was a news article about this giant telecommunications company (I won't name them here) that decided to delegate its software development to Asia. The region is considered to be a popular offshoring hub because of its low-cost solutions but (as in this case as well) often leads to quality being undermined. In short, the vendor failed to deliver services at a desirable level, so the client was forced to bring the development process back to the in-house team. They received nothing but financial headaches and a stressful legal battle. Therefore, choosing a reliable provider and talented developers is a real challenge.
3. To Free Up Resources
As the business grows, a company may need its brilliant minds to take up new roles and functions. Consequently, while the existing experts are busy with new projects, their old liabilities ought to be transferred to someone else. Such restructuring of a company is one more reason for outsourcing IT services, as it allows them to delegate tasks and therefore free up the in-house team. 
There is nothing wrong with such an approach at first sight. Nevertheless, the outcomes of this decision depend deeply on the nature of outsourced tasks. Just take a moment and think about whether a certain process is crucial for the success of your business. Then ask yourself who would you like to manage it: external people who know nothing about your product and mission, or reliable employees who root for the company's victory? You got it right. Software development is the core process for tech enterprises, so it's better to keep it all in-house. This point is especially important for startups that try to get funding. The truth is that outsourcing can have a negative impact on the investor's decision, as the first thing they pay attention to is the team. As long as there are no IT talents in-house, investors won't give their money away.
 Note: If you work with Java tech stack, check out the advantages of outsourcing java development and its risks.
Some Challenges of IT Outsourcing
Stumbling software development 
Even though outsourcing information technology can save you time on IT recruitment, it's not devoid of stumbling blocks that slow down the development process. Firstly, it's assigning the right talents and choosing effective tools. Sometimes, vendors ask for additional funds to train their tech professionals and purchase needed equipment, which may postpone the project deadline. Secondly, it's ineffective knowledge transfer, which can appear from two perspectives: your own and the vendor's. In the first case, the outsourced team produces a poor-quality product because of miscommunication and unclear project requirements. In the second scenario, you face unpleasant project outcomes because of the vendor's inability to provide understandable technical documentation or inform you of possible malfunctions of the end-product. And one more issue that can drag down the entire development process is programmers dropping out of the project. Talent substitution normally results in substantial time and money wasted.
Another reason why tech companies fail when outsourcing IT functions is team indifference. Outsourced programmers will never associate themselves with your company and develop a sense of bringing value to your product development and overall growth. Why? Because they remain official employees of the service provider, working under their brand, on their premises, and following their own corporate culture. Therefore, no commitment can be achieved with such a team of engineers, which may negatively affect your product and lead to further complications.
Software development is a complex process that requires advanced management skills, from wise allocation of budgetary funds to leading a tech team and selecting the best technologies, thus ensuring high quality of the finished product. When IT services are outsourced, you delegate all these functions to a service provider who handles the project from beginning to end. As a result, you don't take part in the software development. Instead, you are left with occasional calls with a project manager and can do nothing but wait for the end-product (whatever it turns out to be). 
Intellectual property risks 
Among common challenges of IT services outsourcing is ensuring proper security of the intellectual property rights (IPR). Of course, you can include a non-disclosure agreement in the contract, but it doesn't grant 100% protection. Code data, personal information, and credential breaches keep rising among outsourcing providers. One of the most common ways to steal sensitive data is via shadow leaks, which involve a valid but unused (or unauthorized) employee account utilized to freely access the client's sensitive information (even after project execution). These incidents rose by 40% between 2020 and 2021. Some outsourced providers resort to such illegal actions to turn clients' unique solutions into a ready-made draft for other IT projects. 
With IT recruitment though, you can easily avoid IPR breaching and other challenges of outsourcing. Take a look at Dotmatics — a vivid example of a company that gave up on IT outsourcing to work on their product for biologists with a peace of mind. By cooperating with our reliable tech recruitment agency, Alcor BPO, this US tech company got a team of 30 dedicated and well-versed developers in Eastern Europe. In this way, Dotmatics was able to retain software development under their control, secure their IPR, and even save on costs. Keep reading this article to learn more about IT recruiting services.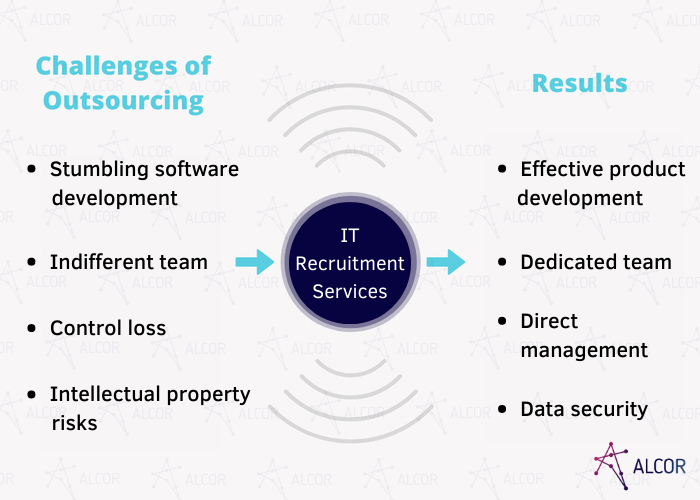 When is IT Outsourcing a Good Idea for Your Business?
There are just a couple of instances when outsourcing IT services can actually benefit tech business:
To get one-time tasks completed
If you have a side project or some non core tasks to fulfill, you can outsource them to a service provider. By doing so, you'll save money on hiring additional personnel and be able to focus on your core business activities. Meanwhile, the vendor will take care of the workflow, team management, and overall project execution to complete it in the short term. 
To receive IT infrastructure support
Outsourcing IT support is a relevant practice especially among small and middle-sized companies that lack internal staff and resources to manage their IT infrastructure. The cooperation with a managed service provider can come in handy, providing round-the-clock monitoring and maintenance of all systems. There are a whole bunch of IT managed services: from off-site data storage and server upkeep to help desk and cloud-based management. When companies outsource IT support, they may face minimal risks, as this process doesn't presuppose the delegation of software development to an external provider.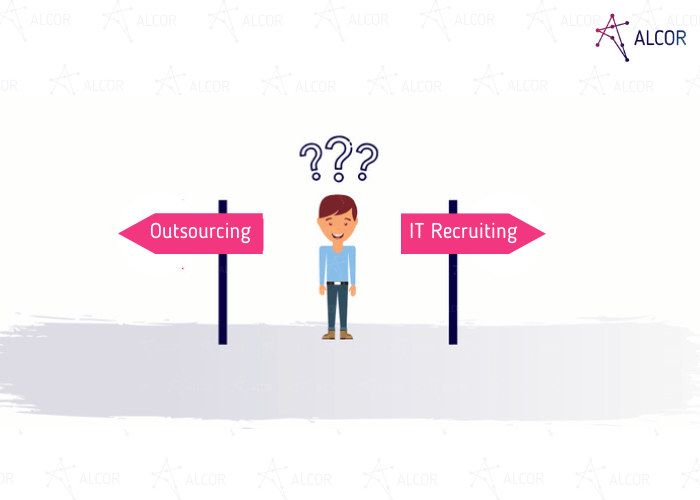 When is IT Recruiting a Good Idea for Your Business?
You plan to develop a software product
As I mentioned above, outsourcing software development can be dangerous for IT businesses. Thus, if you decide to embark on a new endeavor like building a web application, for example, or taking your current product to the next level, you should definitely build your own tech team in one of the offshoring locations. My advice is to consider Eastern Europe. By hiring Polish, Bulgarian tech experts, or developers from Romania via a professional IT recruitment agency, you'll get access to over 1 million developers, cut your costs on taxes and labor expenses, benefit from profound tech competence, a business-friendly environment, and data security.
You want to scale up abroad
Nowadays, many western tech companies, particularly US ones, face an overwhelming talent shortage. By 2030, the global tech talent gap is projected to reach 85.2M workers, causing millions of dollars of lost revenue. Mounting competition in the market and rising costs only fuel the rapidly aggravating situation. Therefore, more and more western tech companies opt for IT recruitment in countries with large pools of skilled talents and affordable rates. Some of the most popular go-to locations are Poland and Romania. The total number of software developers in these two destinations constitutes about 600K, with an  average annual salary spanning between $35K and $70K. 
However, hiring in the new markets can be troublesome without local help. That's what US-based company Sift realized when they were expanding to Eastern Europe. To avoid common IT recruitment challenges and speed up the entire talent acquisition process, they decided to partner with our professional tech hiring agency, Alcor. Our team conducted a powerful employer branding campaign, adjusted their vacancies to the local market, and created a unique EVP. All of this boosted the hiring process, and as a result, Sift got a team of 30 seasoned developers in under a year!
You don't have or lack in-house IT recruiters
In case your company experiences rapid expansion but your internal recruitment expertise and resources can't satisfy the ambitious staffing goals, then IT recruitment process outsourcing (RPO) will be worth your while. By cooperating with RPO specialists, you'll get comprehensive recruitment assistance, access a broad talent network, use tools that simplify the hiring process, and even reduce your expenses by up to 30%. 
Still, to enjoy these benefits, you need to find an RPO provider who is well aware of the tech industry, possesses a big team of IT headhunters, and has experience in hiring programmers of different expertise levels and tech stacks. Among other tips on how to outsource the recruitment process is choosing the optimal type of RPO. For instance, if your recruitment pipeline is not rich enough, you can opt for function-based RPO, delegating candidate sourcing to external recruiters. In case you struggle with seasonal recruitment spikes, you can select an on-demand RPO. And finally, if you'd like to hand over the entire IT hiring process, then go with full RPO services. 
Consider Alcor BPO as Your Trusted Recruiting Partner
If you are eager to assemble your own development team in Eastern Europe, Alcor is here for you! We're an international IT recruitment company that specializes in hiring senior and lead programmers for western product companies. We have 40 IT headhunters who utilize our internal network of 600,000 candidates and apply the best practices in IT recruiting to find perfect fits in your engineering team. On average, we need just 8 CVs to get to one accepted offer, while 98% of our candidates successfully pass the probation period. In addition, our solution also includes some BPO operations, such as legal compliance and payroll management. So, instead of focusing on non-core business activities, we'll cover them for you!
Final Thoughts
There are multiple pros and cons of outsourcing IT services. While this business move can be beneficial in some cases, for companies that work on software development, it's more like playing with fire. Thus, to avoid the prevalent challenges of information systems outsourcing, it's better to partner with a reliable IT recruitment agency. They'll build your own team of developers and even cover certain back-office operations at your request.