Software developers are needed more than ever before. The overwhelming shortage of qualified IT specialists has become a stumbling block for many tech enterprises which want to remain competitive. Thus, more and more product companies are seeking programmers abroad. To help them scale up successfully, Alcor has been providing IT recruitment services in Ukraine for more than 10 years. And recently we've expanded our business horizons, starting to hire developers from Poland and other Eastern European countries as well. So, in this article, I'd like to shed light on the advantages of hiring Polish programmers and give you some valid recruitment tips. 
Polish Software Development Market Overview
The Polish IT market has been developing at an unprecedented pace during the last decade, becoming one of the most competitive sectors in the CEE region. Poland has long been known as a prominent outsourcing destination. However, the incredible development of its IT industry in combination with continuous economic growth helped it to pass the emerging market threshold and appear on the same level as many of the world's heavyweights in the field.
The tech sector in Poland makes a huge contribution to national economic development, constituting about 8% of Polish GDP. The growing demand for Polish ICT services resulted in a sharp increase of their exports which almost doubled since 2016, reaching 8.6 billion dollars in 2020. These impressive results brought Poland to 7th place among the most powerful IT industries across Europe, with a revenue of $10,4 billion in 2021.
Poland thrives with its outstanding IT companies. According to the Polish Investment & Trade Agency, there are nearly 50 thousand software companies in the country with over 1,400 of them providing BPO, SSC/GBS, IT and R&D business services.  The Polish startup ecosystem is excelling as well. According to a recent report by Google and Dealroom, Poland has the most unicorns in the CEE region, among them well-known ones like Allegro, InPost, CD ProjektRed, PlayWay, DocPlanner and others. Thanks to such a dynamic development of startups, Poland saw a 70% increase in start-up venture funding in 2020 at $502 million.
Yet, the real driving force of constant Polish tech sector expansion is its IT professionals. According to the Polish and CEE Ecosystem Outlook, the number of ICT specialists in Poland reaches 401,000 which constitute one-quarter of all tech talents in the CEE region. The overwhelming share of them are employed in SSC & GBS (40%) and IT outsourcing companies (39%).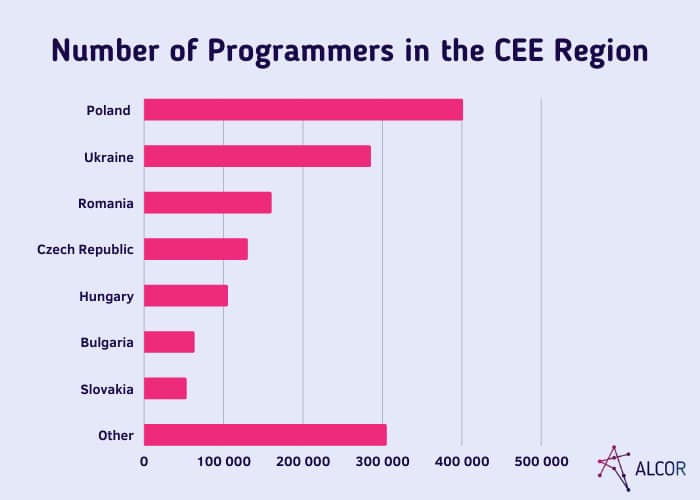 Is It Worth Hiring Polish Developers?
The number of international enterprises interested in entering the Polish IT market and hiring its tech specialists is growing year by year. Let's have a look at 4 main factors which make this destination so attractive for foreign businesses. 
Technical Education 
Poland is known for its strong technical education with a particular focus on STEM (science, technology, engineering, and mathematics). There are 40 state-owned universities and 20 public institutes of technology, among which are such well-known ones as Warsaw University of Technology, Jagiellonian University in Cracow, Adam Mickiewicz University, and the University of Gdańsk. Moreover, 19 Polish HE institutions are included in the QS World University Ranking 2022 list, proving their high standards for education. 
Poland is flourishing with its growing number of tech graduates – bringing up more than 15,000 IT specialists each year. Its programmers have received world recognition as competent tech professionals. They always take leading positions in various rankings, i.e. 3rd on the HackerRank Best Developers list and 4th in the SkillValue report, which makes them highly sought after in the global IT arena.
English Proficiency
Apart from technical expertise, Polish software developers have an exceptional command of the English language. According to the EF English Proficiency Index, Poland is ranked 14 out of 35 European countries, and 16 out of 112 countries, which makes its programmers a perfect fit for western IT companies.
Prominent Tech Centers 
Poland has seven large IT hubs that employ more than 85% of all IT specialists in the country, with most of them living in Warsaw, Krakow, Wroclaw, Poznan, and Lodz. These locations are frequently selected by foreign product companies due to multiple reasons: a large talent pool, good technical universities, well-balanced price-to-quality ratio, elaborated environment, favorable conditions for doing business, etc. 
Warsaw is the capital of Poland, which is also considered the main center of Polish business. It houses the largest number of IT specialists and service centers in Poland — more than 240 due to business-friendly conditions. 
Krakow is the second-largest IT hub in Poland. This city is a real hotspot for startups as it houses more than 200 of them, holding first place in Poland in terms of start-up funding: over $2.6M. This location is often selected by foreign IT companies for R&D activities. Such tech giants as CISCO, UBS, and Motorola have already established their centers there.  
Wroclaw is another prominent tech center in Poland. It houses more than 100 IT/R&D centers that mostly work in such fields as AI, Big Data, IoT, and fintech. The city has a well-developed business infrastructure and technological ecosystem. 
Poznan has geographic proximity to Warsaw and Berlin, which makes it a convenient location for running an IT business and hiring developers. The rapid expansion of the city brought Poznan to 2nd place in the ranking of most attractive Polish cities for business (according to Forbes).
Lodz is frequently selected by foreign IT companies due to its moderate developer compensations, as well as attractive office rental rates. 
Business Climate
Poland's strong economy, EU membership, and stable political environment in combination with high-quality service, lower rates, and proximity on the level of culture make it an ideal destination for foreign companies to enter this IT market. Poland can be seen in various prestigious reports and rankings. For instance, this location was placed 40th in the "Ease of Doing Business" 2019 ranking by World Bank and 4th in the World's most attractive emerging market list in 2018 by Bloomberg. 
A tax deduction for R&D activities is another valid argument for international corporations to scale up in Poland. Those companies which generate income from their IP rights can pay only 5% tax, an extremely cost-effective approach for doing business in Poland. As well, this country houses numerous R&D centers of global companies among which are such tech giants as Google, Siemens, Microsoft, Intel, Samsung, and Amazon.
Possible Challenges When Cooperating with Polish Developers
Doing business in any country has its own peculiarities, and Poland is not an exception. Therefore, let's consider two main challenges that might be faced by foreign IT companies when getting software development in Poland.
Regulatory Complexity
According to the Global Business Complexity Index, Poland is ranked 2nd in Europe in terms of the complexity of doing business. The reason for that is a rapid change of legislation which doesn't provide companies with enough reaction time. Moreover, Poland possesses a compound tax system, as well as some peculiarities concerning electronic signatures and official documentation submission by foreign companies. Thus, before starting your business in Poland you should consult professional legal and tax advisors, or find a reliable service provider who will take care of all the legal compliance issues. 
Employment Contract Difficulties
It might be hard for international enterprises to select the best employment contract type when hiring IT specialists in Poland. Basically, there are two of them: Umowa o prace (employment contract) — a regular employment agreement, and Umowa Zlecenia, or B2B — a contract where an employee is a self-employed person. According to No Fluff Jobs, 57% of IT contracts in Poland are B2B, and 39% are UoP. There are several reasons why the former is more widely used. B2B contracts don't presuppose companies to have their Polish legal entity. Instead, they sign direct contracts with developers who are registered as Sole Proprietors (which is a far less complicated procedure). Another reason is financial benefits. Employing specialists on a B2B basis means that developers should take care of taxes and contributions themselves. The company doesn't have to pay any employer costs, offering a higher take-home pay. If you encounter any problems when choosing a suitable option for your business, just ask us for assistance.      
Average Polish Developer Salary Rates
The Polish developer rates are gradually growing year by year. Yet, they are still several times lower compared to the ones in western countries. That's why hiring Polish programmers is a truly cost-effective solution for American tech companies, allowing them to cut their expenses significantly. Let's compare these wages in the USA and Poland to get a better understanding of the matter.
Positions
 Junior
 Middle
 Senior
Poland
USA
Poland
USA
Poland
USA
Full-Stack Software Developer
$30,000
$92,000
$51,500
$140,000
$74,500
$160,000
Front-End Software Developer
$24,000
$80,000
$43,500
$120,000
$66,000
$145,000
Back-End Software Developer
$27,500
$100,000
$48,000
$130,000
$72,000
$151,000
Mobile App Developer
$18,000
$80,000
$40,750
$128,000
$72,000
$140,000
Game Developer
$25,250
$80,000
$48,000
$100,000
$74,500
$140,000
Data Engineer
$30,000
$110,000
$69,500
$152,000
$84,000
$170,000
DevOps Developer
$24,000
$110,000
$56,500
$145,000
$74,500
$170,000
QA Engineer
$18,000
$60,000
$36,000
$90,000
$60,000
$121,000
Embedded Developer
$22,750
$95,000
$43,250
$113,000
$64,750
$142,000
Annual US salaries are presented in gross.
Annual Polish salaries are presented in net pay.
After collecting and analyzing remuneration metrics from No Fluff Jobs, justjoin.it, AngelList, and Hired, my team concluded that the average Polish developer salary rates are roughly 2-3 times lower than in the US. For instance, Polish mobile app developers, who are in extreme demand on the global market nowadays, receive very moderate remuneration compared to their American colleagues. A similar dynamic can be seen when comparing the salaries of the American and Polish game developers. As for the tech stack, the most widely used programming languages in Poland are JavaScript (24%), Java (21%), Python (15%), and Typescript (11%). You can see the median rates for these skills in the table below.
| | | |
| --- | --- | --- |
| Programming language | Poland | USA |
| JavaScript | $42,000 | $81,500 |
| Java | $48,000 | $94,750 |
| Python | $48,000 | $81,500 |
| Typescript | $46,750 | $84,000 |
| PHP | $38,500 | $72,000 |
| C# | $40,750 | $74,500 |
Annual US salaries are presented in gross.
Annual Polish salaries are presented in net pay.
3 Steps to Hiring Polish Software Developers
Hiring IT specialists from abroad is not an easy task, especially if you don't have any previous experience. Therefore, consider my 3-step guideline to successfully scale up your business by recruiting Polish developers. 
1. Analyze the local market 
If you decide to hire developers in Poland, you need to explore its labor market first. Select a desired location and check its talent pool, average compensation rates, competition for tech specialists, market trends, infrastructure, and business environment, etc. In this way you will:
– know the possibilities of carrying out time-effective hiring;
– set a competitive remuneration for your candidate;
– be equipped with knowledge of how to do business in the chosen area.
2. Define your job requirements 
Before diving down into the enormous pool of candidates, you should determine your job requirements. The professional competence of an IT specialist may differ, depending on the position. For instance, if you are looking for a .NET developer, you should distinguish between front- and back-end positions, since their skill stacks are quite different. Moreover, don't forget to mention the expertise level: junior, middle or senior, since their professional knowledge and experience are not the same as well. 
3. Select candidates and conduct job interviews
When all the preparation is done, you can then move on to the selection of suitable candidates. During the job interview, pay special attention to such aspects:
– Professional skills and experience of the candidate should match with your job requirements;
– Portfolio helps you to understand whether a candidate has relevant skills and experience to manage your projects/tasks;
– References act as proof of the candidate's expertise and responsibility.
You should also ask questions that can outline the scope of a candidate's professional knowledge, their ability to work in a team, solve problems, or use different approaches to project execution, etc. And don't forget to prepare a test assignment that will help you to estimate the coding skills of the candidate. 
How to Hire Dedicated Polish Developers?
There are several ways you can hire Polish developers. Let's have a look at 3 prevalent options to identify the best one.
1. Hire a freelancer
There are plenty of freelancing websites where you can find any IT professional you like. Since freelancers work as independent contractors, you don't need to worry about any employment contracts. Moreover, you'll be able to save a decent sum, as you'll only pay an hourly rate without any additional expenses (like social security, for example). However, this option is suitable only for short-term cooperation. So, if you are looking for a dedicated software developer or team, consider something else.
2. Collaborate with an outsourcing company 
You can get a team of engineers in Poland from a local outsourcing vendor. In this way you won't have to waste time on laborious recruitment. Such cooperation will provide you with access to a wide pool of qualified programmers who usually charge 1,5-2 times less than in-house specialists. However, this partnership has its drawbacks. By having a vendor's team you won't be able to maintain direct management over developers. You could also face cloudy pricing since most vendors tend to avoid giving specific invoices. Apart from that, you could put your IP rights at risk if you don't watch your intellectual property from a legal standpoint.
3. Find a reliable recruitment service provider
If you want to get a dedicated development team in Poland, your ideal option is to find a recruitment service provider. In this way you'll choose specialists with the expertise and skillsets that you need. You'll also be able to secure your IP and retain full control over expenses and software development in Poland. Apart from that, the recruitment service provider can take over some of the back-office operations, to ensure the smooth functioning of your offshore team. 
All these benefits will be guaranteed if you choose Alcor as your trusted partner. We are an international recruitment firm that specializes in hiring senior and lead software developers from Poland, Romania, and other Eastern European countries for foreign product enterprises. Among our clients are such globally renowned companies as Grammarly, People.ai, Samsung, Huawei, Tonic Health, BigCommerce, and many others. 
Apart from technical recruitment, our team also provides market research, executive search for rare specialists, recruitment marketing, employer branding, and consultations on recruitment outsourcing. 
One of our high-profile cases is IT recruitment for SBTech — a leading provider of sports betting solutions and services. They had serious issues with hiring programmers which largely hindered their software elaboration. At first, they tried to cooperate with outsourced HR agencies which were not able to demonstrate the desired results. When SBTech found out about the Alcor BPO solution, they decided to give it a try. Within just a month our team filled 16 vacancies with top engineers. Moreover, we helped to employ these specialists on the most favorable terms in compliance with Ukrainian law, as well as took over the payroll and accounting process. This allowed our client to save money on taxes and auditing, plus by having their own offshore development team SBTech was also able to get transparent pricing, secure IP rights, and liberate themselves from most back-office operations, instead of focusing on the core task — software development.