An overwhelming shortage of qualified workers has already become a stumbling block for many tech enterprises. Moreover, 1.2 million software developer vacancies are likely to go unfilled by 2026. Thus, to remain competitive and be prepared for future talent deficiency, more and more product companies are seeking programmers in CEE IT hubs like Poland. With Alcor, this process is faster and more cost-efficient as we provide IT recruitment services in Poland and other Eastern European countries. And, in this article, I'll shed light on the advantages and challenges of working with Polish software engineers, as well as share Poland's software engineer salaries.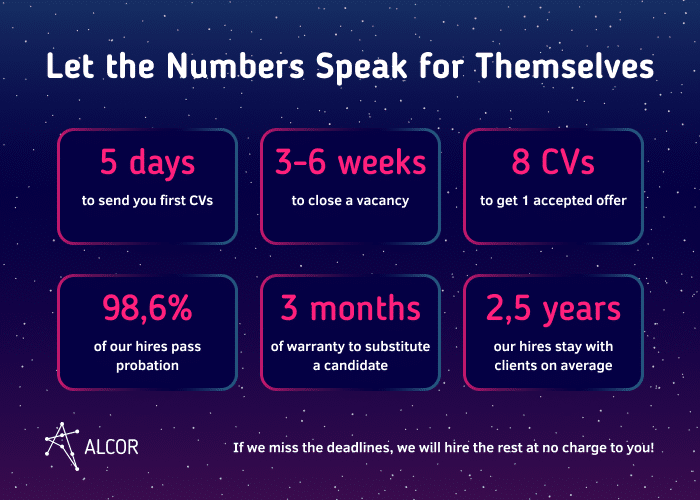 Polish Software Development Market Overview
The tech sector in Poland makes a huge contribution to national economic development, constituting about 8% of the Polish GDP. The growing demand for Polish ICT services resulted in a sharp increase in their exports to 10 billion dollars in 2021, with an average annual growth rate of 3,6%. By 2026, the export of ICT services from Poland is expected to reach 13 billion dollars. At the same time, the revenue of IT outsourcing to Poland amounts to 2,56 billion dollars in 2023. These impressive results have made Poland the 7th most powerful and third most competitive IT sector in Europe.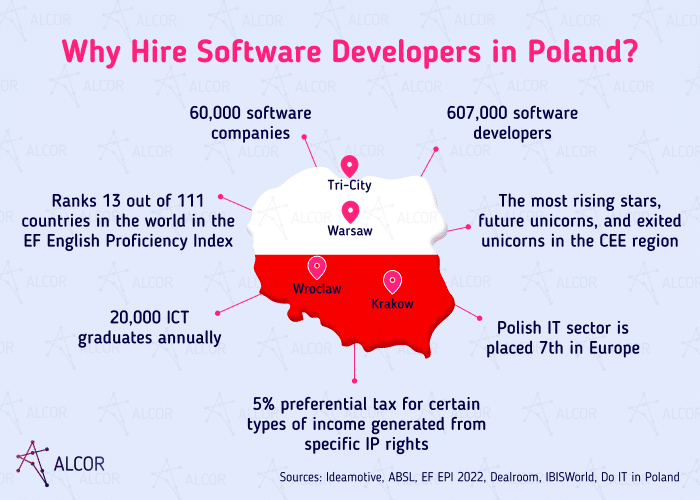 Poland thrives with its outstanding IT companies. According to "The State of Central & East Europe IT Outsourcing and Offshoring Report", there are nearly 60 thousand software companies in the country with over 1,700 of them providing BPO, SSC/GBS, IT, and R&D business services. The Polish startup ecosystem is excelling as well. According to a recent report by Google and Dealroom, the Tech Ecosystem value of Poland is 36,8 billion euros. The country also has the most rising stars, future unicorns, and exited unicorns in the CEE region, among them well-known ones like Allegro, LiveChat, Brainly, CD ProjektRed, PlayWay, DocPlanner, and others. Thanks to such a dynamic development, Polish start-ups raised 448 million euros in the first half of 2022.
Yet, the real driving force of constant Polish tech sector expansion is its software development professionals. In 2023, Poland is ranked #1 in terms of talent in Europe due to the high quality of education and strong talent competitiveness, ​​reports Emerging Europe. According to the ABSL report, the supply of talented software developers in the country reaches 607,000, 53% of which are programmers. An overwhelming share of them are employed in SSC & GBS (41%) and IT centers (22,6%).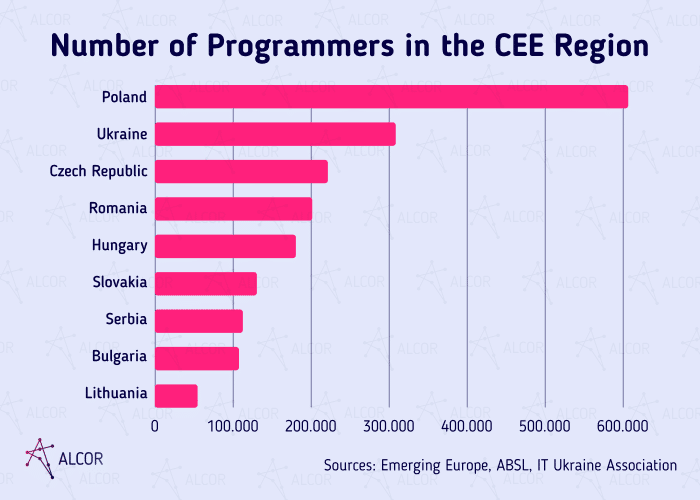 Is It Worth Hiring Polish Developers?
The short answer is yes. But to give you more details, I suggest we have a look at the 4 main factors which make Poland attractive for foreign businesses. 
Technical Education 
Poland is known for its strong technical education with a particular focus on STEM (science, technology, engineering, and math). There are 40 state-owned universities and 20 public institutes of technology, among which are such well-known ones as Warsaw University of Technology, Jagiellonian University in Cracow, Adam Mickiewicz University, and the University of Gdańsk. Moreover, 22 Polish HE institutions are included in the QS World University Ranking 2023 list, proving their high standards for education. 
Poland is flourishing with its growing number of tech graduates – bringing up more than 20,000 IT specialists each year. Its software developers have received world recognition as competent tech professionals. They always take leading positions in various rankings, i.e. 3rd on the HackerRank Best Developers list and 7th in the 2022 Pentalog report, which makes them highly sought after in the global IT arena.
English Proficiency
Apart from technical expertise, Polish software developers have an exceptional command of the English language. According to the EF English Proficiency Index, Poland is ranked 11 out of 35 European countries, and 13 out of 111 countries, which makes its software engineers a perfect fit for western IT companies.
Prominent Tech Centers 
Poland has seven large IT hubs that employ more than 73% of all IT specialists in the country, with most of them living in Warsaw, Krakow, Wroclaw, and Tri-City. These locations are frequently selected by foreign product companies due to multiple reasons: a large talent pool, good technical universities, well-balanced price-to-quality ratio, favorable conditions for doing business, etc. 
Warsaw is the capital of Poland, which is also considered the main center of Polish business. It houses around 163,000 IT engineers and 330 centers of software companies in Poland due to business-friendly conditions. 
Krakow is the second-largest IT hub in Poland, with 114,000 software developers. This city is a real hotspot for business centers as it houses 261 of them. This location is often selected by foreign IT companies for R&D activities. Such tech giants as CISCO, UBS, and Motorola have already established their centers there.  
Wroclaw is another prominent tech center in Poland and is home to over 93,500 programmers. It houses more than 100 IT / R&D centers and 208 business centers that mostly work in such fields as AI, Big Data, IoT, and fintech. The city has a well-developed business infrastructure and technological ecosystem. 
Tri-City, which is a metropolitan area that consists of Gdańsk, Gdynia, and Sopot, houses over 73,500 coders and is ranked the #2 most attractive business area by managers. There are 184 business centers, while the annual growth in employment in the area is 12,6%.
Business Climate
Poland's strong economy, EU membership, and stable political environment in combination with high-quality services, lower rates, and proximity of culture make it an ideal destination for foreign companies to enter this IT market. Poland can be seen in various prestigious reports and rankings. For instance, this location was placed 40th in the Ease of Doing Business Rank by the World Bank and 4th in the World's most attractive emerging market list in 2018 by Bloomberg. 
A tax deduction for R&D activities is another valid argument for international corporations to scale up in Poland. Those companies which generate certain types of income from specific IP rights may pay only a 5% preferential tax, an extremely cost-effective approach for doing business in Poland. Regarding other Polish taxes in the IT industry for companies, the standard corporate tax rate is 19%, but startups and small companies can pay a lower rate – 9%. As well, this country houses numerous R&D centers of global companies among which are such tech giants as Google, Siemens, Microsoft, Intel, Samsung, and Amazon.
Challenges When Cooperating with Polish Developers
There are three main challenges that might be faced by foreign IT companies when getting software development in Poland.
Regulatory Complexity
According to the 2023 Global Business Complexity Index, Poland is ranked 4th in Europe in terms of the complexity of doing business. The reasons are difficult reporting standards, significant costs that companies spend to comply with rapidly changing regulatory policies, formal & legal obstacles for investment, as well as complex HR and payroll regulations. Thus, before starting your business in Poland you should consult professional legal and tax advisors, or find a reliable service provider who will take care of all the legal compliance issues. 
Employment Contract Difficulties
It might be hard for international enterprises to select the best employment contract type when hiring software development engineers in Poland. Basically, there are two of them: Umowa o prace (employment contract) — a regular employment agreement, and Umowa Zlecenia, or B2B — a contract where an employee is a self-employed person. 
According to Bulldogjob 2023 research, 51% are UoP, a decrease of 6% compared to last year. Meanwhile, 37% of IT contracts in Poland are B2B, which is a 3-percent increase. Reason #1 for this is that B2B contracts don't presuppose companies to have their Polish legal entity. Instead, they sign direct contracts with developers who are registered as Sole Proprietors (which is a far less complicated procedure). Moreover, employing specialists on a B2B basis means that developers should take care of taxes and contributions themselves. The company doesn't have to pay any employer costs, offering higher take-home pay. If you encounter any problems when choosing a suitable option for your business, just ask us for assistance.    
Time Zone Differences
Poland has Central European Time (CET) and is 6-9 hours ahead of the continental USA (Eastern, Central, Mountain, and Pacific Time). Such a time difference with the United States might hinder meeting planning and hosting meetings and leave little time for communication during work hours. However, western tech companies have managed to leverage this peculiarity to their advantage by organizing a round-the-clock workday. In this way, when the workday in the States has not yet begun, a remote software development team in Poland can complete tasks and speed up the product development process in the company.
Average Polish Developer Salary Rates
The Polish developer rates are gradually growing year by year. Yet, they are still several times lower compared to the ones in western countries. That's why building a team of Polish programmers is a truly cost-effective solution for American tech companies, allowing them to cut their expenses significantly. Let's compare Polish programmer salaries and developer wages in the USA to get a better understanding of the matter. 
Positions
 Junior
 Middle
 Senior
Poland
USA
Poland
USA
Poland
USA
Full-Stack
Software Developer
$22,500
$87,250
$53,000
$119,250
$73,250
$152,500
Front-End
Software Developer
$30,250
$76,250
$52,000
$109,750
$68,000
$144,250
Back-End
Software Developer
$35,000
$101,750
$58,000
$126,000
$69,500
$157,000
Mobile App
Developer
$26,500
$75,500
$57,000
$99,000
$65,500
$133,000
Game
Developer
$24,000
$72,000
$50,500
$100,250
$63,750
$130,000
Data
Engineer
$30,000
$95,000
$57,250
$129,500
$70,500
$170,000
DevOps
Developer
$26,000
$96,000
$59,000
$127,500
$69,000
$165,000
Software Development
Engineer in Test
$21,000
$61,500
$39,500
$90,500
$58,250
$128,000
Embedded
Developer
$26,000
$96,000
$56,750
$119,000
$70,500
$168,000
Annual US salaries are presented in gross.
Annual Polish salaries are presented in net pay.
After collecting and analyzing remuneration metrics, my team concluded that the average Polish developer salary rates are roughly 2,5 times lower than in the US. For instance, Polish mobile app developers, who are in extreme demand on the global market nowadays, receive very moderate remuneration compared to their American colleagues. A similar dynamic can be seen when comparing the salaries of American and Polish game developers. 
As for the tech stack, the most widely used programming languages in Poland are JavaScript (42%), Python (32%), Typescript (30%), Java (27%), C# (18%), and PHP (11%). You can see the median rates for these skills in the table below.
| | | |
| --- | --- | --- |
| Programming language | Poland | USA |
| JavaScript | $37,000 – $76,500 | $86,000 – $151,750 |
| Python | $31,000 – $78,250 | $86,500 – $171,750 |
| Typescript | $25,750 – 72,500 | $87,500 – $155,000 |
| Java | $35,250 – $69,500 | $65,500 – $148,500 |
| C# | $28,750 – $67,500 | $82,500 – $168,000 |
| PHP | $28,000 – $71,500 | $66,000 – $134,250 |
Annual US salaries are presented in gross.
Annual Polish salaries are presented in net pay.
When comparing the salaries of junior and middle developers in Poland, we can conclude that the latter earn around 49% more than the former. Senior Polish coders receive 19% more than their middle counterparts. Yet, female developers earn less than their male colleagues by 6%. Last year, almost 80% of local programmers received a salary increase and 68% expect a compensation boost in 2023 as well. At the same time, the average salary increment is 8% once a year in Poland, which is 5% up from the average international indicator.
Portrait of a Polish Programmer
According to the Bulldogjob survey, over 57% of people in Polish IT are aged 25-34, while 47% of all IT specialists live in Warsaw, Krakow, and Wroclaw. 56% have either a bachelor's or master's degree in STEM, and the majority, namely 53%, work in Polish companies, with 43% being employed by foreign businesses. Over 78% of Polish software developers are Middle, Senior, Lead, Manager, or C-level specialists, making Poland a go-to location to hire high-potential coders.
Before considering applying for jobs, local programmers consider several factors that influence decision-making.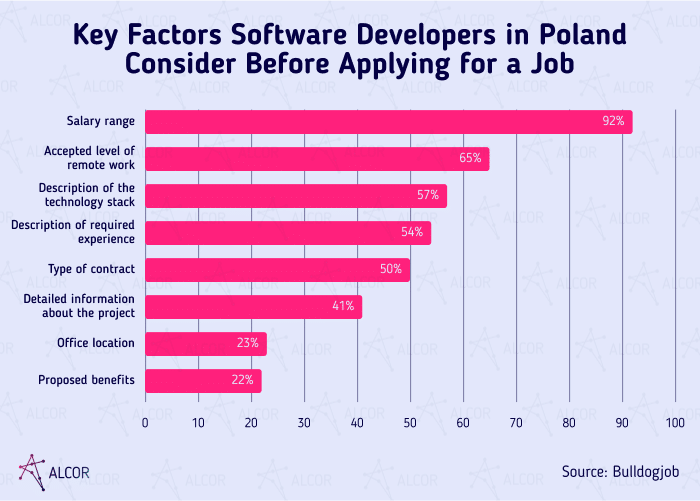 The research has also found that 91% of Polish coders prefer either remote or hybrid work which is the #1 factor that persuades software engineers to stay with a company for years. Among other things that help local programmers develop loyalty towards employers are a healthy work environment, high compensation, self-improvement opportunities, and job security. The most appreciated benefits and perks for Poliah developers are a 4-day work week, flexibility in the workplace, extra days off, professional courses, and medical insurance.
3 Steps to Hiring Polish Software Developers
Hiring IT specialists from abroad is not an easy task, especially if you don't have any previous experience. Therefore, consider my 3-step guideline to successfully scale up your business by recruiting Polish developers. 
1. Analyze the local market 
If you decide to hire developers in Poland, you need to explore its labor market first. Select a desired location and check its talent pool, average compensation rates, competition for software development specialists, market trends, infrastructure, and business environment, etc. In this way you will:
– know the possibilities of carrying out time-effective hiring;
– set a competitive remuneration for your candidate;
– be equipped with knowledge of how to do business in the chosen area.
2. Define your job requirements 
Before diving down into the enormous pool of candidates, you should determine your job requirements. The professional competence of a Polish coder may differ, depending on the position. For instance, if you are looking for a .NET developer, bear in mind that these programmers should be proficient in .NET, C# or VB.NET, .NET Framework, SQL Server or MS SQL, as well as understand the software development life cycle, testing principles, and patch code. Moreover, don't forget to mention the expertise level: junior, middle or senior, since their professional knowledge and experience are not the same as well. 
3. Select candidates and conduct job interviews
When all the preparation is done, you can then move on to the selection of suitable candidates. During the job interview, pay special attention to such aspects:
– Professional skills and experience of the candidate should match your job requirements;
– Portfolio helps you to understand whether a candidate has relevant skills and experience to manage your projects / tasks;
– References act as proof of the candidate's expertise and responsibility.
You should also ask questions that can outline the scope of a candidate's professional knowledge, their ability to work in a team, solve problems, or use different approaches to project execution, etc. And don't forget to prepare a test assignment that will help you to estimate the coding skills of the candidate. 
How to Hire Dedicated Polish Developers?
There are several ways you can hire Polish developers. Let's have a look at 3 prevalent options to identify the best one.
1. Find a reliable recruitment service provider (such as Alcor)
If you want to get a dedicated development team in Poland, your ideal option is to find a recruitment service provider. In this way you'll choose specialists with the expertise and skillsets that you need. You'll also be able to secure your IP and retain full control over expenses and software development in Poland. Apart from that, the recruitment service provider can take over some of the back-office operations, to ensure the smooth functioning of your offshore team.
All these benefits will be guaranteed if you choose Alcor as your trusted partner. We are an international recruitment firm that specializes in the recruitment of senior and lead software developers from Poland, Romania, Bulgaria, and other Eastern European countries for foreign product enterprises. Among our clients are such globally renowned companies as Grammarly, People.ai, Samsung, Huawei, Tonic Health, Ledger, ThredUP, Gotransverse, and many others. 
Apart from technical recruitment, our team also provides market research, IT executive search, recruitment marketing, tech RPO, employer branding, and consultations on recruitment outsourcing. Over 40 of our IT recruiters guarantee to hire 5 Polish programmers for you in 4 weeks, using just 8 CVs until 1 accepted offer. 
One of our high-profile cases is IT recruitment for Dotmatics — an American provider of scientific software that facilitates research, patient treatment, and clinical trials. Before they found the Alcor BPO solution, the company had been working with an IT outsourcing vendor and lacked control over product development. Thus, they decided to step back from this cooperation model and reached out to our recruitment company to hire 30 programmers in 1 year. 
We began our cooperation with consultations, vacancy adjustments, value proposition creation, and ideal candidate portrait composing. Then, we allocated a team of IT researchers, IT headhunters, and a dedicated account manager and started the full-cycle recruitment process. As a result, we helped the client significantly boost their recruitment pipeline and hire the needed number of software developers with React, QA Automation, DevOps, Node.js, C++, Product Management, and other skills on time. We also assisted Dotmatics in legal compliance, payroll, and procurement management, letting our client forget about time-consuming back-office operations and focus on the core task — software development.
2. Hire a freelancer
There are plenty of freelancing websites where you can hire any IT professional you like. Since freelancers work as independent contractors, you don't need to worry about any employment contracts. Moreover, you'll be able to save a decent sum, as you'll only pay an hourly rate without any additional expenses (like social security, for example). However, this option is the most suitable for micro start-ups or small tech businesses that are looking for short-term cooperation. So, if you are looking for a dedicated software developer or team, consider something else.
3. Collaborate with an outsourcing company 
You can get a team of developers in Poland from a local outsourcing vendor. In this way, you won't have to waste time on laborious recruitment. Such cooperation will provide you with access to a wide pool of qualified software engineers who usually charge 1,5-2 times less than in-house specialists. However, by having a vendor's team you won't be able to maintain direct management over developers. You could also face cloudy pricing since most vendors tend to avoid giving detailed invoices. Apart from that, you could put your IP rights at risk if you don't watch your intellectual property from a legal standpoint. Considering all these aspects, such a cooperation model might help non-tech companies, the main product / service of which is not technology.