In 2023, the IT industry continues to get more and more globalized. With the intention to refrain from outsourcing IT projects, a lot of tech companies now feel inclined towards establishing their own offshore research and development centers. This is regarded as an upgraded solution for IT business, as software offices with your own people abroad entail more benefits than traditional outsourcing.
In this article, we'll look at overseas programming from different perspectives and describe the unobvious pitfalls of starting offshore development for your company.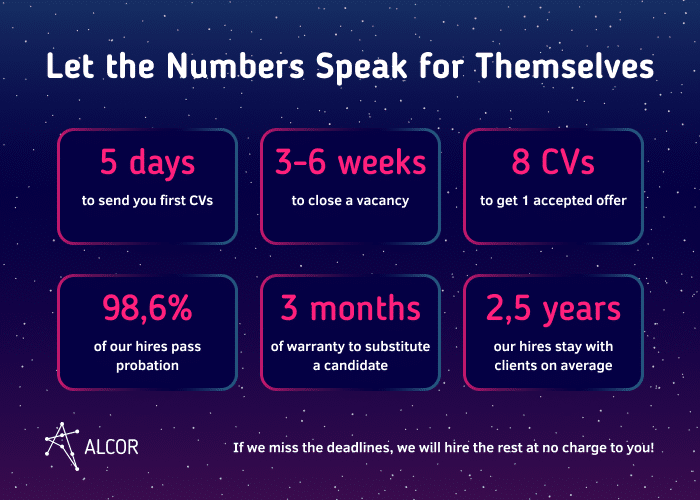 What is an Offshore Development Center (ODC)?
An offshore development center, also known as ODC, is a development office with a team of software engineers located in an offshoring country. In essence, this is a company's branch in another country with a vast pool of talents and lower costs. 
The ODC is an efficient business model for both large IT product companies and startups. It helps to establish the presence of a company in another country, better access to IT talents, and save costs at the same time. For example, big companies such as Samsung and Google, and growing startups like Globality, Sift, and Insightful Science already use the offshore development center model and have their offices in Eastern Europe.
How an Offshore Development Center Works 
Offshore development begins with a company setting up an offshore development center. Offshore development teams work under the same brand as their head office and follow common corporate policies, e.g., offshore IT specialists perform core tasks and bring the same value to the business like any other in-house team. 
Typically, an ODC team is composed of diverse specialists, including software engineers, QA engineers, back-end and front-end developers, web and UI/UX designers, technical writers, and team leads. It's up to the head office to decide on the roles and structure of the offshore team.
It is important to mention that operational staff is no longer necessary in ODCs. This is because all other functions like accounting, HR payroll, legal support, and recruitment can be delegated to a local service provider. The local vendor would also consult you on the specifics of doing business offshore and help with legal compliance.
Types of Offshore Development Centers
Contractor Model
This type of offshore development center service is suitable for startups, SMBs, and some large corporations. In fact, it can be better described as an outsourced development center, since offshore programmers are not fully employed within the company and just take care of certain product development aspects. Thus, in-house product managers assign tasks to the ODC project manager, who then cooperates with the offshore development team and reports back to the main office. 
Pros: 
Not employing programmers saves a buck or two on overhead labor costs; 
Depending on product development needs, various experts can be hired or replaced; 
Allows the company and its in-house team to shift their focus to more strategic functions. 
Cons: 
Involves additional management, represented by an offshore project manager, which may result in vague communication and lack of clarity among offshore programmers; 
Frequent replacements of dedicated offshore developers dilute product understanding if not managed well.
Customer Model
Perfect for large corporations, this ODC model essentially means branching out into another location, because an offshore development center acts as a subsidiary of the company. That's to say, all offshore team players are employed full-time. However, it differs from a traditional branch since business operations take place overseas. Onsite, there will be senior figures present to take care of management and decision-making, while all development-related services will be provided by an offshore team. It's a highly efficient and popular model — for instance, Apple started launching its dedicated development centers 9 years ago, following such tech giants as Google, Microsoft, and Cognizant. 
Pros: 
The process is managed by senior employees, so the offshore team will be immersed into the product; 
The customer model has proven to be efficient for key tech figures on the market, so it's an approach that will provide long-term benefits. 
Cons: 
Costs depend on a chosen location and provider, so there might be a need to invest more in terms of labor costs. 
Characteristics of a Dedicated ODC
A dedicated software development center can be described as follows:
Tech-reliable: provides a loyal team of software engineers focused on your product development;
Adjustable: allows you to adjust the offshore team according to product needs; 
Company-tailored: you can opt for best practices or assemble only certain experts, customizing recruitment & onboarding;
Secure: optimal for keeping your IP rights, signing NDAs, and maintaining company data inaccessible to non-employees;
Helpful for company expansion: building up such an offshore center correlates with establishing your brand presence in the new market.
Indicators to Set up an Offshore Development Center
Let's have a look at indicators that might signal that the offshoring development center model can be an appropriate way of business growth.
You Need to Scale Your Team
A dedicated offshore development center is an attractive opportunity for already established technology companies. With limited resources available in one place, it's difficult for them to scale up and expand into the new markets. For these reasons, some global technology businesses like Ledger, BigCommerce, and ThredUP established their ODCs and outsourced the hiring offshore developers. As a result, it helped them boost IT delivery and enlarge in-house capacities. For example, BigCommerce successfully went public with their R&D software team in Eastern Europe in 2020.
You Require Specialists with a Narrow Expertise
If you're a startup that develops an innovative product, you may require engineers with expertise in certain technologies. Since finding brilliant experts onshore is challenging, it's more beneficial to look for dedicated offshore software developers. This decision leads to accessing global talent and finding the best of the best. Among other offshore outsourcing examples are world-renowned startups Grammarly, Ring, and Dotmatics which reached out to Poland, Ukraine, and Romania for offshore coding because of the competent software engineers they hadn't been able to find anywhere else.
You Need to Lower Your Operational Costs 
The truth is that nowadays software developers are some of the most highly paid specialists in the world. Due to this, when employing engineers in the West you can simply break the bank. Thankfully, the offshore development services industry is famous for its budget-friendliness, so that you save money by hiring lower-paid human resources. Additionally, you can significantly reduce your operational expenses, such as technical equipment, office lease, facilities, and maintenance, because of the generally cheaper prices and rental fees. After that, you get the ability to reinvest the savings per current business needs.
You Want to Focus on Your Product
Among all the offshore software development benefits, the primary one is the possibility to concentrate on core business tasks. Accordingly, this model works as a means to limit your everyday stresses and enhance productivity. Just imagine: mundane operations such as recruitment, payroll, and accounting are managed by a professional service provider overseas. At the same time, you take care of the company's growth by managing your team of offshore developers independently.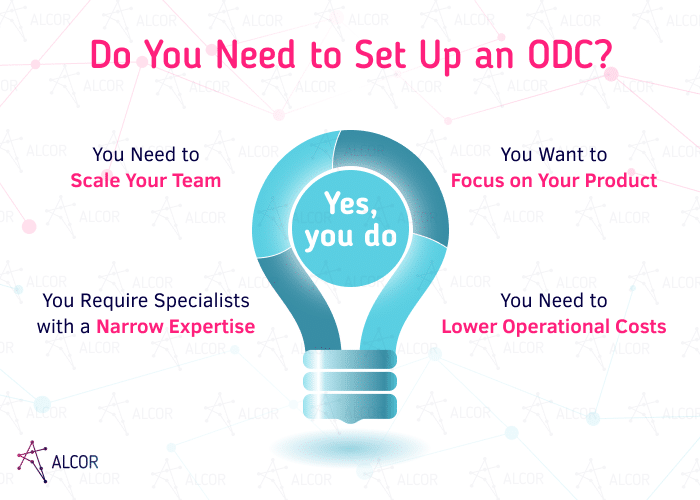 Benefits of Opening an Offshore Development Center 
Apart from cost-saving opportunities and a pool of seasoned software engineers, there's more advantages to the offshore development center model. 
1. Own branding 
2. Secured IP rights 
3. Committed engineers
It's vital for tech companies to enter a new market under their own brand. This implies the ability to employ IT specialists directly to your company and implement your corporate policies. Software companies that promote their own employer brand acquire talents easier and faster. As a result, an offshore team of developers works at your premises with no intermediaries.
The offshore software development center model leaves much room for independence. Working under your own brand, you keep full control over the team and engineering processes. No third party has access to your product development, which diminishes risks for your intellectual property rights thanks to authorized entry, data access control and network security systems. Also, being an offshore branch of your office, an ODC doesn't require additional security or compliance tracking.
Direct team management empowers better engagement. Taking care of your offshore development team, you'll receive powerful commitment like your in-house team. With their entrepreneurial mindset, software engineers in Ukraine eagerly show interest in business development and being part of the company.
Challenges When Starting a Dedicated Offshore Development Center
Quality of Hiring
Even though offshoring gives you access to the foreign talent pool, this business practice creates new challenges regarding effective hiring techniques. It might be hard to navigate in a new location, as labor markets and rules differ from one country to another. Therefore, it's crucial to choose an experienced recruitment provider.
If you consider Eastern Europe as an offshoring destination, Alcor may provide you with full-cycle IT recruitment services. While our researchers study the market and build a perfect candidate profile, our team of recruiters conducts job interviews and test assignments, requests references, and much more. Utilizing a huge pool of candidates, we choose only the best ones with a proven track record. As a result, our CV pass rate is 80% which means that 4 out of 5 of our candidates land jobs at our client companies.
Ways to Attract New Talents
You have to keep in mind that the employer is not the only one to make a decision about the job offer. Even the smallest contract aspect might discourage an offshore developer from becoming a part of your offshore software development company. Such aspects as a limited social package and ambiguous approach to days off or sick leaves can be a reason for offer rejection. However, a competitive salary will win you the day. Research the median level of wages in the local IT industry and provide your salary range for each position.
Retention of Employees
Once you've found and attracted top talents in the offshoring country, you need to make them feel engaged. Due to remoteness, it's challenging to manage your software development team on your own and keep track of their mood. That's the case when your local team leader can be of help. This person will not only take care of daily tasks but also focus on the team building and personal growth of your software developers (which is vital for retention).
Legal Concerns
Naturally, every single IT company possesses confidential information about their product. Accordingly, while sharing part of it with your colleagues overseas you ought to prevent any possibility of data leakage with the help of non-disclosure agreements, secure communication and qualified consultations. Another concern is about intellectual property that may be not as secure as it seems. For this, my team recommends tech companies to employ developers directly and draft a series of NDA documents.
Risks of Managing an Offshore Development Center
Although there are enough benefits, tech companies need to consider important aspects to set up an offshore research and development center. This includes hidden pitfalls that are difficult to foresee, but easy to prevent in the right hands.
1. Scattered services 
2. Drawn-out recruitment 
3. Vague pricing 
There are few service providers that offer turnkey services for building offshore development centers. This would force you to consult a bunch of law firms, accounting specialists, and financial consultants who will give contradictory opinions. Avoid this by finding a service provider with full expertise in operational management. You'll have access to different specialists who will come up with a single one-stop-shop solution best suitable for your business. 
Sometimes country managers of offshore development centers struggle to hire IT specialists quickly. This may relate to a scant understanding of the local market or ineffective recruitment services from your vendor. A competent recruitment agency with defined KPIs, commitments, and guarantees will reduce the risks and speed up your hiring. 
To make your offshore development cost-effective enough, make sure you use a flexible pricing model. This should include the possibility to pick up the necessary services and pay only for those you used. If your invoice doesn't contain detailed information about the costs, change your offshore IT services provider.
Checklist To Set Up an Offshore Development Center 
Once you decide to start offshore software development, you have to think over the smallest details and embrace the best practices to reach your goals. Here are the six points which make the core of your offshore development center checklist.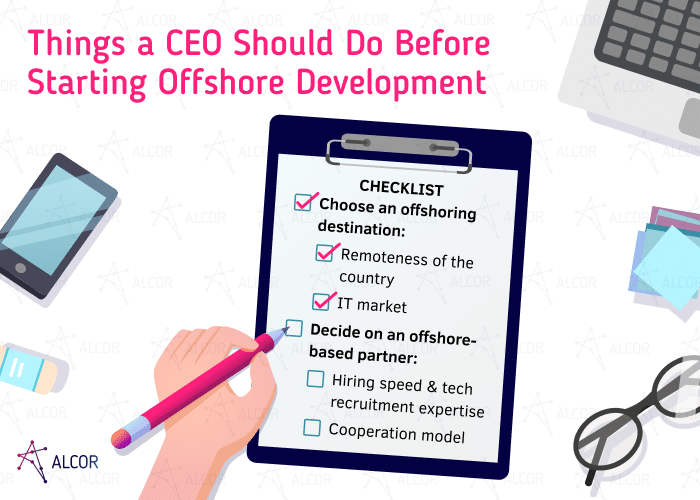 1. Decide on an offshoring destination. Apart from lower operational and labor costs, businesses should also pay attention to the technical skills and cultural specifics of different nations. An offshoring team with opposite values can result in multiple misunderstandings and conflicts.
2. Pay attention to the remoteness of the country. Distant locations might be an obstacle if you plan to conduct face-to-face meetings frequently. On top of that, it could be difficult to control the daily activities of your colleagues and synchronize with them due to different time zones.
3. Research the potential offshore IT market. Find out if there are any conferences and events for the IT community, which companies have already entered that market, and whether the government provides any type of support for them.
4. Decide on an offshore-based partner. It's always a good idea to research the partner's location, ratings, number of relevant cases, and pricing through portfolios and reviews. For instance, Clutch is a perfect online resource to look for such data.
5. Pay attention to hiring speed and tech recruitment expertise. You can request detailed information about the guarantees and commitments of their recruitment team and even ask for references. Don't hesitate to ask how much time it'll take them to close your vacancy or what the hiring process looks like before beginning a strategic partnership.
6. Ensure that you got the right idea about your cooperation model. To avoid further misunderstandings, it's better to make sure you will be involved in the process of recruitment, team management, or salary negotiations.
ODC vs IT Outsourcing
Offshore development centers are often contrasted to IT outsourcing. These are two polar business models used by tech companies when moving offshore. Some of the key differences are summarized below.
Mindset
Passionate software engineers tend to work for product companies. Compared to outsourcing, offshore development centers give developers the opportunity to become part of the IT product. This attracts talented IT specialists with a product mindset who are ready to bring more commitment to their work.
Costs
Code outsourcing is cost-efficient provided that your project isn't going to scale soon. For an extensive piece of work, your own offshore development center can be a game-changer. Offshore product development offices require a small up-front investment, but in the long run they show a high return on investments. Not to mention the transparency of pricing that is very rare with outsourcing providers.
Team management
Outsourced development teams are supervised by project managers from your service provider. Consequently, as a customer, you don't have any direct influence on the team. An outsourcing firm retains its rights to shuffle team members and assigns them to different projects. Unlike this, with an offshore development center, you are the one and only employer for the team.
Talents
Professional software engineers are eager to work on one product since they are not interested in "spreading themselves out" through different projects with a similar scope of work. Talented developers see many career prospects in a product company. They realize the opportunity to enhance tech competence and exchange their experience with foreign tech-savvy specialists.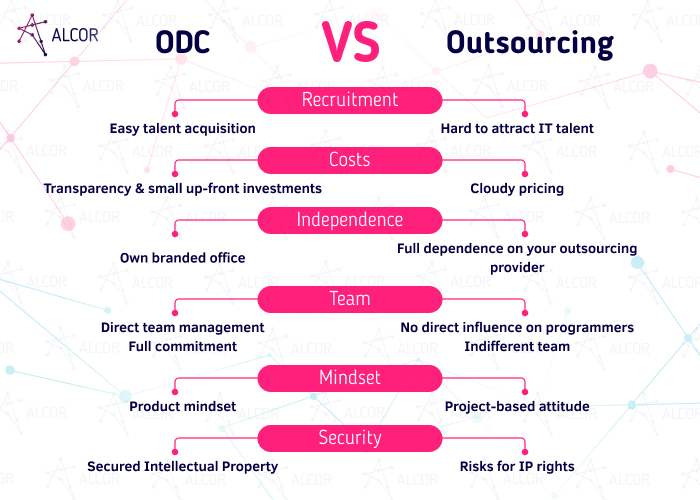 ODC vs Other Engagement Models
With software outsourcing being the most common, there are more engagement models that I'm going to compare: IT recruitment, building an in-house team, working with freelancers, IT outsourcing, building a dedicated team, opting for a build-operate-transfer model, and offshore product development. Tech companies apply them all but receive different results.
IT recruitment refers to hiring top-notch software development experts via a trusted provider. The provider has their own talent network, access to local IT communities and experience in employer branding. Via this model, you still participate in the decision-making process and final interviews, but everything prior is left to the provider's IT recruiters so you can focus on more important tasks. Additionally, the firm can consult you on payroll & legal compliance. Upon request, some IT recruitment partners (Alcor included) can help you establish an offshore IT development center, similar to an ODC. 
An in-house team is the core of your company and its main asset in product development. It's a long-term cooperation with programmers who feel part of the product and are willing to contribute their best skills. On the flip side, recruiting in-house software engineers can be time-consuming and costly, so it's not the ideal solution for fast growth and market expansion (unless you have the money and time to invest). 
Cooperation with freelancers implies delegating some tasks to freelance specialists on Upwork, Fiverr or other websites. The benefits of this solution include a large number of freelancers available and convenient payment, since the client pays only when fully satisfied with the outcome. However, it proves difficult to select candidates due to a limited number of interview rounds. All in all, such cooperation cannot cover product development, but is rather a short-term solution for specific tasks. 
IT outsourcing is about passing product development or part of it to an IT outsourcing provider. It's a perfect solution if your company is not tech-oriented to begin with, but needs a website or an application for its services. IT outsourcing is quick and cheap, but the main pitfall is indirect communication with the team via the provider, which makes the final outcome hard to define and agree upon. Besides, the IP rights for the product belong to an outsourcing team, and the process of transferring them to you can be lengthy and complicated. If you have an IT product company, a more viable solution is hiring an in-house team or, even better, opting for IT recruitment to keep control over communication and attract more investment. 
A dedicated team or IT staff augmentation is used when a product company feels reassured of the quality and economy of doing business in the chosen offshoring country. The company hires dedicated offshore developers from outstaffing agencies, having direct access to engineers for a limited period of time.
Build-operate-transfer (BOT) is a more profound solution that is similar to the offshore software development model. It suggests contracting with a local vendor who will build, operate, and then transfer a software development center to you. In its final stage, however, BOT has many risks regarding knowledge and people transfer.
An Offshore Development Center (ODC) is the model which leaves much room for independence and flexibility. You can upgrade your business from any stage to open your own offshore development office. The biggest bottleneck is operational management, but with a reliable partner, you can get rid of it to focus on your IT product instead.
Mistakes in Setting Up a Dedicated Offshore Development Center
To set up your own offshore development center, one needs to take various aspects into account. In order to make your experience smoother, we suggest avoiding these key mistakes when launching the software development center offshore:
#1. Involve several recruitment agencies
To speed up the talent acquisition process, tech companies resort to hiring several agencies at once. However, this is a failing strategy because candidates only get spammed with one and the same interview invitation. It'll lead to poor results and spoil your image as an employer.
#2. Ignore employer branding
Some business leaders don't promote their company while entering the new job market and often end up with offer rejections from candidates. The best way to avoid this issue and accelerate recruitment is to start an employer branding campaign. If you advertise your company as a nice place to work at, it'll attract more talents. The key point is to understand that offshoring employer brand campaigns must be tailored to the targeted IT community.
#3. Ignore office location details
A huge working area or a fascinating panorama shouldn't throw dust in your eyes. There are some vital things that are often left unnoticed before the deal, e.g. soundproof, sunlight, air conditioning, 24/7 access. Work closely with a real estate manager to check all important details.
To set up your own offshore product development unit, you need to take various aspects into account. In order to make your experience smoother, I suggest avoiding these key mistakes when launching your own development center overseas:
#4. Unadaptable company policies
Your corporate HR policies may work well for in-house teams, but your dedicated offshore developers are located in another country with their own national holidays and labor law. For this reason, be adaptable and discuss the vacation & day-off opportunities with the offshoring team individually.
#5. No IP rights agreement
Although you hire a trustworthy team of developers, a non-disclosure agreement is signed by default. Companies that produce intellectual property must keep an eye on their legal rights from the very beginning. Consult IT lawyers to prepare a comprehensive agreement to prevent the leakage of your confidential information.
#6. Direct income
The type of employment contract influences other legal procedures, including opening visas. When a developer is your contractor from another country and receives income directly from the head office, he/she will hardly get a business or travel visa to America because of the tight regulations in the US embassy.
Set up Your Offshore Software Development Center in Eastern Europe
There are plenty of locations to create your ODC but the kernel of rising IT nations embraces Eastern Europe, where the local tech talent pool numbers over 1 million software developers and other IT specialists. The most prominent destinations in this region include Poland, Romania, Bulgaria, Ukraine, the Czech Republic, Hungary, and Slovakia, which are attractive to foreign investors. But why do so many tech companies choose to create an offshore development company here? 
Poland
Poland abounds with 607K programmers and is home to nearly 60,000 tech companies. Its bustling tech landscape centers around its major IT hubs, situated in Warsaw, Krakow, Poznan, Gdansk and Wroclaw.  Having a growing IT sector, it has already attracted Google, Samsung, CISCO, Motorola, IBM, Nokia and, most recently, OpenAI. 
Each year, its STEM universities prepare more than 20,000 tech graduates, ready to enter the scene. Polish developers are known to be outstanding in Java, JavaScript, Python, Typescript and PHP. Their competency has been highly praised by HackerRank Best Developers list, with the 3rd place on the list with a 98.0 score.  Last but not least, In the EF English Proficiency Index, Poland comes 13th out of all 111 countries, further indicating it's a perfect match for launching an offshore delivery center to scale your product development. 
Romania
The tech talent pool in Romania amounts to 140K coders and 10K engineering graduates. As many as 27 STEM universities are bringing up talented software engineers, with most widespread development skills being Java, .NET, PHP, C++, C#, and Python. 
This is reflected in its overall software development market revenue that has reached $3.5 billion in 2023, propelling it to the 13rd place in the overall European rating. As for tech skills, Romanian software development experts come 23rd in the SkillValue rating. Their tech expertise is solid and English levels are highly proficient (17th place in Europe). 
Bulgaria
Being in the top prominent locations for establishing an offshore development center in Eastern Europe, Bulgaria boasts an impressive talent pool of 110K software developers. Given the fact that its population is only 6 million, these figures indicate a strong potential of the Bulgarian software development sector, which has been growing by 7% each year during the last decade, according to Statista. 
50 Bulgarian STEM universities produce nearly 6,500 ICT graduates annually, resulting in the 12th place on the HackerRank Best Developers list for their expertise in software development in such programming languages as C#, JavaScript, Java, Python, SQL, and PHP. 
Start an Offshore Development Center with Alcor
An offshore development center is a perfect solution for companies that desire to step out of outsourcing relations. As an alternative to traditional outsourcing, an ODC gives you better security and freedom to control all business processes. Build your offshore software R&D center with Alcor and enjoy the benefits of working with us.
A la carte services. Starting on offshore development center with our team will let you follow the offshore development stages:
1. Start recruitment 
We have 40+ researchers and recruiters in our IT recruitment department who will select the first eligible candidates. Apart from local job-seeking sites and premium HR resources, Alcor IT headhunters use an internal database of over 600,000 verified developers. We vow to hire:

2. Find an office 
While recruiters at Alcor are picking up IT talents for your company, our real estate managers will start the search for an office space where the future team will work. Decide on the location, parking lots, security system, office planning, seats, equipment, etc. Or we can help you set up home offices and infrastructure for your programmers in Eastern Europe.
3. Get legal support 
To help you sign important agreements, such as SLAs, NDAs, or a lease contract, our lawyers are there for you. 
Beyond that, you will pay 19% or 9%, if you're a small taxpayer, in corporate taxes in Poland after launching an offshore software center, while Polish programmers (if employed on the basis of the B2B contract) pay 8,5% – 12% of lump sum tax or 19% of flat tax. If you decide to open an ODC in Romania, you will pay from 1% to 16% corporate income tax, while Romanian software developers pay only 10% personal income tax! Moreover, Bulgaria offers only 10% of both corporate and income taxes. Learn more about the European countries with lowest taxes here.
Whatever country you choose, Alcor will help you with tax planning, tax legal reduction, M&A deals support, and ensure transparent business processes.
4. Make procurements
To equip the new office, we can help you choose furniture and establish a proper IT infrastructure. It includes computers, software, security system, servers, inner correspondence service – everything for successful establishment of an offshore software development company in Eastern Europe.
5. Recruit people 
This is the stage when you've selected the right developers and we're ready to make job offers. First employees start their work, and your offshore development company is finally on!
6. Organize HR payroll
Accounting and HR payroll are important parts of operational management to support the functioning of your new software center overseas. Our team will be responsible for salary payments, money transfers between your offshore product research and development unit and head office, as well as health insurance and leaves.
All of this is followed by further operational management support, including additional services like business travel support, employer branding, stock option planning, and work permits for foreigners.
Proven expertise in the IT field. We are a service-providing company that works exclusively with IT product companies from different countries. Our team of experts works closely with software developers and their top management to meet the company's needs in the best way. 
English-speaking professionals. Alcor, a recruiting agency for software developers, has an English-friendly team with extensive international work experience. 
Business navigation and compliance. Our legal and financial teams always make sure that Alcor clients are updated with local laws and policies. There is no need to worry about amendments in legislation, as we will keep your offshore company fully and legally compliant. Our team is ready to provide you with shelter and business navigation throughout the Eastern European tech market.
After taking into consideration all these bonuses, a USA-based company People.ai that develops the AI platform for B2B sales contacted our team. They needed to set up an offshore R&D center in Eastern Europe but started working with several providers simultaneously – which slowed down the launching process. Our team took over this task and found a perfect office for them in 4 weeks, hired 25+ highly-skilled developers and programmers in the following months, and offered full operational support, including accounting, legal assistance, and others.
We can even act as employer of record (EoR) after hiring your software developers in any Eastern European country of your choosing. This is what our team does for Gotransverse, an American IT product company that creates cloud-based billing and subscription management solutions, in addition to hiring a team of 6 software developers in just 1,5 months!