In 2022, the IT industry continues to get more and more globalized. With the intention to refrain from outsourcing software development, a lot of tech companies now feel inclined towards establishing their own offshore research and development centers. This is regarded as an upgraded solution for IT business, as software offices with your own people abroad entail more benefits than traditional outsourcing.
In this article, we'll look at overseas programming from different perspectives and describe the unobvious pitfalls of starting offshore development for your company.
What is a Dedicated Offshore Development Center?
An offshore software development center is a separate office with a team of software engineers located in a foreign country. In essence, this is a company's branch in another country with a vast pool of talents and lower costs.
Offshore development is an efficient business decision for both large IT product companies and startups. It helps to establish the presence of a company in another country, access more IT talents, and save costs at the same time. For example, big companies such as Samsung and Google, and growing startups like Globality, Sift, and Insightful Science already use this model and have their offshore software development offices in Eastern Europe.
How Offshore Product Development Works
For offshore development, a company sets up its representative unit and hires its own IT staff there. Offshore coding teams work under the same brand as their head office and follow common corporate policies, e.g., offshore IT specialists perform core tasks and bring the same value to the business like any other in-house team. 
Typically, such a team is composed of diverse specialists, including software engineers, QA engineers, back-end and front-end developers, web and UI/UX designers, technical writers, and team leads. It's up to the head office to decide on the roles and structure of the offshore team. 
It's important to mention that operational staff is no longer necessary in offshore dedicated teams. This is because all other functions like accounting, HR payroll, legal support, and recruitment can be delegated to a local service provider. The local vendor would also consult you on the specifics of doing business offshore and help with legal compliance.
Do You Need to Set Up Your Offshore Development Office?
There is no doubt that delivering part of your business to another state or continent is a responsible step. However, let's have a look at situations where the offshoring model appears to be the most appropriate answer.
You Need to Scale Your Team
A dedicated offshore product development center is an attractive opportunity for already established technology companies. With limited resources available in one place, it's difficult for them to scale up and expand into new markets. For these reasons, some global technology businesses like BigCommerce, Oracle, and Reddit opted for hiring offshore developers. As a result, it helped them boost IT delivery and enlarge in-house capacities. For example, BigCommerce successfully went public with their R&D software team in Kyiv in 2020.
You Require Specialists with a Narrow Expertise
If you're a startup that develops an innovative product, you may require engineers with narrow expertise. Since finding brilliant experts onshore is challenging, it's more beneficial to look for dedicated offshore software developers. This decision leads to accessing global talent and finding the best of the best. For instance, world-renowned startups Globality, Grammarly, ThredUP, Dotmatics, and Ring reached out to Poland, Ukraine, and Romania for offshore coding because of the competent software engineers they hadn't been able to find anywhere else.
You Need to Lower Your Operational Costs 
The truth is that nowadays software developers are some of the most highly paid specialists in the world. Due to this, when employing engineers in the West you can simply break the bank. Thankfully, the offshoring industry is famous for its budget-friendliness, so that you save money by hiring lower-paid human resources. Additionally, you can significantly reduce your operational expenses, such as technical equipment, office lease, facilities, and maintenance, because of the generally cheaper prices and rental fees. After that, you get the ability to reinvest the savings per current business needs.
You Want to Focus on Your Product
Among all the offshore software development benefits, the primary one is the possibility to concentrate on core business tasks. Accordingly, this model works as a means to limit your everyday stresses. Just imagine: mundane operations such as recruitment, payroll, and accounting are managed by a professional service provider overseas. At the same time, you take care of the company's growth by managing your team of offshore developers independently. Sounds appealing, doesn't it?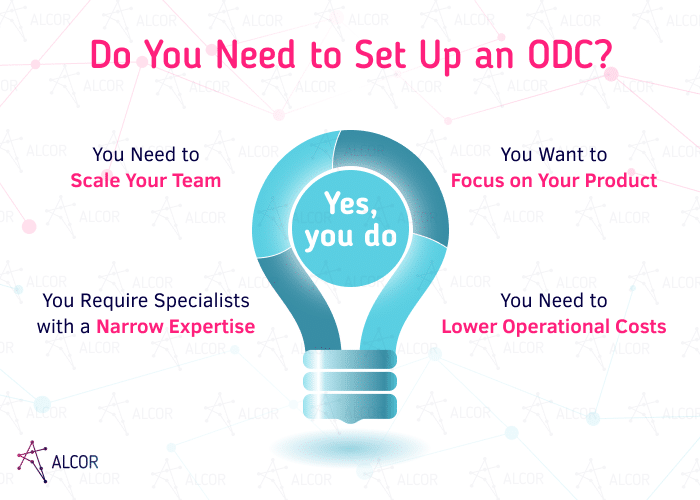 Offshore Development: Company Benefits
You probably want to learn about all the advantages of opening your foreign software office. Apart from cost-saving opportunities and a pool of seasoned software engineers, there is more to offer:
1. Own branding 
2. Secured IP rights 
3. Committed engineers
It's vital for tech companies to enter a new market under their own brand. This implies the ability to employ IT specialists directly to your company and implement your corporate policies. Software companies that promote their own employer brand acquire talents easier and faster. As a result, an offshore team of developers works at your premises with no intermediaries. 
The offshore product development center leaves much room for independence. Working under your own brand you'll keep full control over the team and engineering process. No third party has access to your product development, which diminishes risks for your intellectual property rights. 
Direct team management empowers better engagement. Take care of your offshore programming team and you'll receive a powerful commitment from them, just like your in-house team. With their entrepreneurial mindset, software engineers in Eastern European countries eagerly show interest in business development and startup culture.
Main Challenges When Starting
Offshore Software Development
Quality of Hiring
Even though offshoring gives you access to the foreign talent pool, this business practice creates new challenges regarding effective hiring techniques. It might be hard to navigate in a new location, as labor markets and rules differ from one country to another. Therefore, it's crucial to choose an experienced recruitment provider.
If you consider Eastern Europe as an offshoring destination, Alcor may provide you with full-cycle IT recruitment services. While our researchers study the market and build a perfect candidate profile, our team of recruiters conducts job interviews and test assignments, requests references, and much more. Utilizing a huge pool of candidates, we choose only the best ones with a proven track record. As a result, our CV pass rate is 80% which means that 4 out of 5 of our candidates land jobs at our client companies.
Ways to Attract New Talents
You have to keep in mind that the employer is not the only one to make a decision about the job offer. Even the smallest contract aspect might discourage an offshore developer from becoming a part of your software development company. Such aspects as a limited social package and ambiguous approach to days off or sick leaves can be a reason for offer rejection. However, a competitive salary will win you the day. Research the median level of wages in the local IT industry and provide your salary range for each position.
Retention of Employees
Once you've found and attracted top talents in an offshoring country, you need to make them feel engaged. Due to remoteness, it's challenging to manage your software development team on your own and keep track of their mood. That's the case when your local team leader can be of help. This person will not only take care of daily tasks but also focus on the team building and personal growth of your software developers (which is vital for retention).
Legal Concerns
Naturally, every single IT company possesses confidential information about their product. Accordingly, while sharing part of it with your colleagues overseas you ought to prevent any possibility of data leakage with the help of non-disclosure agreements and qualified consultations. Another concern is about intellectual property that may be not as secure as it seems. For this, my team recommends tech companies to employ developers directly and draft a series of NDA documents.
Offshore Programming: Risks for Companies
Although there are enough benefits, tech companies need to consider important aspects to set up an offshore research and development center. This includes some hidden pitfalls that are difficult to foresee, but easy to prevent in the right hands:
1. Scattered services 
2. Drawn-out recruitment 
3. Vague pricing 
There are few service providers that offer turnkey support of offshore development centers (ODCs). It would force you to consult a bunch of law firms, accounting specialists, and financial consultants who will give contradictory opinions. Avoid this by finding a service provider with full expertise in operational management, specializing in the tech industry. You'll have access to different specialists who will come up with a single solution most suitable for your business.
Sometimes country managers of offshore product development and QA facilities struggle to hire IT specialists quickly. This may relate to a scant understanding of the local market or ineffective recruiting service from your vendor. A competent recruitment agency with defined KPIs, commitments, and guarantees will reduce the risks and speed up your hiring.
To make your offshore coding cost-effective, make sure you use a flexible pricing model. This should include the possibility to pick up the necessary services and pay only for those you use. If your invoice doesn't contain detailed information about the costs, change your offshore service provider.
Mitigating Risks: 6 Things a CEO Should Do
Before Starting Offshore Development
Once you decide to start offshore software development, you have to think over the smallest details and embrace the best practices to reach your goals. Here are the nine points which should make the core of your to-do list.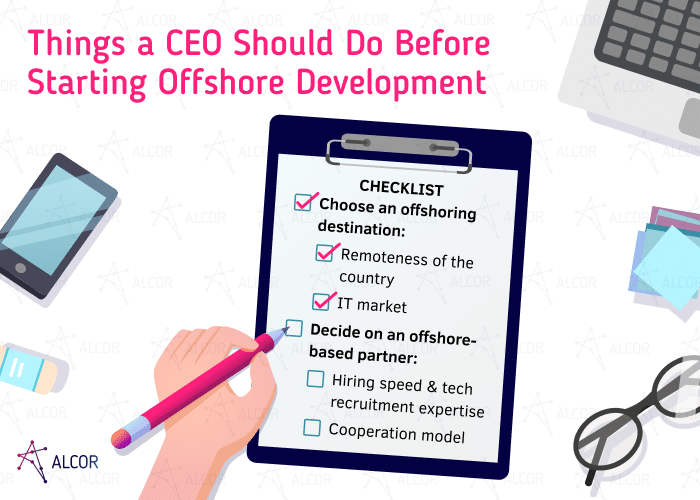 1. Decide on an offshoring destination. Apart from lower operational and labor costs, businesses should also pay attention to the technical skills and cultural specifics of different nations. An offshoring team with opposite values can result in multiple misunderstandings and conflicts.
2. Pay attention to the remoteness of the country. Distant locations might be an obstacle if you plan to conduct face-to-face meetings frequently. On top of that, it could be difficult to control the daily activities of your colleagues and synchronize with them due to different time zones.
3. Research the potential offshore IT market. Find out if there are any conferences and events for the local IT community, which companies have already entered that market, and whether the government provides any type of support for them.
4. Decide on an offshore-based partner. It's always a good idea to research the partner's location, ratings, number of relevant cases, and pricing through portfolios and reviews. For instance, Clutch is a perfect online resource to look for such data.
5. Pay attention to hiring speed and tech recruitment expertise. You can request detailed information about the guarantees and commitments of their recruitment team and even ask for references. Don't hesitate to ask how much time it'll take them to close your vacancy or what the hiring process looks like.
6. Ensure that you got the right idea about your cooperation model. To avoid further misunderstandings, it's better to make sure you will be involved in the process of recruitment, team management, or salary negotiations.
ODC vs. Outsourcing
Offshore development centers are often contrasted to IT outsourcing. These are the two polar business activities used by tech companies when moving offshore. So what's the difference?
Mindset
Passionate software engineers tend to work for product companies. Compared to outsourcing, the offshore team model gives developers the opportunity to become part of the IT product. This attracts talented IT specialists with a product mindset who are ready to bring more commitment to their work.
Costs
Code outsourcing is cost-efficient provided that your project isn't going to scale soon. For an extensive piece of work, your own offshore development center can be a game-changer. Offshore product development offices require a small up-front investment, but in the long run they show a high return on investments. Not to mention the transparency of pricing that is very rare with outsourcing providers.
Team management
Outsourced development teams are supervised by project managers from your service provider. Consequently, as a customer you don't have any direct influence on the team. An outsourcing firm retains its rights to shuffle team members and assign them to different projects. Unlike this, with an offshore partner you are the one and only employer for the team.
Talents
Professional software engineers are eager to work on one product since they are not interested in "spreading themselves out" through different projects with a similar scope of work. Talented developers see many career prospects in a product company. They realize the opportunity to enhance tech competence and exchange their experience with foreign tech-savvy specialists.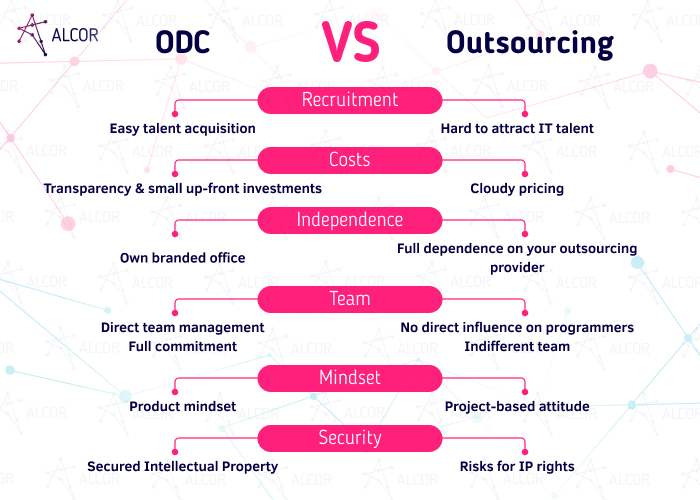 ODC vs. Other Engagement Models
With software outsourcing being the most common, there are more engagement models that I'm going to compare: outsourcing a software project, building a dedicated team, the build-operate-transfer model, and offshore product development. Tech companies apply them all but receive different results.
Project outsourcing is a reasonable solution for IT companies that want to test the waters first.
Dedicated team is used when a product tech company feels reassured of the quality and economy of doing business in the chosen offshoring country. The company hires dedicated coders from outstaffing agencies, having direct access to engineers for a limited period of time.
Build-operate-transfer (BOT) is a more profound engagement model that is similar to offshore software development. It suggests contracting with a local vendor who will build, operate, and then transfer a software development center to you. In its final stage, however, BOT has many risks regarding knowledge and people transfer.
Offshore product development is the most advanced model that implies independence and flexibility. Hire software engineers directly to your company, have full control over them, and enjoy flexible pricing. The biggest bottleneck is operational management, but with a reliable partner you can get over this hurdle and focus on your IT product instead.
Mistakes in Launching Your Own
Offshore Development Center
To set up your own offshore product development unit, you need to take various aspects into account. In order to make your experience smoother, I suggest avoiding these key mistakes when launching your own development center overseas:
#1. Involve several recruitment agencies
To speed up the recruitment process, tech companies resort to contracting several agencies at once. However, this is a failing strategy because candidates might get spammed with one and the same interview invitation. It can lead to poor recruitment results and undermine your reputation as an employer.
#2. Ignore employer branding
Some business leaders don't promote their company while entering the new job market and often end up with offer rejections from candidates. The best way to avoid this issue and accelerate recruitment is to start a small employer branding campaign. If you advertise your company as a nice place to work at, it'll attract more talents. The key point is to understand that offshoring employer brand campaigns must be tailored to the targeted IT community.
#3. Ignore office location details
A huge working area or a fascinating panorama shouldn't throw dust in your eyes. There are some vital things that are often left unnoticed before the deal, e.g., soundproof, sunlight, air conditioning, and 24/7 access. Work closely with a real estate manager to check all important details.
#4. Unadaptable company policies
Your corporate HR policies may work well for in-house teams, but your offshore software developers are located in another country with their own national holidays and labor laws. For this reason, be adaptable and discuss vacation & day-off opportunities with the offshoring team individually.
#5. No IP rights agreement
Although you hire a trustworthy team of developers, a non-disclosure agreement should be signed by default. Companies that produce intellectual property must keep an eye on their legal rights from the very beginning. Consult IT lawyers to prepare a comprehensive agreement and prevent the leakage of your confidential information.
Your Offshore Dedicated Team in Eastern Europe
There are plenty of offshoring locations in the world. The kernel of rising IT nations embraces Eastern Europe, where the local tech industries are witnessing an increasing number of developers. The most prominent destinations in this region include Poland, Romania, the Czech Republic, Hungary, and Slovakia, which are attractive to foreign investments. Why do so many tech companies choose to create an offshore development company here?
The main reason for setting up an ODC in Eastern Europe is a massive talent pool that accounts for over 1 million software developers. The first place in this region is taken by Poland (430K), while Romania holds the second position (140K).
What is more, over 300 HE institutions in Eastern Europe give quality STEM education to the increasing number of tech graduates. There can be found Top global universities that provide the local tech community with skilled IT specialists that quickly grow in their engineering careers. Here, software developers are well-versed in different fields of technology like e-commerce, artificial intelligence, gaming, healthcare, cloud services, etc. The deep technical proficiency of Eastern European programmers is praised by many Silicon Valley companies and international rankings: SkillValue, Harvard Business Review, and TopCoder.
Apart from the powerful intellectual asset in engineering matters, local developers demonstrate a high level of English knowledge and exceptional soft skills. They are characterized by an entrepreneurial mindset and good understanding of work ethic. Eastern European engineers are also proactive with a strong desire for self-development.
All these points are accompanied by financial benefits, like affordable remunerations and a business-friendly environment with low tax rates. Read our recent article about hiring software developers in Eastern Europe to find out more advantages of this decision.
Alcor as Your Trusted Partner
An offshore product development branch is a perfect solution for companies that desire to step out of outsourcing relations. As an alternative to traditional outsourcing, a software branch abroad gives you freedom and security. Build your offshore software development office with Alcor and enjoy the benefits of working with us.
A la carte services. Working with our team will let you follow these offshore development stages:
1. Start recruitment 
We have 40+ IT researchers and recruiters on board who will select the first eligible candidates. Apart from local job-seeking sites and premium HR resources, Alcor headhunters use an internal database of over 200,000 verified developers. We vow to hire:

2. Find an office 
While recruiters at Alcor are picking up IT talents for your company, our real estate managers will start the search for an office space where the future team will work. Decide on the location, parking lots, security system, office planning, seats, equipment, etc. Or we can help you set up home offices and infrastructure for your programmers in Eastern Europe.
3. Get legal support 
To help you sign important agreements, such as SLAs, NDAs, or lease contracts, our lawyers are there for you. Beyond that, if you're up for launching an offshore software company in Poland, you will enjoy only 5% tax, while Polish programmers (if employed on the basis of the B2B contract) pay 8,5% – 12%. Moreover, if you decide to open an ODC in Romania, you will be exempted from all income taxes for 10 years of activity! Whatever country you choose, Alcor will help you with tax planning, tax legal reduction, M&A deals support, and ensure transparent business processes.
4. Make procurements
To equip the new office, we can help you choose furniture and establish a proper IT infrastructure. It includes computers, software, security system, servers, inner correspondence service – everything for the successful establishment of an offshore software development company in Eastern Europe.
5. Recruit people 
This is the stage when you've selected the right developers and we're ready to make job offers. First employees start their work, and your offshore development company is finally on!
6. Organize HR payroll
Accounting and HR payroll are important parts of operational management to support the functioning of your new software center overseas. Our team will be responsible for salary payments, money transfers between your offshore product research and development unit and head office, as well as health insurance and leaves.
All of this is followed by further operational management support, including additional services like business travel support, employer branding, stock option planning, and work permits for foreigners.
Proven expertise in the IT field. We are a service-providing company that works exclusively with IT product companies from different countries. Our team of experts works closely with software developers and their top management to meet the company's needs in the best way.
English-speaking professionals. Alcor is an English-friendly team with extensive international work experience.
Business navigation and compliance. Our legal and financial teams always make sure that Alcor clients are updated with local laws and policies. There is no need to worry about amendments in legislation, as we will keep your offshore company fully and legally compliant. Our team is ready to provide you with shelter and business navigation throughout the Eastern European tech market.
After taking into consideration all these bonuses, a USA-based company People.ai which develops the AI platform for B2B sales, contacted our team. They needed to set up an offshore R&D center in Eastern Europe but started working with several providers simultaneously – which slowed down the launching process. Our team took over this task and found a perfect office for them in 4 weeks, hired 25+ developers in the following months, and offered full operational support, including accounting, legal assistance, and others.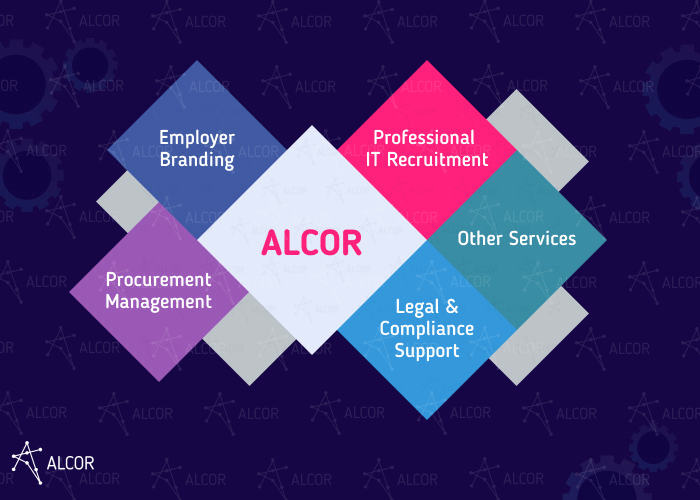 Final Thoughts
All in all, offshoring is a smart business move for many reasons. Nevertheless, this solution has its unique challenges that justify the importance of weighing both pros and cons of offshore software development. Only after that, it's possible to create a cost-effective strategy.
Our team can help you enjoy an offshore model to the fullest. In case you choose Poland or another country in Eastern Europe as an offshoring destination, Alcor will be happy to assist you with accounting, HR payroll, legal support, real estate, and recruitment. All these operations can be combined, resulting in your own R&D office with our complete support. Moreover, we provide you with a flexible cooperation model which enables you to choose the scope of services in accordance with your needs.