In 2020, the IT industry continues to get more and more globalized. Having stopped outsourcing software development, lots of tech companies now feel inclined towards offshore development centers (ODC). Nowadays, this model is regarded as an upgraded solution for IT business, as it entails more benefits than traditional outsourcing. In this article, we'll look at offshore development from different perspectives and describe the main steps of building an offshore development center.
What is a Dedicated Offshore Development Center (ODC)?
An offshore development center, also known as ODC, is a development office with a team of software engineers located in an offshoring country. In essence, this is a company's branch in another country with a vast pool of talents and lower costs. The ODC is an efficient business model for both large IT product companies and startups. It helps to establish the presence of a company in another country, better access to IT talents, and save at the same time. For example, big companies such as Grammarly or Samsung already use this model and have their offshore software development offices in Kyiv, Ukraine.
How an Offshore Development Center Functions
An ODC is a representative unit of a tech company. It means that offshore development teams work under the same brand as their head office and have common goals for engineers. Offshore IT specialists perform core tasks and bring the same value to the business like any other in-house team. Typically, the ODC team is composed of diverse specialists, including software engineers, QA engineers, back-end and front-end developers, web and UI/UX designers, technical writers, and team leads. It's up to the head office to decide on the roles and structure of the offshore team.
It is important to mention that operational staff is no longer necessary in ODCs. This is because all other functions like accounting, HR payroll, legal support, and recruitment can be delegated to a local service provider. The local vendor would also consult you on the specifics of doing business offshore and help with legal compliance.
We know how to orchestrate them together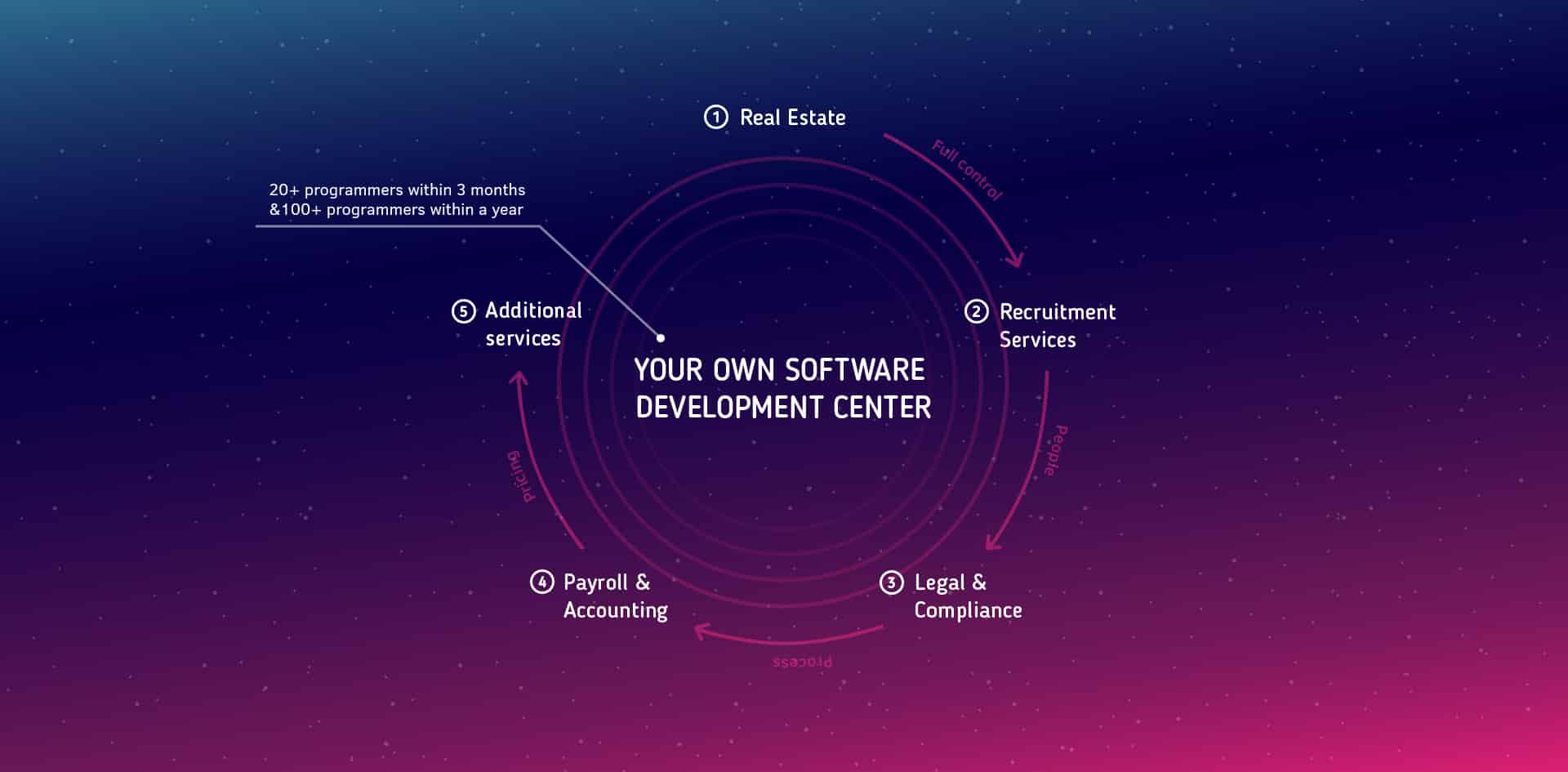 Who Needs an Offshore Development Center (ODC)? 
Depending on the needs, offshore software development centers are of good use for different types of technology companies. The main сommon factor is the desire to work on their own tech products and bring innovations to the world. 
Startups that develop a certain kind of innovative technology may require engineers with narrow expertise. It's challenging to find brilliant experts onshore, and that's why co-founders are likely to look for dedicated offshore developers. This decision leads to accessing global talent and finding the best of the best. For instance, the world-renowned startups 3DLOOK, Grammarly, People.ai, ThredUP, and Ring reached Ukraine for offshore development because of the competent software engineers they couldn't find anywhere else.  
A dedicated offshore development center is also an attractive opportunity for already established technology corporations. With limited resources available in one place, it's difficult for them to scale up and expand into the new markets. For these reasons, some of the global technology businesses like BigCommerce, Oracle, and Reddit opted for hiring offshore developers (that helped them boost IT delivery and in-house capacities). As an example, recently BigCommerce triumphantly went public with their offshore development team in Kyiv.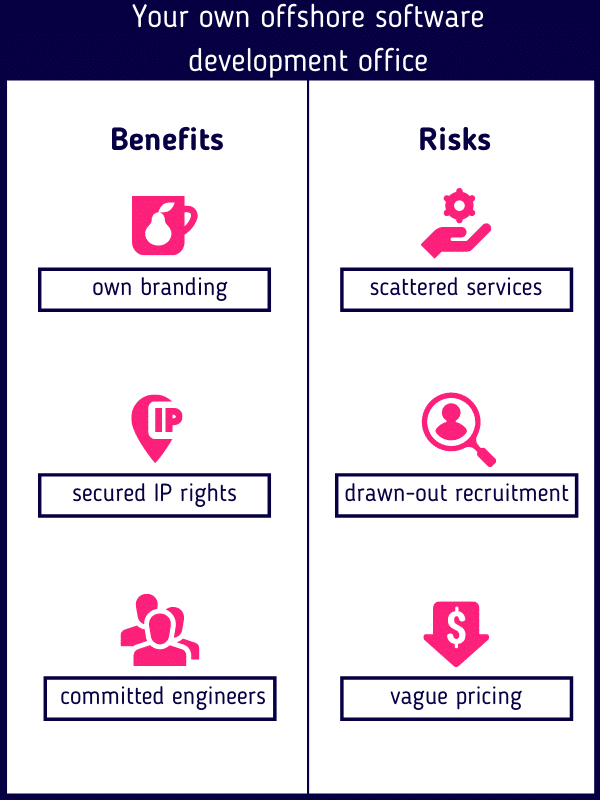 An Offshore Development Center: Benefits 
You probably want to learn about all advantages of opening your ODC – offshore development center. Apart from cost-saving opportunities and a pool of seasoned software engineers, there's more to offer. 
1. Own branding 
2. Secured IP rights 
3. Committed engineers
It's vital for tech companies to enter a new market under their own brand. This implies the ability to employ IT specialists directly to your company and implementing your corporate policies. Software companies that promote their own employer brand acquire talents easier and faster. As a result, an offshore development team works at your premises in Ukraine (with no intermediaries). 
The offshore software development center model leaves much room for independence. Working under your own brand, you keep full control over the team and engineering processes. No third party has access to your product development, which diminishes risks for your intellectual property rights. 
Direct team management empowers better engagement. Taking care of your offshore development team, you'll receive powerful commitment like your in-house team. With their entrepreneurial mindset, software engineers in Ukraine eagerly show interest in business development and being part of the company. 
An Offshore Development Center: Risks 
Although there are enough benefits, tech companies need to know about things to consider for build offshore development center. This includes hidden pitfalls that are difficult to foresee, but easy to prevent in the right hands. 
1. Scattered services 
2. Drawn-out recruitment 
3. Vague pricing 
There are few service providers that offer turnkey services for building offshore development centers. This would force you to consult a bunch of law firms, accounting specialists, and financial consultants who will give contradictory opinions. Avoid this by finding a service provider with full expertise in operational management. You'll have access to different specialists who will come up with a single one-stop-shop solution best suitable for your business. 
Sometimes country managers of offshore development centers struggle to hire IT specialists quickly. This may relate to a scant understanding of the local market or ineffective recruitment services from your vendor. A competent recruitment agency with defined KPIs, commitments, and guarantees will reduce the risks and speed up your hiring. 
To make your offshore development cost-effective enough, make sure you use a flexible pricing model. This should include the possibility to pick up the necessary services and pay only for those you used. If your invoice doesn't contain detailed information about the costs, change your offshore IT services provider. 
ODC vs Outsourcing
Offshore development centers are often contrasted to IT outsourcing. These are two polar business models used by tech companies when moving offshore. Some of the key differences are summarized below.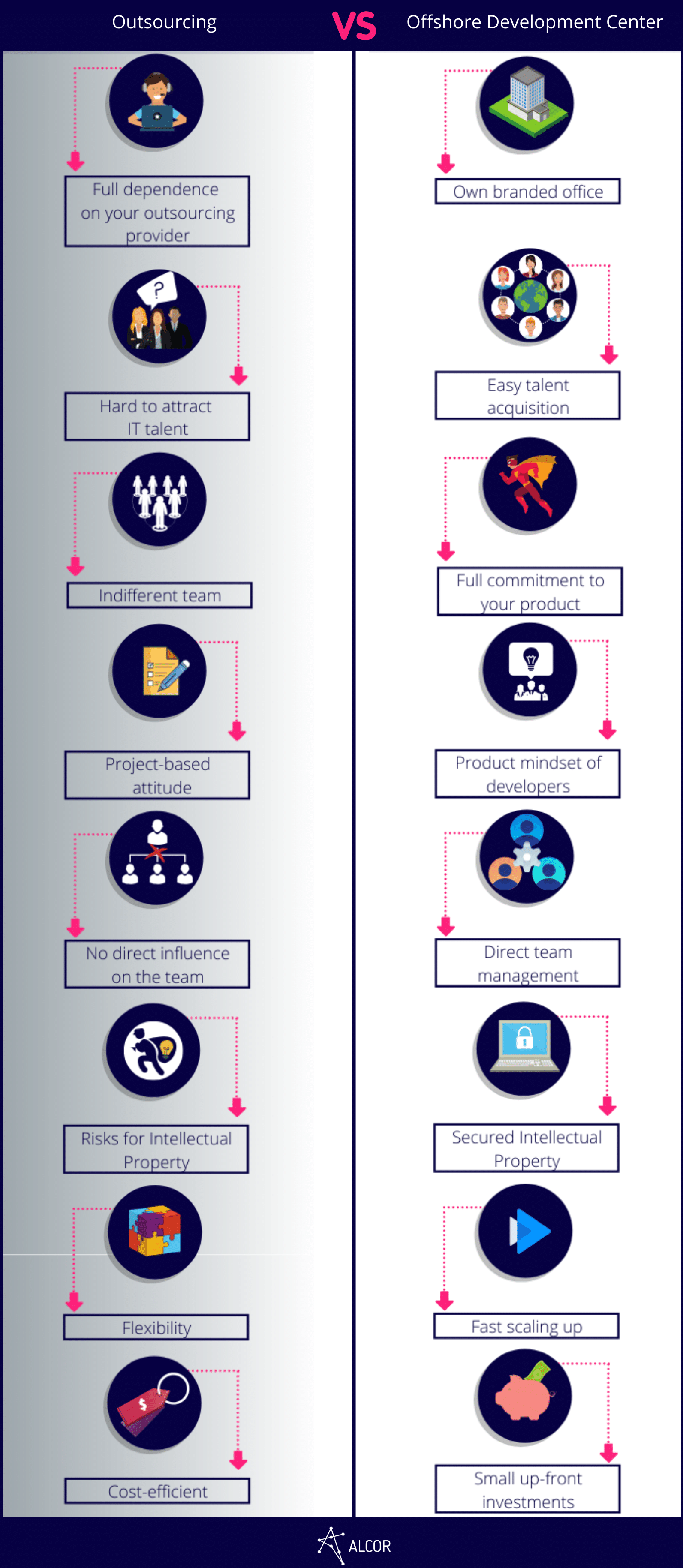 Mindset
Passionate software engineers tend to work for product companies. Not similar to outsourcing, offshore development centers give developers the opportunity to become part of the IT product. This attracts talented IT specialists with a product mindset who are ready to bring more commitment to their work.
Costs
Code outsourcing is cost-efficient provided that your project isn't going to scale. For an extensive piece of work having your own offshore software development center can be a game-changer. ODCs require a small up-front investment, but in the long run, they show a high return on investments. This is not mentioning the transparency of pricing when working with your service partner.
Team management
Outsourced development teams are supervised by project managers from your service provider. Consequently, as a customer, you don't have any direct influence on the team. An outsourcing firm retains its rights to shuffle team members and assigns them to different projects. Unlike this, with an offshore development center, you are the one and only employer for the team.
Talents
Professional software engineers are eager to work on one product since they are not interested in "spreading themselves out" through different projects with a similar scope of work. Talented developers see many career prospects in a product company. They realize the opportunity to enhance tech competence and exchange their experience with foreign tech-savvy specialists.
ODC vs Other Engagement Models
The path from the first stage to the most upgraded level lies through dedicated teams and build-operate-transfer (BOT) models.
Project outsourcing implies passing some part of software development to an outsourcing company. Usually, this is a short-term relation between an IT product company and a service provider. Project outsourcing is a reasonable solution for IT companies that want to test the waters first.
Dedicated team. When a product company feels reassured of the quality and economy of doing business in the chosen offshoring country, it hires dedicated offshore developers. Provided by outstaffing agencies, this service enables you to have direct access to engineers for a limited period of time.
Build-operate-transfer (BOT) is a more profound solution that is similar to the ODC offshore software development model. It suggests contracting with a local vendor who will build, operate, and then transfer a software development center to you. In its final stage, however, BOT has many risks regarding knowledge and people transfer.
Offshore development center (ODC) is the most advanced model which leaves much room for independence. You can upgrade your business from any stage to open your own offshore development office. The biggest bottleneck is operational management, but with a reliable partner, you can get rid of it and focus on your IT product instead.
How to Set Up Your Own ODC
Here's your guideline on how to open an offshore development center. Follow these steps to create a win-win offshore strategy.

1. Choose a location
There are many outsourcing destinations in Eastern Europe and Asia that attract IT companies for economic reasons. Nevertheless, apart from lower operational and labor costs, businesses should also pay attention to the technical skills and cultural specifics of the nations. This is vital for remote team management and efficient communication to avoid culture gaps or work ethic issues.
2. Find a trusted partner
Every new step of building an offshore development center requires some deep research. It's necessary to estimate risks and create a win-win offshore development strategy. In this case, you'll need solid advice from local firms to structure your business and comply with the local legislation. That's why a trusted partner is key to help you navigate through the local environment.
3. Start recruitment
When you finally partner up with a service provider, lay the first stone of the recruitment process. At this point, researchers will start analyzing the current labor market and select the first eligible candidates. It's essential to discuss the portrait of your perfect software developer with headhunters and prepare some engineering manager interview questions. The recruitment team will also provide the client with analytical reports on pay scales. For instance, they can present the data on the average PHP developer salary, .NET developer salary, UX developer salary, base pay of JavaScript developer, etc.
4. Find an office
While recruiters are picking up IT talents for your company, start the searches for an office space where the future team will work. Decide on the location, parking lots, security system, office planning, seats, equipment, etc. Professional real estate managers will suggest several picturesque locations according to your needs.
5. Get legal support
To sign a lease contract, you'll need to consult lawyers. They will make sure you get the best terms of the agreement. This process, however, requires a deep understanding of the national law and profound negotiation skills
6. Make procurements
To equip the new office, you need furniture and proper IT infrastructure. It includes computers, software, security system, servers, inner correspondence service – everything for successful setting up offshore development center in Ukraine.
7. Recruit people
This is the stage when you're ready to send job offers. First employees start their work, and the offshore development center is finally on! Additionally, it involves the onboarding of newcomers which is very often followed by on-site meetings in the head office.
8. Organize HR payroll
Accounting and HR payroll are important parts of operational management to support the functioning of your new offshore development center. Keep in mind that you need a person responsible for salary payments, money transfers between the ODC and its head office, as well as health insurance and leaves.
Mistakes in Setting Up Your Own ODC
To set up your own offshore development center, one needs to take various aspects into account. In order to make your experience smoother, we suggest avoiding these key mistakes when launching the development office offshore:
#1. Involve several recruitment agencies
To speed up the recruitment process, tech companies resort to hiring several agencies at once. However, this is a failing strategy because candidates only get spammed with one and the same interview invitation. It'll lead to poor results and spoil your image as an employer.
#2. Ignore employer branding
The best way to really accelerate recruitment is to start employer branding. If you promote your company as a nice place to work at, it'll attract more talents. The key point is to understand that offshoring employer brand campaigns must be tailored to the targeted IT community.
#3. Ignore office location details
A huge working area or a fascinating panorama shouldn't throw dust in your eyes. There are some vital things that are often left unnoticed before the deal, e.g. soundproof, sunlight, air conditioning, 24/7 access. Work closely with a real estate manager to check all important details.
#4. Unadaptable company policies
Your corporate HR policies may work well for in-house teams, but your dedicated offshore developers are located in another country with their own national holidays and labor law. For this reason, be adaptable and discuss the vacation & day-off opportunities with the offshoring team individually.
#5. No IP rights agreement
Although you hire a trustworthy team of developers, a non-disclosure agreement is signed by default. Companies that produce intellectual property must keep an eye on their legal rights from the very beginning. Consult IT lawyers to prepare a comprehensive agreement to prevent the leakage of your confidential information.
#6. Direct income
The type of employment contract influences other legal procedures, including opening visas. When a developer is your contractor from another country and receives income directly from the head office, he/she will hardly get a business or travel visa to America because of the tight regulations in the US embassy.
Your Dedicated Offshore Development Center in Ukraine
There are plenty of offshoring destinations in the world. The kernel of rising IT nations embraces Asia and Eastern Europe, where the local tech industries are witnessing an increasing number of developers. The most developed countries in these regions are India, China, Romania, Poland, and Ukraine that are attractive to foreign investments. Why then so many tech companies decide to open an R&D center in Ukraine?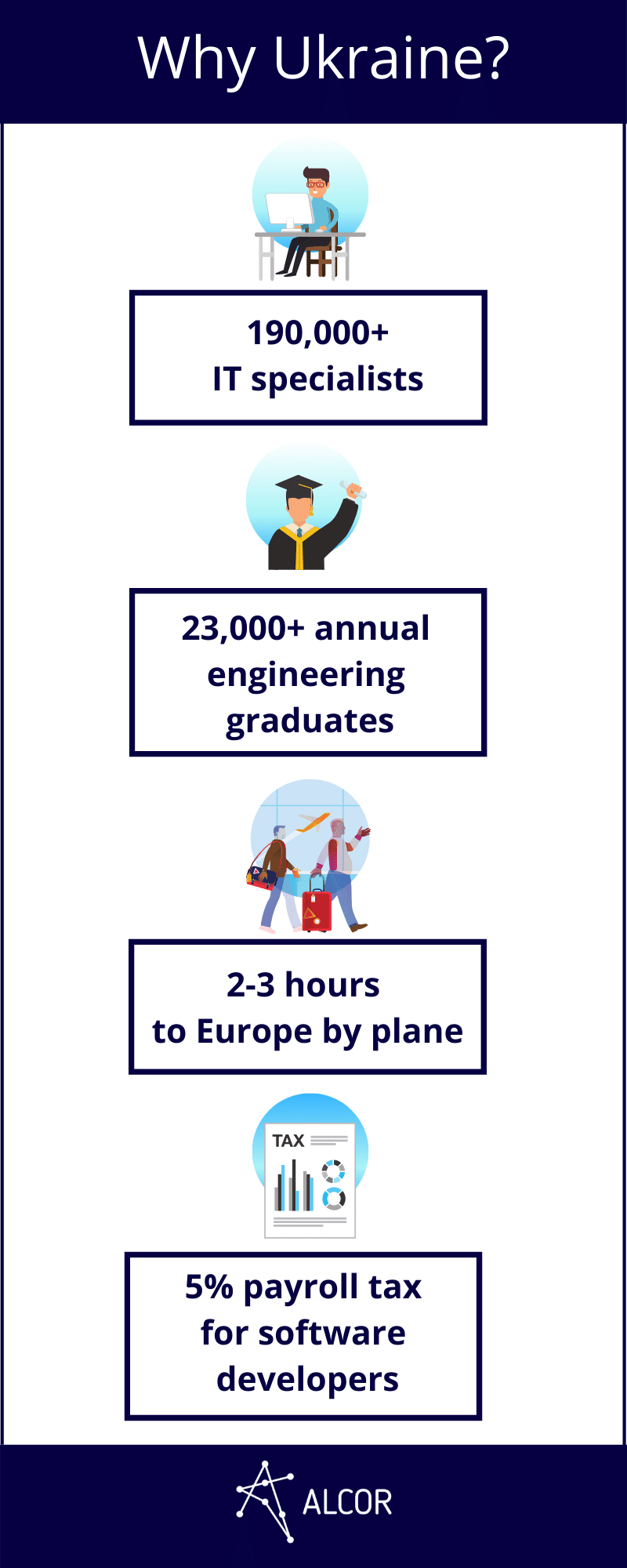 Ukraine is regarded as a modern European country with nearly 285,000 IT specialists. With over 25,000 graduates in computer studies annually, Ukrainian universities provide the local tech community with qualified IT specialists that quickly grow in their engineering career. The medium age of an average software engineer is 28 years old, which says much about the promising perspectives of the local market. 
The Ukrainian tech community is proud of its intellectual asset. Here, software engineers are well-versed in different fields of technology like e-commerce, artificial intelligence, gaming, healthcare, cloud services, etc. They are also characterized by good entrepreneurial skills and a deep understanding of work ethic. Ukrainian software engineers are proactive and demonstrate the desire to learn.
Having your own software R&D center in Ukraine, you'll pay only 5% of the payroll tax. This is possible because of the special tax incentive introduced by the government. To use this taxation model, a tech company should have proper business structuring and employ developers as independent contractors (also called private entrepreneurs in Ukraine). 
To make all these advantages work well, you'll need a reliable service provider for all the operational tasks, including IT recruitment in Ukraine. Unlike other firms, Alcor suggests building your own offshore software development center fully customized according to your needs. It starts with finding a nice office, hiring well-versed engineers, and continues with managing HR payroll, legal and compliance services in Ukraine. Watch the video to learn more about our offering! 
Alcor as Your Trusted Partner
An offshore development center is a perfect solution for companies that desire to step out of outsourcing relations. As an alternative to traditional outsourcing, an ODC gives you freedom and security. Build your own offshore software development office with Alcor and enjoy the benefits of working with us.
A la carte services. At Alcor, we help you structure your IT business according to Ukrainian law and make sure it complies with your national legislation. Our team of recruiters will hire developers in Ukraine, find the best Polish developers, recruit Romanian developers, or staff your team with professional programmers from other Eastern European countries, while accountants manage HR payroll. With our seasoned team of recruiters and researchers, you'll get real results from the first month of our partnership.

All of this is followed by further operational management support, including additional services like business travel support, employer branding, stock option planning, and work permits for foreigners.
Proven expertise in the IT field. We are the service providing company that works exclusively with IT product companies from different countries. Our team of experts works closely with software developers and their top management to meet the company's needs in the best way.
English speaking professionals. Alcor is an English friendly team with extensive international work experience.
Strong government relations. We always make sure our clients stay updated with Ukrainian law and policies. Dmitry Ovcharenko, CEO Alcor and Vice President for legal and financial matters at the IT UKRAINE ASSOCIATION is actively involved in meetings with government.
Let's discuss the offshoring opportunity for your IT company in Ukraine! Leave us a message at contact@alcor-bpo.com to let us help you grow and shine.