Exploring overseas options for product development offers IT companies a world of advantages. This includes tapping into a large talent pool of skilled software engineers and finding cost-effective solutions. Among the array of offshore destinations, Eastern Europe stands out as a top choice for many tech companies. So, what does this region have in store for your IT business?
I'm Sergiy Ovcharenko, CBDO at Alcor with strong expertise in offshore development strategies for tech companies. Alcor is an Eastern European IT recruitment agency with more than 10 years of experience. In this article, I'll take you on a journey through the Eastern European IT market, showcase local developer talent and their salary rates, and spotlight top countries to do software development in Eastern Europe.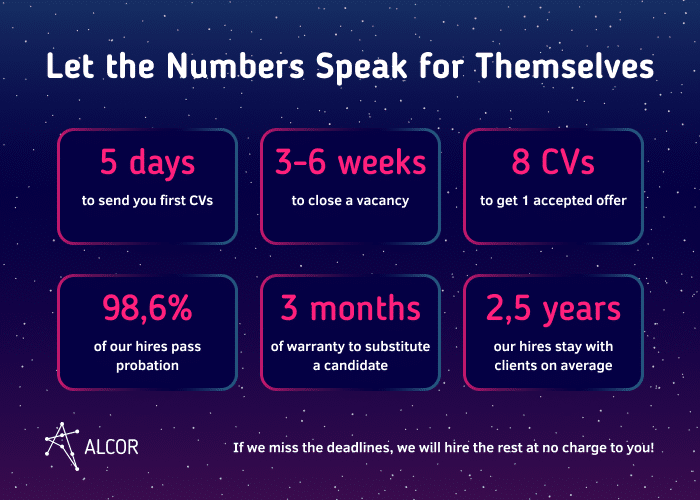 Software Development in Eastern Europe: Market Overview
The IT industry in Eastern Europe is gearing up for significant expansion, projecting an anticipated annual growth rate (CAGR 2023-2028) of 9.43%. This trajectory is expected to result in a market volume of approximately $23.7 billion by 2028.
At the same time, IT outsourcing services take the lead, predicting to reach the market size of $5.1 billion in 2023. As of September 2023, there are more than 3,300 vendors on Clutch that provide software development outsourcing services in Eastern Europe.
This thriving market caught the attention of such tech giants as Apple, Microsoft, Google, IBM, Sift, and others, enticing them to run their R&D activities in the region. Moreover, OpenAI's CEO, Sam Altman, is considering Poland as a potential location for a new European office. Thus, the software development industry in Eastern Europe is kicking into top gear, attracting more global IT players.
Let's also consider the dynamic startup scene. According to Dealroom, over the last five years, startups in CEE have seen an astounding surge, with their combined value reaching €190 billion in 2021. Surprisingly, while global average startup funding is decreasing, CEE startups are experiencing increased funding.
But probably the most prominent advantage of the EE region is a large number of IT talents. There are more than 1.3M software developers in Eastern Europe, boasting diverse tech stacks and skills. According to the Emerging Europe Future of IT 2023 report, Poland claims the top position with an impressive 525K professionals. Ukraine secures the second spot with a pool of 363K IT specialists, while the Czech Republic and Romania follow with 221K and 202K, respectively. At the same time, Hungary hosts around 181K IT professionals, and Bulgaria is home to 108K.
Eastern European Software Developers Tech Expertise
Besides their strong ICT education, Eastern European software developers are known for their widely acknowledged tech expertise.
SkillValue ranks four Eastern European countries among the world's top 10 nations with the best IT talents: Poland, Ukraine, Hungary, and the Czech Republic. At the same time, the Harvard Business Review recognizes Czechia and Poland as countries with the highest tech skills. The Global Skills Report 2021, in turn, highlights cutting-edge skills in databases in Czechia, software engineering in Bulgaria, computer programming in Ukraine, and cloud computing in Poland.
Software developers in Eastern Europe also demonstrate a broad palette of coding languages and frameworks. For example, Polish programmers showcase strong expertise in JavaScript, Python, and TypeScript, while Romanian talents excel in PHP, C#, Java, and C++. Engineers from Czechia, on the other hand, stand out with their proficiency in JavaScript, Java, HTML, and Swift. Ukrainian devs are well-known for their Java, Python, and C++ expertise.
Eastern European Programmers' Education
One of the reasons why Western IT product companies decide to work with software developers from Eastern Europe is their technical education. 
Overall, there're more than 300 higher educational institutions that offer STEM programs in the region. Notably, many of them are ranked in the QS World University Rankings 2024: Top global universities, including Warsaw University of Technology, Czech Technical University in Prague, National Technical University of Ukraine, Slovak University of Technology in Bratislava, and others.
Thus, the region generates a significant number of ICT graduates, surpassing 80,000 annually. Interestingly, despite the ongoing war, Ukraine has the largest number of graduates – 27,000 in 2022. This fact showcases that the popularity of ICT education in EE remains consistent and is a favored choice among applicants.
Apart from formal education, both aspiring and experienced programmers in Eastern Europe gather and deepen their IT expertise with the help of coding schools, courses, and bootcamps. Some of the most popular include Coders Lab in Poland, Skylab Coders Academy in Ukraine, Coding Bootcamp Praha in Czechia, Bucuresti School of Code in Romania, and others. 
Salaries in Eastern European Software Development
Renowned for its favorable price-to-quality ratio, the region offers top-notch software services. Thus, software engineers from Eastern Europe charge less than their colleagues from the US or Western Europe. The table below outlines the salary rates in various countries for highly sought-after IT talents, including Blockchain developers, AI engineers, and more.
 
| | | | | | | | | |
| --- | --- | --- | --- | --- | --- | --- | --- | --- |
| Average annual salary ($) | Poland | Ukraine | Romania | Bulgaria | Czechia | Hungary | Slovakia | Slovenia |
| Senior JavaScript developer | $69,000 | $63,000 | $72,000 | $65,000 | $68,000 | $63,000 | $69,000 | $46,000 |
| Senior Python developer | $74,000 | $69,000 | $78,000 | $73,000 | $78,000 | $66,000 | $75,000 | $58,000 |
| Senior AI developer | $81,000 | $78,000 | $84,000 | $79,000 | $81,000 | $69,000 | $78,000 | $57,000 |
| Senior Blockchain developer | $84,000 | $80,000 | $84,000 | $81,000 | $84,000 | $79,000 | $80,000 | $64,000 |
As a rule, developers from Eastern Europe charge 2-3 times less than programmers from the US. This is one of the decisive factors for Western tech companies when considering outsourcing to Eastern Europe. Moderate labor costs enable them to maintain cost efficiency without compromising the quality and expertise they receive from highly skilled Eastern European development teams.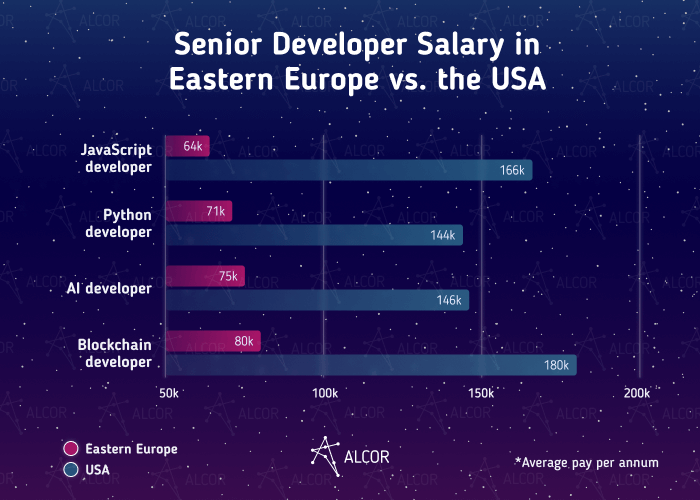 Top Eastern European Countries as Outsourcing Destinations
Poland
Poland shines as a key player in Eastern European IT. Contributing 8% to GDP, its IT exports hit 10 billion euros in 2021, projected to reach 13 billion by 2026. At the same time, the revenue of IT outsourcing is projected to reach $2.5 billion in 2023.
About a third of Poland's US services are IT-related, and 70% of tech specialists work for global IT firms. These astonishing numbers cement Poland's tech excellence, making it a promising destination for product development.
This country can boast well-developed IT hubs such as Warsaw, Krakow, Wroclaw, Poznan, Lodz, and Tri-city (Gdansk, Gdynia, and Sopot), hosting over 60,000 IT businesses.
Having the biggest number of IT talents in the Eastern European developers' pool, there're 20,000 ICT graduates joining the ranks of software developers in Poland every year.
In addition to a strong tech education, Polish programmers possess excellent English skills and are ranked 13th out of 111 countries, marking the highest proficiency among programmers from Eastern Europe.
Poland's appealing tax structure, featuring a 19% Corporate Income Tax (9% for eligible startups), draws foreign firms to collaborate with Polish devs under B2B agreements. Operating as self-employed, these programmers face a 19% flat Personal Income Tax or 8.5/12% lump rate options.
Ukraine
During the last two years, the Ukrainian tech industry showed impressive flexibility, finding new ways to stay strong and adapt to changing work conditions. Based on the findings from the initial ten months of 2022, the IT sector contributed a noteworthy $6 billion in export earnings to Ukraine's economy, marking a substantial 10% surge in comparison to 2021. 
Across the span of the last six years, exports of computer services have witnessed growth, rising from a 1.8% to a 5.4% share of the GDP.
The biggest Ukrainian IT hubs are Kyiv, Lviv, Odesa, Dnipro, and Kharkiv.
In addition, Ukrainian software engineers demonstrate strong English skills, ranking 35th in terms of language proficiency.
The corporate income tax for IT companies in Ukraine is 18%. In turn, Ukrainian IT talents under private entrepreneurship benefit from tax incentives, including a simplified tax system (group 3) with a 5% monthly income tax and a 22% social security tax. 
Romania
In 2022, the Romanian IT market was valued at €4.9 billion, contributing 6.2% to the country's GDP.
The country hosts more than 7,930 IT companies, including approximately 340 software development firms. These companies predominantly serve various sectors, such as business services, healthcare, fintech, e-commerce, and others, helping with custom software development and IT consulting.
Among the biggest Romanian IT powerhouses are Bucharest, Cluj-Napoca, and Iasi.
Interestingly, Romania has the largest number of certified IT specialists in Europe who also possess solid English skills and are ranked 17th in terms of language proficiency globally.
As for the Romanian taxation system, tech companies enjoy CIT of 1% or 16%, depending on the firm's revenue. Regarding personal income tax, Romania boasts a remarkably low rate of 10%, positioning it among the most tax-friendly countries in Europe. 
Bulgaria
Thanks to significant government investments in digital transformation, Bulgaria's ICT services sector has seen remarkable growth, with a turnover increase of 779.1 million euros since 2019. This boost has propelled the Bulgarian outsourcing industry, now making up 5.5% of the country's GDP.
In addition, Bulgaria boasts three major IT hubs: Sofia, Burgas, and Plovdiv.
With a population of over 6 million and a large talent pool, the country's programmers are ranked 12th among the world's top 50 countries with the best developers.
Regarding English competence, Bulgaria secures the 21st position in the EF English Proficiency Index.
Bulgaria stands as a tax-friendly haven in the EU with a flat 10% rate for both personal and corporate income taxes, making it increasingly attractive for Western companies to explore Eastern European software development options. The social security tax, averaging 32.7% to 33.4% of an employee's gross salary, is divided between employer and employee.
Czechia
The Czech Republic's IT industry thrives with dynamism and expansion. It claims the 11th spot in Europe's IT rankings, boasting a substantial total valuation of €3.9 billion, coupled with a steady year-on-year growth rate of 3.7%. What's more, the local software market anticipates revenue surge amounting to $531.5 million in the forthcoming years.
Beyond its flourishing tech sector, Czechia boasts the presence of three well-established IT hubs strategically located in Prague, Brno, and Ostrava.
The SkillValue report has notched Czech tech enthusiasts with a noteworthy 6th – place ranking. Furthermore, Czech programmers exhibit remarkable English proficiency, securing the 23rd spot out of 111 countries. 
When it comes to the taxation system, businesses enjoy a flat corporate income tax rate of 19%, which is among the most competitive in Europe. Meanwhile, IT specialists encounter personal income tax rates ranging from 15% to 23%, depending on their income levels. 
Hungary
Hungary is committed to investing significant resources in nurturing its ICT sector, currently valued at $20 billion. In addition, the Hungarian government displays unwavering dedication to nurturing this sector, introducing tax relief measures, and establishing a substantial increase in financial backing for the R&D sector, all mapped out for 2021 to 2027. 
Yet the epicenter of IT activities remains Budapest, while Debrecen and Miskolc are emerging as promising hubs, gradually carving their niche in Hungary's growing tech landscape.
Hungarian developers, on the other hand, are known for their advanced tech skills, particularly in areas like computer networking, databases, and software engineering.
Their proficiency in English is also noteworthy, as they rank 18th out of 111 countries globally and 16th among the 35 European countries.
Hungary offers a tax-friendly environment with a flat 15% personal income tax and 9% corporate income tax, one of Europe's lowest.
Slovakia
The Slovak ICT market is rapidly and vigorously developing, with projections indicating it may reach $842.1 million by the end of 2023. Simultaneously, IT outsourcing dominates, promising to hit $418.8 million this year.
Bratislava and Kosice stand out as key IT hubs, hosting a myriad of tech giants like IBM, Accenture, Dell, and others.
Boasting a population of 5.5 million and a skilled workforce of 53,000 IT professionals, according to the SkillValue report, Slovakia stands out for nurturing some of the globe's top-notch tech specialists.
Their foreign language skills are indeed notable, with Slovak talents demonstrating a strong command of the English language, ranking 15th out of 111 countries. Moreover, their proficiency extends to other foreign languages, including German and French.
Slovakia presents an array of appealing tax incentives, such as a favorable income tax rate of 21%. Furthermore, it offers an enticing additional benefit – a 200% deduction on R&D expenses from the taxable base.
Slovenia
The ICT sector in Slovenia commands a valuation of €559.3 million, the 46th largest industry in the country.
With slightly more than 2 million population, there're almost 5,000 people employed in the industry.
Ljubljana, the capital city of Slovenia, takes center stage as the country's primary IT hub. In contrast, Maribor, Slovenia's second-largest city, shows strong potential for burgeoning growth in the IT sector.
Slovenia's corporate income tax rate for IT firms is 19%. The country provides enticing tax incentives such as tax credits and deductions to boost research and development (R&D) activities, fostering innovation and tech advancement. 
Challenges of Outsourcing Your Software Development to Eastern Europe
Cloudy pricing
While initially appearing as a cost-effective choice, Eastern European software development outsourcing may not always be the optimal long-term solution. This is due to some outsourcing companies charging for their IT services and imposing additional fees for various, often unnecessary, services without transparent communication with the client. Consequently, the final invoice often surpasses the initially anticipated cost significantly. 
Lack of control 
When you hire an outsourcing partner for software development, you give up some control over your core work, like product development. This can hinder your ability to promptly assess project performance, implement necessary changes, or align your product with evolving business requirements. 
Team dedication
Last but not least, even if you cooperate with Eastern European top software development companies, it doesn't mean that external programmers will be ready to go the extra mile for your business idea. Typically, these IT specialists collaborate with multiple companies, moving between projects and emphasizing productivity over dedication. 
Consider Alcor BPO as Your Reliable IT Recruitment Partner in Eastern Europe 
To overcome the abovementioned obstacles and successfully work with a software development team in Eastern Europe, Dotmatics decided to step back from traditional IT outsourcing. Instead, the company reached out to a reliable IT recruitment services provider to build its own offshore development team.
Alcor involved a group of experienced researchers and 4 headhunters, as well as a dedicated AM, to assist Dotmatics in its expansion into a new market. With our assistance, the company built a team of 30 remote Eastern European programmers, including the Director of Engineering, Full Stack, DevOps, and other seasoned tech talents in just one year. What's more, many of the positions were closed from the first candidate!
But we didn't stop there. We also provided Dotmatics with back-office support, including managed payroll & procurements of laptops for developers and legal compliance services.
Today, Dotmatics directly collaborates with its engineers without intermediaries and maintains full authority over team supervision and product development.
At Alcor, we help tech product companies with IT recruitment in Eastern Europe and Latin America.
Our internal recruitment department comprises 44 experienced headhunters specializing in full-cycle IT recruitment. Thus, we can swiftly identify and onboard ideal candidates for your team in just 3-6 weeks.