The word "remote" should have become the byword of the year 2020, as most technology enterprises closed their physical offices and switched to teleworking. All business processes were also moved to "virtual" with the possibility to manage them distantly. Such a situation has made tech leaders ponder the opportunity to engage global talents and hire more remote engineers. Inevitably, this led to the need to find solutions for better management of such development teams.
In this blog article, I will explain the reasons for hiring foreign talents and how recruiting works with outsourcing/offshoring models. I'll also share some valid tips on remote team management and tell you about the risks to avoid when creating distant teams of developers abroad.
Why and How to Hire a Remote Development Team
Generally speaking, a remote development team is regarded as a group of professional engineers located in a far-away offshoring destination (usually overseas), often distributed in different countries. Such teams develop different software – from games to mobile applications, so sometimes tech entrepreneurs also opt for an offshore hybrid mobile development team.
Remote teams might work in either an office rented by their employer or from home. A classical software development team structure comprises a manager, team lead, product manager, software developers, UI/UX designers, and QA engineers. It also includes an EM who must have exceptional engineering management skills. Such a team is able to meet the crucial business needs of any company, yet tech companies that develop their own product exploit this model the most. Why?
1. Access the best talent pools
Nowadays, talented professionals are distributed across the globe, and to hire a remote development team of developers is a great chance to enhance your in-house staff. For example, in Eastern Europe, there are over 500,000 IT specialists who have rich experience and speak English well. Over half of all Eastern European engineers are middle or senior specialists with a degree in computer sciences. What is more, most of them are young (21-30 years old) and eager to learn. No doubt they could become a strong part of your global engineering team!
2. Cost optimization
Emerging countries usually offer attractive compensation and tax incentives that can reduce operating costs for tech companies. As a result, a distant software development team will cost you less than the same group of in-house specialists. For instance, the senior COBOL developer salary in Eastern Europe is 2,5 times lower than in the USA, Canada, and Australia (see also the average Node.js developer salary in different countries). What is more, Poland, Romania, and other Eastern European countries are great examples of how to employ local programmers and pay 5%, 8-14% or 16% of payroll tax accordingly. Apart from lower labor costs, you will also enjoy smaller operational expenditures on equipment, procurements, office rent / maintenance, and IT infrastructure, etc.
3. Risk mitigation
A remote team is easy to scale up or down. You may start with 2-3 developers to test the waters and then scale up to a team of 10, 50, or even 100 people. You can smoothly hire more engineers to meet new business needs – or let them go if you decide to shut down. And with the right engagement model, you can secure the finances you'll need to invest in offshore development. Continue reading to learn more about this!
4. Acceleration of processes
Additional workforce will definitely speed up product development and enable you to go into the market faster. Distributed teams are also helpful in keeping your business working round-the-clock by engaging specialists from different time zones.
5. Exploration of new markets
Big pools of talented IT specialists are often supported by a developed startup ecosystem in the region. If you're interested in entering new markets for sales, starting from labor relations can be a proactive idea to find out more about the local tech industry.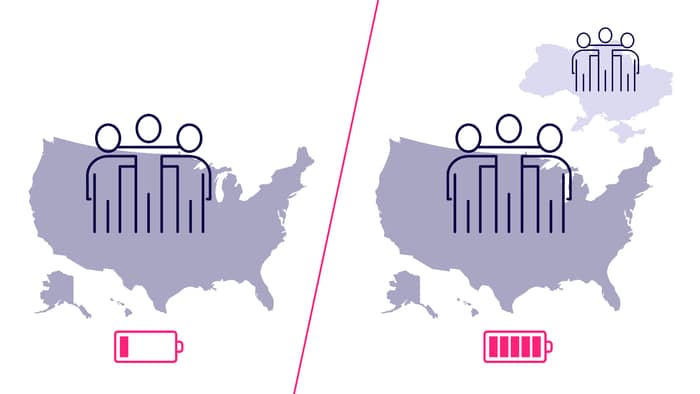 What are the most popular engagement models for hiring a remote development team
in Eastern Europe?
IT Outsourcing
If you decide to outsource software development, you're not likely to receive a team. Your communication with the outsourced developers is often not possible, since usually a project manager is the only person you talk with. So, vendors offer to complete your project and manage the resources on their own. The client is charged a fixed price for the whole scope of work or pays for the number of hours the outsourced developers work on the project.
Outstaffing
By contrast, outstaffing agencies can provide you with a custom software development team. In this case, the client does have direct access to the team, yet doesn't receive any genuine "dedication" from them. Sitting at the vendor's premises, the team will work under the brand of your service provider (thus don't develop any sense of commitment to you). The pricing model of outstaffing services is usually referred to as "cost per resource" or "cost+".
Offshore Development Office (ODC)
Possibly the best option, your own software development center abroad allows for more flexibility and independence. In this case, you will be leading software development, managing all costs, creating software engineer career conditions, and controlling any other processes. In essence, you're building an ODC to work closely with exceptional minds and enjoy other advantages of co-located teams. It's like your own dedicated development team with no intermediaries. Yet when opting for this model, you'll need to prepare a well-balanced strategy for remote team management to facilitate the workflow and achieve desired results. Another aspect to consider is operational management, like remote IT office setup, which I recommend delegating to a reliable partner.
So, Is a Remote Team Model Effective?
In the past, remote work was perceived as an inefficient means of organizing workflow. However, as the pandemic broke out, and many companies were forced to go digital-first, the trend showed quite the opposite. According to PwC's US Remote Work Survey, 83% of executives and 71% of employees admit the shift to remote work has been successful with overall productivity improvements. This upward trend has been possible due to the increase of investment in online technologies (as well as virtual recruitment assistant tools) to streamline the working process and maintain efficient collaboration between the remote team members. Hence, teleworking has become an overwhelming practice for many IT companies globally, even being perceived as a cost-effective approach for scaling up.
Dotmatics (acq. by Insightful Science), a leading life sciences software company, is one of the multiple examples of IT enterprises that decided to outsource remote tech team to Eastern Europe. With the help of Alcor, Dotmatics got 30+ engineers in the short term, as well as payroll & accounting and legal support. Even though the company has no physical office abroad, this doesn't undermine their business processes. Their well-carried management, self-organized programmers, and assistance from Alcor as their local partner are those factors which ensure productive work and impressive results of Dotmatics' distant development team.
Just like any other practice, remote work is constantly undergoing vital changes. While some companies are not willing to give up on the myriad benefits of getting remote development services, others want their employees back in the office to keep up connections. For those who would like to strengthen their corporate culture and teamwork, the hybrid option has started to take off, i.e. flexible office visits from time to time.
Ledger, a software product company from France, is a good example of a business which chose the hybrid work arrangement when setting up a remote software development team in Eastern Europe. They decided to cooperate with Alcor to get all the necessary assistance in operational management. As a result, Ledger received a team of 10+ QA professionals, full legal compliance, and an opportunity to have a hybrid workflow by using a coworking space when needed.
People.ai, a US-based company that develops an AI platform for effective B2B sales, is another tech enterprise that hugely benefits from having their own remote R&D team in Eastern Europe. Their CTO, Andrey Akselrod, set the right path for the company's R&D office at the very beginning. His skepticism concerning micro-management brought about the idea of cooperation with a country/local manager to lead the offshoring team. Moreover, to reinforce the corporate culture, regular business trips between the engineering teams have also been taking place. Thanks to such a well-devised approach to remote team management in combination with BPO support from Alcor, People.ai's R&D team was able to grow to 125+ developers and bring the company $100 million of investment in 2021.
Pitfalls of Managing a Remote Development Team
– Language barrier
It goes without saying that speaking the same language is vital for any software development team. This puts them on the same page with their colleagues, thus increasing productivity. Although the majority of offshoring locations are not English-speaking nations, there are some emerging countries where IT specialists are able to communicate in English well. For example, over 80% of Ukrainian developers have an intermediate or higher level of English.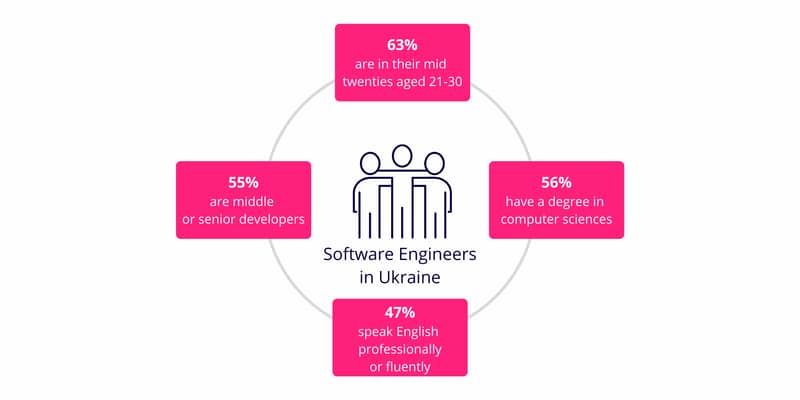 – Clash of values
Progressive companies pay special attention to values and culture. They praise diversity, integrity, equal opportunities, and expect their distant teams to share the same principles. That's why Alcor's recruiters make every effort to find the most suitable candidates for our clients. We closely communicate with the client's hiring manager, analyze their needs, and then attentively interview candidates. You can read the results of such an approach in our case study with Sift.
– Independent contributors
Judging from my experience with various software companies, most of them wish to hire mature developers who are going to be independent contributors. We always recommend checking the leadership skills for all the roles in a software development team. Sooner or later your remote employee might grow to a leadership role with at least 4-9 people in the team – and that requires strong management and communication skills.
Tips to Manage a Remote Software Development Team
The major problem of many IT companies is not actually about the adoption of remote work. Most of them just don't know how to deal with the challenges of managing remote teams. Indeed, this process can be quite arduous as it requires tech companies to create and maintain productive workflow. Thus, I prepared 5 tips to help you devise a good management strategy when opting for a distant team model.
1. Organize the workflow
The first thing you should focus on is the establishment of a well-balanced workflow. You need to set goals for an engineering team and get everything scheduled. This is where Agile practices, as well as popular Scrum / Kanban frameworks, come in handy. Inform your team about all the details: software requirements, tasks, timelines, carry out regular meetings with your developers, undertake periodic progress tracking and quality assessment. You'll also need a good tech lead to help you out with technical management and any coding problems.
2. Improve communication 
When managing remote development teams, it's essential to maintain direct communication as the key to successful product development. Schedule weekly and monthly meetings to keep your team on track and avoid any delays. Don't underestimate the importance of building a strong rapport with each team member, as the emotional distance can become a cause of an unhealthy working environment, leading to poor performance. Thus, when holding a meeting with your remote team, always find some time for small talk. One-on-one interactions is another useful practice that can enhance individual productivity.
3. Utilize project management tools
There are numerous tools which can help you stay in touch with remote developers and enhance their teamwork. It's a good idea to incorporate such tools as an email service (Gmail), file sharing capabilities (Google Drive, Bit.ai), an instant messaging platform (Messenger, Telegram), remote team management tools (Trello, Jira, Avaza), and video conferencing (Zoom, Skype), etc. 
4. Hire self-organized specialists
If you decide to outsource remote developers, make sure you have self-organized professionals in your team. Working remotely means that your engineers will have to deal with arising problems themselves, as instant communication is not always available. Therefore, hire only self-motivated, organized, and independent developers who are able to overcome most obstacles by themselves when performing tasks. 
5. Sustain team spirit
Even though your team works remotely, it doesn't mean you have to create a 'we' and 'them' mentality. Your remote team needs just as much of your attention as an in-house one. Therefore, make sure you have regular facetime meetings with them. You should also encourage communication between the virtual team members. The fewer engineers that feel isolated and the more affinity they feel for their colleagues, the better they will work together. And don't forget to reward your remote developers for their quality work, thus boosting motivation and making them feel like a valuable part of the company.
Consider the ODC Alternative When Hiring a
Remote Team of Developers!
The ODC (offshore development center) is a term used to describe a team of remote developers located in a country with a favorable taxation system and lower labor costs. With your own ODC, it's possible to implement all corporate policies, values, and management strategies. Your remote developers will act as in-house employees and demonstrate high performance. This model has already been tested by leading US-based tech companies like Amazon (Ring), Google (CloudSimple), ThredUP, BigCommerce, and Reddit, etc.
Alcor is an international recruitment services provider that specializes in IT recruitment for foreign software companies in Poland, Romania, and other Eastern European countries. At our clients' request, we also help to establish their own R&D centers, taking care of all operational processes, so they stay focused on programming and keep it all under their control. You can choose the number of business process outsourcing services you need for smooth functioning of your remote development team in Eastern Europe: 
Recruitment process outsourcing
Recruitment marketing
IT employer branding
Full-cycle operational services (legal compliance, payroll & accounting management, procurements, office leasing, etc.).
Final Thoughts
All in all, team management has always been a challenge. That's why even experienced managers and tech leaders sometimes need help in organizing their teams. If you opt for virtual hiring of a remote engineering team or want to expand your offshore team in Eastern Europe, reach out to us for assistance.