Java is one of the most in-demand tech skills and almost half of all software developers globally use this programming language. Tech companies use Java in desktop, cloud-based, mobile applications, AI, data centers, web development, to build GUI (Graphical User Interface), and more. Due to its ubiquitous importance and popularity, IT entrepreneurs hunt for talented teams – and one of the ways is outsourcing java developers. But is it the best option?  
In this article, I'll dwell on the reasons and pros and cons of outsourcing java development and provide a way to get around the drawbacks with an efficient solution.  
Why Outsource Java Development? 
While looking for a competent Java development team, tech companies face different challenges which, as a result, incline them towards Java development outsourcing. Let's have a look at the most crucial ones: 
Tech talent scarcity
Difficulties in finding qualified Java software developers are one key reason why IT companies look for external support. For example, there may be a scarcity of desired programmers in a particular region, while outsourcing agencies can source the right devs for your project from different parts of the world. 
Lack of hiring resources 
Building a Java team from scratch requires sufficient internal resources, in particular a big recruitment department. When there are only one or two in-house recruiters, hiring 5-10 coders to assemble a team on first demand is challenging. Therefore, tech companies decide to outsource java development since a third party may already have a ready-made team. 
Time-consuming & costly hiring process 
Sourcing, posting job advertisements, and interviewing take time. Very often, hiring a desirable coder could even take months. Moreover, time is not the only resource companies use to find Java programmers. Payroll taxes and other operating costs come with a high price tag for tech companies.  
These are some of the reasons which drive tech enterprises to delegate creating a custom java application to an external provider. Yet before you decide to outsource a java development project, let's weigh all the fors & againsts of this approach.  
4 Benefits of Outsourcing Java Software Development 
1. Cost-effectiveness 
Cost reduction is one of the most popular reasons why tech companies choose a partnership with outsourcing providers. For instance, if you decide to work in an offshore location, you will significantly reduce the expenses on salaries, as in many regions they are much lower than in the US or Western Europe.  
2. Wide Range of Developers 
Outsourcing companies have access to a big number of Java talents both onshore and offshore. It gives the possibility to choose among IT experts with various experience, knowledge of this or that framework or platform, and other additional skills required for your product development.  
3. Team Expansion 
Extending your business with the help of a java development company seems to be a solution if you have a rather small in-house team of Java developers. There are also peak seasons when you may have plenty of workload and additional engineers needed to help. Thus, as soon as you meet your coding goals, you can stop cooperating with these developers and go back to your usual team size. 
4. Simple Corporate Structure 
While speaking about the advantages of outsourcing java development, simplified management is also an interesting point to mention. When you outsource Java web development to a third party, you don't have to do as much managing, back-office, and other operations as you do with in-house employees. 
Even though these factors are quite appealing, there are certain risks to consider before using java development services from an external provider.  
6 Disadvantages of Outsourcing Java Development 
1. Ambiguous pricing 
Although outsourcing Java developers seems to be a cost-effective solution at the first glance, it's not the best option in the long run. The reason for this is that in addition to charging for Java developers, some companies bill their clients with extra fees for various unnecessary services without the client's knowledge. As a result, the price tag in the final invoice appears much higher than expected. 
2. Less control  
For IT companies it's important to separate core and administrative operations to ensure that all processes are well-organized and bring no mess into primary ones. Yet when you delegate your Java development process to an outsourcing partner, you lose lots of control over your core part – product development. Thus, it will be challenging to evaluate the performance and quality of your Java project on short notice.   
3. Underqualified programmers 
Shady outsourcing companies tend to put profits before the client's needs. You might decide to work with, and pay for, Senior Java developers only, but the outsourcing provider could assign Middle or even Junior programmers for that price. Eventually, on top of overpaying it also influences expected product quality and deadlines.  
4. Project-centric approach 
Often agencies that provide outsourcing services follow a project-centric mindset. That means that they prioritize output over outcome, sticking to the initial plan and deadlines. Product value won't be in the foreground, so at the end of the day its success isn't guaranteed.   
5. No direct communication with the dev team 
Building your product through a third party may lead to misunderstanding and delays, as when you outsource java developers it's likely that the team will be isolated. Besides, this point has another drawback – the development team is less loyal and dedicated.  
6. Questionable Data security 
When you cooperate with an IT services provider, you share information about your IT systems and core product development. At the end of your collaboration, software engineers who worked on your product usually switch to a new Java project for a different tech company. Eventually, it raises the risk of data leakage, security, and IP breaks. 
Decent Alternative to Java Development Outsourcing 
When IT companies decide to delegate software development, they also consider going offshore. The main reasons for this are access to a bigger Java talent pool, moderate labor costs, and favorable taxation. For example, Eastern European countries like Poland, Romania, and others have already proven to be leading offshoring destinations in IT. This region can boast of 1M of software developers with different tech stacks and rare programming skills. What is more, the salary rates in the EE region are much lower than in the US or Western Europe. Just have a look:  
According to Glassdoor, a Senior Java developer salary in the USA is around $140,000 a year, while a programmer with the same level of expertise in Poland makes $66,000.  
In addition to beneficial wages, there are numerous Eastern European countries with lowest taxes  which will allow you to cut your expenses even more! Last but not least is cultural similarity. Such features are also crucial to consider since they impact developers' attitudes toward work. Eastern European tech talents follow an egalitarian working style, know how to work in a team, and are open to feedback.   
Yet just going abroad to outsource a java development project doesn't bypass all the above-mentioned risks. Weighing all advantages and disadvantages of outsourcing java development, tech companies go for a more reliable and efficient solution. It implies using tech recruitment services by a trustworthy partner to recruit Java developers for your own dedicated team. Such a strategy bypasses the limitations, since your own development team consists of loyal programmers, and you have full control over the product development. To ensure seamless and fruitful collaboration with your IT recruitment service provider, validate this company by doing some research about the ratings, reviews, and case studies. It's also important to ask about guarantees which should be realistic and specific, without any blurry conditions.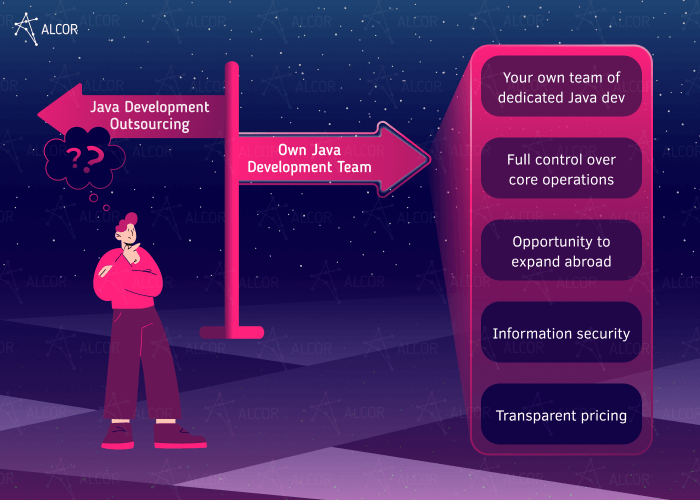 All these points convinced Ledger to follow such an approach. This is a French product company that develops hardware wallets for managing cryptocurrencies. Intending to build a team in Eastern Europe, Ledger chose Alcor as its IT recruitment service provider. Our recruitment department applied an individual approach to hire over 10 desirable Java QA specialists for the client. As a result, Ledger now runs its business in Eastern Europe with a team of dedicated developers who bring outstanding results. Last year, Ledger even became a French unicorn company! 
Choose the Turnkey Alcor BPO Solution for Hiring Your Java Development Team 
If you want to build your own offshore software development company with a team of skilled devs, consider Alcor as your local partner. We focus on hiring Senior/Lead software developers from Poland, Romania, and other Eastern European countries. Our model is different from traditional outsourcing or outstaffing since you get your own team of skilled software developers, retain full control over your product development, and keep all core activities in-house. We follow a pay-as-you-go approach without hidden costs or shady services. Our 40 professional recruiters who know the recruitment process for software developers inside out, provide clients with clear guarantees. We can hire 5 developers for your team within 1 month and more than 100 in a year! If we don't meet the deadlines, we'll hire the rest free of charge! Sift, Dotmatics, BigCommerce, and others have already assembled their own development teams in Eastern Europe with us!