"Product" and "Project" are among the most popular buzzwords in the IT industry. They represent two widely different types of thinking in software development which set the trend for product realization. Overall, the Gartner survey shows that 85% of companies choose a product mindset over a project mindset in software development. But what are the reasons for this decision and how to choose between a product vs. project mindset, without going the wrong way? 
 
We at Alcor know the answer to this burning question. Providing IT staffing & recruitment services in Poland and Romania, we have already learned that the mindset question is always crucial to hire developers for successful tech companies from Silicon Valley. So, in this article, I will outline the similarities and differences between product and project mindset, discuss manager roles, and share a proven solution to hire needed IT specialists. Keep reading to find out your mindset! 
What is a Project Mindset?
A project mindset is an approach that focuses on temporary efforts to achieve desirable results. The main goals are meeting objectives on time, in budget, and within scope. 

What is a Product Mindset?
A product mindset ensures delivering value to a customer or business. It focuses on providing a high-quality user experience that brings continuous revenue for a business, rather than temporary milestones.
Product vs. Project Mindset: Are There Any Similarities? 
Product and project mindsets are sometimes confused and mixed up in the IT market due to the following similarities: 
– Management methodology 
Whether you follow a product or a project mindset, the management methodology relates to both of them. There are different management techniques but the most well-known are DevOps and Agile. Beyond that, the most common frameworks of Agile are Scaled Agile Framework (SAFe) and Scrum, the latter allowing dev teams to work concurrently using sprints. This management methodology allows for more flexibility and better adjustment to recurring changes. As a rule, all developers, designers, testers, and other team members are equal and collaborate with each other. Thus, the team altogether plans sprints and tasks to be done within this sprint. The main advantage of this methodology is the high speed of development which makes it a perfect choice if you need to launch your MVP into the market as soon as possible. At the same time, to show fast results Agile requires constant manager and decision-making involvement.   
– Development roadmaps 
Another similarity is that both approaches imply a development roadmap which is a visual representation of the strategic plan for the development process. One of the key functions is to give a snapshot view of major goals and objectives for a software team. Development roadmaps outline the direction, vision, priorities, and progress of a product. Apart from that, they also include initiatives, milestones, and resources needed to meet set objectives.  
But despite some of the same features, there is a plethora of differences between product vs. project mindset that we will describe further. 
What are the Main Differences Between these Mindsets? 
1. Psychological characteristics
The psychology of software product teams is based on long-term orientation, which presupposes sticking with one company for years and developing an in-depth understanding of the company's business and products. Such dev teams also tend to be more attentive to details and prioritize achieving strategic goals. On the other hand, project-oriented tech teams are better at multitasking and shifting from one development project to another. They pay attention to tactical goals that help take only short-term steps. 
2. Loyalty
 
While speaking on the comparison of product vs. project mindset, the loyalty of software engineering teams can't go unmentioned. Software project teams are usually quite isolated, work exclusively with appointed specs, and usually stay until the project is both funded and finished. Dev product teams, by contrast, are more dedicated and get involved in all stages of software development, including planning. Moreover, these teams are engaged in pitching ideas and suggesting new solutions that make them more committed to the development process. 
3. Metrics
When comparing a project vs. a product mindset, they also differ in metrics to measure performance and track success. Metrics are essential to detect weak points, set further goals, and make the right decisions. Key product metrics include monthly recurring revenue (MRR), customer acquisition cost (CAC), bounce/retention rates, and customer lifetime value (CLTV), etc. At the same time, common project metrics are schedule/effort variance, requirement stability index, and different productivity measures.  
4. Lifecycle
Apart from the methodology and metrics, both approaches are also different in their lifecycles and stages. A project lifecycle consists of five stages: initiation, planning, executing, monitoring & control, and closing. Along with this, they represent the main processes of project management. The product lifecycle includes the following phases: market introduction, growth, maturity, and decline & saturation. However, it's important to mention that project lifecycle can complement or be a part of a product lifecycle overall. The main reason for this is that product management is very complicated and requires so many steps that it's better to divide them into several projects.  
5. Adaptability 
When making the product vs. project mindset comparison, one should consider the ability to respond to changes. Following product thinking means being flexible and ready to adjust to current business realities. On the other hand, a project mindset is about sticking to the initial plan and avoiding deviations from it; thus, decision makers and stakeholders know when and what to expect as well as how much it will cost.  
6. Focus
Focus is another product vs. project mindset difference that is worth mentioning. The product approach focuses on the outcome, i.e., results that need to be achieved with the product or service. Another key priority of this mindset is to create continuous value for end users and solving business needs. A project approach, by contrast, concentrates on the output where certain activities need to be achieved in definite timeframes. Thus, while the product mindset is result-oriented, the project approach is process-oriented.  
7. Success 
The vision of success also greatly differs from project to product. Project-centric thinking identifies success as delivering a service or product in accordance with the initial plan: performing the assigned tasks, following deadlines, and strictly adhering to a budget. And while all these points are important, they don't always guarantee success. The key reason for this is not considering the value or looking at the bigger picture. At the same time, product thinking defines product usefulness, growth, user delight, revenues, and other KPIs as the most crucial aspects of success.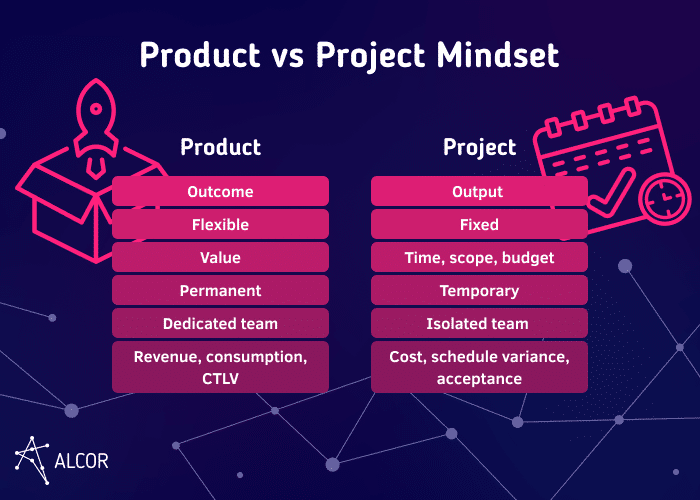 8. Manager responsibilities
Different manager roles and responsibilities are also worth mentioning while contrasting the product vs. project mindset. Project and product managers are very often mixed up, yet their responsibilities and approaches to work are actually quite different. Let's see in detail what both these specialists have to deal with during the development process and what their roles are in tech teams.  
Project vs. Product Manager: What are their Responsibilities?  
A project manager's main responsibility is to deliver the product in accordance with a plan, which means that their main concern is the output. They take care of devising the development plan, setting deadlines, finding the right resources, and determining the budget. On top of that, project managers allocate tasks among team members and make sure that they are delivered on time and fit technical specifications. After every stage of the development process, they report to stakeholders as well as communicate with leadership. 
 
On the other hand, a product manager is a specialist who sets the vision and direction of the product, as well as makes sure that the product satisfies users' needs. Therefore, their main concern is the outcome. They conduct market research, come up with the pricing strategy, as well as define key metrics for product success. These specialists also communicate with stakeholders, but this interaction is more frequent during the whole product lifecycle.  
Consider Alcor BPO Your Trusted Partner
Sift is a USA-based tech company that works in the fraud detection domain, using machine learning and artificial intelligence (AI). This company follows a product-centric mindset in software development and wanted to build a team of highly skilled professionals in Eastern Europe – precisely with product orientation. To do this, Sift looked for a reliable provider and, as a result, reached out to Alcor. Sift's plan was to hire 30-35 tech talents in a year, so our IT recruiters and researchers started looking for the best-suited candidates. Taking this and all the company's hiring requirements into account resulted in closing the Head of R&D position from the second CV. We also found them both front- and back-end specialists. The results of this collaboration – their own team of 30 programmers in a year who make a real impact on the product! And we should also mention that companies like Dotmatics, Ledger, and many others also experienced assembling their own teams with us! 
That's because at Alcor we take pride in helping product IT companies hire dedicated Senior/Lead tech specialists by focusing on IT recruitment in Poland and IT recruitment in Romania. Our recruiters provide you with market insights, help with building the perfect candidate profile, and encourage candidates to fall in love with your company! On average, it takes us less than 6 weeks and 8 CVs to close any position. To achieve such results, we use our vast internal database and recruiting platform to find developers with a product mindset that suits your hiring needs. Our recruiters pay special attention to candidates' motivations and soft skills like the ability to work in a team, flexibility, and outcome orientation. We also take care of the pre-screening stage, ensuring that the candidate has both the skills and a proven track record. As a result, you get a committed software developer who shares your thinking and vision.  
 Final Thoughts
In your opinion, is a product mindset better than a project mindset? Taking all the features mentioned above into account, it's worth noticing that these attitudes suit different companies. For small projects and companies outside the tech sector, project thinking might be best suited. But more and more tech product companies are deciding to move from project to product thinking to ensure the best experience for their users. And if you also want to hire perfect-fit software developers who follow a product mindset, consider collaborating with Alcor – because we can make it happen!