Maintaining administrative tasks is quite time-consuming and expensive, especially when it's for both in-house and offshore engineering teams. That's why about 70% of IT businesses opt for HR outsourcing, particularly in low-cost destinations like Eastern Europe. In this way, they can save 25%-32% on costs, boost talent acquisition (cutting time to hire by up to 50%), and focus on core objectives. That's what the Alcor team has been witnessing when providing tech recruitment in Poland and other Eastern European countries, as well as covering supporting services for offshore development teams.  
Keep reading this article to learn more about HR outsourcing pros & cons, benefits, strategies, and how to select a reliable service provider.
What is Human Resource Outsourcing?
Human Resources Outsourcing is a business practice used by IT companies to delegate some or all HR-related functions to a third-party service provider, thus focusing more attention on growth-related objectives.
This business process outsourcing practice can come in handy if you experience the lack of internal HR expertise and technologies, struggle to cover all arising human resources issues, have difficulties in performing effective talent acquisition, or simply want to optimize your HR management.
Types of Human Resource Services
Depending on your company's needs and goals, you can choose from a wide variety of outsourced human resources services.
IT recruitment & onboarding 
The overwhelming shortage of qualified tech specialists and mounting competition in the market serve as driving forces for IT businesses to outsource their talent acquisition to an offshore HR service provider. In this way, tech companies can both get access to a large pool of talented software developers and experience a fast & cost-effective team extension. Usually, professional IT staffing agencies provide a broad array of services, including candidate sourcing, vacancy description support, CV screening, applicant assessment, job interviewing, offer negotiation, and onboarding. 
Despite being highly competent, each IT professional needs to expand their knowledge and upgrade coding skills. However, not every tech company has enough time and resources to spend on team performance management. That's why it's not uncommon to delegate this very function to an HR outsourcing company that can execute progress tracking, help with annual performance reviews, collect feedback from colleagues, and devise templates of improvement plans for your software engineers. 
Employee benefits administration 
Since the beginning of the Great Resignation, the problem of employee retention has come to the foreground. Many IT experts have been leaving their current jobs because of underpayment, limited career opportunities, or poor engineer/web developer work-life balance, etc. Therefore, to avoid massive talent turnover and layoffs, it has become a widespread practice among tech executives to improve employee benefit administration via third-party HR professionals. Such a provider can help you establish competitive remunerations for your offshore developers and take care of the employer value proposition (EVP), including arranging health insurance and gym membership, as well as organizing other benefits.
It may be quite challenging and time-consuming for your accountants to execute all payroll operations for both in-house and offshore engineering teams. If you want to reduce the load on your finance experts and avoid any errors and tax fines in a foreign country, it's wise to hand over payroll operations to an outsourced human resources company with local expertise. They can cover remuneration remittance and deductions, tax payments, and even some additional functions, such as bookkeeping and contracting procurements.  
Another issue that often haunts IT executives is legal compliance. It's not a surprise that following regulations and labor laws can be a real nightmare, especially when scaling up in the offshoring destination. That's why tech companies cooperate with experienced HR firms that can ensure high-quality tech recruitment in accordance with equal employment opportunity (EEO) laws, compensation regulations, and GDPR guidelines. Moreover, your trusted partner can provide you with labor & contract law assistance, IP rights protection, and keep you updated on any law changes.
It's not a rare occasion for IT businesses to face a protracted talent acquisition process, when entering a new market. The reason for that is lack of awareness about your company among local software developers. To avoid possible hiring challenges, reduce recruitment costs, and attract more candidates, it's a good idea to ask an HR outsourcing provider for a powerful employer branding campaign. They will devise an effective brand strategy, promote your corporate culture & values via social media, manage employer review sites, plus create appealing EVP and job ads, etc.  
Outsourcing HR Functions: Pros and Cons
Advantages:
– Focus retention 
By outsourcing HR functions, you will be able to liberate your HR professionals from IT recruitment, payroll, and legal compliance, thus keeping their focus on paramount tasks and strategic matters. 
– Reduction of costs 
According to a report by the Society for Human Resource Management (SHRM), in-house administration management costs on average $3,000 per employee annually. But if tech businesses go with the HR outsourcing model, they can reduce their administrative expenses by up to 20%! What is more, transferring HR operations to a lower-cost destination like Eastern Europe lets IT companies save even more!
– Effective talent acquisition
Among other benefits of outsourcing HR functions is the opportunity to improve your IT recruitment process. A competent HR service provider can offer more proactive methods of attracting well-versed software developers by devising catchy EVP as well as conducting employer branding activities. They can also make the hiring process more expeditious, sticking with clear KPIs and using automated recruitment tools.
– Elimination of compliance risks 
Staying up-to-date on legislative changes is not a piece of cake. When you have to monitor both domestic and international regulatory systems simultaneously, it can become a real headache. A professional HR outsourcing company can serve as a pain relief, since their experts will always stay abreast of all law modifications and make sure your business is fully compliant with them.
Disadvantages:
– Poor-quality IT recruitment services 
Even though there are a great deal of HR vendors, not all of them specialize in IT recruitment – a principal HR function that often gets outsourced by tech companies. So, if you want to benefit from a high-end tech recruiting remotely but your service provider has no experience in this, you may end up getting nothing but time-consuming and inefficient hiring that won't bring desired results.
– Possible overpayment
Although HR outsourcing might save you a decent sum, exceptional cases still happen. If a service provider doesn't have transparent pricing for their services and refuses to provide monthly billing statements and reports, this should be a red flag for you to step away from such a partnership. Keep reading this article to find out how to select a reliable HR outsourcing company and avoid unwanted expenses. 
3 Prevalent Misunderstandings about HR Outsourcing
1. I will spend more than I do now
As I have mentioned above, human resources outsourcing is not aimed at increasing your spending. Actually, it allows you to spend less, as you won't have to hire additional staff in your in-house team or assemble a separate HR department in the offshoring destination. Moreover, a professional HR company can protect your business from costly compliance violations and reduce your expenses on talent acquisition and other administrative functions. 
2. I will lose control over my business
Outsourcing HR operations has nothing to do with control loss, actually the opposite. Instead of managing secondary functions and concentrating on routine tasks, you will be able to follow the bigger picture, directing your time and effort on software development and the team. For their part, the HR outsourcing partner will make sure your software engineers have everything needed to bring the best results.
3. My company is too small/big for HR outsourcing
There are no limitations concerning the size of IT companies that can outsource HR functions. This business practice is flexible enough to be tuned both for the needs of large tech enterprises and small businesses. When opting for HR outsourcing, tech companies can save time usually spent on collateral administrative operations and significantly cut their expenses, directing them on software development instead.
HR Outsourcing Strategies
Let's have a look at some common HR outsourcing strategies to choose the most suitable one for your IT business. 
IT businesses that want to enhance the performance of their HR team can collaborate with an application service provider that installs hardware and software. By making use of cutting-edge programs and tools, the in-house HR specialists will be able to handle more tasks and streamline some of the administrative processes. This option is only suitable for those IT companies that already have an HR team capable of managing all the administrative tasks themselves, but are in need of streamlining this process using HR technologies. However, if you are looking for comprehensive support, consider other alternatives.
HR outsourcing under the co-employment model
This strategy presupposes cooperation with a professional employer organization (PEO), a third-party company that works based on the co-employment model. It means that PEO will become a "second employer" to your software team, covering essential administrative functions. Even though you remain the legal employer for your software developers, you will have to set up a legal entity in the foreign country to have complete control over the offshoring team. 
Read more about Professional Employer Organization (PEO) for tech companies here.
HR outsourcing without the legal presence
To engage in this strategy, you will need to work with an employer of record (EOR). Unlike PEO, an EOR allows tech businesses to keep their legal employer status without opening a legal entity in a foreign country. Among companies that act as EORs are HR and IT recruitment agencies. They provide comprehensive assistance in managing administrative functions, such as talent acquisition, legal compliance, and payroll, etc. By partnering with such an EOR, you will maintain full control over your dedicated engineering team, software development, expenses, and protect your IP rights. 
Read more about Employer of Records (EOR) for tech companies here.
How to Choose a Reliable HR Outsourcing Services Provider?
Firstly, you need to pay attention to their IT recruitment expertise. Your ideal HR partner should have deep experience in tech hiring, a solid track record, a big team of seasoned IT headhunters, and an extensive internal candidate pool. In addition to that, they should provide you with a well-thought-out talent acquisition strategy that will bring your hiring ambitions to life. 
The next feature that goes hand in hand with tech hiring expertise is knowledge of the local market. If your HR partner is not aware of market specifics and trends, they won't be able to navigate you through the entire IT recruitment process. Before contracting HR services with an outsourcing company, make sure they also possess outlined guarantees. If an HR vendor can't vouch for the quality of their services, it's a valid reason to avoid such a partnership, as it may result in a waste of time and money.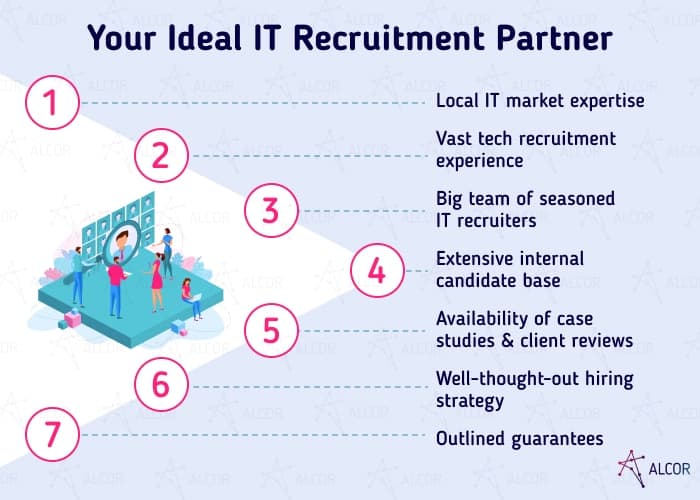 Consider Alcor BPO Your Trusted IT Recruitment Provider
Once a software product company, Dotmatics, was seeking a trustworthy IT recruitment partner who could both assemble an engineering team in Eastern Europe and cover collateral HR functions. From dozens of options, Dotmatics decided to go with Alcor, as we offered a comprehensive talent acquisition approach supported by transparent pricing and guarantees. 
Firstly, we engaged our 4 best IT recruiters to conduct full-cycle tech hiring: from ideal candidate profile and EVP creation to interviewing and making job offers. Then our legal and finance specialists provided consultations on local legislation, labor law, IP rights protection, and taxation system to make their business fully compliant and devoid of any risks. When needed IT specialists were hired, we also took care of payroll and procurements. Finally, within just a year our client got a fully-backed team of 30 well-versed programmers (including a Director of Engineering, Full Stack, QA Automation, DevOps, and Node.js developers) in Eastern Europe!
If you also want to get fast and effective IT recruitment in combination with administrative support, Alcor is here for you! We have over 10 years of experience in the Eastern European market, providing our clients with the best-matched developers. 4 out of 5 applicants make it to the interview stage, while 98,6% of our candidates pass the probation period. We can also assist you with a B2B contract settlement in Poland and an employment agreement in Romania, as well as cover payroll operations and procurement.