In this fast-paced digital world, it's becoming common to outsource managed IT infrastructure operations, as it allows companies to get affordable tech support and stay on top of the digital race. But do you really need to outsource all IT infrastructure functions? In this article, you are going to find out about the possible limitations of infrastructure providers and learn about the best IMS practices for fostering your business growth.
What are Managed Infrastructure Services?
IT infrastructure management services (IMS) is a wide umbrella of technical and operational tasks that are handled by an external organization to help tech companies focus on their business priorities and achieve desired goals. Usually, IMS is provided on a regular basis by a managed service provider (MSP) who can be located in your immediate area or abroad. 
Managed IT infrastructure as a service gained its popularity during the last several years, with global pandemic becoming a driving force of this trend. However, the inception of IMS dates back to the end of the 20th century with the appearance of application service providers (ASPs) who actually paved the way towards remote IT infrastructure support. Nowadays, apart from a vast range of managed IT infrastructure services, it's possible to choose between an on-demand service vendor and a dedicated MSP. Keep reading this article to learn more about IMS alternatives.
So, why are IT infrastructure management services so widely spread? The reason for that is simple: IMS can reduce the strain on your in-house IT team, allowing them to focus on core matters rather than day-to-day operations. There are a whole bunch of IT managed services that you can choose from, including:
Help desk and IT support
Software testing & quality assurance
Off-site data storage
Cloud-based management & operations
Managed IT security services
Server upkeep
End user support services
Backup services. 
IT infrastructure outsourcing provides myriad benefits for tech enterprises. First of all, IMS helps to fill the expertise gap of the in-house team. Sometimes businesses, especially small and middle-sized ones, may not have enough staff to cope with certain IT-related problems. Therefore, instead of wasting time and money on internal team enlargement, they can collaborate with service providers who retain professionals of a broad array of expertise. It's also not uncommon to get offshore DevOps or QA teams to ensure round-the-clock monitoring, troubleshooting, upgrading of systems & applications to preserve their uninterrupted functioning. 
By utilizing services of external IT infrastructure experts, you can automate and streamline routine and critical processes and at the same time allow your tech team to focus on core business objectives & innovations.  In addition to that, a good strategic partner can also provide you with essential insights and recommendations to optimize the performance of IT infrastructure. In this way, you'll know when to change or upgrade technologies and storage capabilities, as well as mitigate any risks of system or security failure. As a result, you'll enhance the overall functioning of your IT environment and improve the user experience of both clients and employees.
Are there Risks or Limitations in Outsourcing IT Infrastructure Management?
Absence of On-Site Availability 
Since IMS is usually delivered via cloud-based technologies, your offshore service provider wouldn't be able to fix urgent onsite issues due to physical unavailability. Dealing with it on your own may lead to prolonged downtimes. If you decide to partner with a local MSP, you'll most likely be able to get onsite support, but which you'll have to pay extra for.
Lack of Synergy & Control
Cooperation with a managed IT infrastructure provider presupposes full delegation of the necessary tech operations to their team. It means that your MSP has all the rights to use tools and technologies they find useful to handle your tech issues. As a result, this may deprive you from the possibility to make decisions or suggestions on the matter, as IMS vendors rarely discuss it with their clients. Moreover, as your in-house team and MSP experts work separately, they may quite often be completely unaware of tasks each of them are engaged in; consequently, it could lead to numerous confusions, affecting the overall efficiency of enterprise IT infrastructure management. 
Costly Services of a Reputable MSP
It's right to say that outsourcing managed infrastructure services is a cost-effective solution. However, if partnering with a reputable managed IT infrastructure company, you will likely have to pay upfront fees and a few thousand dollars a month, depending on the size of your business and technical needs. Thus, before actually outsourcing IT infrastructure management, make sure it's truly a cost-effective solution for your company.
Limited Resources
Whereas collaborating with a reputable service provider might be quite expensive, signing an agreement with a small IMS company can limit your choice of technologies. This may result in additional spending on equipment and software, or even engagement of another partner to cover the resource shortage. 
IT Infrastructure Management Best Practices
To minimize any probable risks & limitations of IT infrastructure outsourcing, consider the following best practices. 
Evaluate your current IT infrastructure capabilities
Before starting cooperation with an MSP, you need to diagnose all your systems to identify possible weaknesses. Another aspect to consider is the availability of all the necessary technologies, software, and equipment to maintain proper IT infrastructure functioning. In addition to that, you'll need to determine whether your internal staff is enough to cope with the problems, emergencies, and maintain effective tech management in general.
Delegate everything except for QA
If you came to the conclusion that software testing & quality assurance are some of the IT services you need to hand over, don't rush to MSPs. As QA is a vital software development process, it may be dangerous for product companies to outsource it to a third party. To eliminate the risks of possible data leakage, I recommend assembling your own offshore team of QA specialists in Eastern Europe, particularly in Poland or Romania. These destinations offer high-quality programming and IT infrastructure services at a decent price. 
Get IT infrastructure standards 
Take the necessary time to develop good IMS standards, or better ask your provider for this kind of service. It should contain all the necessary information concerning hardware procurements and maintenance, system and network operational support, security protocols, and disaster recovery plan implementation, etc. The integration of IMS standards will not only help you to assess the services you get, but also boost the efficiency of your in-house tech team as well. 
Most companies tend to overlook the documentation of their IT infrastructure management; however, this is one of the most important practices. Firstly, it facilitates the monitoring of received IT services. Secondly, it helps new tech professionals to easily onboard and ramp up effectively. And finally, it reduces the overall infrastructure downtime, as when an individual component needs to be replaced. 
Prevalent Options of Managing IT Infrastructure Processes
In-House Team
There are tech enterprises that still prefer keeping their IT infrastructure management in-house, as it allows them to keep full control over this process and expenses, select desired technologies, and undertake the effective tracking of progress. Moreover, they don't need to worry about possible data leakage or downtime. However, sometimes it may be hard for companies, especially small ones, to both maintain the IT infrastructure and concentrate on core tasks. The internal expertise and tech shortage is the main reason why businesses outsource IT infrastructure management.
Traditional Outsourcing 
Outsourcing IT operations to a third-party vendor has been a widespread practice among tech companies, since it allows them to get cheap and timely services. Basically, these providers work on a break-fix model, where the pricing runs on a task-by-task basis. Unlike dedicated MSPs, on-demand providers rarely enter long-term partnerships, as their main focus is to deliver one-time services. Therefore, making a preventative maintenance plan or providing tech support and consultations as a trusted partner is not the type of cooperation you can expect from the on-demand vendor. Moreover, outsourcing IT functions may be inauspicious to companies that already have a strong in-house team, or those who want to retain total control over IT infrastructure maintenance.
Narrow Expertise Companies
Some IT businesses outsource their sensitive tech infrastructure operations to agencies of narrow specialization. It's especially common to delegate managed IT security services because it's too expensive to build a security operation center in-house. For example, an experienced niche cyber security partner can offer a broader spectrum of security services than the ordinary MSP. However, this type of partnership may not be as cost-effective as getting all-in-one place services.
Get Your Own Quality Assurance Team in Eastern Europe with Alcor! 
As I already mentioned, delegating QA operations can be quite risky for product IT companies, as it could entail some IP rights breaches. Thus, if you are looking for a reliable and beneficial alternative, you should go with assembling an own offshore QA team abroad. In this case, Alcor can become your trusted partner! We are an IT recruitment company that has been building offshore engineering teams for US and European tech businesses for over 10 years. Alcor always goes hand in hand with modern trends and technologies, implementing the most effective headhunting methods & tools and even using ChatGPT for recruiting the best-matched candidates. We have successfully hired Eastern European developers for such leading IT companies as People.ai, Grammarly, Dotmatics, Ledger, ThredUP, and others.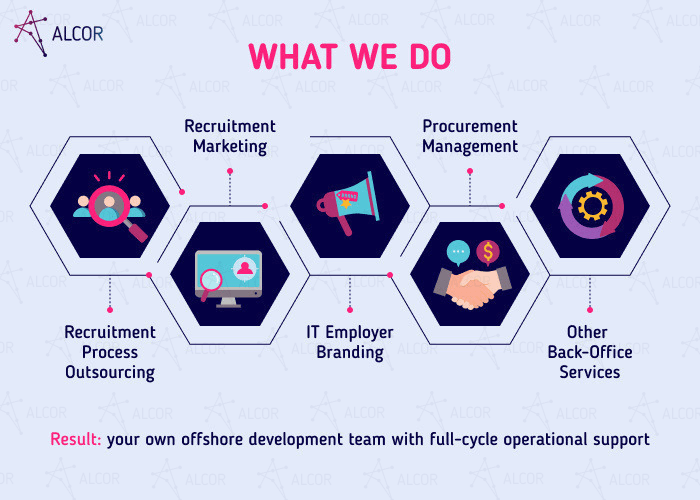 One of our most successful cases is collaboration with Sift. This USA-based IT product company had the ambitious plan to set up a team of 100 IT specialists in Eastern Europe. This mission seemed impossible without the help of an experienced IT recruitment provider. That's why Sift reached out to Alcor. In just a month our team of 40 recruiters & researchers hired 30+ senior/lead programmers, providing the client with comprehensive assistance on each recruitment stage. In addition to that, Sift also received other BPO services as a part of an offshore software development center. To help our client with managing offshore teams, Alcor also purchased all the necessary equipment and software to enable their direct and fruitful communication. As a result, Sift got a fully backed offshore development team in Eastern Europe that continues to make an invaluable contribution to their business growth. 
Final Thoughts
Outsourcing managed IT infrastructure operations is a frequently used practice. It allows tech companies to receive affordable and quality services from MSPs without additional spending on internal staff expansion and tech procurements. Thanks to MIS outsourcing, in-house IT teams can focus on core business goals and effectively implement infrastructure management solutions for operational optimization. However, IT infrastructure outsourcing has some risks & limitations, especially regarding software testing & quality assurance delegation. In this case it's better to go with an offshore QA team to eliminate possible data leakage. 
Therefore, collaborate with Alcor to get top talents in your development team in Eastern Europe!