A leader cannot achieve greatness without thorough self-development and constant learning, especially in the dynamic IT industry. Keeping up with changes, management trends, and new technologies requires exceptional leadership skills, thus in order to acquire or bring them to the next level, leaders turn to relevant literature. But what books on leadership and management are the most efficient for helping develop the essential skills of a true leader?    
With more than 10 years of experience in recruiting Senior, Lead, and other C-level tech talents for product IT companies, we at Alcor know well what tech companies are looking for in their leaders. So, in this article I'll share the top 5 skills of a true IT leader, a list of the best books that help in developing oneself, and 3 basic must-read leadership books for new leaders. 
5 Skills of a True Leader 
Before moving to the books about leadership in IT, let's outline what skills are crucial for the successful management and guidance of a tech team. 
1. People management  
Proficient people management starts with effective communication; hence, good leaders are usually great communicators and active listeners who can clearly deliver information to the team, including company goals and expectations from employees. However, since any relationship is a two-way street, true leaders also pay attention to the needs and career aspirations of their staff members. Detailed feedback is the best working tool that tech leaders should utilize for managing their teams, as providing both constructive criticism and appreciation of their results is a powerful source of inspiration (thus fuels professional improvement for team members).     
2. Product management 
Apart from managing people, a tech leader must also have product management skills. These help to not only organize the software development process but also to collaborate with cross-functional teams and drive innovations. What's more, this skill develops a strategic vision which helps meet the company's product development KPIs.   
3. Problem-solving  
The ability to resolve vital issues is crucial for a tech leader since it ensures the company's growth and product success. Effective identification and evaluation of any problems help make informed decisions which result in increased productivity. Thanks to this skill, leaders can build trust and confidence in the team by showing that they can handle new challenges and make the right decisions. 
4. Ability to inspire others 
There are no limits regarding any daunting challenges for a motivated team. According to Gallup, highly engaged employees increase the company's profitability by 21%; thus, taking care of the team's morale is one of the most crucial tasks of a leader and important to further develop. Inspiring managers can cultivate a passion for the product, boost the productivity of team members, and hence lead the company to remarkable success.  
5. Time management 
In the vortex of daily tasks, meetings, and projects, smart leaders must know how to stay effective and meet deadlines. Time management helps prioritize work and focus on the most important activities without wasting time on unnecessary tasks. Getting more things done properly, in less time, also sets a good example for the rest of the team and encourages them to manage their time efficiently. 
Top Leadership Books that Teach True Leader Skills
Now, let's proceed with business leadership books that help you master the above–mentioned skills. Every book in this list is a personal recommendation from Alcor managers, our clients, and IT executives of prosperous software product companies. We do not provide any links for purchasing or advertising these books. Instead, we share a dozen insightful and impactful resources for leadership growth and personal self-development. 
People management skills
#1 No Rules Rules: Netflix and the Culture of Reinvention – by Reed Hastings and Erin Meyer 
Let's start with the best-selling book on management and corporate culture from one of the most successful companies in the world, Netflix. In "No Rules Rules", the authors lift the curtain on the culture, values, management style, hiring practices, approach to feedback, and other peculiarities of Netflix. This book steps back from traditional corporate hierarchies and focuses on fostering freedom and responsibility, where all team members can make decisions and take risks. Here's what Satya Nadella, CEO of Microsoft, says about No Rules Rules: "The insights in this book are invaluable to anyone trying to create and sustain organizational culture." 
#2 Digital Body Language: How to Build Trust & Connection, No Matter the Distance – by Erica Dhawan 
According to Erica Dhawan, the shift to digital communication has barely changed the way we interact, thus there's no need for new skills to build efficient virtual interaction. We have new digital body language cues such as emojis, response time, and tone that can help us maintain effective communication online. Combined with insightful research and catchy storytelling, this book also explores the challenges and opportunities of digital communication for companies and enterprises. "Now that so much communication happens online and with the massive shift to distance learning and remote workplaces, we need Erica Dhawan's book more than ever", says Sheryl Sandberg, COO of Facebook, describing this book.
Product management skills
#3 INSPIRED: How to Create Tech Products Customers Love (Silicon Valley Product Group) – by Marty Cagan 
A hidden gem among the books about software management which can't go unmentioned. Written in a very coherent way, this book provides a masterclass on first-class product management in IT. Marty Cagan shares personal stories and profiles of world-known companies such as Adobe, Apple, Google, and Microsoft to illustrate how to make people fall in love with your product. Filled with insights on product software development, strategy, marketing, and agile methodologies, this book is thought-provoking reading material.  
#4 Only the Paranoid Survive – by Andrew S. Grove  
This book is among the best leadership books for training strategic thinking from the "guy who drove the growth phase". Andrew S. Grove, who led Intel during its turbulent times, shares his experience in foreseeing and overcoming massive changes in the tech market. The author discloses the meaning of Strategic Inflection Points and describes how to turn them into an ace for your company. Written more than 25 years ago, this book still remains an all-time classic for CEOs.  
Problem-solving skills
#5 Mental Models: 30 Thinking Tools that Separate the Average from the Exceptional Improved Decision-Making, Logical Analysis, and Problem-Solving – by Peter Hollins 
The next page-turner among books about leadership in software development outlines 30 mental models which help you think more critically and strategically about arising problems. These models describe different frameworks and systems such as "Occam's Razor", a philosophical principle that states that "Entities must not be multiplied beyond necessity", or "Game Theory", a mathematical framework for situational analysis and decision-making. The author reinforces his ideas with real-life examples and gives practical advice on how to apply these models in your professional and private life – to make better decisions and solve problems.  
Note: Check out the list of CTO leadership books to gather more insights on management in software development!
Motivation skills
#6 Drive: The Surprising Truth About What Motivates Us – by Daniel H. Pink  
"Drive" is a real treasure chest for transformational leaders that breaks the patterns of a traditional understanding of the nature of motivation. In this book, Daniel H. Pink argues that the casual carrot-and-stick approach is still the best way to boost team morale by drawing on some surprising conclusions. Reinforced with scientific research on human motivation plus full of real stories and anecdotes, "Drive" equips you with everything you need to know about inspiration and engagement of your engineering team.  
#7 Leaders Eat Last: Why Some Teams Pull Together and Others Don't – by Simon Sinek  
This list of top leadership books wouldn't be complete without Simon Sinek's bestseller. "Leaders Eat Last" teaches any tech lead valuable lessons on how to organize your team and get everyone inspired (and trusted). Here you'll also find a brief explanation of how human psychology and biochemistry direct our behaviors, as well observes the changes in workplace culture through a historical context. Sinek presents these insights with humor and energy, captivating you from the very first pages.   
Time management skills 
#8 The Checklist Manifesto: How to Get Things Right – by Atul Gawande 
Recommended by Co-founder and CEO of Twitter, Jack Dorsey, this book describes a simple but effective method of getting things done – via checklists. Numerous tasks at the workplace very often go hand in hand with forgetting to attach a file, write a follow-up, or schedule a call, etc. And these are the pain points of not only amateurs but experienced leaders. That's where the discipline of using daily checklists helps you verify your work on time. With the help of stories from different industries starting from medicine and finishing with aviation, the author gives you food for thought on how you can implement checklists at your workplace.   
#9 Competing Against Time: How Time-Based Competition is Reshaping Global Markets – by George Stalk 
It's said that Tim Cook, CEO of Apple, liked this book so much that he handed out copies to all new employees. And it's not surprising, since George Stalk describes in detail how and why time plays a crucial role in the highs and lows of big companies. The author presents this information from different standpoints: time & business, time & customers, time & innovation, plus shares guidelines on how to become a time-based organization and much more. Even if putting too much emphasis on time as a strategic weapon for companies can be argued, this book will surely give you a good understanding of how time-based competition works.  
Bare Minimum of a New Leader 
Beyond any doubt, all the books mentioned above are worth reading. However, if you are an aspiring leader you may have the need to acquire all the fundamental leadership notions quickly and effectively. That's why I gathered relatively short leadership and management books for newbies – which can serve as a crash course in leadership development.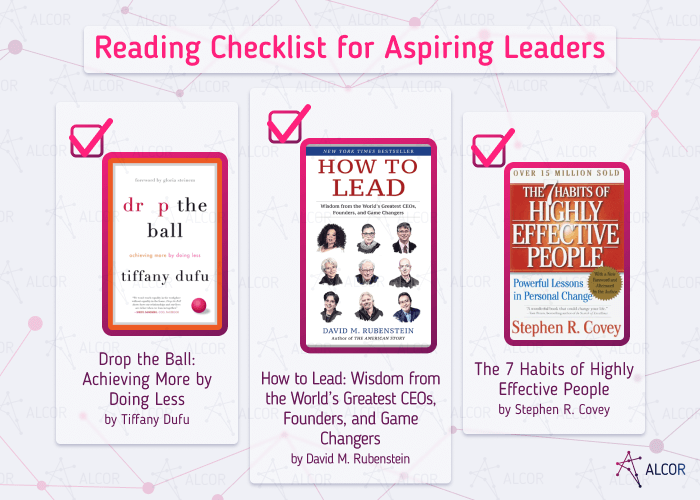 #1 The 7 Habits of Highly Effective People – by Stephen R. Covey  
This is a well-known desk companion of many leaders and managers. Published in 1989 for the first time, this book remains relevant and impactful today. Regarding a new leader you won't find any quick fixes here, yet consistent principles and applicable pieces of advice on productivity, time management, communication, problem-solving, management, and leadership. Flawlessly researched and decently packed with insights, "The 7 Habits of Highly Effective People" is a life changer and a good friend to start your leadership journey with.  
On Goodreads, this book is one of the favorites of Andrey Akselrod, Board Member and former CTO of People.ai. It's a software product company from the USA that chose Eastern Europe as its offshore destination for business expansion. To pursue its ambitious plan of entering the foreign market, People.ai decided to team up with a reliable local recruitment company, Alcor. And in just 1 month the company got its own software research & development center with 25+ software developers, including programmers with rare skills. In addition, Alcor took care of legal compliance and organized transparent payroll while People.ai remained in full control over the core operations.
#2 Drop the Ball: Achieving More by Doing Less – by Tiffany Dufu 
With more women entering the tech market as aspiring managers, female leadership is audible in the tech business. According to BCG research, IT companies where 30% of leaders are women have a 15% increase in profits. Hence, Tiffany Dufu's book is exactly on the right list. Here you will find a touching and entertaining story about the author's journey filled with success and failures. The book answers the "How do I do it all?" question, uncovers the truth about obstacles on women's leadership paths, and provides solutions / practical tips to achieve your full potential.   
#3 How to Lead: Wisdom from the World's Greatest CEOs, Founders, and Game Changers – by David M. Rubenstein   
Is there a better way of learning how to be a great leader than taking lessons from the ones who already became inspiring role models with remarkable success stories? This piece of writing will introduce you to them. Rubenstein describes the guiding principles and philosophies of Tim Cook, Bill Gates, Eric Schmidt, and other contemporary leaders from different industries such as finance, entertainment, sports, and government. Presented in the form of interviews, the author shares a list of leadership traits he found in common with world-known leaders, such as the desire to succeed, focus, rising to the challenge, and hard work, etc. – turning it into a deductive and inspiring collection of tips and tricks for new leaders. 
Do You Need to Expand Your Team With the Best IT Talents? 
Hiring a talented specialist with leadership skills requires exceptional recruiting expertise. That's why Sift decided to reach out to Alcor to assemble its team in Eastern Europe. The company needed to hire 30 talents in one year. One of the primary positions was Head of R&D for which outstanding leadership skills was a must. Our recruitment department applied various sourcing and recruitment techniques to find a candidate who would be a perfect fit for Sift. As a result, this position was closed from the second CV – apart from helping the company execute its initial plan of hiring 30 software engineers. Sift also opted for outsourcing legal compliance & tax management to Alcor for ensuring smooth running and transparent business practices in the EE. In 2021, Sift became a unicorn company and continues developing great solutions with its team.  
Alcor is an international IT recruitment agency that helps product tech companies hire developers from Poland, Romania, Bulgaria, and other Eastern European countries. We also help our clients with IT executive search & recruitment to close lead positions such as CTO, CIO, Engineering Manager, or Head of R&D, etc. Our recruitment department of 40+ technical headhunters conducts an end-to-end recruitment process, from candidate pre-screening to dealing with counter-offers. If you also want to assemble your development team with talented programmers and strong leaders in tech, Alcor is here to help you out!