Whenever you need to find software developers for a project or task, you will probably want to choose a staffing option that is both time– and cost-efficient. In this case, pay attention to team leasing, the employee expanding practice that lets you quickly complement your staffing needs for a quite reasonable price. Read up to get a grasp of IT team leasing and find out whether this staff complementing solution is useful for your tech business. 
What is Team Leasing in the IT Industry?
Team leasing in IT means using the services of temporary employees through leasing providers. Body leasing in IT presupposes looking for a single worker. A leasing agency becomes a supplier of different talents: from QA software testers to senior developers. At the same time, it remains to be in charge of all the legal aspects of cooperation and administrative tasks such as payroll, accounting, and procurements.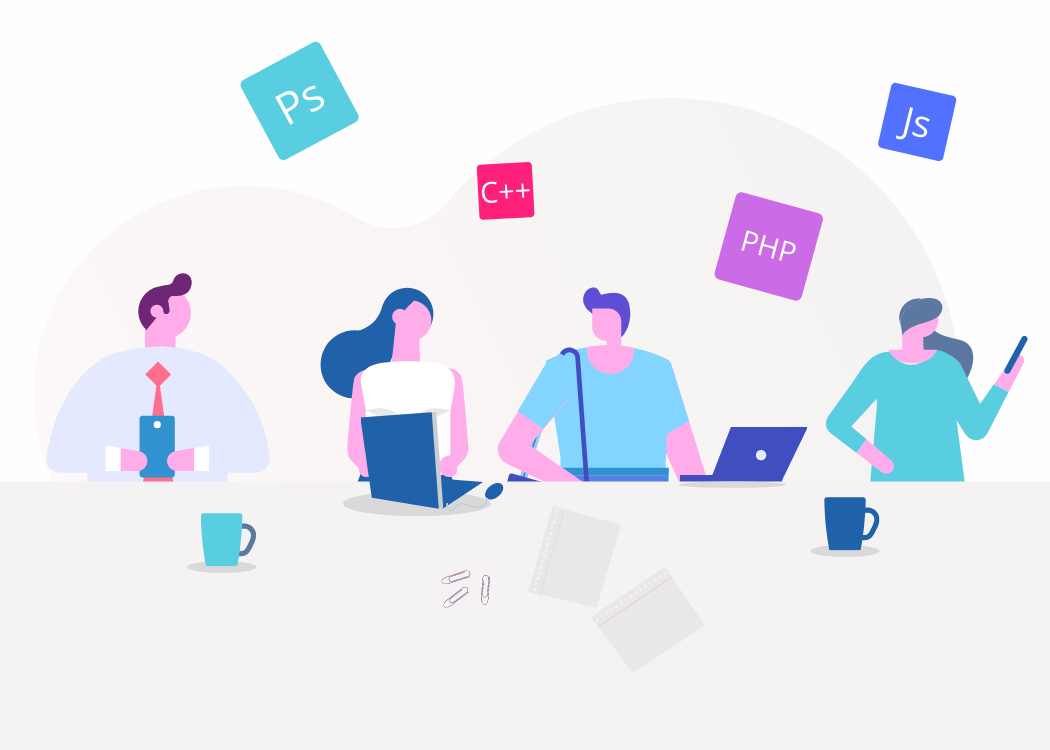 This type of staffing partnership especially benefits small and medium-sized enterprises because it's cheaper and faster than hiring on-premises full-time programmers. Besides, development team leasing is helpful if you need to complete a project but don't have enough employees. For example, you may ask an IT team leasing provider to find you a fitting engineer to develop a new feature in your app. 
But there's also the flip side of leasing for software development – it could cost you an arm and a leg in the long-term perspective. Aside from paying a service fee to the intermediary (your body leasing provider), you are likely to spend money on employee buy-out fees. Since your leased team are not your official workers, there also might be IP rights risks and a lack of dedication from their side. 
How Does Team Leasing Work?
First of all, you realize that you have to hire people with suitable engineering expertise. Then, you research countries that have the biggest IT talent pool and analyze local labor markets. After that, you choose a provider that will help you offshore leased staff and has the most attractive offer. Finally, you sign a contract and receive the leased staff. 
Although it seems like a win-win scenario, the odds are you will struggle to end your cooperation with the leasing vendor. Not only does this process require a lot of paperwork and negotiations to transfer ownership rights to you but also it will be more expensive because of the fees to buy out your leased developers and officially employ them. 
Advantages and Disadvantages of Team Leasing
If you resort to setting up a new team utilizing software development team leasing, you have to take into account the advantages and disadvantages of this staffing solution. Let's start with the pleasant part! 
Advantages of Team Leasing
Flexibility is one of the most convenient benefits of software development leasing, as well as IT staff augmentation. You may easily adjust your outstaffed team by either expanding or reducing it. When the project is done, you can fire them or buy them out from the vendor. 
Another pleasant perk of leasing a software development team is speed. You allocate additional skills that your leasing vendor finds you to achieve the results faster. 
Last but not the least, you delegate responsibility for legal services and administrative operations to the vendor. You entrust your provider with everything, except for offshore team management. 
Disadvantages of Team Leasing
One of the most disappointing facts about developers leasing is indifferent teams. Unfortunately, your leased employees will never develop as much loyalty as the in-house or offshore specialists. Temporary engineers know that after they develop your product or feature, their work is done. They won't have to maintain it unless you officially employ them. 
What is more, you may feel the need to ask for a substitution of leased developers if you're not satisfied with the quality of their services. And this often happens with leasing agencies that tend to misunderstand the actual needs of their clients and hire the wrong talents.  
Don't forget that no matter how skilled a temporary team is, you will always have to pay for the training of external staff. Even if you don't spend much money on it, you invest your time and energy to skill up someone else's team.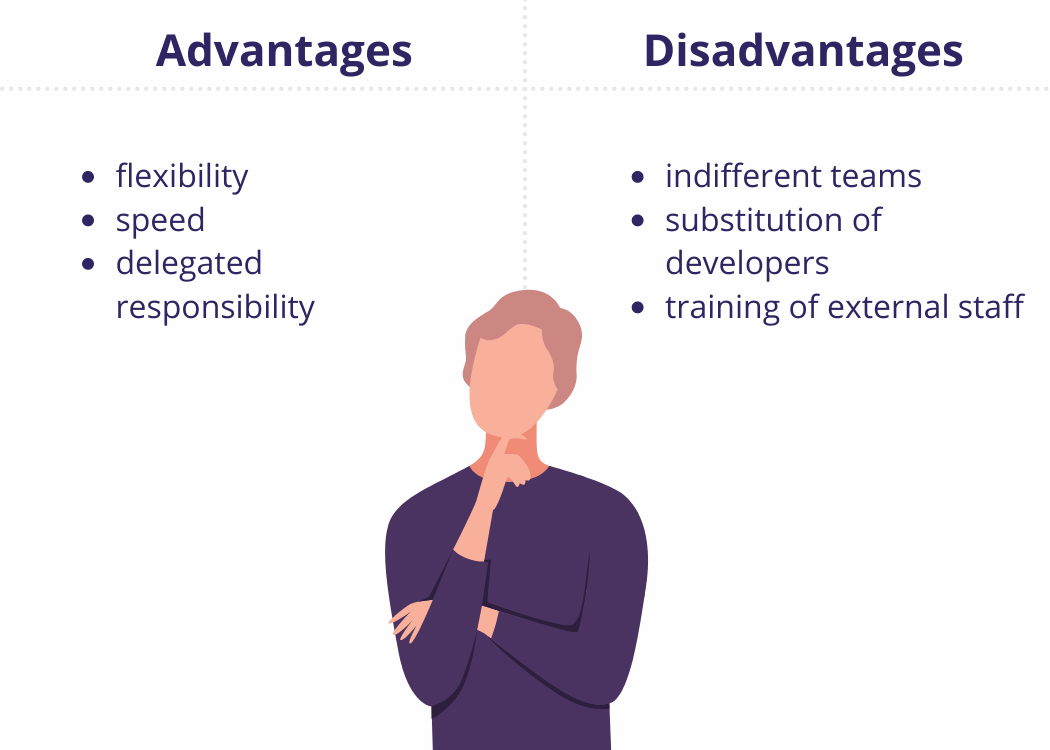 Challenges in Using a Development Team Leasing Model
When you lease a team, you're not only at risk of receiving bad service and poor development quality but may also face other troublesome consequences of this decision, such as: 
Risks of ceasing your internal expertise
The longer you work with leased software engineers, the more insider knowledge about your product they will accumulate in the development process. The negative effect of it is that they will eventually become an indispensable asset in your company and make your internal expertise decrease. This situation makes your company highly dependent on external resources, which implies risks for your core business. 
Buy-out fees and other additional expenses
With team leasing for software development, you pay the salary to your temporary programmers and a service fee to the leasing agency. Besides, you may also spend some funds on employee training. And in case you want to permanently work with leased engineers, you will have to buy them out from your provider. 
IP rights issues
As an expert in IP rights, I can say that you can't be too careful with your intellectual property. Problems will arise if you resort to leasing a software team since they build your product and become the owners of these rights. If you don't specify the further transfer of intellectual property to you in the contract, you may lose it. The best way to mitigate the IP-related risks is to have full ownership of them from the beginning. That is why it's best to consider other staffing options like cooperation with a professional IT recruitment services company that let you do this. 
Body Leasing vs. Outsourcing 
While an IT body leasing service lets you temporarily "lease" a developer from your provider, outsourcing is a cooperation model that allows you to fully delegate the development and delivery of your product to a provider. This way you may save your time and costs on your software team assembling and training and receive flexibility opportunities when it comes to team adjustments. 
Although outsourcing has become a trend over the last couple of years, many companies seem to find this solution ineffective. The reason for this is that, unlike IT leasing, outsourcing of developers does not allow you to participate in project management and directly communicate with this team. Beyond that, outsourced programmers often have many projects on their plate, so chances are they will treat your tasks with not enough dedication and insufficient attention.  
These two models differ since IT body leasing lets you better involve your leased programmer in the communication with your in-house team, share the same software development practices and even buy out this specialist later in from your provider. At the same time, IT outsourcing vendors let you receive information about the development process only from a project manager or team lead which might be an obstacle if you want to share your feedback with the team and won't let you make this team your full-time employees.  
However, these solutions are alike in terms of decrease or even loss of your internal expertise and intellectual property risks. What is even worse, IT outsourcing vendors may impose hidden costs for the services that you didn't request. And, this solution scares away potential investors because they don't see the point of financing companies that don't build their products on their own. 
Risk-Free Alternative for Software Development Team Leasing
If you feel that neither IT staff leasing not software outsourcing will meet your expectations, you may hire foreign developers via a reliable IT recruitment agency IT talent recruitment to full support from an administrative standpoint. This way you can also minimize the risks of offshoring/outsourcing. 
Alcor is an international recruitment services provider that offers operational services such as hiring senior and lead developers, legal & compliance support, payroll & accounting assistance, and others to make you forget about the back-office work once and for all. We operate in Poland, Romania, the Czech Republic, Hungary, Slovakia, and other Eastern European countries. 
We focus on a high-quality IT recruitment service. Our professional IT recruiters and IT researchers have an internal database of candidates to conduct an executive search even for the hardest-to-find programming skills. On top of that, you will receive reports with analytical data on salaries and employee benefits, as well as weekly hiring progress reports to see how the IT recruitment for your company goes. And all of this comes with a transparent recruiting fee structure.
BigCommerce is a prominent case in the list of offshoring examples. It is an IT product company that provides a SaaS e-commerce platform and has recently gone public. After unfruitful cooperation with outsourcing firms, BigCommerce decided to open an R&D center in Ukraine. Alcor helped set it up in a month and supplied the client with over 40 software developers in half a year. 
Final Thoughts
Team leasing is pretty beneficial because of flexibility, speed, and delegated responsibility. However, this staffing solution has too many risks and challenges that far outweigh the advantages. At this point, IT executives start looking for more secure team-expanding alternatives such as hiring developers abroad and end up negotiating with the top recruitment agencies. 
One of them is Alcor, which is an IT recruitment provider in Eastern Europe for tech companies from the USA. We have already helped companies like BigCommerce, Tonic Health, SBTech, Ledger, Globality, Sift, People.ai, and others to fulfill their recruitment needs in the shortest time. What is more, our professional team not only has expert insider knowledge of the IT industry but also provides all of our clients with the seamless experience of all-in-one-place services.