Poland holds an exalted position as one of the most regarded offshoring destinations; therefore, tech companies see this country as a good choice for extending their teams by utilizing the team augmentation model. But what actually makes it so beneficial and reasonable?    
Being an experienced recruitment services provider, Alcor BPO has already helped many tech companies to extend to foreign markets. In this article, I want to focus on some of the reasons for IT team augmentation in Poland, characteristics of Polish developers, their skills, and the main IT hubs in the country. 
Why Go for Team Augmentation in Poland? 

Team augmentation (or staff augmentation) is the practice of involving external specialists into your existing team to respond to business needs or meet some set objectives. While extending your team, it's essential to pay attention to the specialists' tech & soft skills, and especially their cultural background. Due to this, let's dig deeper into the Polish talent pool. 
 
There are plenty of reasons why IT companies choose Poland to extend their teams. First of all, the Polish IT market is full-fledged: it accounts for 8% of Polish GPD and 4.6% contribution to employment. Due to this, more and more young people decide to do a degree in computer science or math. Over the last academic year, there has been more than 65,000 students who studied ICT. Today, Poland is home to more than 400,000 tech specialists, and this number is the biggest among the countries of Eastern Europe.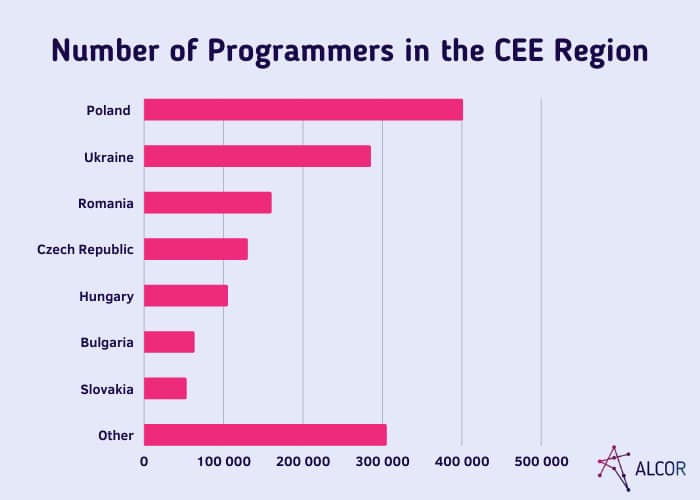 Apart from technical expertise, Polish programmers have a good level of English, so they are prepared to work with western tech companies. According to the EF English Proficiency Index, Poland ranked 16th out of 112 countries. Excellent language skills make it easy to collaborate during the product development process as well as establish communication and open working relationships with team members.
Another reason for IT staff augmentation in Poland is cultural similarities. Developers follow western working standards and modern management methodologies (Agile, Scrum, or Kanban). Poland even hosts one of the biggest Agile conferences. Adequate soft skills also make Poles a perfect match since they are approachable, open to feedback, and work well in a team. Thus, the working process will go smoothly for both you and Polish developers.  
Note: Want to learn more about Polish specialists? Have a look at this article: Polish Developers: Pros, Cons, Rates & Insights 
Needless to say, this country has become one of the leading players in the European IT arena. The booming tech market is accompanied by some benefits of staff augmentation in Poland that are very appealing to product companies. Let's have a look at the most favorable ones in detail.
Poland Team Augmentation: Key Benefits 

Vast skilled market  

As I mentioned before, Poland is the absolute leader when it comes to the number of tech professionals in Eastern Europe. Therefore, there are a lot of specialists with different tech stacks. The most popular programming languages among Polish developers is SQL while JavaScript takes second place. Over 30% of coders know Python / Java and 19% of them work with C#. In addition to this, almost three quarters of software engineers have 3+ years of experience. So, whatever technology you use, in Poland, team augmentation model enables finding an experienced coder with the tech stack you need.   

Salary rates  
When speaking about the benefits of team augmentation in Poland the compensation question is unavoidable, as Polish wages are significantly lower than the American equivalent.  
Just compare: 
Salary of a middle full-stack software developer in Poland – $52,000 per year 
Salary of a middle full-stack software developer in the US – $140,000 per year
 
So, saving on salaries extends your budget for product development and enhancement. For instance, you can hire more coders and accelerate the development process. Such a far cry from western salary rates plays a crucial role for tech entrepreneurs while considering Poland as a destination to extend their teams.
Flexibility 

In Poland, staff augmentation model allows you to manage your team composition and size in accordance with your needs. For example, if you want to rapidly scale up and find specialists you are missing, this model allows you to hire needed talents quickly and cost-effectively. On the other hand, you can easily cease working with some developers if your current needs don't require such a number of specialists.  
Location & time zone 
Advantages of team augmentation in Poland also include some convenient locations and manageable time differences. You can easily reach part of your remote team by plane from any European city, which doesn't take more than 1,5 – 2 hours. Poland is in the Central European Time zone (GMT+2), so working with European counties is comfortable. If you cooperate with your team from the USA, the time difference also plays into your hands. When your local team is just starting their working day, Polish colleagues are finishing theirs, so your product development never stops. And you still have some simultaneous working hours to conduct meetings.  

Team Augmentation in Poland: The Biggest IT Hubs 

And while speaking about staff augmentation in Poland, the main IT hubs can't go unmentioned. Some cities are well known for their broad talent pool, whereas others for highly developed tech education. Let's see in detail what every city holds.  

Warsaw
The capital city has a lot to offer, being the biggest tech hub in Poland. There are 85,000 tech specialists in Warsaw. World-famous companies like Google, Samsung, and Oracle opened their R&D offices there. This city also has plenty of tech education opportunities, IT events, and conferences like Security First CEE, LeSS Conference, or .NET DeveloperDays.  
Krakow
Krakow is the second biggest IT hub in Poland – with 50,000 software developers and this number is growing by 10% of graduates in software engineering every year. Both small start-ups and big-name unicorns decided to set up their offices in this city. By the end of 2022 those tech enterprises are expected to hire more than 1,000 additional software developers.  
Wroclaw
Today, there are 36,000 IT specialists in Wroclaw and more than 15,000 students in the tech sphere. This city also has different IT associations and 550+ tech events every year, which has a significant impact on Wroclaw's IT market attracting tech experts from the rest of Poland and foreign companies.  
Poznan
This city is a central education hub with 25 higher education institutions. 7 universities offer various specializations in the IT field including software development, data processing, and others. Poznan can also boast of a number of ITO (IT-Oriented) R&D service centers.  
Lodz
The IT sector in Lodz has the biggest share in employment structure – 37%. This city is a popular choice for tech companies due to its easy reach from/to the capital and reasonable salary rates. Lodz has one of the biggest higher-education institutions in Poland, the University of Technology with 20,000 students.  
Tri-city
This area actually consists of three cities: Gdańsk, Gdynia, and Sopot. They have 30,000+ tech specialists and moderate costs. Due to this fact, they are becoming more popular among European tech entrepreneurs who decide to do software development in Poland. 
Team Augmentation in Poland with the Help of a Reliable Partner – Alcor BPO 

If you are thinking about team augmentation in Poland or any other country in Eastern Europe, consider collaborating with an experienced provider. Sift, Dotmatics, and ThredUp already experienced hiring IT specialists with Alcor's help!  
Have a look at Ledger, a French product company that works with hardware wallet technology. The company decided to open its own development center in Eastern Europe and expand its team. To enter the foreign market confidently, Ledger reached out to Alcor. Our recruiters took care of finding top-notch QA specialists, thus all of Ledger's ambitions have been fulfilled. We managed to close more than 10 positions, including Tech Leads and Managers. Moreover, our recruiters delivered the "wow" effect by hiring a QA Lead and 3 QA manual specialists within 2 weeks! Alcor also assisted in all legal operations so Ledger could legally and transparently run its business abroad. 
Alcor focuses on IT recruitment services in Poland, Romania, and other Eastern European countries. Our recruitment department includes 40 specialists who take care of candidate searches, pre-screening and interviewing. Recruiters at Alcor have an internal database with more than 200,000 tech talents, so be assured that we'll find you the perfect match! As a result of the attentive approach to recruiting, more than 98% of our candidates pass their probation period in the client company.
Having learned about the reasons and benefits of staff augmentation in Poland, you can see why many tech companies choose this model to find new talents abroad. If you think that hiring a team of dedicated developers in Poland is to your advantage, consider collaboration with Alcor to meet all your objectives!