A qualified workforce is the fuel that drives any company towards success. And in order to always have a full tank, businesses should be experts in not only hiring top talent to close current open roles, but also properly forecasting future staffing needs. The most effective tool that helps reach these goals is talent mapping in recruitment. So, in this article I intend to reveal the meaning of the talent mapping process, describe its benefits, and provide you with a complete guide to talent mapping. Let's dive deeper into this topic!
What is Talent Mapping in Recruitment?
Talent mapping in recruitment is the process of anticipating long-term hiring needs according to general growth strategies, as well as continually identifying and evaluating an available internal/external workforce which will help the company achieve its future goals. 
Why Do You Need Talent Mapping?
Candidate mapping might be useful for your business for several reasons:
1. Overcoming talent gaps
43% of companies experience a deficiency of skilled specialists, and an additional 44% will likely face this problem in the next five years. The competition for highly qualified candidates is increasing every year, resulting in longer times to close a position plus higher costs per hire. However, it's possible to avoid the disadvantages of talent gaps if a company knows how to map talent properly. By thoroughly planning its workforce and forming a reserve of talented candidates, a business can always be ready to swiftly address any talent shortage that arises.
2. Lowering turnover rates 
The Great Resignation is only building momentum and quiet quitting will be here for a while. Recent research shows that more than 50% of US workers are either in the process of passively looking for a new workplace or even at risk of up & quitting their position in the nearest time. Luckily, a detailed talent mapping strategy helps to single out top performers that are qualified and motivated enough to grow within an organization. A company can create effective employee development plans, taking into account the strengths and career aspirations of the best employees to achieve their full potential.
3. Improving talent acquisition
The talent mapping approach is not just about planning potential staffing needs but also attracting and hire the right people for these positions. Good preparation for talent acquisition covers the analysis of competitors, creation of talent heatmaps, devising an ideal candidate profile and utilizing candidate resources & tools. By following these steps, the company will be well aware of the hiring situation on the market and always know where & when it's best to hire the needed employees.
How to Map Talent?
Now that we've gone over the benefits of talent mapping, it's time to get down to effective recruiting tips to get the best IT talents:
Apply HR Planning & Forecasting
HR planning is a multistep process in which the human resources manager along (with top management) defines future staffing needs of the company. This process includes forecasting new positions within the company and analyzing which employees need to be laid off or placed into different positions. Such planning is always based on a general company development strategy, major economic and political changes on the market, the type of product the company is working on, plus the assigned budget for each position.
Develop Internal Mobility Plans
Talent mapping presupposes not only looking for brilliant candidates outside your company but also discovering and retaining hidden gems among your current employees. To do this, you need to come up with proper internal mobility plans aimed at growing the expertise of your employees (both vertically and horizontally). Vertical employee growth refers to advancing within one role in a department by acquiring relevant skills & experience. For instance, in the IT industry software engineers grow from Junior to Senior levels. At the same time, horizontal growth involves moving an employee to a different functional role, industry, or department; for example, if a Front-End developer becomes a UI/UX designer or vice versa.
Utilize the 9-Grid Talent Matrix
The well-known nine-box grid is useful for assessing and mapping the company's talent pool by using two primary factors: performance (positioned on the horizontal axis) and potential (placed on the vertical axis). In order to assess the employee's performance, companies set clear KPIs, collect constructive feedback about the employee from colleagues, and conduct performance reviews. At the same time, potential refers to the individual's ability to advance to a higher managerial or professional level. You can see a template of talent mapping using the 9-grid matrix below: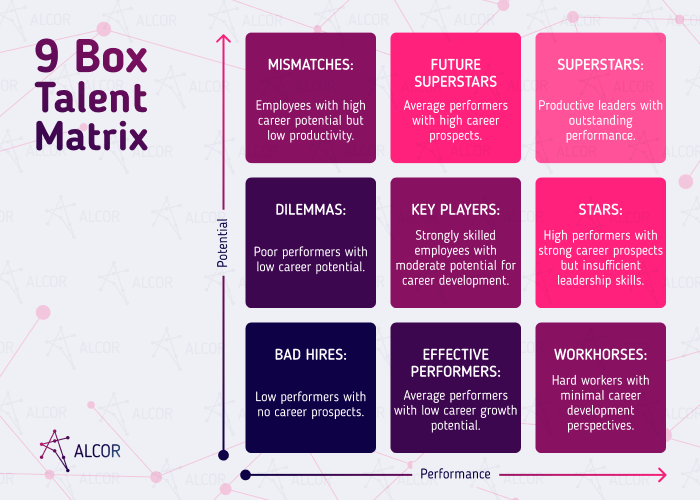 The main point of the 9-Box Grid is to identify high-potential employees who yield results and are worth the company's time and investments, as well as low-potential employees who may further become bottlenecks on your company's way to growth and success.
Create a Portrait of the Perfect Candidate
After distinguishing positions you need to fill in your company, you should create a portrait of the perfect candidate. Here are some major parts to include while setting up the candidate persona:
Hard skills
Type and duration of working experience
Soft skills
Salary range 
Workplace values
Of course, you're welcome to include other aspects that are important to determine what kind of candidate will be the best for a particular job – and which qualities are essential for this person.
Build an EVP 
The competition for talented candidates is more fierce than ever before, so it's of critical importance to work on the employee value proposition (EVP). This is a set of benefits & perks that your company offers to candidates. Together with the management team, you should come up with some ideas that make your company stand out from the crowd, thus attracting potential candidates. Those ideas may include: 
Attractive compensation
Time off
Corporate training
Shared expenses for personal education
Comfortable work environment
Developed corporate culture
Create Talent Heatmaps
The talent heatmap is a visual representation of talent availability in that certain region or country, a vital part of market mapping in recruitment. This tool lets companies see how many skilled specialists there arre in the go-to location, compare this data with other destinations and make an informed decision regarding the best country for hiring candidates in the future. Below you can see an example of such recruiters' map in Eastern Europe – one which has a generous talent pool of more than a million software developers of different tech stacks and levels of experience. 
Conduct Competitor's Analysis 
In case you've already chosen the country for outsourcing talent as a result of talent mapping, the next step will be to study the competitors through market mapping. Here are a few major steps to complete the competitors' evaluation:
Identify your competitors
Research their offerings
Analyze their website 
Review their social media activities
Analyze their employer branding activities
Determine their strengths and weaknesses
After completing the competitor analysis, you are ready to go forward with your sourcing strategy and start the interviewing process.
Set Up a Candidate Reserve 
According to Eric Herrenkohl, author of How to Hire an A-player, the recruitment process should never end as suitable talents are at the cost of gold. Here is a short guide on how to set up candidate resources by the talent acquisition team:
Distinguish the needed requirements for the position in detail;
Start a candidate search on hiring platforms;
Reach out to candidates that might be interested in your vacancies, yet clarify that you are not looking for candidates for current openings but creating a reserve of candidates for the future;
Conduct interviews to present your company and assess if the candidate matches a portrait of the perfect person for position. 
In case the company gets interested in a particular candidate, it's recommended to keep in touch with them and regularly update them about company life (and vice versa). The best thing about such a reserve is that you can reach out to already verified candidates whenever the position is open (and offer only the final steps of the hiring process). 
Deploy the Best Talent Mapping Tools 
Among other effective tips for getting your remote recruiting done and creating a recruiting map vary from analytical instruments to CRM systems. So, let's take a look at the most useful ones:
AmazingHiring. A great tool for searching data about candidates with various unique benefits. Firstly, it gathers information from over 50 sources, such as LinkedIn, Facebook, Twitter, GitHub, and Stackoverflow. Secondly, its AI technology saves time by analyzing candidate profiles.
CleverStaff. An applicant tracking system where recruiters can gather and organize all information about the candidates, using various software-integrated tools for search, selection, and building a reserve of candidates.
LinkedIn Talent Insights. A tool that provides real-time data on talent pools and companies around the world. It connects you with top talent and gives you the right recommendations. With LTI, you can easily find candidates and discover those that you might have missed.
Talent Mapping: Example 
Now it's time for an example of talent mapping. When a US-based tech company Dotmatics decided to set up a new software development team in Eastern Europe, they had the ambitious goal to hire around 30 talented software engineers in a year. The main concern of the company was regarding speed and effectiveness of IT recruiting. Moreover, Dotmatics was new on the Eastern European market at the time, so they decided to work with a professional IT staffing & recruitment provider: Alcor. 
One of the first talent mapping activities that our team adopted was market mapping since our IT recruiters conducted consultations on outsourcing the hiring process in Eastern Europe for the client (and adapted their vacancies to the local tech talent market). Among other candidate mapping techniques that we used were creating an attractive EVP and setting up an ideal candidate profile. As a result of our cooperation, Dotmatics reached its goal of growing the team to 30 software developers with desired tech stacks within a year.
Talent Mapping in IT Business
If you're wondering what is talent mapping in IT business, here are some major peculiarities:
The fast growth of the IT sector. Information technology is the most innovative and dynamic industry in the world. In 2023, its revenue is already estimated at $1,204.00 billion, an 8,1% growth from last year. And the faster new technologies and software development trends appear on the market, the more market analytics and requirement updates have to be made in talent mapping to keep up with these changes.
High turnover rates. Based on LinkedIn research, the tech field is considered to have the highest turnover rate of 13.2% exceeding that of any other industry by a solid 3%. Therefore, one of the key aspects of talent mapping for IT is identifying potential "quitters" in the company as soon as possible and developing software developer growth programs.
Huge tech skill gaps. According to recent reports, the IT industry has reached its talent shortage peak of 76% in 2023. Since it is difficult to attract and hire well-versed external software engineers, tech companies adopt talent mapping to analyze the existing workforce and opt for growing their employees from Junior to Senior level and more.
Wrapping up
Talent mapping is a crucial tool for companies looking to forecast and meet their strategic staffing needs in the long run, especially in the highly competitive environment of talent acquisition in the IT sector. With talent gaps, high turnover rates, and the need for a competitive advantage, having a recruitment plan that includes talent mapping can help companies identify and attract the best candidates while reducing hiring expenses. 
Our international IT recruitment agency Alcor knows how to hire the best software developers in Poland, Romania, Hungary, and Bulgaria. With a 600K+ database of candidates, our IT recruiting experts can find the perfect match for you within 3-6 weeks. We already have many satisfied clients. One of them is the US-based tech product company Sift that opened its office in Eastern Europe and hired 20 developers within just 1.5 years through Alcor. Or another client of ours, SBTech, that got assistance in setting up its office in Eastern Europe by closing a gap of 20 .Net tech stack developers in the shortest time.