In order to find competent software developers and avoid overpayment, western businesses set up their development teams in financially beneficial locations like Poland. Google, Oracle, IBM, Apple, Uber, Amazon, and 60,000 other technology companies have already chosen this country as their go-to offshoring/outsourcing destination. But why is the Polish IT industry so appealing to foreign investors? 
As a professional vendor of IT recruitment services in Poland and other Eastern European countries with 10+ years of experience, Alcor BPO knows the answer to this question. Continue reading this article to learn more about how Poland closes the talent gaps for western companies, what the reasons are for investing in local software engineering, which hub for IT in Poland to select for creating your dev team, and how our company can assist you! 
Worldwide Software Development Situation vs. IT in Poland 
The first and foremost reason why western tech businesses recruit software developers in attractive locations like Poland is the shortage of software developers. According to data from the Bureau of Labor Statistics, the lack of software engineers in the USA is alarming and going to reach 1.2 million by 2026, while McKinsey states that last year 87% of American companies faced a skills shortage. However, the predictions for the next 8 years are even grimmer since the global developer shortage is expected to reach over 85 million, following a recent Korn Ferry report. 
At the same time, Eastern European countries like Poland do not seem to lack software engineers for the near future. Poland boasts of the largest IT talent pool in both Central & Eastern Europe – over 430,000 IT specialists. Moreover, since the beginning of the full-scale russian war in Ukraine, European countries have provided shelter to up to 57,000 Ukrainian software engineers, while Poland hosted 35,2% of them. Thus, numerous software development companies in Poland effectively bridge their skills gaps. But are there other reasons for offshoring IT to this location? 
5 Reasons Why Tech Companies Opt For Polish Software Development 
Apart from offering access to the largest tech talent pool in the CEE region, Poland also provides western technology companies with the following benefits: 
1. Exemplary software development quality 
According to Harvard Business Review, Poland takes 5th place in terms of tech skills in the world, while SkillValue puts Poland in the top 10 countries by IT experts with the most advanced software engineering skills. At the same time, the most popular programming languages on the Polish job market include JavaScript, Java, Python, Typescript, PHP, and others, plus developers in Poland are strong in AI and data science. 
2. Attractive engineer compensation & tax incentives 
When compared to engineering salaries in the United States, the compensation of Polish programmers is 2-5 times smaller. For instance, a Senior Front-End Software Developer in Poland earns $66,000 net per year on average, while the same professional in the States receives $145,000 gross. Polish Junior Mobile App Developers have an annual net salary of $18,000, while the yearly gross rate of their American counterparts is $80,000. 
Regarding the taxation system in Poland, there are two main taxation formats for B2B contractors: tax scale and flat tax. The first one presupposes that developers pay from 17% of the personal income tax of PIT if their income is less than PLN 120,000 ($25,500) to 32% if this threshold is exceeded, while the second requires them to 19% of tax. Beyond that, the Polish government introduced investment incentives that presuppose only a 5% tax from income generated by IP rights. 
3. Booming startup ecosystem 
Poland is one of the top 5 go-to startup destinations in Eastern Europe and 33rd in the world. The country is home to 3,000+ startups, among which are 10 unicorns – the highest number in Central & Eastern Europe. All of this became possible not only because of legislative compliance with EU standards, including GDPR but also due to a strong economy and well-developed IT infrastructure.  
4. Excellent ICT higher education 
Poland accounts for over 400 higher education institutions, 22 of which are listed in the QS World University Rankings 2023. Beyond that, around 60 universities and institutes in the country prepare tech specialists, with IT being the most popular choice among students for the last couple of years. As a result, Poland has almost 80,000 university graduates with a background in computer science and related fields every year, while every 4 out of 5 IT specialists has a higher education diploma. 
5. High level of English 
Polish software development specialists learn English from childhood and further advance their skills in university or language courses. Thus, Poland ranks 16th in English proficiency in Europe. Most local programmers have B2+ levels of English and can communicate with foreign employers and colleagues without barriers.
Learn more about the development market, software qualifications, relevant rates, as well as other advantages of working with developers in Poland in our recent article "Polish Developers: Pros, Cons, Rates & Insights". 
Most Prominent Software Development Hubs in Poland 
If you're enthusiastic about obtaining professional software development in Poland, you should learn about the biggest technology hubs in the country that provide all conditions for running a successful IT business. Among them are Warsaw, Krakow, Wrocław, Katowice, Tri-city, and Poznan.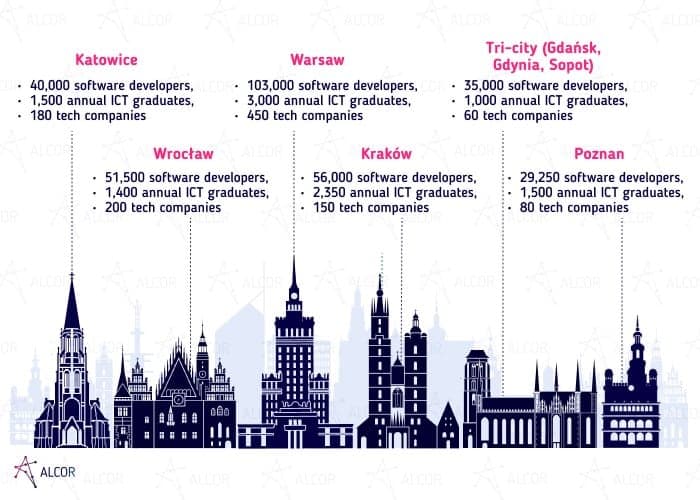 Software development in Warsaw 
Warsaw is the capital of Poland and home to 24% or 103,000 Polish IT specialists. When it comes to qualification guarantees in software development, Warsaw has the best higher education tech institutions in the country which graduate over 3,000 ICT professionals each year. The University of Warsaw and Warsaw University of Technology are the leaders of STEM education.
On top of that, fDi Intelligence states that Warsaw is in the top 10 major European cities of the future due to the highest economic potential in Poland and focus on ground-breaking technologies, tech startups, and number of software developers. Thus, the city is the #1 choice for setting up an R&D branch or establishing a software development team in Poland for almost 450 IT companies, including IBM, Google, Amazon, Microsoft, Oracle, Cisco Systems, and Dell Technologies. 
Software development in Kraków 
When it comes to the number of professionals in software development, Kraków offers access to 13% or 56,000 IT experts plus the city tech talent pool grows by 10% annually. Local tech universities, such as the AGH University of Science and Technology, Cracow University of Technology, and Jagiellonian University, graduate over 2,350 ICT professionals yearly. The biggest employers in the Krakow IT industry are IBM, Motorola Solution, Ericsson, Nokia Networks, as well as half of the tech unicorns present in the country.  
Kraków is the most business-friendly city with the best human capital in Poland. What is more, this city is the leader in investment and famous for its remarkable ecosystem for start-ups which consists of incubators, technology parks, communities, associations, and other organizations. Overall, over 150 start-ups have decided to grow and develop in Kraków. 
Software development in Wrocław 
Also known as the "Polish Silicon Valley", Wrocław belongs to the top 3 IT hubs of Poland and hosts around 12% or 51,500 development professionals. There are around 1,400 graduates with STEM backgrounds, and the best local university that offers such programs is the Wrocław University of Science and Technology. These and other factors have already encouraged more than 200 tech companies to grow at Wroclawski Park Technologiczny alone. 
Software development in Katowice 
Katowice accounts for 9,3% or 40,000 tech specialists who are employed by around 180+ tech businesses. Local students can study computer science, program engineering, or other STEM fields at the University of Silesia of Katowice, Katowice School of Technology, and other tech universities. So, each year the city boasts 1,500 tech graduates. Katowice is also considered one of the most technologically advanced cities in Poland by the CBRE "EMEA Tech Cities" ranking, along with Krakow and Poznan. 
Software development in Tri-city 
Tri-city is the metropolitan area that consists of Gdańsk, Gdynia, and Sopot. Together these cities house 8,1% or 35,000 IT specialists, as well as over 60 companies in the IT industry. Furthermore, Tri-city graduates 1,000+ tech students from the Gdansk University of Technology, the University of Gdansk, and other ICT higher education institutions. Companies like Amazon, Intel, Nike, GetResponse, and many others already have offices in the area. 
Software development in Poznan 
The number of software development professionals in Poznan is about 29,250 (6,8%) and there are 80 IT/R&D business service centers. The top universities that provide technical education are Poznan University of Technology and Adam Mickiewicz University. Together with other higher education institutions they graduate around 1,500 tech students each year. In terms of technical skills, local developers are the strongest in C/C++, JavaScript, Linux, Python, Java, C#/.Net, PHP, project management, and graphic design. 
Consider Alcor BPO Your Trusted Partner 
In 2020, an American software product company Sift which produces smart anti-fraud software, decided to set up its development R&D team in Eastern Europe. The company had an ambitious goal to hire 30-35 programmers in Eastern Europe in 1 year yet faced a lack of qualified IT recruiters, who not only could manage to recruit such a huge number of professional developers on time, but also do it effectively. Fortunately, Sift found out about the Alcor solution and entrusted us with this responsible task. 
First of all, we dedicated 14 recruiters and 1 account manager to focus exclusively on Sift vacancies. We hired the Head of R&D from the second CV, as well as recruited Front-End and Back-End Developers, managing to satisfy the staffing plan of our client without delays. Other than that, we took care of other operational functions and shot a powerful employer branding video with Sift's Hiring Manager, which streamlined the recruitment process.  
Apart from Sift, we have already helped Grammarly, Globality, ThredUP, People.ai, Ledger, and other product IT companies achieve their talent acquisition goals and be successful when they offshore or nearshore software developers. Our team of 40+ skilled tech recruiters and researchers specializes in hiring Senior/Lead engineers in Poland, Romania, and the rest of Eastern Europe.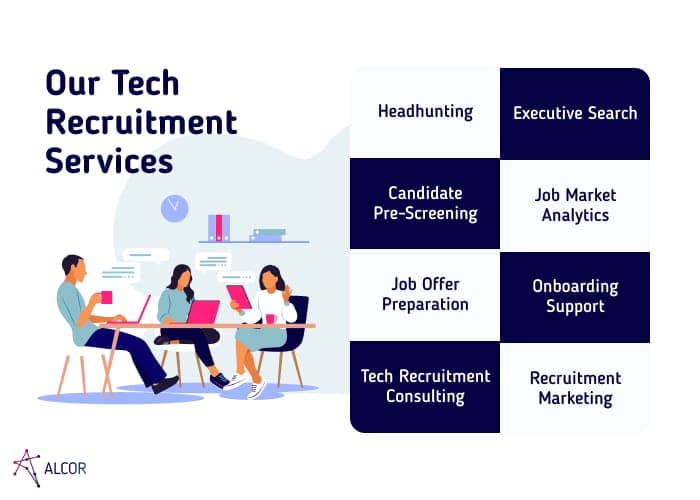 Our clients benefit the most from hiring engineers with rare tech stacks, weekly progress reports, payscale & availability analytics, ideal candidate profiles, engaging job descriptions, EVP support, offer preparation, recruitment marketing, and our other services. In fact, 80% of our candidates receive interview invitations, while 98,6% successfully pass the probation period.