Recruitment Process Outsourcing is a major trend in IT recruiting thanks to the way it helping a company cut the costs and enhance the expertise of its in-house team. Therefore, it's no wonder that RPO revenue in 2027 will amount to over 18 billion dollars, which is 3 times more than in 2020, according to the RPO Market Trends & Growth Analysis Report. At the same time, Korn Ferry has found that RPO solutions slash the time-to-hire by 35%. If recruitment process outsourcing makes such a difference, should you consider it for your business? 
In this article, I'll walk you through the definition of RPO, types, as well as pros and cons of recruitment process outsourcing. In addition, I'll compare RPO and a traditional staffing agency to suggest the most effective solution for finding developers. So, let's get started!
Recruitment Process Outsourcing (RPO) Meaning 
Recruitment process outsourcing is a business strategy that presupposes relying on an external partner in talent acquisition, either partially or entirely. 
Types of Recruitment Process Outsourcing
There are three major types of RPO I recommend to consider when outsourcing recruitment:  
Full RPO
Just as its name implies, this involves an RPO provider in the entire recruitment process: from composing an ideal candidate profile to preparing job offers. It's a viable solution if you neither have an in-house HR team nor a freelance recruiter to navigate the hiring process. 
On-demand RPO
On-demand recruiting support presupposes temporary engagement of an RPO vendor in some of your hiring activities. This type of RPO saves the day if you already have an in-house recruiting team but experience seasonal recruitment spikes. What is more, on-demand RPO can come in handy in case your team needs additional staffing assistance to find the right candidates for a certain project. 
Function-based RPO
Finally, function-based recruitment process outsourcing is about appointing an RPO recruiter to carry out a particular recruiting task, such as recruitment marketing, active candidate search or job interviews. You might benefit from this type of RPO in case your internal recruitment team poorly performs a certain recruitment step that bottlenecks the staffing process.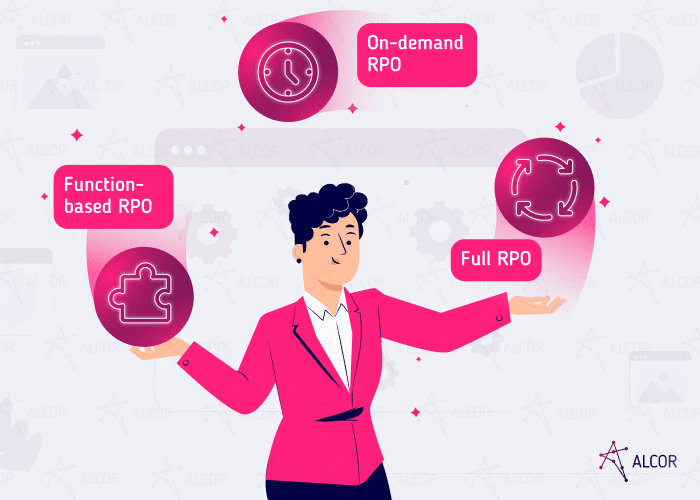 7 Recruitment Process Outsourcing Benefits
1. Boosting your internal expertise
Bringing your internal recruiting expertise to a higher level is one of the benefits of an RPO model since RPO professionals offer consultations and training for your company. They will teach your internal recruiters the most effective tips on writing catchy job descriptions, conducting pre-screening, drawing up regular hiring progress reports, etc. As a result, your hiring will get more streamlined and scalable, leading to a boosted pipeline of qualified specialists. 
2. Grasping your hiring requirements fully
One of the main recruitment process outsourcing advantages is that RPO recruiters go through a detailed onboarding into your company. Thus, they learn more about your product on the inside, better understand your hiring requirements and know for sure what to look for in new employees.
3. Implementing new standards & KPIs
The benefits of RPO are far-reaching in terms of new recruitment standards — and for good reason. Experienced RPO vendors can reduce the number of CVs until an accepted offer to 8 or less, decrease the time needed to close a vacancy to 3-6 weeks and improve the quality of your candidates — so that as many as 4 of 5 of them are invited to the job interview. Below you can see the example of guarantees that a professional RPO provider offers:

4. Accessing extensive candidate resources
When speaking about more RPO advantages, increasing your resources of potential candidates comes to mind. When you cooperate with an expert RPO vendor, you receive access to their network of verified candidates, some of which exceed hundreds of thousands of people. This is especially relevant if you opt for IT recruitment process outsourcing in foreign locations where your in-house staffing crew doesn't have candidate resources yet. For instance, a professional IT recruitment agency in Romania can provide access to over 143,000 local programmers. Overall, this is one of the RPO benefits that can considerably increase the chances of finding experienced specialists. 
5. Enhancing your employer branding
Improving your employer branding is also one of the benefits of RPO services. Recruitment process outsourcing vendors develop a company's reputation on the market not only by creating an attractive employee value proposition, but also by launching effective PR campaigns and social media strategies, as well as actively participating in local IT communities. 
If your employer branding is up to the mark, you can find candidates for a vacant position much faster. This is what Tonic Health, a leading American medical patient data collection provider, learned while offshoring in Eastern Europe. They set out to hire 5-6 employees per month on a new market, but faced rejections from software developers. This made the company go for outsourcing the recruitment process to Alcor. Thanks to a series of employer marketing campaigns, now every 2nd candidate knows Tonic Health and the rejections decreased, leading to 15 new hires.
6. Saving costs
One of the most pleasant recruitment process outsourcing benefits is that this business practice can slash the costs of recruitment by 30%. Outsourcing in IT recruitment comes cheaper because you don't have to spend resources on training RPO recruiters, build your own candidate network from scratch, or purchase recruitment software that we will describe further. 
7. Using cutting-edge tools
One of the significant benefits of recruitment process outsourcing is access to an array of tools that automate and simplify the recruit-to-hire process. Once you've decided to use the services of RPO providers, you receive an opportunity to apply applicant tracking and Recruiting CRM Software, AI sourcing tools, chatbots, and pre-hire assessments for free. This is because the cost of this software is usually included in the price of cooperation with an RPO vendor.
Challenges of Recruitment Process Outsourcing and Useful Solutions
No experience in IT recruitment
Most RPO providers follow a generalist approach and close positions in different departments within a company. And while this strategy might work well for non-technical roles, the situation is reversed for tech vacancies. In order to close such positions, an RPO recruiter should not only be a hiring guru but also have an in-depth understanding of the tech industry, which is extremely rare among recruitment process outsourcing vendors. 
Solution: 
If you want to hire software engineers, choose a trusted tech RPO services partner who knows technical terminology and IT slang, uses special candidate sources (software developer communities or databases like Google Developers), as well as possesses successful cases in IT recruitment. 
Cultural & communication mismatch
Oftentimes tech businesses are looking for RPO assistance abroad, which might entail cultural and communication challenges of recruitment process outsourcing. Because of this, your in-house hiring team and RPO recruiter are likely to have opposing worldviews and business culture, resulting in misunderstandings and poor performance. 
Solution: 
To avoid miscommunication, cooperate with RPO providers from like-minded countries. For example, IT specialists from Eastern European countries, such as Poland or Romania, share similar corporate values with Western companies. They are known for adapting to changes fast, contributing to a healthy workplace environment, and having a high level of English proficiency. You can also consider nearshoring to Latin America, a thriving tech location with professional software developers and culturally close to the US. As a consequence, you could expect no roadblocks in communication.
Delegating your recruitment involves both the pros and cons of RPO due to relying on an external partner, thus possibly losing some control over the recruitment process. It might be hard to keep up with hiring updates since some RPO providers report on the process much less often than expected, resulting in delays in recruitment or even second-rate hiring. 
Solution:
Cooperate with RPO vendors who provide weekly/monthly progress reports on their work in the department of human resources. Such reports should cover the number of CVs processed and interviews held, as well as further ideas on improving your IT recruiting. Another tip is to always participate in tech interviews or involve your in-house software developers in this process, instead of appointing this task to RPO services. In this way you will stay on top of the latest updates and ensure that the candidates match your tech requirements.
RPO vs. Traditional Staffing Agencies
RPO providers differ from staffing agencies, also known as recruitment agencies, in terms of interaction with your recruiters, time to hire and pricing models. 
The main advantages of recruitment process outsourcing agencies include consultations and training for your in-house recruiters, becoming a temporary extension of your team and letting you combine their knowledge with yours. You can pay such vendors either a subscription rate or a flat fee upon success fee. On average, expert RPO providers close 1 vacancy in 4-5 weeks. 
On the other hand, recruitment agencies can take over the whole hiring process and apply their best practices. They usually consult you on the process of IT recruitment but do not train your team. You can pay them a fixed price for a successful hire, which usually takes 3-6 weeks to complete. 
We at Alcor offer IT recruitment services in Poland, Romania, and other Eastern European countries. Our tech recruiting approach has helped us achieve superior hiring results for our clients, and Dotmatics, a US scientific software company, is one of them. When the client decided to go for outsourcing hiring of programmers to us, we provided them with full-cycle IT recruitment: conducted recruitment consultations, drew up relevant candidate profiles and an irresistible employee value proposition, prepared weekly progress reports, and much more. As promised, we delivered astonishing results — 30 top-notch developers within 1.5 years! 
Our team makes the most of our 10-year local expertise and 600,000+ talent network. We offer full-scale IT recruitment & RPO services combined with a set of back-office functions. Our 40 experienced recruiters are always ready to go the extra mile for you, while personal account managers find individual solutions to your needs and even help to choose a suitable model of cooperation. All of this leads to an incredible result – 98% of our candidates pass the probation period!