A qualified development team is the engine of a tech company's success. Skilled recruiters are those who ensure the smooth operation of this mechanism by finding the right technical specialists to achieve satisfactory performance. The Society for Human Resource Management estimated the average cost per hire (CPH) across industries at nearly $4,700 for the year 2022. Naturally, company owners are now seeking ways to save money on hiring and thus explore different engagement models with recruiting firms. As an experienced tech recruitment agency, Alcor knows the ropes of IT recruiting in Eastern Europe and can help you navigate the typical fees for hiring IT specialists there & in the world. 
In this article, I want to reveal all aspects of the price formation of good recruitment services by comparing average recruitment fees in different regions that will help you find the most relevant developers for an acceptable price. So how much is a recruitment agency fee and what type of price formation structure should you choose? 
Benefits of Using IT Recruitment Services
The Korn Ferry Institute estimates that by 2030, the tech sector will experience a global labor shortage of 4.3 million workers and unrealized production of $449.70 billion. In such a case, the search for qualified candidates becomes a big challenge and requires high professionalism from IT staffing agencies. Fortunately, recruitment firms have many benefits that can help tech companies satisfy their hiring needs:
Time efficiency 
Staffing agencies move fast in the job market. They have a sufficient research database of tech talents for different IT specialist positions. Additionally, cooperation with recruitment agencies saves time for in-house IT recruiters spent on going through resumes and conducting interviews. 
Expertise
90% of employers claimed that they have issues with filling positions and more than 25% of all participants admitted the skills gap when looking for the right candidate. One thing that makes a good IT recruiter stand out from others is prior experience in analyzing the technical & soft skills of developers to fully meet the needs of the customer. In addition, it's very important that the recruitment specialist has exceptional communication & negotiation skills to attract good candidates. 
Ability to Focus on Product
Delegating the process of hiring tech specialists allows software product companies to concentrate on work-specific tasks. According to a survey conducted by Dr. Andrew Chamberlain, the average hiring time in the United States is 22.9 days. It takes even longer when it comes to IT candidates. For instance, the study reveals that it takes about 35 days to employ a software engineer with at least 30 interview/post-interview reviews. Just imagine that with the help of a recruitment agency, all this time can be dedicated to the development of your product. 
Cost Savings
Despite the recruitment agent fee, this option is still the most cost-efficient as it covers the implicit cost of financial risks. There is always a chance that a chosen candidate will reject the offer after previously accepting it or just won't successfully pass the probation period. In most cases, staffing companies take these risks on themselves. 
IT Recruitment Agency Fee Structure
IT companies must perform recruitment fee calculations to understand how viable this option is. On average, recruitment fees fall between $2,000 and $6,000 depending on the position, experience, industry, the recruiter's terms, and whether the cooperation is exclusive. Typically, agencies use one recruiting fee structure to work with. Let's take a look at the options:
Percentage rate for hiring a software developer
This fee structure is one of the most commonly used among recruitment agencies. The process is simple: the recruiter takes a certain percentage of the developer's annual salary. The proposed percentage is determined by the economic region, specialization of the candidate, seniority level, and timeframes for closing the vacancy – yet the average percentage remains around 20% with slightly different rates depending on the location. For example, fees for IT recruitment in Poland usually reach up to 20%, while IT recruitment in Romania costs slightly less, leaving US recruitment fee rates the highest in the market with a range of 20-30% of a developer's annual salary.
– Retained basis fee
In this type of recruitment fee structure, the initial payment takes place upfront at the beginning of the hiring process and usually implies working with difficult positions of high-level senior candidates. The most frequently used approach in calculating recruitment retainer fee is to charge a percentage of the candidate's future annual salary. The recruitment fee percentage depends on the position, seniority of the specialist and labor market situation. Quite often retainer placements processes take place, and a typical calculation may look like this: 5% of the annual wage is an up-front retainer payment. When the agency comes up with a shortlist, a 10% share must be paid. Finally, when a developer is hired, the final 10% is due. Therefore, payments for a software engineer with a $100,000 yearly salary will be $5,000, $10,000, and $10,000, totaling $25,000. 
Despite causing some risks in terms of prepayment, it also allows you to work with a highly-motivated recruiter. Typically, you are not allowed to hire other recruiters to work on this vacancy, meaning work on exclusive terms. Some benefits of such a system include higher prioritization of your vacancy by the recruitment agency, and also increased levels of dedication as the provider has already committed to closing your position. However, sometimes the retained basis means drawn-out work on your positions, which is not the case with contingency-based recruiting firms.
– Contingency basis fee
When we talk about a contingency basis recruitment fee structure, the agreement is simple – the company pays only in case the appropriate candidate is hired. If a recruitment agency fails to fill the position in the assigned time, they receive no payment for their work at all. The average reward for a closed vacancy ranges around 20% of the developer's annual salary. A contingency-based fee may also speed up the recruitment process in the case where a company decides to hire several external recruiters to close the position. 
While such a move creates additional competition and motivation to get the job done in the fastest time, it also has some drawbacks. One such downside includes the risk of not hiring the right specialist, far from the perfect match for the position. However, while working on a contingency basis the Alcor agency highly values both – the speed and quality of their work, providing the best candidates in the shortest time. Just like what happened with Ledger software product company, when we hired 27 professional QA engineers within just two-year-time!
– Fixed-rate fee
Fixed rates are way less popular, but some agencies use them. The standard recruitment fee for a flat rate contract is usually lower than the percentage-based option. Although other parts of the contract may be less attractive (as some agents will ask for an up-front recruiting payment), it is still a good option for companies with strict budgets because the cost will be the same regardless of the seniority and difficulty of your vacancy.
– Hourly-rate fee
This type of fee is relatively new in the recruitment network, yet it is one of the most cost-efficient strategies from the customer's perspective. In this case, the recruitment agency charges the client hourly rates spent on hiring a candidate through time-tracking. This kind of payment for recruitment services was taken on by specialists in the law field, who are paid hourly for the entire stages of the process. The main benefit of an hourly-rate fee structure is that the rate for hiring a candidate remains the same when it comes to vacancies of different complexity, which usually saves up to 50% of the customer's money.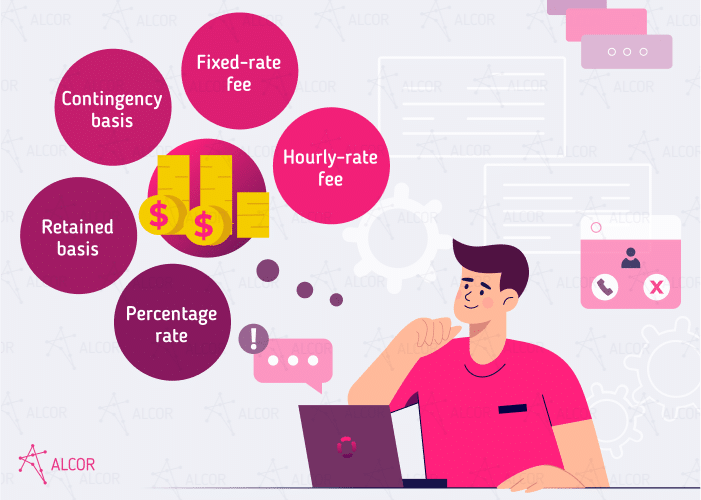 IT Recruitment Agency Fees Worldwide
According to CNBC News, there were about 920,000 open IT positions for software developers with only 165,000 potential candidates for the year of 2019, and the tendency of this huge gap stays the same. This makes IT recruitment challenging work in a highly competitive environment. Therefore, IT recruitment agency fees are not going to decrease in the years to come. 
When it comes to the IT recruitment agency fee structure, the cost-per-hire will mainly vary depending on specialization, the level of seniority of your candidate, and the economic region of your software development office. For example,  engineering managers, SREs, DevOps specialists, and data engineers tend to receive the highest salaries across the globe that results in higher CPH for employers. You can check our recent research on AWS Certified Developer wage and React.js Developer salary to get a glimpse into the tech payscale worldwide.
Let's take a look at a particular example of the estimated recruitment fee for hiring a Middle React Native Developer in different countries. The accounting here is simple: I took the average monthly salary of Middle React Native Developers from eight countries and calculated the average recruiter fee (20% of the annual salary of the candidate) for each.
Average Recruitment Fee for a Middle React Native Developer
Country
Salaries gross
Recruitment fee (20%)
USA
$83,000-105,000
$16,600-21,000
England
$65,000-70,000
$13,000-14,000
Germany
$52,000-60,000
$10,400-12,000
Poland
$42,000-60,000
$8,400-12,000
Romania
$40,000-55,000
$8,000-11,000
China
$35,000-50,000
$7,000-10,000
India
$22,000-27,000
$4,400-5,400
This table illustrates some interesting facts about the recruitment placement fee in different regions. In fact, hiring US developers tends to cost much more compared to the same-level IT specialists in Eastern Europe, Asia, or even Western Europe. In this case, Eastern European specialists from Romania or Poland represent the golden mean of professional coding, English proficiency, salaries, tax rates, and average recruitment fee. Due to the favorable climate for business development, favorable tax system, and impressive potential, this region attracts foreign investors for opening their offshoring development offices.
Following this logic, the leading US-based tech company Sift opened its office in Eastern Europe and hired 20 developers within just 1.5 years through Alcor. This decision not only helped Sift build an efficient development team but also decreased the total recruitment fee because of the hiring location. 
In many cases, the numbers mentioned in the table are not the final price of recruiting a software engineer. Apart from the recruitment fee percentage, one should also consider minor costs on additional services, such as payroll management, purchasing equipment, leasing an office, and other field support.
Consider Alcor BPO Your Trusted IT Recruitment Partner
Alcor is an international recruitment agency that provides exceptional tech recruitment services for IT companies in Eastern Europe. We work on a contingency basis, meaning the IT specialist comes first, and your payment comes second. Also, you can preliminarily check the price of hiring your software development team using our online calculator. Alcor's team of 40 recruiters has access to the most talented software developers in the region and extensive knowledge of the local market. Our commitment is clear:

Through 10 years of diligent work in the tech industry, we've got many success stories. For example, our team assisted the SBTech company in setting up its office in Eastern Europe, having closed the gap of 20 developers for them. Do you want to experience fast and smooth recruitment? Just drop us a line!