What if you had the chance to visit a fantasy world, where you could build your own empire or save the world from evil? Hire Unreal engine developers to make it a reality! Unreal Engine is a 3D creation tool for building multi-platform games with unmatched user experiences. Such popular games as Fortnite, Rocket League, Star Wars Jedi: Fallen Order, and PUBG: Battlegrounds are all Unreal Engine-based. 
But it's not only the game industry that thrives from this technology, which will translate into a 122% growth in demand for these experts over the next ten years. So, how to find Unreal Engine developers for hiring? Continue reading this article to find out!
Game Development: Global Market Overview
Game development is a fast-growing industry that continues to be at the peak of popularity. PwC's Global Entertainment and Media Outlook 2022-26 forecasts that global gaming market size will reach $321 billion by 2026, accounting for 10.9% of total E&M spending. Meanwhile, the number of video game users may go up to 3.04 billion by 2027, with revenue hitting the $521bn mark. 
One of the key reasons for such an upsurge is innovation and technological advancement, which make the gaming experience more fascinating year after year. One of such technologies is Unreal Engine (UE), an open and advanced real-time 3D creation tool that is loved by AAA studios and indie game developers alike. Currently, over 2 million games are powered by it with about 4,800 companies having already started developing games with Unreal Engine in 2023. 
What is an Unreal Engine Developer?
An Unreal Engine Developer is a technical specialist who is responsible for building and maintenance of high-quality applications and games, using Unreal Engine technology. Currently, there are over 7,5 million UE developers in the world. This figure has all chances to grow even more due to the release of Unreal Engine 5 which contains Nanites and RealityCapture technology to take photorealism to the next level. 
Key Skills that an Unreal Engine Developer for Hire Should Have 
Hard Skills
Undoubtedly, a top-notch UE developer needs to possess hands-on experience with Unreal Engine 4 and at least be familiar with its new version — Unreal Engine 5. 
Basically, no game exists without mathematics, as it establishes rules for everything to work as intended by the designer. Each game developer makes great use of linear algebra and computational geometry when working on mechanics of the game. 
A typical programming language used to build Unreal Engine games is without a doubt C++. With its help, game developers can build high-performing games aligned with modern gaming requirements.
Blueprints Visual Scripting
Visual script creation is another vital skill of an Unreal developer. By applying Blueprints, game developers can create complex gameplay elements time-effectively. 
Soft Skills
Game production is a long and complex process not devoid of obstacles and problems. A good UE developer should know how to address any arising issue swiftly and effectively, so that the entire game dev process wouldn't be affected.
Unreal developers usually work in big teams. That's why it's essential for them to be good communicators who can easily keep everyone updated on the development process (and show a proactive attitude towards mutual task fulfillment).
Games are all about fun, adventure, and excitement. To make them truly entertaining and interesting, Unreal developers need to come up with groundbreaking ideas nonstop. That's why creative thinking is a critical skill to find in Unreal Engine developers.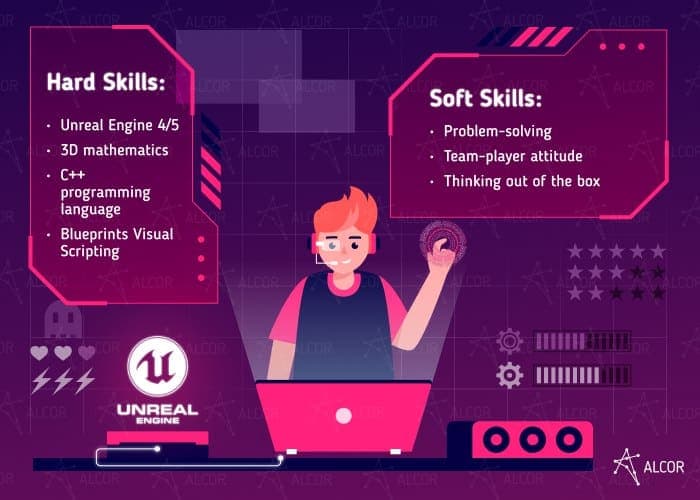 What Projects Require an Unreal Engine Developer?
Film & Television
Outside of game development, Unreal Engine is commonly used in numerous fields with cinematography taking the biggest slice of this cutting-edge technology. Unreal Engine talents breathe life into the most ambitious ideas of filmmakers. The latter can create their own environments, characters, and story arcs, etc. All of these are further enhanced by extremely realistic visual effects, stunning lightning, and simulations which take the movie scenes to the next level. Such outstanding TV series as the Mandalorian, Star Trek: Discovery, His Dark Materials, and Westworld are just a few TV series which were created with Unreal Engine technologies. 
Architecture 
Recently, Unreal Engine has become a go-to software for architectural visualization. Thanks to UE's Datasmith, architects can make the design process much more expeditious and efficient. Moreover, the physically based rendering engine (PBR) provides these professionals with photorealistic pictures that simulate the behavior of light and materials. This makes visual content of extremely high quality and enables instant editing. 
Automotive & Transportation
The automotive and transportation industries also commonly integrate Unreal Engine into their projects. This technology grants automotive designers the freedom to elaborate on their designs without waiting for physical models. This can save a lot of production time, money, and resources. Furthermore, with UE a sales manager can take customers for VR test drives without leaving the store. For instance, automaker Audi hired Unreal Engine experts to develop a digital showroom for customers to configure vehicles with high-fidelity visuals.
VR/AR 
Those companies that want to provide their customers and players with high-quality 3D MVR experiences also make great use of Unreal Engine. It's a great pick for augmented and virtual reality products because it can render complex scenes at staggeringly high frame rates. With the recent release of Unreal Engine 5, developers can now tap into a complete set of tools for building, deploying, and testing VR applications that generate even more immersive and realistic experiences. That's why it's becoming popular to hire a team of Unreal developers for the creation of simulations for various training sessions. 
Video Games 
And the most obvious field where Unreal Engine is used at its full capacity is video game development. This technology is suitable for the creation of both small and AAA games of various genres. With full access to source code, game developers can enjoy flexibility and modify the code whenever they need. Moreover, its Blueprint visual scripting makes the entire game development process a walk in the park. Non-technical specialists like graphical designers just need to drag-and-drop nodes and add wires to connect them and see how their ideas work in real life. Companies that hire Unreal game developers can build a variety of games from open-world action-RPG, MMO, and shooters to racing and even NFT games. 
So, how are these UE-based video games developed? Let's take a sneak peek into this process.
Stages of Unreal Engine Game Development
Concept
Every game development starts with the idea. You need to have a clear-cut vision of your future video game. Decide on its genre, plot, type of graphics, engine (in our case Unreal Engine), gameplay mechanics, platform, and other details. Another vital part of this stage is estimation of your abilities and resources. You need to set a budget, identify technological capabilities, game developer team structure, and optimal time frames. 
Pre-production stage
During the preproduction stage, the whole team brainstorms on the possibilities to bring your ideas to life. Everyone from UE developers and engineers to artists and writers share their views on game production — to place all the puzzle pieces into one holistic picture. During this stage, the team also decides on the scope of work and creates storyboards, prototypes of characters, and environments. 
Production
The most essential and challenging stage of game development is undoubtedly the production. That's when the actual game development starts to take place. The average time spent on game creation spans between 1 to 5 years, depending on project complexity. There are 7 milestones of the production stage: prototype, first playable, vertical slice, pre-alpha, alpha, beta, and gold master.  
Testing
Once your video game is ready, it's time to put it through a quality check to hunt down any bugs, glitches, or exploits. Other vital aspects that should be tested (yet don't actually belong to the technical part) are "fun factor" and scripting errors. The former unveils the difficulty of the game, while the latter — clarity of the plot.
Post-production 
And the final stage is post-production when you release the game and enjoy your hard work paying off. Still, you need to keep control over game productivity, fixing bugs and uploading game-balancing patches. In addition to that, you should come up with software updates and DLCs to upgrade your game and make it even more interesting to play.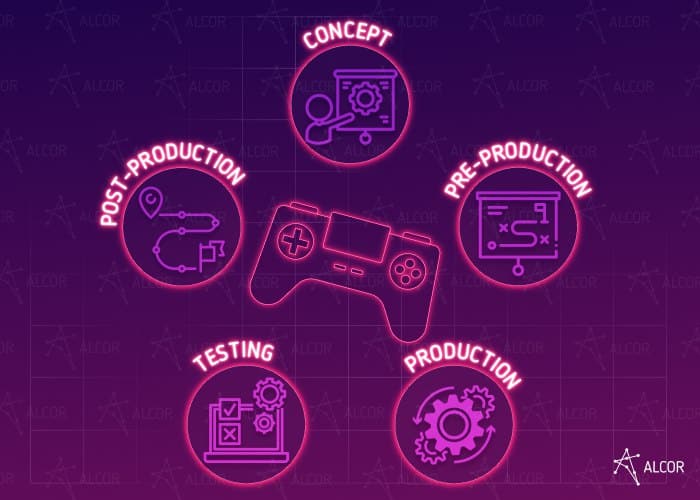 How to Hire the Right Unreal Engine Developers
When looking for Unreal Engine developers for hire, I recommend paying attention to such aspects:
Game development and game designing knowledge. To create a successful game, UE specialists should be well-aware of the entire game production process both from programming and designing perspectives. When choosing Unreal Engine developers for hire, pay attention to those candidates who can both come up with innovative concepts and bring them to life via programming.
Relevant experience. Another aspect to consider in your applicants is their practical experience with developing video games. To take a senior position, your ideal candidate should possess at least 5 years of coding experience and 3-4 years in building video games with UE.
Portfolio. The best proof of a game developer's skills and knowledge is their portfolio. That's where you can dive deeper into their qualifications and see which projects they have already worked on. 
Technical skills. When seeking Unreal game programmers for hiring, test your candidates' hard skills thoroughly, as the quality of your game will largely depend on it. Check if they have advanced knowledge of C++ and blueprinting, mathematics and physics, animation concepts, data structures, experience working with client/server architecture and performing code optimization. 
Passion for games. The real trigger that pushes individuals to write their first lines of code is true love for games. Therefore, when interviewing candidates to hire Unreal developers, make sure they burst with infinite desire and ideas for creating games that can steal the hearts of millions.
Options to Hire Unreal Engine Developers
Outstaffing vendor
Some companies prefer to hire an Unreal game developer team via an outstaffed vendor. Basically, this type of cooperation resembles talent leasing — instead of assembling a team, you get services from the vendor's developers. The model grants flexibility, as you can make staff alterations whenever needed, plus you don't have to take care of equipment or working spaces, as they are covered by the vendor. 
Outsourcing service provider
If you are running a non-tech business, cooperation with an outsourcing vendor can be a good way to go. Instead of expanding your in-house team and spending money on recruitment & people management, you might find Unreal developers among outsourced IT staff. Under this model, you don't have to take care of team management and project supervision, as your service provider performs the task from beginning to end. You just enjoy the result. 
IT recruitment company 
Another option is to hire Unreal Engine coders via an experienced IT recruitment company. In this way you also get a team of programmers, but they will be 100% loyal to you and committed to building unique and high-quality products. One European game startup was eager to try it out. The company's long-run perspective was getting investment (something that is unrealizable with an outstaffed team) which is why hiring a dedicated development team was a trustful choice. The tech recruitment agency took just 1 month to hire senior-level game developers who perfectly matched with the client's requirements.
You may find our article on how to allocate shares in a startup interesting. Check it out!
Challenges of Hiring Unreal Engine Developers
It's not uncommon among western IT companies to struggle to find Unreal Engine developers for hire, especially amid an overwhelming talent shortage. To avoid any recruitment hardships, some of them embark on outsourcing or outstaffing solutions. Getting a ready-made team of developers who can instantly get down to business has a ring to it. However, it's not all sunshine and rainbows, as both of these models are full of risks and pitfalls. 
By opting for these models, IT companies tend to lose control over product development, which often results in additional expenses. Another problem is team indifference, as programmers who develop the product may remain committed to the service provider (and work under their brand, not yours). In the worst-case scenario, cooperation with an outsourcing vendor can result in sensitive data exposure and a poor-quality product. Hence, if you plan to utilize Unreal Engine for machine learning projects, game development, or other core activities, better think twice before opting for one of these models.
Knowing the risks of outsourcing, a US-based IT company Dotmatics decided to set up their own team of engineers in Eastern Europe. The company reached out to Alcor, as we specialize in IT recruitment services in Poland, Romania and the rest of the EE region. We started our partnership with consultations on the local market: talent availability, Romanian and Polish taxes for tech business, and average rates. Then we assigned 4 headhunters to work on the client's open positions, while our key account manager provided individual support on arising issues. As a result, Dotmatics got a fully backed team of 30+ Romanian and Polish developers in under a year! 
Choose Alcor as your trusted partner to get your own development team just like Dotmatics, ThredUp, Gotransverse, and People.ai! Our 40 experienced IT recruiters will use the network of 600,000 candidates to find ideal Unreal Engine developers for hire.