It's becoming a trend for American and Western tech companies to set up their software development operations in Romania's thriving IT market. Yet, once they make the decision to tap into it, tech entrepreneurs encounter a plethora of cooperation models. Among these is the approach of collaborating with a dedicated software development team in Romania. But is it the best model for your IT business?
I'm Maryna Panchuk, Head of IT Recruitment at Alcor, with more than 10 years of hands-on experience in the field. Alcor helps product tech companies with IT recruitment in Romania and other Eastern European countries. In this article, I'll guide you through both the pros and cons of teaming up with a Romanian dedicated development team, as well as present alternative pathways for your product development within the country.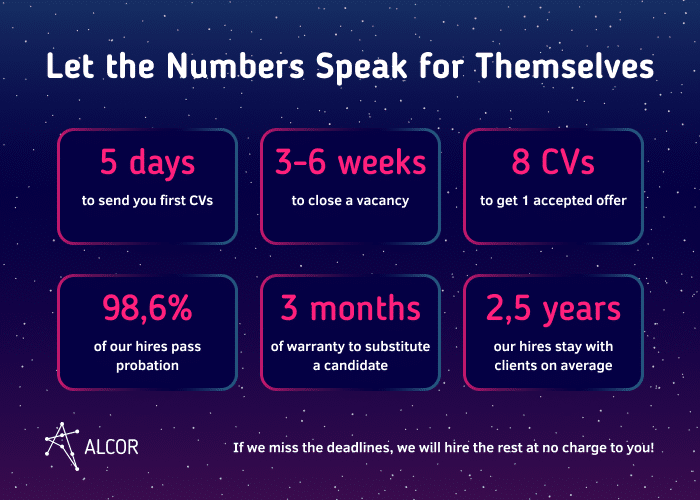 Dedicated Development Team Model
A dedicated software development team is a collaborative model that allows a client to work with a team of software developers employed by a service provider. It enables technological companies to build software teams with various tech stacks for different projects.
IT companies seek to engage dedicated software development teams globally through offshoring. For example, Eastern European countries, including Romania, Poland, Bulgaria, Ukraine, and others, remain popular choices for Western tech firms. However, while this model offers substantial benefits, it also comes with certain pitfalls. Now, let's move to a detailed overview of the advantages and disadvantages of a dedicated development team in Romania.
 
Why Choose Romania for Setting Up a Dedicated Development Team?
Flourishing IT market
In 2023, the software engineering industry in Romania stands strong with a market worth €3.4 billion, earning it the 12th position among the 26 EU nations. The country hosts almost 8,000 IT businesses and more than 200 IT outsourcing services firms on Clutch that offer applications and software development solutions. World-known tech enterprises such as Microsoft, Google, Amazon, and others also recognize Romania's potential, running their R&D offices there. 
Skilled IT talent pool
One reason why tech companies choose to work with an extended software development team in Romania is the local talent pool. According to the Emerging Europe Future of IT 2023 report, the country boasts an impressive 202,000 tech specialists, also being a leader in terms of the number of certified IT professionals in Europe. As for their tech arsenal, Romanian developers are well-known for their strong expertise in PHP, C#, Java, and C++.  
Strong English skills
Besides profound tech skills, Romanian software engineers impress with their excellent command of English. According to the EF English Proficiency Index 2022, Romania is ranked 17th among 111 countries in terms of language aptitude. Therefore, if you plan to team up with a dedicated team in Romania, you can rest assured that language won't be a threat to effective communication and execution of tasks.
Moderate costs
Another appealing advantage is local salary & tax rates. Software engineers from this country earn 2-3 times less than their counterparts from the US or Western Europe. Thus, when making the choice of teaming up with a Romanian software development team, tech companies can optimize their budget while still getting access to top-notch talent. Just compare: 
| | | |
| --- | --- | --- |
| Average annual salary ($)  | Romania  | The USA  |
| Senior JavaScript developer  | $72,000  | $166,000  |
| Senior Python developer  | $78,000  | $144,000  |
| Senior AI developer  | $84,000  | $146,000  |
| Senior Blockchain developer  | $84,000  | $180,000  |
Apart from cost-effective salaries, this country also offers business-friendly tax regulations. As a rule, companies have two tax options based on revenue and employment. If a company's annual revenues are below 500,000 euros and they have at least one full-time employee, they pay a 1% micro-company tax rate. For those with annual revenues exceeding 500,000 euros or no full-time employees, the standard 16% corporate income tax applies. Thus, taxes for businesses in Romania provide practical flexibility based on the firm's financial and employment situation.
2 Advantages of Working with a Romanian Dedicated Development Team
Flexibility
This model offers the advantage of achieving swift project outcomes by allowing businesses to precisely gauge their staffing needs and easily adjust the team size for fast project completion. However, while this flexibility is beneficial, it's crucial to acknowledge that successful outstaffing also requires effective project management and clear communication to ensure seamless collaboration with external specialists. 
Focus on core operations
By entrusting the web, mobile, and application development tasks to external teams in Romania, in-house team members can allocate their time and energy towards more important projects. This allows for increased efficiency and productivity within the organization. Still, it is important to note that managing an outstaffed team can pose certain challenges, which I will describe later in this article.
6 Disadvantages of Working with a Romanian Dedicated Development Team
Project-oriented approach
Even though you receive an extended team in Romania for your project, it's important to consider that such teams often prioritize output over long-term outcomes. This is primarily due to the nature of the IT outstaffing model, where software engineers tend to have a project-oriented mindset as they move from one project to another. Therefore, these teams may not consistently exceed expectations or have the same level of enthusiasm for your product, as their primary orientation is often task–oriented. 
Risk of data leakage
This concern directly flows from the previous one, as a project-oriented approach can increase the risk of data leakage. When software engineers frequently transition between projects, it can become challenging to uphold strict data security regulations, especially when software development is facilitated through an intermediary. 

Indirect team management
Since the communication with the augmented team in Romania is managed through a third party, as a client, you won't have direct interaction with the team members. Hence, overseeing both the team and the software development process becomes a formidable challenge, resulting in potential delays, communication gaps, and a lack of clear accountability. 
Cloudy pricing
Cost reduction is one of the main reasons why tech companies consider working with an augmented software team or turning to IT outsourcing in Romania for custom software development. With both models, unexpected costs arise due to changes, adjustments, and fixes. As a result, these unforeseen expenses often lead to a final bill that significantly surpasses the initial expectations, which can pose challenges for overall product development cost management. 
Barriers to investment attraction
If you want your business to expand and flourish, you will probably seek investments. However, opting for an outstaffed software team in Romania rather than an in-house one may raise questions for potential investors regarding their decision to finance the product. This is because investors may have concerns regarding the competence of such a company to develop the product, which can shake their confidence in its success. 
Buy-out fees
Imagine you notice that a software developer from the extended software team is rapidly growing as a specialist within your project and shows promising potential. You might decide to hire this tech talent as a full-time employee. However, there's another hidden challenge to mention. Bringing a rising star on board as a full-time dev often involves dealing with a buy-out fee. This fee, in turn, can complicate the decision-making process, as it requires extra funding and negotiations to ensure a smooth transition.
Alternatives to Cooperation with Romanian Software Developers
IT Recruitment 
To bypass these challenges and navigate Romanian software development, some companies prefer to leverage IT recruitment services, namely via a partnership with an experienced IT staffing agency in Romania. Such companies have large recruitment teams, which enables finding and hiring talented software engineers quickly and effectively. Besides, headhunters in such agencies have plenty of experience and are well-versed with the latest hiring strategies, overcoming daunting recruitment challenges. 
This was the path that Dotmatics chose to take. As part of their global expansion strategy, the company decided to assemble their own offshore software development team instead of traditional IT outsourcing. With the help of Alcor's experienced researchers and headhunters, Dotmatics managed to hire a team of 30 skilled software engineers with various expertise within just a year! 
Your own R&D center
Yet, if you want to go further, you may consider establishing a dedicated software development center with your own software development team in Romania. With this type of cooperation, you get everything in one place: IT recruitment, EoR services, payroll and accounting assistance, legal advice, and even more.
That's what we did for People.ai when the company decided to expand to Eastern Europe. It took us only 1 month to launch a brand-new software development office! In the meantime, Alcor's recruiters took care of hiring more than 25 top-notch programmers for the company while our legal team helped with legal operations. Besides, our accounting experts assisted People.ai with transparent payroll. With essential back-office support in place, the company has been running its offshore R&D office since 2017. Today, People.ai employs 125+ people globally and builds plans for further expansion.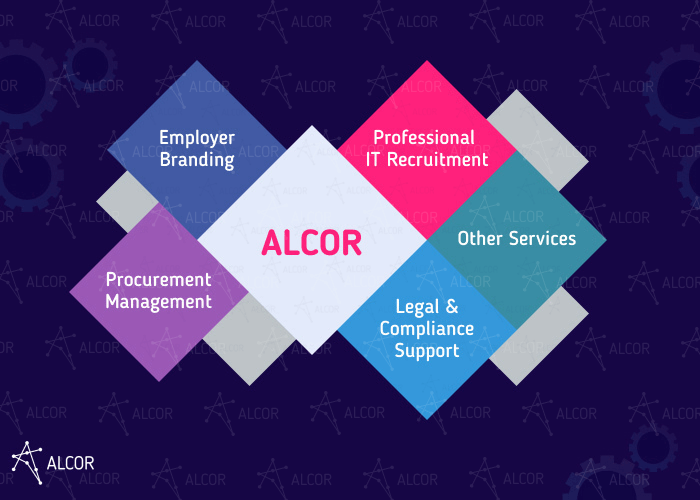 Alcor can help you both hire Romanian developers and build your own software R&D center in Romania, Poland, Ukraine, or any other Eastern European or LATAM country. 
Our internal recruitment department consists of 44 headhunters who conduct full-cycle IT recruitment. The hiring quality speaks volumes, as 98% of our candidates pass the probation period with flying colors and receive positive feedback from their colleagues. 
Apart from full-cycle IT recruitment, we also provide an extensive array of services, including EoR solutions, comprehensive legal and compliance support, proficient procurement management, and valuable assistance with both real estate negotiations and enhancing your employer branding on the local market. 
With our solution, you won't face any buy-out or hidden fees as the software development team is yours, so you keep full control over its management and product development. As a result, you get your own offshore dedicated development center in Romania with full back-office support. 
Ready to consider Alcor as your reliable partner? Contact us for more information!