The ever-changing technology market, burning shortage of skilled developers,  recent pandemic, plus financial and political turbulence have been the driving forces for many IT companies to tap into other markets' potential. One of such offshoring destinations is Bulgaria, a country in Southeastern Europe that lures foreign tech players with its ideal price-to-quality ratio. 
If you are interested in hiring qualified developers in Bulgaria, this article will help you figure out such aspects as benefits and possible challenges of opting for this offshoring location, average salary rates of Bulgarian software engineers, and the best way to recruit them.
Benefits of Hiring Bulgarian Developers
Economic Landscape
Bulgaria is an IT outsourcing country with one of the most stable and rapidly growing economies in the CEE region. Being an EU member since 2007, the government has been allocating massive budgetary funds in the development of the Bulgarian ICT sector as well as adopting necessary regulations to make the country a real outsourcing and investment haven for international businesses. Consequently, in 2016 Bulgaria was ranked 2nd in Europe and 7th globally in the BPO and Shared Service Location Index. Later on, this destination took 17th place in the 2021 Kearney Global Services Location Index, based on factors such as financial attractiveness, skilled IT workforce, and business environment.
One of the key advantages of Bulgaria is its tax incentives. Foreign and local IT companies pay only 10% — the lowest corporate and personal income taxes in the EU. Apart from that, technology businesses can enjoy data privacy, as Bulgaria is GDPR compliant. Thus it's no wonder why such tech giants as Hewlett Packard, IBM, CISCO, Oracle, SAP, VMware, ProSyst, and Atos transferred their software development to Bulgaria.
Affordable Salaries 
But it's not only taxes that tech companies can save on. Bulgarian developers' remunerations are also modest, being about 2-4 times lower than US ones.  For example, Bulgarian App Developers of a junior level earn around $21,000, while their American colleagues receive 4 times higher salaries — $80,000. Senior Game Developers in Bulgaria make on average $60,000 which is 2 times less than in the USA — $140,000. Keep reading this article to learn more about Bulgarian developer salary rates.
Booming IT Sector
The Bulgarian IT industry has been developing by leaps and bounds. The Global Innovation Index ranks Bulgaria 35th out of 132 countries. Such a result is largely driven by its stable IT market. For the past several years, the Bulgarian outsourcing industry has been expanding at a CAGR of 15.6% which makes it the fastest growing sector of the national economy. It accounts for 5.5% of the country's GDP, making an invaluable contribution to Bulgaria's economic prosperity. Nowadays, the Bulgarian software outsourcing sector is ranked 21st across Europe with $900 million in revenue. 
Growing Tech Talent Pool
Having a 6 million population, Bulgaria boasts an impressively big IT talent pool. According to Statista, the number of Bulgarian software developers has been steadily growing by an average of 7% year on year for the last decade. Since there were 92,500 individuals engaged in the ICT services sector in 2019, it's possible to assume that the current number of tech professionals in Bulgaria constitutes around 110,000. What else makes this tech market notable is its high proportion of female IT specialists — over 28%, which is well above the EU average. 
Profound Engineering Expertise
Bulgaria is a treasure box of highly qualified software developers. Despite the country's small size, it has over 50 STEM universities, professional & vocational schools, and private academies that bring up around 3,000 ICT graduates each year. Their tech competence is proven by reputable rankings like the SkillValue report and HackerRank Best Developers list, where they are placed 12th. Software developers in Bulgaria are well-versed in such technologies as C#, JavaScript, Java, Python, SQL, and PHP. What's more, the Global Skills Report 2021 finds software engineering, mobile development, cloud computing, and web development among the major specializations of Bulgarian coders. 
Geographic Proximity
One more reason why Bulgaria is frequently selected by foreign IT companies is its strategic location. Situated in Southeastern Europe, it takes only 2-3 hours by plane to get to Europe's key tech centers. Moreover, Bulgaria is in the GMT+2 time zone, meaning no real time difference between the European in-house teams and their Bulgarian colleagues, which contributes to productive cooperation.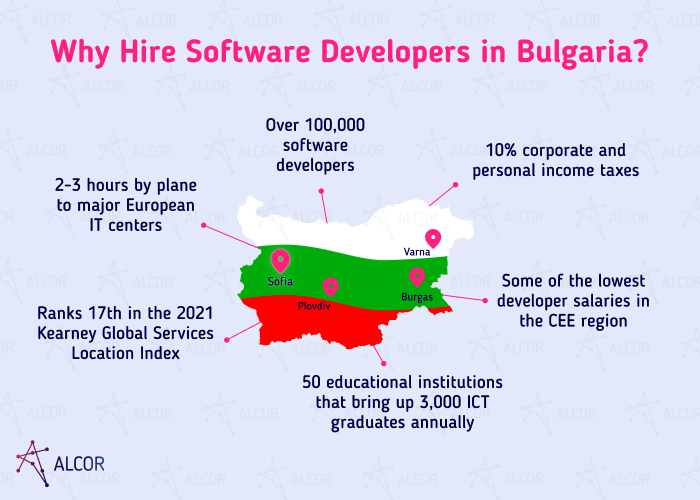 Challenges of Teaming with Bulgarian Developers
Few IT Hubs
Unlike its neighbors Romania and Poland, Bulgaria has only one mature IT hub — Sofia. It's an outsourcing hotbed that got into the Top 20 Tech Cities of the Future. Since Sofia has an overwhelming share of all software engineers in Bulgaria, it increases competition for talent. There are a few alternatives, such as Varna, Burgas, and Plovdiv. However, assembling engineering teams in these cities can be quite challenging due to insufficient number of programmers and developing tech infrastructure. Still, it's possible to avoid some of the hardships of IT recruitment in Bulgaria if partnering with a professional tech headhunting company.
Time difference
Even though Bulgaria doesn't have any significant time difference with Western European countries, it's not the case with the USA. The former is usually 9 to 12 hours ahead of the latter. Nevertheless, this drawback can be turned into a vantage, providing American IT companies with round-the-clock business coverage for a reasonable price.
Bulgarian vs American developers: Average Salary Rates Comparison
As I mentioned above, Bulgarian developer rates are quite low compared to western countries. Let's see how they differ from the US. The data was taken from Glassdoor, Indeed, Talent, and JobTiger.  
Positions
 Junior
 Middle
 Senior
Bulgaria
USA
Bulgaria
USA
Bulgaria
USA
Full-Stack
Software Developer
$25,000
$90,000
$48,000
$130,000
$65,000
$150,000
Front-End
Software Developer
$22,000
$75,000
$40,000
$110,000
$58,000
$130,000
Back-End
Software Developer
$23,000
$85,000
$45,000
$120,000
$60,000
$145,000
Mobile App
Developer
$21,000
$80,000
$38,000
$115,000
$58,000
$140,000
Game
Developer
$23,000
$80,000
$40,000
$100,000
$60,000
$140,000
Data
Scientist
$23,000
$110,000
$43,000
$150,000
$64,000
$170,000
DevOps
Developer
$23,000
$100,000
$42,000
$135,000
$62,000
$160,000
Software Development
Engineer in Test
$20,000
$60,000
$33,000
$90,000
$48,000
$121,000
Embedded
Developer
$22,000
$90,000
$38,000
$107,000
$55,000
$132,000
Bulgarian salaries were converted to US dollars at a relevant exchange rate for January 2023.
Consider the Following Aspects to Hire Bulgarian Developers
Technical Qualifications 
Without a doubt, tech competence is the most essential aspect when it comes to recruiting developers. Depending on the software product, decide which programmers you need in your tech team. It's vital to remember that each role includes a different tech stack and average job experience which should be thoroughly examined. Check out the 10 most important questions to ask on a job interview to hire Bulgarian developers of high expertise.
Soft Skills
The quality of a software product largely depends on team coherence which is shaped by engineers' personality traits and interpersonal attributes. Thus, when hiring software developers in Bulgaria, the first thing to pay attention to is excellent communication and teamwork skills, as they are the key to effective cooperation. Analytical thinking, problem-solving, and time management skills should also be in the arsenal of your ideal candidate. Meanwhile, if looking for senior developers, make sure they possess project management skills and big-picture thinking, as they are usually engaged in leadership activities and product elaboration. 
Cultural Similarity
What makes the process of building a software development team abroad complicated is cultural compatibility. There are lots of destinations with low rates and skilled developers but only a few that are culturally close. The CEE region, particularly Bulgaria, is an ideal option for American and European IT companies from this perspective, as these programmers share western mentality, values, and business ethics. When hiring Bulgarian developers, you can expect strong dedication, punctuality, flexibility, and autonomy. They will always walk an extra mile to make your software product of a high quality.
3 Prevalent Ways of Cooperation with Bulgarian Software Developers
IT Outsourcing Providers
It's not uncommon to outsource software development to Bulgaria, as it allows tech companies to get rid of recruitment & people management, thus spending less on labor costs. Still, this model has some substantial pitfalls, from loss of control over software development and team management to cloudy pricing and IP rights breaching. 
IT Outstaffing Providers
Another way to work with talented Bulgarian programmers is via IT outstaffing vendors. This engagement model presupposes team flexibility, allowing access to different expertise and making staff alterations whenever project requirements change. However, such cooperation could lead to possible data leak and dedication issues. In the long run, some difficulties with receiving funding could arise, as working with an outstaffing vendor indicates a scarcity of internal expertise, being a red flag for investors.
IT Recruitment Companies
A good alternative to the above-mentioned models is partnership with an IT recruitment agency. By opting for this, tech companies can assemble their own teams of programmers, retaining full control over expenses, team management, product development, and IP rights. 
That's what BigCommerce, a US-leading e-commerce company, got when selecting Alcor as their IT recruitment partner. We engaged our best tech recruiters and 1 account manager to make BigCommerce's development outsourcing to Eastern Europe as smooth and expeditious as possible. Within 6 months our team successfully hired 30 best IT engineers, including JavaScript, Angular, React, and PHP developers. Alcor also covered some of the business process outsourcing services, such as payroll management and legal compliance as a part of our all-in-one solution.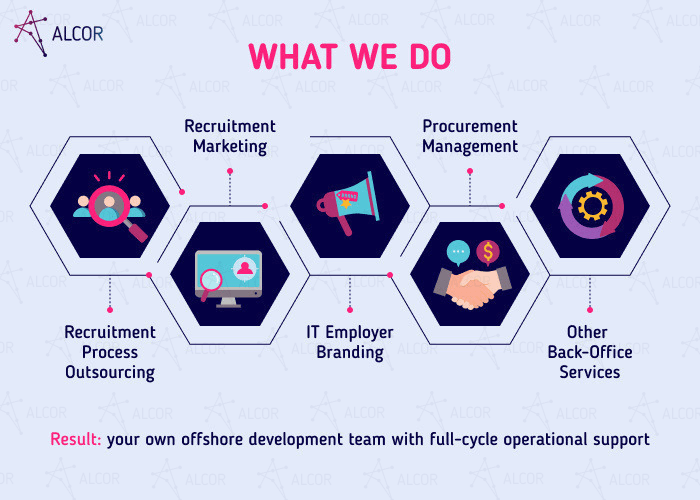 Would you like to get the same results? Then consider cooperation with Alcor! We have been providing BPO and IT recruitment services in Eastern Europe for over a decade, helping such IT product companies as Grammarly, ThredUp, People.ai, and Dotmatics achieve their hiring goals. By using a network of 600,000 candidates, we only provide our clients with relevant resumes. That's why it takes us only 8 CVs to get 1 accepted offer! Moreover, 98,6% of our candidates successfully pass the probation period.