About 75% of developers are actively looking for a new job and 36% of those are dissatisfied with their work-life balance. That's a consequence of the pandemic outbreak which forced most IT companies to switch to remote working. Even though this type of work arrangement provides flexibility, it still entails quite a lot of challenges, such as maintenance of effective teamwork and intense workflow management, to name just a couple. As a result, many developers face burnout, as their work-life balance is compromised. 
So, how can IT executives deal with this issue in order to avoid low employee retention? In this article, I am going to dwell on the developer work-life balance, provide you with an option of managing it, and compare these balances in FAANG companies.
What is the Work-Life Balance?
A Work-Life Balance is the ability to effectively manage the workload while still having enough time for hobbies, relationships, and activities that make our personal life fulfilled.
Why is a Work-Life Balance Important for Software Engineers?
The issue of maintaining a healthy work-life balance has come to the foreground in the event of the coronavirus pandemic. Almost at once, most businesses switched to the work-from-home mode, tremendously increasing the workload of software engineers who had to quickly adapt to this transition. Looming deadlines, deficit in communication, unclear goals & expectations, decision fatigue, and lack of leisure time & sleep all affected the lifestyle of a software engineer. The line between professional and personal life started to deteriorate, while physical and mental health issues were creeping in. And thus more cases of burnout came into play.
As you may be aware, employee burnout is a state of emotional and physical exhaustion that is conditioned by chronic workspace stress. Among the common features of developer burnout are loss of focus, a decrease in typical work performance, indifference/increased negativity, lack of motivation and passion for coding, and procrastination. According to a recent report by Haystack Analytics, the pandemic worsened burnout issues in 81% of programmers. 
One of the top factors that affects the web developer's work-life balance and leads to possible burnout is working overtime. While American employees claim they have been experiencing a 15% increase in their workday length, the data on developer working hours is quite obscure, as it depends on such aspects as industry, company type, development process, and position. According to Stack Overflow, software engineers work from 40 to 44 hours, while the workweek of tech managers can meet or exceed 47 hours. Startups may require their programmers to work an average of 50-60 hours, which can pay back if the product is successful yet creates a lot of stressors along the way. The gaming industry operates this way, where indie game developers can work up to 90 hours per week, depending on project deadlines. 
Many studies have proven that a poor software engineering work-life balance deteriorates employee engagement and productivity. Therefore, more and more IT companies have been focusing on providing flexibility in working hours, improving their benefit packages, raising salaries, and even testing a 4-day workweek. Keep reading this article to find out about one more strategy of managing this issue. 
Comparison of Work-Life Balances for Software Engineers at FAANG Companies
Now let's see what measures the leading global IT corporations have been implementing to mitigate employee burnout and maintain the healthy lifestyle of  software developers. 
Google 
Being an impactful tech leader in the global market, Google gets about 3 million job applications annually, which is not only because of the prestige of positions and mind-blowing salaries. Google is considered one of the best places to work, topping Glassdoor and Fortune rankings. The tech giant is known for its fine perks, including free gourmet food, on-site hairdressers, doctors, laundry services, recreational facilities, gaming rooms, and gyms, etc. That's why Google is sometimes called a "playground for grownups," as employees' happiness and wellbeing are at the core of company priorities. Therefore, it comes as no surprise that the median score for engineers' work-life balance, as well as culture at Google, reaches 4.4/5 points (the highest among FAANG companies).
In addition to that, the tech giant has one of the most well-thought-out employee packages aligned with post-pandemic conditions. It includes remote work opportunities, insurance benefits, PTO, mental health counseling, 12 weeks of paid parental leave, and more. The company also makes sure that software developer lifestyle is not too overwhelming: work hours are flexible, and overtime is compensated adequately. The average senior software developer salary at Google reaches $197,000 with a $27,000+ annual bonus.
Apple
Another FAANG company that is at the top of the work-life balance list is Apple. Just like other representatives of the Big Five, Apple shifted to remote work with the coronavirus pandemic. However, the company's strict privacy & security policy forced its administration to give up on working from home ahead of the official office return, resulting in some staff retention troubles in 2021. Nowadays, Apple has a well-established hybrid work arrangement with three-day workweeks in the office. Among other benefits can be found 20-30 days of PTO for vacation & sick leaves, health & wellness programs, including gym credit, mental-health counseling sessions, and comprehensive medical coverage, etc.
The corporate culture at Apple is perceived as engaging, inspiring, and inclusive, where everyone enjoys creativity and autonomy which adds extra points to Apple's employee satisfaction rate (4.2/5). When it comes to the computer science work-life balance, most of their software engineers feel quite good about it (4/5) despite some overtime work and tight deadlines (that usually appear during product releases). Senior-level developers are paid on average $201,000 annually with a $13,800+ bonus. 
Netflix
The next one in line is Netflix. This large media service provider is known for its extraordinary company culture which was built on the principles of freedom, responsibility, and high performance. The company doesn't have a strict 9-to-5 workday, encouraging employees to take time off whenever their software engineer lifestyle gets too exhausting. Which is why only 29% of those surveyed feel burnt out — about 2 times lower percentage-wise than in other FAANG companies. 
Moreover, Netflix retains "rock stars" only, those who have strong skills and the ability to act autonomously. With these considerations in mind, the company came up with their own eccentric vision of rewards for software engineers. Netflix doesn't have a traditional leveling system; instead, they hire only senior programmers, offering a whooping base pay of about $450,000. On top of that, employees enjoy a generous package of benefits, including remote work opportunities, unlimited vacation days, up to 12 months' maternity/paternity leave, and mental health programs, etc. 
Facebook (Meta)
One more dream job for many software developers is at Facebook. It offers one of the highest salaries among FAANG companies ($203,000 for a senior software developer with an average bonus of $21,000). However, the appealing remuneration comes with its price, as many Facebook programmers complain about working overtime (even on the weekends) due to intense workload, poor leadership, and fast-paced nature of the company. As a result, 49% of surveyed programmers have been experiencing burnout. That's why the software developer work-life balance at Facebook is rated at only 3.5. 
Nevertheless, this tech giant has shown good adaptability to external factors associated with the pandemic, offering full-time remote work, paid sick leave days, and access to mental health programs. Facebook also created a special leave program, which allows employees to take time off when they feel overwhelmed or undermotivated. 
Amazon
The last one on the work-life balance list is Amazon. It was one of the first companies to declare work-from-home policies when the pandemic hit in 2020. Nowadays, Amazon encourages a hybrid work arrangement with 20 paid time-offs, health insurance, and virtual healthcare benefits. When it comes to a work-life balance for programmers, the company has quite mediocre performance (the average score 3.3/5). According to the Glassdoor survey, most employees have been swamped with additional work that came as a result of recent layoffs, doing 10-hour shifts and working at night. In addition to that, unrealistic expectations, working under pressure, and poor leadership were specified as the main causes of burnout among programmers. These disadvantages are somewhat smoothed over by generous annual compensation. Amazon senior software developers receive $202,000 with a median bonus of $5,000.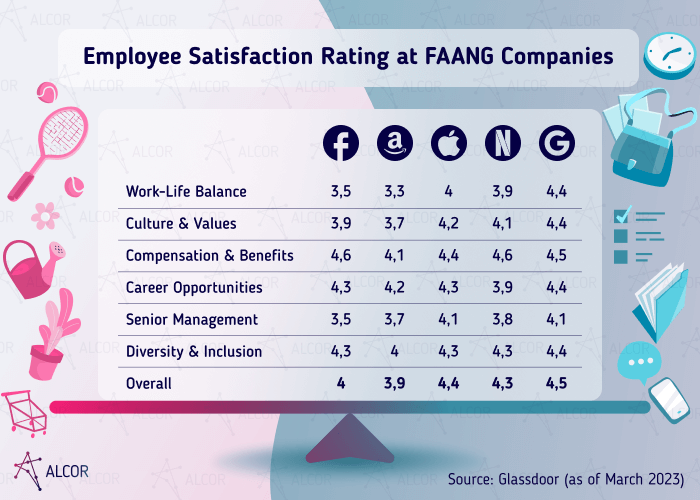 How to Achieve Work-Life Balance as a Software Engineer
Undoubtedly, working for a tech company that cares about its employees' well-being can be extremely beneficial for a software engineer's work-life balance. Still, your mental & physical health are in your own hands only. Thus, consider the following tips to protect yourself from burnout.
1. Set well-defined boundaries
When working remotely, it's essential to keep consistency in your daily routine, as home-related issues tend to intertwine with professional life. You need to differentiate business hours from personal time. Try turning off all your work equipment, notifications, and emails at the end of the working day, so they wouldn't interrupt you from rest, family time, and sleep, etc.
2. Practice time management 
Being able to plan your day is an essential skill that helps to maintain a work-life balance for the software engineer. Try scheduling meetings, determining task priorities, and setting achievable goals. Consider implementing the practice of saying "no" when you understand that you cannot handle more tasks, as a strained workload will only trigger more stress and decrease job satisfaction. It's also vital not to forget about taking lunch breaks and having short pauses between tasks to help your brain cool down and rejuvenate.
3. Focus on self-care 
If you want to avoid burnout, your top priority should be staying healthy and taking care of yourself on a daily basis. Having a healthy diet, frequently exercising, doing hobbies, spending time with nearest and dearest, and getting enough sleep are just a few things you can do to improve your overall condition and increase stress resistance.
4. Don't be afraid of "unplugging" yourself
Working hard and showing excellent results has good intentions; however, it's hard to maintain consistently high productivity for a long period. It's natural that sometimes you can feel overwhelmed and drained of energy. That's when some necessary time off comes in handy. Don't hesitate to take a small vacation just to clear your thoughts and recover from stress.
Consider Alcor BPO Your Trusted IT Recruitment Partner
Not every IT company is able to offer generous developer salaries and fancy perks like the FAANG giants. Still, there is a need to remain competitive in the fast-paced tech market. Thus, my advice for IT executives is offshoring, particularly in Eastern Europe. And here's why…
Take a look at Sift, a software product company from the USA. They were well aware of the issue of work-life balance in a programming career and the growing shortage of developers in their home country. Therefore, the company decided to kill two birds with one stone: reduce strain on the in-house tech team by expanding it with Eastern European talents. Sift reached out to Alcor — a professional IT recruitment agency. As a result, they got 30 positions (including  Front End Developer, Back End Engineer, React JS, and Python developers) closed within just 1 year! This decision helped the company not only to distribute tasks in the team more effectively but also save 30% on labor expenses.
Apart from Sift, Alcor has also helped People.ai., Dotmatics, and ThredUP with IT recruitment in Poland and IT recruitment in Romania as well as other Eastern European countries. Having 40+ tech headhunters on board and a networked database of 600,000+ candidates, we can satisfy the most demanding hiring needs. Get only verified applicants with our 80% CV pass rate and close 1 specific position in under 6 weeks!