We can all admit that it's almost impossible to imagine how we would have survived the pandemic, or what damages the quarantine could have had for world business if not for IT – which made it possible for most of us to continue working. In this article, I suggest taking a closer look at the potential impact of technology on business in the next 2 years. We might also ascertain whether this effect will be positive or negative.
What is Already Changing in Terms of Business Communication? 
We all know for a fact that one of the biggest challenges we encountered due to the pandemic regarding modern technologies happened in business communication. The working environment changed and this forced business people to adjust their traditional ways of communication to the new reality.
The most important component of business communication that underwent significant changes is considered to be team collaboration. It is now a proven working method for teams and companies to work with employees based in different spots of the world, with fewer problems in communicating with each other regularly and keeping the same level of productivity as before. This has become possible due to such tools as Microsoft Teams, Zoom, and many other programs that made remote working very convenient, thus having another impact of technology on the business environment.
Under these circumstances, it looks like a great idea to hire developers from other countries, e. g. from Ukraine, that work for you remotely yet effectively and for less money. Companies may find it tricky to build an offshore development center on their own, and this is where BPO services come in. They can take care of recruiting, legal, accounting, office management,  and many other operational issues. 
Calling It an Outsourcing Trend?
For several years now, there has been a popular notion that remote working opportunities opened the doors for outsourcing – since it became easier and cheaper to hire developers from anywhere in the world (which is another impact of IT on business processes). So it became a popular idea to create business models that would involve the use of this outsourced resource. But did it ever look like this in real life, and is there a future for IT outsourcing?
Potentially, one can save a lot of money by choosing to outsource IT recruitment instead of hiring a full-time software engineer by oneself. It used to be a popular solution for companies to transfer their IT outsourcing to Ukraine. However, the concept of outsourcing is not always that cost-efficient and reliable in the real world, for several reasons: 
– Lack of security for your data
Most outsourcing companies do not have primary concerns about data security, so they can easily get compromised, either intentionally or unintentionally.
– Inability to have full control 
You're not allowed to control the outsourcing team, which makes it harder for product tech companies to manage their project, yet we all know that sometimes this factor can play a vital role in decision making.
– Vague pricing 
Outsourcers often include hidden fees to their invoice and charge for additional services you haven't used.
And these are just the tip of the iceberg. This is why many tech product companies prefer not to work with outsourcers anymore. Instead, it is becoming more and more convenient to hire engineers directly and build offshore teams. They can work remotely full-time or there can be an office opened in the new location. The matter of great importance here is that your own developers will be much more interested in your company's success because it will be their success too. Besides, your own offshore development center will always have more potential for growth and a higher level of productivity, since you will be the one who sets the rules.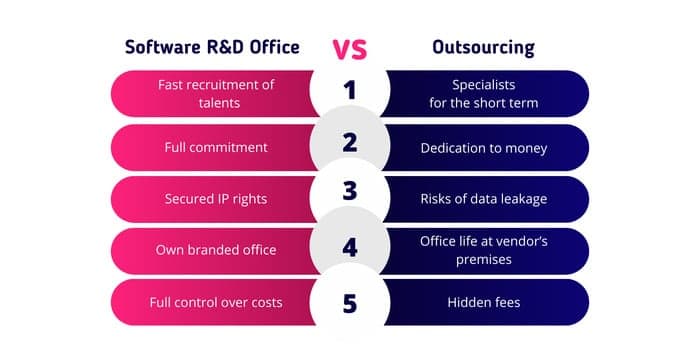 There are many cases when big technology companies had their projects fail because of unreliable outsourcing services. According to Henrico Dolfing, this is what happened with Hertz in 2017-2019 in the United States. They signed a contract with the outsourcing company for developing a new car rental platform to work all over the world. The planning and discussions were held for months, and as a result, the created platform had regional restrictions and did not work anywhere outside North America. This is not only a case study of the potential risks of outsourcing but also the negative impact of IT on business processes.
Check out more details about the risks of outsourcing here.
The Progress of Business Automation
We can definitely all agree that one of the biggest technological benefits is that all the processes are becoming simpler every day, another positive impact of digital technology on business. Everything becomes easier, from making notes on a phone or tablet and sharing them with everyone, to creating digital signatures on the documents. 
For executives, legal issues are now easier to solve with programs like Zoho Books or App4Legal Software. These online services not only keep all the necessary legal information but also have templates for most documents your company would ever need. In addition, there are also many programs that automate accounting procedures, e.g. Enterprise, Microsoft Excel, FreshBooks, and others. According to Clutch, 75% of small businesses were already using this kind of program back in 2018 and this trend is only growing every year. Besides, these programs for data analysis also become even handier all the time, since most of them now have a mobile version.
The Future of Cloud Computing 
Like it or not, but the Covid-19 pandemic appears to have affected literally every part of our lives, including the popularity of cloud computing. According to TechJury, the lockdown became a booster for many companies to switch to cloud services. This segment of the IT industry is expected to grow by 15% by 2024.
Of course, this also means the growing need for cloud computing software developers who would be able to create top-notch cloud solutions. For instance, there are around 200,000 IT specialists in Ukraine with the proper education, relevant experience in the field (including cloud technology), and good knowledge of English. Some of them went to study software engineering abroad, others studied at the best universities in Ukraine as members of the IT or software engineering study programs that are said to be one of the best in the world. 
What about Artificial Intelligence?  
Another thing that will definitely be impacting business, not just over the next several years but forever, is the development of artificial intelligence (AI). For a good reason, artificial intelligence has been one of the record-breaking industries in terms of investments for many years – not only in the USA but around the globe. According to Statista, in 2020 the global investments in AI technologies reached almost $68 billion compared to just over $48 billion in 2019.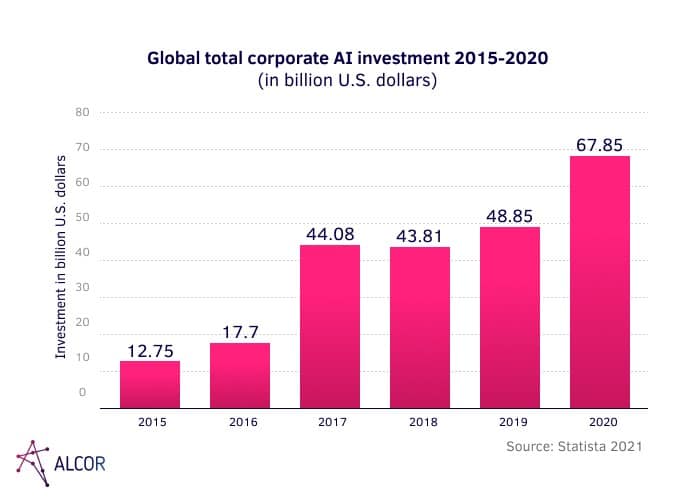 Additionally, there are also many success stories of artificial intelligence companies. Take a look at the People.ai team that works on building an AI platform for B2B sales. They are one of the US-based IT product companies that ventured to open their own software R&D office in Ukraine. Having Alcor's full assistance with recruiting, legal, payroll & accounting, real estate, and other operations, the company set up its own development office in a month with a team of 25+ software engineers in Kyiv. As a result, they are able to concentrate on creating their own product and deliver amazing results. For instance, this summer they got a $100,000,000 investment which made the total value of the startup estimated at $1.1 billion, says Bloomberg. 
Interested in building an artificial intelligence team? Check out the AI Developer salary worldwide.
Trends for the Internet of Things 
The Internet of things is a great example of the impact of information technology on business, especially in terms of optimizing the healthcare system. The medical equipment used for operations and regular appointments is predicted to become drastically improved with the help of IoT over the next several years, as well as the remote patient appointment that has already proved its efficiency.
Speaking of health care, Tonic Health is a great example. It's a product software company that produces a medical data collection platform. Once strangers on the Ukrainian market, they struggled to build a team for the Ukrainian office. They had so many job offer rejections, as leading local IT specialists did not want to work for a new and unknown company on the local market. Then Alcor helped them to improve their employer branding strategy, and today they have a growing R&D center in Ukraine with a great team, where everybody loves their job, according to the reviews on Glassdoor. 
This is just one of the many cases when companies would open successful R&D centers in Ukraine. Check out many more incredible stories of businesses achieving higher results with the support of a trusty BPO company.
Consider Alcor BPO if you Need a Trusted IT Business Process Outsourcing Provider
I assume that is probably the best time to concentrate on your company's product and let us provide all the support service you might ever need. We will make sure you are fully covered in terms of recruiting software developers, legal compliance, accounting, office maintenance, and HR support. If you decide to open an office in Ukraine or an offshore development center, consider Alcor as your business process outsourcing partner. We can hire offshore developers and provide the real-estate service to find you an office in any part of Ukraine. It could be in a major city, the mountains or facing the beach – the choice is yours. All the pricing is completely transparent. We guarantee that our recruiters will hire 5 new software developers in Ukraine for you during the first month of work and in 3 months' time, you will have a team of 20. 
Everything except for software development – our team is ready to support your back-office functions in Ukraine.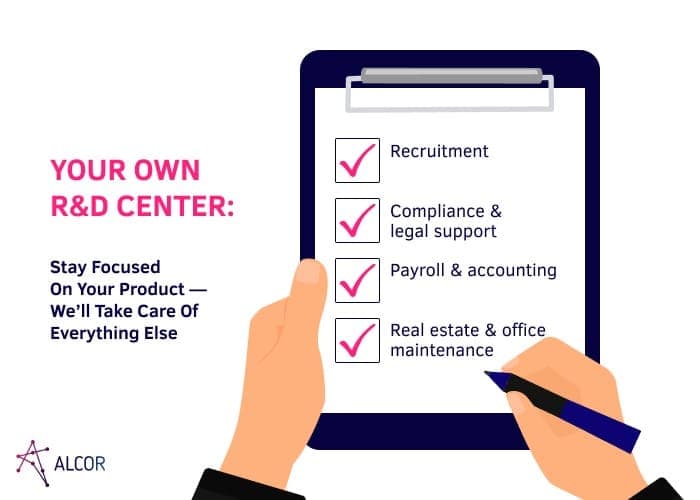 Final Thoughts 
To summarize, I would like to note that there is no chance IT will ever stop making an impact on the world of business. Given the above-mentioned facts, there are 6 main trends that will continue to grow in the nearest future:
Development of business communication platforms; 
Shift from outsourcers to in-house remote employees; 
Progression of business automation; 
Development of cloud computing; 
Rise of artificial intelligence; 
Growth of the Internet of Things.
So, as you can see there is no real surprise of what the impact of technology on international business is going to be in the future. The trends that are growing now will only be expanding over the next few years, and their advancement will also be affecting our lives more and more every day. Under these circumstances, it makes perfect sense to strengthen your engineering team with your own  R&D center in Ukraine. If you decide to open one, Alcor can provide recruiting of developers, legal and accounting services, as well as other back-office assistance to ensure its productive work!