Today, 90% of business leaders grapple with the same giant puzzle piece:  recruiting and retaining top-tier talent. This particularly applies to high-skill roles. 
And while some tech companies continue investing in proven tech hiring and operational services, others opt for temporary staff augmentation in Latin America. 
But is the game worth the candle?
I'm Sergiy Ovcharenko, CBDO at Alcor. We provide Latin American IT staffing and R&D center services for US and European product companies. 
In this article, I'll shed some light on why IT companies are embracing development team augmentation in Latin America, describe the hottest destinations in the region, and reveal some challenges of this engagement model. And, of course, I've got a few aces up my sleeves — some enticing alternatives that could change the game for your business.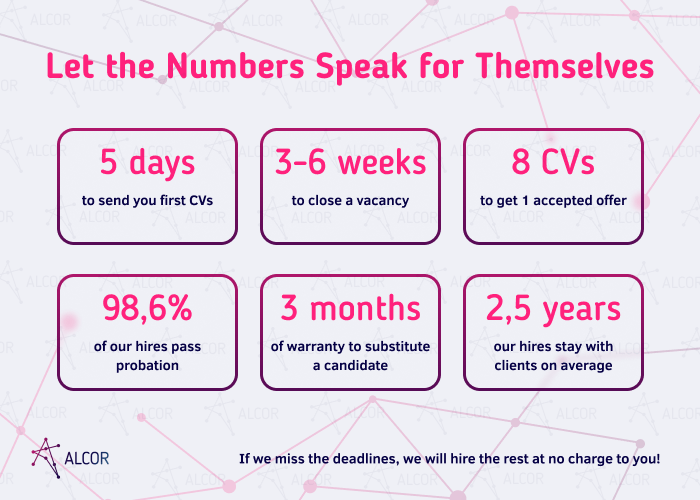 Definition 
Staff augmentation is a cooperation model that enables IT companies to elevate their in-house team's capabilities by bringing in external specialists. 
Businesses contact an IT outstaffing provider to lease tech experts or even an entire team with the needed skill sets and experience. Typically, staff augmentation takes place on a temporary basis, providing flexibility and tailored assistance when required.
Reasons for Staff Augmentation 
Bridging skill gaps
Companies that face seasonal spikes in workloads or lack in-house personnel for specific projects often turn to staff augmentation. It is usually a temporary fix that eliminates the need to hire full-time employees.
Cutting expenses
Staff augmentation can be a cost-effective option for businesses that aim to promptly complete short-term projects without the expense of growing their permanent workforce. North American executives, in particular, find staff and IT outsourcing to Latin America an appealing choice for this purpose.
Quick staffing
Sometimes, finding and hiring the right candidate can be time-consuming. Team extension in LATAM provides a swift and efficient solution for businesses not seeking long-term, dedicated partnerships. 
Why Tech Companies Choose Latin America for Staff Augmentation
Reason #1. The Latin American tech market is a goldmine of talent, with more than 1 million skilled software developers. They excel in a range of modern technologies like JavaScript, Python, Java, C#, C++, .NET, React, and Node.js. With such diverse expertise, there's a tech gem to match every business need. 
Reason #2. Latin America is nurturing a fresh crop of bright minds through high-quality STEM education. Young individuals graduate from prestigious institutions. 20 of them rank among the Best Global Universities in Latin America, with notable names like University of São Paulo, Monterey Institute of Technology, and University of Chile. 
Reason #3. South American IT talents are dispersed over such top tech powerhouses as Mexico, Colombia, Brazil, Chile, and Argentina. In 2022, their IT markets' value reached a remarkable growth of about $105 billion.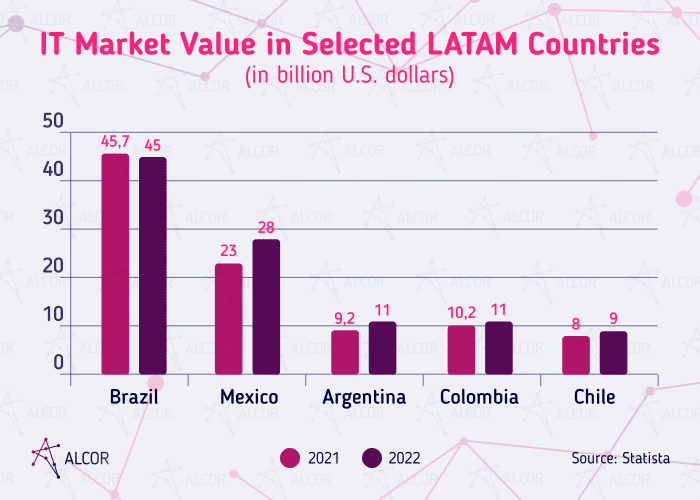 They are progressing rapidly and doing well in various rankings, like Kearney's Global Services Location Index and the Global Startup Ecosystem Index.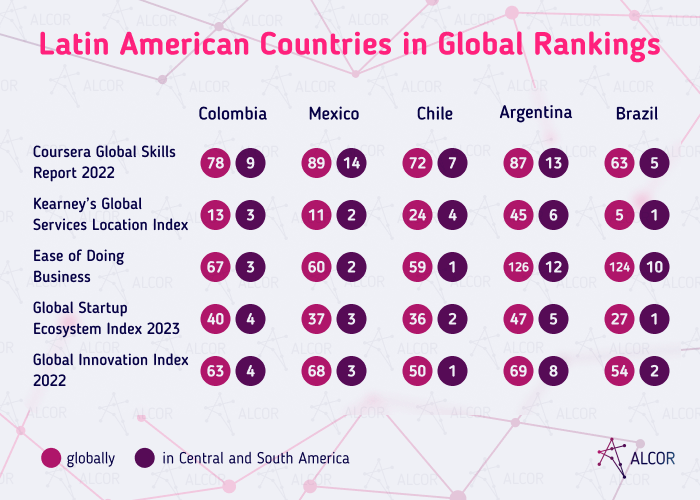 Reason #4. The median salary for a software developer in Latin America falls between $11,000 and $65,000, depending on expertise and location. This means that nearshore staff augmentation can be a golden opportunity for foreign businesses to achieve significant cost savings of up to 70%.
Annual Software Developer Salary

Gross annual income, USD
Colombia
Mexico
Chile
Argentina
Brazil
Junior Software Developer
$14,000-$28,000
$11,000-$23,000
$13,000-$24,000
$12,000-$24,000
$12,000-$25,000
Middle Software Developer
$28,000-$40,000
$24,000-$35,000
$26,000-$38,000
$25,000-$38,000
$25,000-$39,000
Senior Software Developer
$40,000-$65,000
$38,000-$55,000
$40,000-$60,000
$38,000-$60,000
$40,000-$62,000
Reason #5. The time difference is minimal, with just a one-hour gap between the US West Coast and countries like Mexico, Argentina, and Brazil. This nearshore staff augmentation in Latin America allows US tech executives to monitor the development progress without any inconvenient delays easily. It's almost like having your dev team right next door!
Top Staff Augmentation Destinations in Latin America
Now, let's take a detailed peek at the best Latin American countries for staff augmentation. Brace yourself for some hard-hitting numbers and facts that tell the real story!
Colombia
Talent pool: 150,000 IT experts
Senior software developer salary: $40,000-$65,000 per year
Programming languages and technologies: Python, JavaScript, C#, Java, PHP, .NET, React, Angular
Colombian developers are the best at database development, mobile development, and data analytics
English proficiency: 77th place in the ranking 
Geographical proximity to the USA: 3 hours by plane from Bogotá to San Jose, California
Time zone: 2-hour difference with the US West Coast and 1 hour with the East Coast
IT hubs: Bogotá, Medellín, Cali, Barranquilla, and Cartagena
Mexico
Talent pool: 700,000 software developers
Senior software engineer salary: $38,000-$55,000 a year
Programming languages and technologies in Mexico: Python, JavaScript, C++, PHP, SQL, Ruby
Mexican developers are the best at mobile development and data analytics
English proficiency: 88th spot in the ranking
Geographical proximity to the USA: 3-4 hours by plane to get to major IT centers
Time zone: 1-hour difference with the West Coast and 2 hours with the East Coast
IT hubs: Guadalajara, Monterrey, Mexico City, Tijuana, and Merida
Read our article on IT outsourcing in Mexico to gain more insights about this thriving market!
Chile
Talent pool: 61,000 tech professionals
Senior software developer salary: $40,000-$60,000 a year
Programming languages and technologies: Java, Python, PHP, ASP.NET, Perl
Chilean developers are the best at computer programming, mobile development, and data analytics
English proficiency: 45th spot in the ranking 
Geographical proximity to the USA: 12 hours by plane to get from Santiago to San Jose, California
Time zone: no time difference with the US East Coast and a three-hour difference with the West Coast 
IT hubs: Santiago, Valparaíso, and Concepción
Argentina
Talent pool: 115, 000 programmers
Senior software developer salary: $38,000-$60,000 per annum
Programming languages and technologies: Python, TensorFlow, Cloud APIs, SQL, R
Argentinian developers are the best at computer programming, mobile development, and data analysts
English proficiency: 30th place in the ranking, which is the highest score among the Latin American countries
Geographical proximity to the USA: 10-12 hours by plane to get from Buenos Aires to San Jose, California
Time zone: 1 hour ahead of most American cities
IT hubs: Buenos Aires, Córdoba, and Mendoza
Check out our article on outsourcing to Argentina to be armed with relevant info!
Brazil
Talent pool: 500,000 IT specialists
Senior software developer salary: $40,000-$62,000
Programming languages and technologies: JavaScript, HTML/CSS, Python, Java, SQL, TypeScript
Brazilian developers are the best at cloud computing, computer programming, software engineering
English proficiency: 58th rank
Geographical proximity to the USA: 12 hours by plane to get from São Paulo to San Jose, California
Time zone: 1 hour behind the US East Coast and 1 hour ahead of the West Coast
IT hubs: São Paulo, Rio de Janeiro, and Porto Alegre
Challenges of Team Augmentation in Latin America
Language Hurdles
What can bring difficulties to effective software team augmentation in Latin America is a possible language barrier. Limited proficiency in English can make it difficult for augmented staff to fully understand processes, resulting in miscommunication and increased errors.
According to the English Proficiency Index, among the mentioned Latin American countries, Argentina, Chile, and Brazil have a decent grasp of this language. At the same time, Colombia and Mexico lag behind a bit. 
However, it's worth noting that English is commonly spoken among the educated urban middle class in major Latin American cities. So, there's a higher chance of finding software developers with strong English skills. 
While your choices with staff-augmented providers may be limited, hiring your own developers via a recruitment agency unlocks access to a vast pool of candidates. Continue reading to learn more about Latin America's nearshore IT staffing alternatives. 
Team Integration Difficulties
Sometimes, members of an extended software team in LATAM have different backgrounds and working styles from the ones of your existing employees. That is why you may need extra time and effort to streamline collaboration between these teams. 
Furthermore, augmented staff often come on board temporarily. While your full-time newcomers will eventually assimilate, sharing the same values and goals, augmented experts will always remain outsiders. Once they finish the work, external devs will return to their original employer, the outsourcing provider. 
This is another reason why an augmented workforce might show a different level of commitment to your product development and, therefore, deliver mediocre work. 
3 Alternatives to Staff Augmentation in Latin America
Tech Recruitment
Instead of leasing an augmented development team in LATAM, you can hire dedicated programmers via a local tech recruitment agency. 
Your reliable partner will handle the entire recruitment process, from creating the ideal candidate profile and sourcing applicants to screening, interviewing, and onboarding. Some IT staffing agencies can also assist with payroll management and legal support.
How it works: A US-based product company, Dotmatics, aimed to grow its tech team in the offshoring location. They reached out to the local agency, Alcor. We undertook comprehensive IT recruitment, which resulted in 30 IT hires, including Director of Engineering, Full Stack, DevOps, and Node.js developers. In response to our client's request, our account managers handled compliance, payroll, and procurement matters.
EoR Model
Another alternative to Latin American staff augmentation is partnering with an Employer of Record company (EoR). 
They serve as the legal employer for your software developers, enabling you to engage directly with programmers without the need to establish a legal entity in the offshoring country. 
EoR services encompass compliance, tax management, accounting, and benefits administration. It's worth noting that this model doesn't presuppose IT hiring unless a company offers it as a supplementary service.
How it works: Gotransverse, a tech product company, sought to establish an offshore full-stack development team without opening a legal entity. To accomplish this objective, they partnered with Alcor. In a span of just 1.5 months, we not only recruited six software developers but also assumed the role of an EoR for Gotransverse. Additionally, we handled procurement and IT infrastructure setup for their remote tech team.
R&D Solution
One more way to build a dev team, rather than using IT staff augmentation in Latin America, is by setting up your R&D center via a local service provider. 
This type of cooperation has the best of both worlds: IT recruitment and EoR services. But the list doesn't end there, as your reliable partner will also take care of real estate negotiations, legal consulting, IP rights protection, visa support, and procurements. 
This model is particularly suitable for medium- or large-sized tech companies willing to invest in team broadening and explore new avenues for business growth.
How it works: People.ai, a software development company, went offshore to scale up. They sought a solution encompassing all back-office operations and found it with Alcor. Within just one month, we successfully established their fully operational R&D center, with 25 programmers on board. Furthermore, we provided additional dedicated development center services such as legal support, payroll, and procurement management.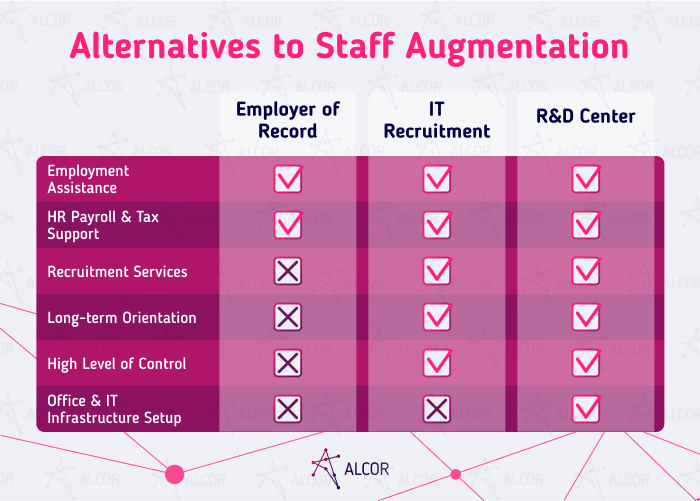 Unlock R&D Center Opportunities in Latin America with Alcor!
If you're an IT executive seeking ways to expand your team without venturing into staff augmentation services in Latin America, consider Alcor's solution.
We're a full-cycle IT recruitment & R&D services provider, specializing in hiring software developers in Latin America and Eastern Europe. 
In addition to recruitment, we offer a wide range of services, such as employer of record, legal and compliance support, procurement management, and even assistance with real estate negotiations and employer branding. 
By partnering with us, you'll benefit from our
44+ IT recruiters and researchers that mostly hire senior, lead, and C-level software developers for American and European tech companies;
Assigned account manager who smoothes out your staffing and operational journey in Latin America;
Transparent pricing, providing detailed invoices for our services, which you keep under control;
Absence of buy-out fees as the tech team is yours from the very beginning;
Guarantee of getting first blind CVs under one business day;
3-month warranty for each hired candidate.