People are the driving force of success in each industry, and IT is no exception. The tech market is developing rapidly, making its players more innovative, better, and quicker. Unfortunately, sometimes such a race can lead to burnout, lack of engagement, and as a result – poor performance. To avoid this, great software leaders should know how to energize team members and boost their motivation to lead them to brilliant results.  
As a recruitment service provider, Alcor helps tech companies hire dedicated developers in Eastern Europe. With more than 10 years of experience in IT recruitment, we have learned that team motivation is of utmost importance to tech managers. So, in this article, you'll learn about the reasons why development teams lose their motivation, find out about the best ways to inspire your team and keep inspiration in the workplace, as well as discover the best solution to assemble a motivated team.  
8 Reasons Why a Team Isn't Performing Well 
Before moving to techniques on how to motivate your team, let me outline the key factors that cause low motivation and poor performance among developers.
1. Micromanagment
Micromanagement refers to a management style when software team leaders closely supervise and control the task execution. This approach can have a negative impact on teammates since they feel untrusted and incompetent. In the long run, developers turn into dependent employees who can't make decisions, which reduces confidence and proactivity. Due to this, tech specialists can't progress and grow professionally, and this decreases their motivation to work. What is more, a survey conducted by Trinity Solutions states that 36% of employees changed their jobs because of micromanagement.
2. Communication issues inside the team
Another reason why the team can show results that are below your expectations is the relationship problems in the team. Conflicts, misunderstandings, and unreliability lead to unhealthy communication habits at the workplace. They are the key obstacles to productive collaboration and teamwork that put a crimp in the development process. 
 3. Lack of dedication to the company 
Unenthusiastic developers also might be a reason why the team shows poor performance.  Employees who aren't interested in the company's growth are neither motivated to bring fresh ideas nor eager to enhance product development. As a result, it's difficult to build a productive and successful software engineer work environment.  
 4. Overwhelming tasks
Bombarding developers with tons of tasks is another reason why teams underperform. Very often, the key cause of this is a staff shortage. Working hard enough for two or even three specialists quickly results in stress and exhaustion. This, in turn, makes it difficult for software engineers to remain productive and effective.  
5. Insufficient tasks allocation
Along with heavy workloads, inaccurate task delegation can cause poor performance. If the software manager doesn't understand team members' strengths & weaknesses and the skills required to complete a task, tech specialists could get ones outside their competence. Delegating a designer's tasks to software developer, or QA ones to a designer can cause frustration among programmers, as well as reduce their motivation to execute the tasks assigned.     
6. Unclear instructions
Even though a part of the team leader's responsibilities is giving instructions to colleagues, not every manager can provide their team with clear and specific ones. Some team leaders tend to give ambiguous guidance which brings a mess into the working process. As a result, software developers don't know how exactly to complete a certain task and have to redo them over and over again.
7.  No good feedback  
Programmers strive for professional growth and feedback plays a vital role. According to Officevibe report, only 25% state that they receive enough feedback to help them understand what to work on. The absence of a fair and specific response makes IT team members feel unimportant and reduces their motivation to go the extra mile. Therefore, it decreases their performance and makes it difficult to grow in their role.  
8. Poor employee value proposition (EVP)
Some tech companies don't consider creating a good EVP or an employee bonus package and tend to cut costs on perks for their IT talents. What is even worse, sometimes team managers don't uphold their promises. There are cases when a manager may force developers to work long hours without extra pay or not confirm vacation requests when programmers ask for it. Thus, software engineers regard it as the depreciation of their efforts and lose motivation to work.
IT Team Motivation Strategy 
To overcome all the above-mentioned challenges, software managers need to possess the right technical leadership skills to compose a motivation strategy for their teams. It usually contains plenty of inspiration techniques that take into account the differences of software team members. For example, one employee may be driven by recognition and the other one might be motivated by perks. Thus, in order to achieve results in fostering group motivation, you have to know every teammate well. On top of that, there are effective ways to inspire the team and stay strong in the pursuit of common goals. 
8 Ways to Motivate and Inspire Software Team Members 
1. Grant autonomy
To avoid micromanagement, you should consider giving your developers more freedom. Whenever you feel the urge to check what the task status is, or on what stage the development process, don't do this on unexpected Zoom/Microsoft Team calls but at regular daily meetings. Beyond that, let your programmers make their own decisions and organize their working process by themselves – it will greatly contribute to their motivation and cultivate trustworthy relationships with you as a leader.  
2. Adopt team building activities 
Another trick to encourage a team is to conduct team-building events. This survey reveals that 71% of employees believe that they are more productive when they feel well-connected to their colleagues. Such activities as informal offsite meetings, board games, or funny quizzes improve not only communication habits but develop your IT team's ability to work together and strengthen their relationship. As a result, your developers are more motivated to work in teams and achieve better results.  
3. Hire developers who share your company values
You should check whether a potential employee is highly motivated to work in your company at the recruitment stage. Share your values, vision, and mission, and see if they relate to the candidate. If the answer is positive, your cooperation is likely to be fruitful since the secret of ever-lasting inspiration is working with people who see eye to eye with you.  
4. Equally balance the workload
You can ensure a healthy work-life balance and prevent your colleagues from burning out by carefully allocating the workload among them. Don't overload your team members when they already have enough on their plates. In case you have urgent things to do, brainstorm together with your team about shifting the focus to the most important tasks and extending deadlines. As a result, the working process will go smoothly and quickly. 
5. Properly delegate software tasks
To improve performance and keep your team motivated, try to always match the right developer with a task. One of the best ways to delegate tasks is to allocate them in accordance with developers' professional interests and goals. This way developers will not only develop the natural interest to complete the task, but also have more incentive to grow professionally and build confidence. 
6. Provide definite instructions
Another essential tip on how to inspire your team is to give clear instructions. Consider filling them up with timeframes, examples, and possible alternatives if any. In the end, ask for clarification to make sure that you and your developers have the same vision. When all members know what to do, they perform quicker and better. As a result, that gives a sense of achievement which boosts morale and motivates them to take up new tasks. 
7. Give detailed feedback 
Encouragement is one of the best fuels for motivation where feedback is the main instrument. Tech specialists appreciate when managers mark their effort and respond to them. When you notice that your employee did a great job, make sure to give them generous praise. But constructive feedback is also about giving sound advice or comments if there's something to improve. This way you will also contribute to motivation building, so developers are eager to learn more and improve their skills.  
8. Revise your bonus package 
To motivate, leaders also think about the bonuses the company can provide software developers with. Medical insurance, gym membership, English classes, training & education opportunities, and stock options are sound factors that impact your employees' motivation. It's beneficial to ponder the perks that you can add to your EVP to show how much you care about your programming team.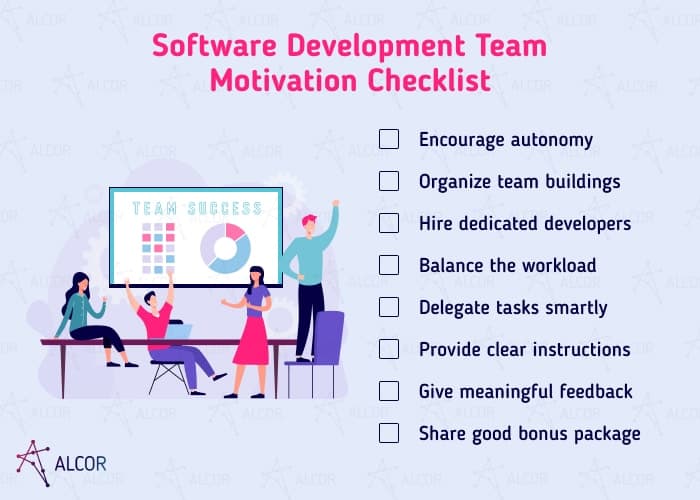 Tips for Remote Team Leaders 
Leading a remote team also requires applying some specific motivational ideas. When your team is far away, they certainly need proactive encouragement from their manager, so that everyone feels valued and important. Here are more tips for team inspiration you can use while managing your remote developers:  
1. Use remote team management tools  
It's a good idea to use remote management instruments to keep the team motivated and inspired. For example, with the help of such task management software as Trello, Jira or Asana, you can simplify the process of task allocation. You can also use recognition tools like Bonusly to provide your global team with various rewards like gift cards, days off, and other perks.  
2. Organize regular one-to-one meetings
Don't forget to conduct one-to-one meetings with your remote colleagues to establish better communication, exchange feedback, identify priorities, and discover opportunities for further development. It helps in building a trustworthy relationship between a manager and a team member, so they know they have your support and guidance to achieve more. 
3. Carry out employee surveys 
You can involve your remote developers in decision-making processes via employee surveys. IT specialists mark when their opinion matters, which gives them a feeling of importance, and remote team members are not an exception. You should ask them to share their experience working at your company, pay attention to their comments, and respond to it. You can also include a performance review form, where team members can also share their feedback on the company's efforts to make further decisions. With such an attentive attitude, it won't take long to inspire employees who are at the other end of the world.  
Consider Alcor BPO Your Trusted IT Recruitment Provider
Sift is an American product tech company that develops fraud detection solutions, using machine learning and artificial intelligence. Lately, the company decided to open its branch in one Eastern European country and hire a team of talented local developers. For these purposes, they decided to work with a trustworthy tech recruitment partner and reached out to Alcor. Our IT recruiters and researchers took into account all Sift's staffing requirements and began hiring perfect-fit candidates for their offshore team.  
The positions included the Head of R&D which we managed to close from the second CV! Our recruiters also found talented Front End and Back End developers alongside a Product Designer while other colleagues launched an effective employer branding campaign that made various candidates extremely motivated to work at Sift. As a result, Sift obtained a team of 30 skillful tech specialists in one year together with a strong employer image in the local IT market.   
If you also consider hiring Polish programmers, Romanian software developers, or coders from any other Eastern European country, we can help you find the ones you need! Alcor is an international recruitment service provider that helps product tech companies recruit Senior/Lead software developers and assemble their own teams. Our solution differs from traditional IT outsourcing or outstaffing, since you get your own software engineering team with no intermediaries in management.  
Alcor's tech recruitment department of 40+ headhunters knows how to recruit talented tech talents, so that 98,6% of our candidates pass the probation period. We also help tech companies with recruitment marketing, offer preparation, and onboarding. Companies like People.ai, BigCommerce, and Tonic already delegated their recruitment process to us and now enjoy the results of their teams in Eastern Europe! 
Hire a team of dedicated developers with Alcor and start applying your motivation strategy to achieve the best results!