The topic of outsourcing vs outstaffing is highly debated and often confusing. In the tech sphere, both engagement models are frequently used by both large technology corporations and small software startups around the world. Yet even these IT businesses may not fully understand the real essence of outsourcing and outstaffing by themselves, mainly because these models share many similar features. In this article, we'll try to dig deeper into the debate about outsource vs outstaff and figure out what solution is going to bring the most value to your tech business.
IT Outsourcing Vs. IT Outstaffing: What's Better?
The term "outsourcing" denotes shifting a certain scope of work to external professionals. Tech companies tend to outsource minor and non-core software development projects due to the lack of in-house resources. In this situation, they don't control the development process but seek the ultimate result. 
What's Outstaffing?
Outstaffing is a model for hiring specialists to work on company tasks without legally registering them as your employees (and needing to create a workspace for them). Basically, it's about the involvement of a dedicated remote team that is officially employed by another company. It resembles a leasing agreement, yet you lease the whole team.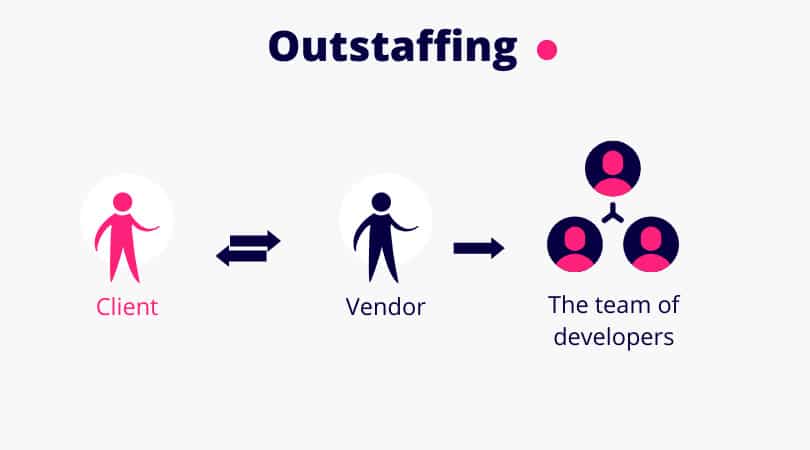 Under this model, you "rent" developers who are officially employed by another company and work from another office. This ensures close cooperation as well as strong control over project performance and completion. 
Like with outsourcing, the client doesn't have to worry about any operational issues. However, these specialists are required to meet the customer's requirements, so in essence the client gets an extension of their in-house team (who work according to given instructions/workflow/technologies).
3 Benefits of IT Outstaffing
1. Direct communication
The first advantage of the software outstaffing model is direct communication with programmers and a sufficient level of control over the development team. With no middlemen, the client can guide group activities, make decisions, prevent possible risks, and manage the development process according to demands of a particular project. Moreover, daily cooperation with the same IT specialists helps to build rapport with a team. 
2. Access to deep expertise
IT outstaffing provides companies with a big talent pool of dedicated developers with extensive experience who will focus solely on their project. You can engage top professionals without spending a fortune on training programs for your employees. This fact significantly reduces business expenses. What is more, by operating as an extension to your IT team, these external developers may boost the skills and technical knowledge of your in-house programmers through frequent cooperation.
3. Flexible teams
Benefits of outstaffing software development also include flexibility. If you feel the lack of human resources, you can easily add new talents to improve overall productivity. Similarly, you may stop the cooperation with particular developers once the project is over. In other words, the client can simply scale up and down their teams whenever they need it.
Challenges of Software Outstaffing
1. Management hardships
Naturally, more control requires more responsibility, thus it might not be so easy to manage an external development team. Those programmers are official employees of the outstaffing company, so they are more likely to identify themselves with a provider's company rather than yours. They often show indifference towards the future of a client's business, corporate culture, and what's more important – the product itself. All these factors can bring unsatisfactory work results for which you'll take full responsibility.
2. Data leakage risk
In case of outstaffing developers, you're probably going to share your ideas and reveal some confidential information about the product. That can result in data theft and violation of intellectual property rights. I advise you to go through all the NDAs carefully or contact experienced lawyers, as sometimes outstaffing agencies claim rights to remain the owners of the developed software after the cooperation with a client comes to an end.
3. Difficulties receiving funding
To be honest, the outstaffing model is rarely effective for tech product companies that strive to obtain funding. The lack of your own qualified staff can be a deal-breaker, as the team working on a project receives the most attention from investors. Cooperation with an outstaffing service provider can signal the deficit of expertise needed to bring a great idea to fruition.
Outsourcing vs. Outstaffing 
Now let's make a distinction between outstaffing vs outsourcing for the delegation of activities in client-vendor relationships. From the table below it becomes clear that outstaffing and outsourcing imply a contrasting distribution of responsibilities.
An outsourcing vendor is accountable for work results and quality. They choose the preferred framework, decide on team composition, and control the whole development process by themselves. As a client you just receive reports, suggest edits, and communicate only with the project manager.
Contrary to this, an outstaffing vendor doesn't intrude into your work with their software engineers. You can manage the outstaffed team directly, request an increased workforce, or reduce the number of developers involved in your project (as well as handle the software development with attainable results).
Another important point for consideration is communication. As mentioned above, clients don't have direct access to their outsourced engineering team, and that's why effective communication with the PM becomes vital to perfectly understand all requirements. At the same time, direct communication with the outstaffed team allows one to resolve arising issues fast and efficiently.
What is more, a vendor usually owns and takes care of the equipment & workspaces of your team (either outsourced or outstaffed). Your outsourcing service provider is also able to mix people between teams so they can work on multiple projects simultaneously. Unlike this, the outstaffing team usually works with only one client.
Outstaffing example:  

OVPN is a Swedish VPN provider. They turned to the assistance of a Ukrainian company (due to the local talents) to create an extended team of developers. The vendor has taken responsibility for hiring and onboarding, as well as HR and administrative support. The team now works at the vendor's location, but they focus solely on the OVPN project.

Outsourcing example:

A bright example is Slack. At an early stage, they hired a design firm to help with their product. The provider has contributed both to their website and the app. They have also redesigned Slack's logo and created most elements that customers see when interacting with the messenger.
Outsourcing vs. Outstaffing vs. Offshoring 
Offshoring is an umbrella term that can refer to either outsourcing or outstaffing. It describes the proximity of a vendor to the client (on-shore, near-shore, off-shore), while outsourcing and outstaffing denote the delegation mode and engagement model. Accordingly, there can be offshore outsourcing and offshore outstaffing.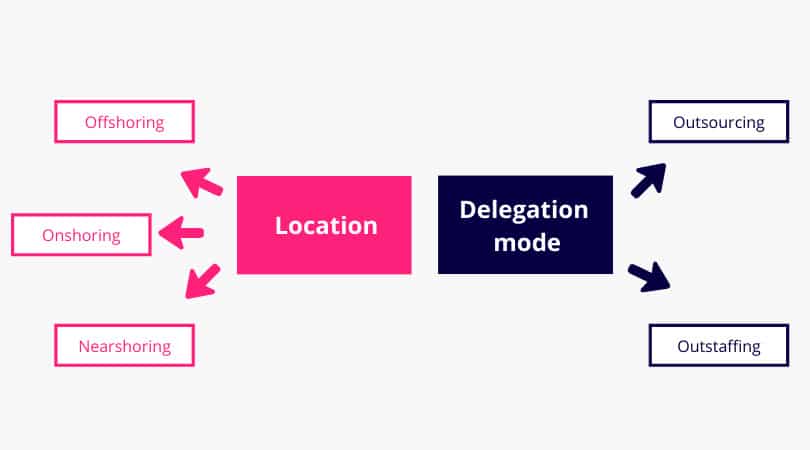 Since offshoring requires doing business in another country, you'll need a software R&D center for your engineering team abroad. IT staffing services, HR payroll, accounting, real estate consultations, legal & compliance support, and other additional services will be of good use for running your offshore development center.
Dwelling on the difference between onshoring and offshoring, it's vital to mention that there may exist various combinations of delegation modes and locations. For instance, if we speak about outsourcing you can outsource your activities to a vendor in your country (onshoring) or to a foreign company (offshoring). In a similar way, if you're considering outstaffing, you can either hire a dedicated team in your location (onshoring), in a neighboring country (nearshoring), or in another country (offshoring) to handle all the issues more cost-effectively.
Related article: Outsourcing VS Offshoring 
We can summarize the relationships between the concepts discussed and different combinations of outsourcing, outstaffing, and offshoring as follows: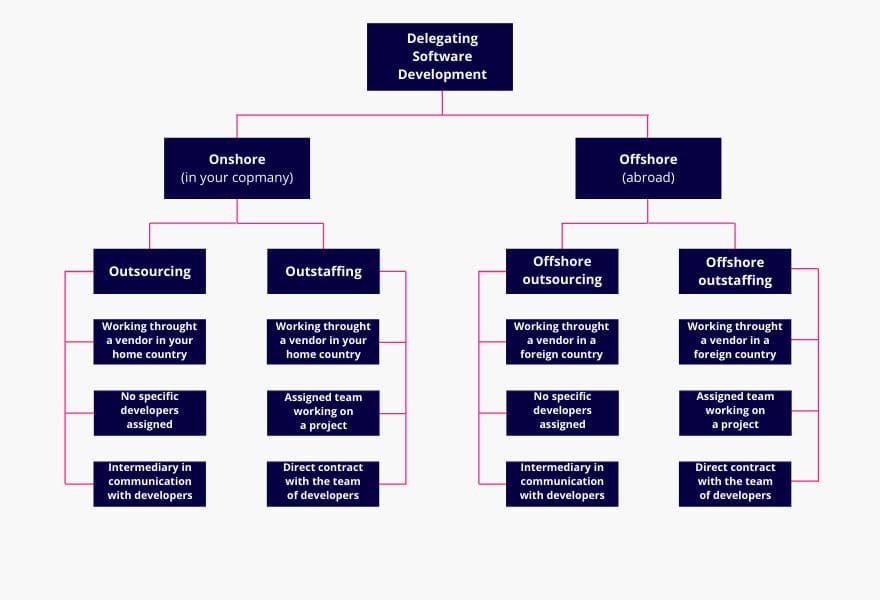 How to Choose What's Better for Your Business 
Any variation could help you develop your venture faster. Yet some companies prefer in-house teams which they consider a better option to manage everything. For instance, if you're selling home appliances, you can easily delegate work on a website to a third party. However, if you want to create a messenger like WhatsApp, it's usually more reasonable to engage in-house developers and get stronger control (as well as higher security of confidential information and trade secrets). 
Therefore, home teams are usually a great fit for software product companies and startups. In most cases, ventures working on their own product prefer having employees committed to a single project. It's true if you develop, for instance, an e-commerce or trading platform that must be as safe as a house. Since it's your core task, you might feel better about controlling the development process and making instant changes.
IT Outstaffing and Outsourcing Environment in Ukraine
Countries of Eastern Europe are gaining popularity among Western companies as a popular offshoring destination due to talented Ukrainian, Polish, Romanian, Slovak developers, and Hungarian developers. For instance, outsourcing and IT outstaffing services in Ukraine have been playing a leading role in the national tech sector. There are sufficient reasons for that.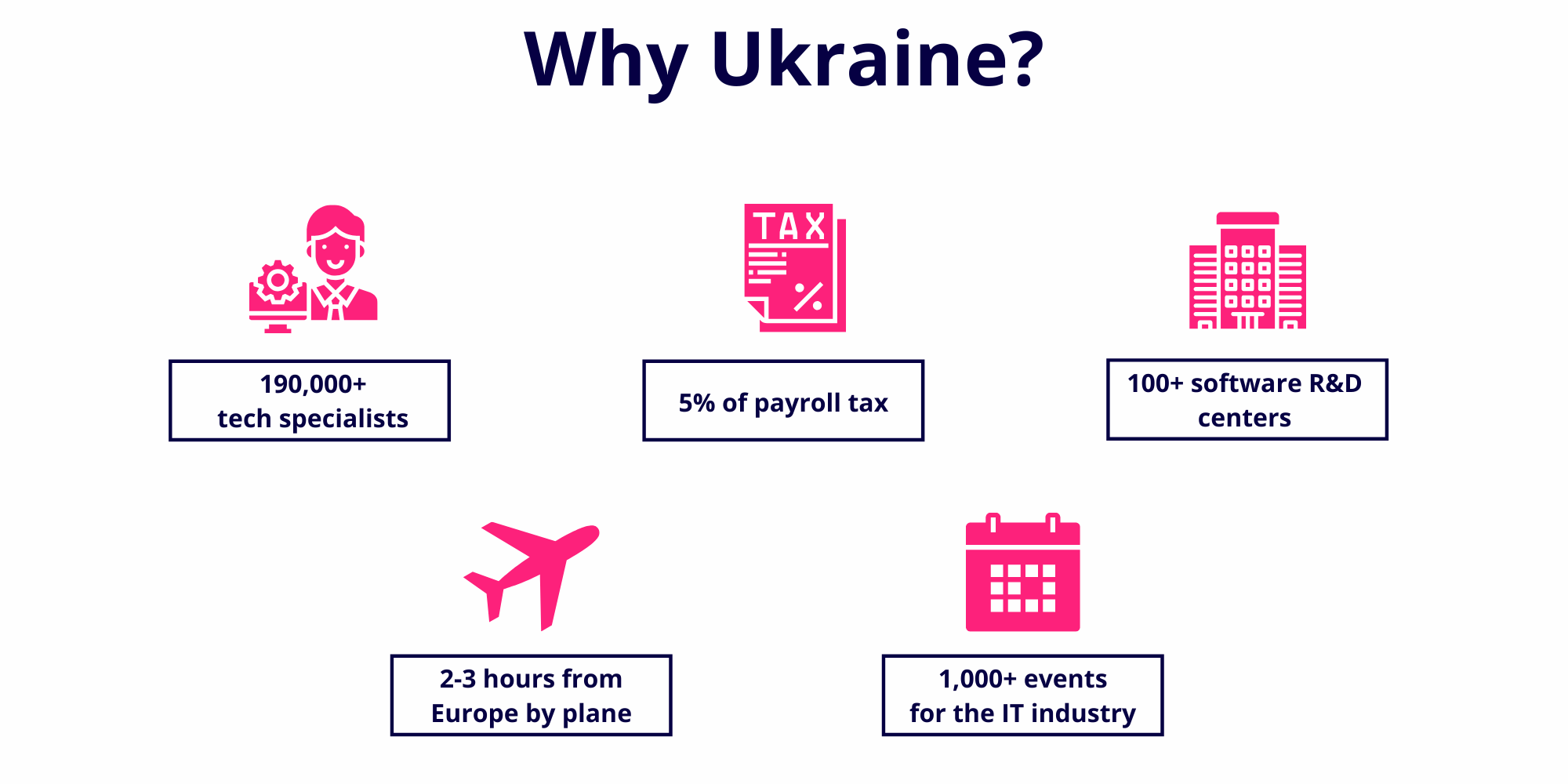 Big pool of IT talents
Ukraine offers an abundance of engineering talents. Since 2016 about 35,000 new tech specialists have entered the market every year. In total, this created a pool of nearly 200,000 developers who are well-known for their hard & soft skills. Thanks to strong engineering traditions, Ukrainian software developers are famous for innovative thinking and deep knowledge in IT. Foreign clients who have had a chance to work with Ukrainian outstaffing vendors also emphasize the developers' similar work ethic and like-minded culture. 
Tax incentives
In addition, cooperation with Ukrainian IT service providers can bring financial benefits to your business. This is due to the special tax incentive for foreign tech companies, according to which local engineers pay only 5% of taxes from their monthly income (if properly employed as independent contractors). Contrary to that, in the West (EU and the USA) tax traditionally makes up around 30-45% of the salary. Not to mention that average pay rates in Ukraine are also times lower. 
Active tech community
Another advantage of choosing Ukraine as an offshoring spot is the developed tech ecosystem and active community of IT enthusiasts. National IT clusters have created a fertile technology network with loads of events and conferences that often gather professionals from all over the world. The most popular conferences are IT Arena, iForum, Fwdays, ITEM, and SaaS Nation.
The country is famous not only for outsourcing and IT outstaffing. In Ukraine loads of award-winning startups were founded, such as Petcube, MacPaw, Jooble, Grammarly, Depositphotos, and Preply. Apart from that, there are over 100 R&D centers in Ukraine, including the offices of Google, Reddit, Huawei, Siemens, Oracle, Samsung, and other tech giants.
Geographic proximity
Ukraine has a beneficial strategic location that enables convenient cooperation between onshore and offshore teams. The country falls within the GMT +2 time zone, which makes it easy for European clients to set up virtual meetings with an IT outstaffing agency in Ukraine or even arrange a personal visit. As regards the United States, the 8-hour difference can keep your business working round-the-clock.
Can Outsourcing or Outstaffing Replace In-house Employees? 
Nowadays, many companies want people working on their projects to feel like a part of their team. This is impossible with outsourcing and outstaffing, where the specialists are officially employed by the vendor and consider themselves a part of that culture. Moreover, you will be investing in the training of third-party contractors instead of your own employees. Is it a smart move? Probably not.
For such cases, offshoring offers another solution we haven't discussed yet. The alternative model does not actually involve outsourcing or outstaffing. This is referred to as an offshore software development center which combines the benefits of offshoring with the advantage of having your own team.
Software R&D Center as an Alternative Option to Outstaffing
At Alcor, we specialize in opening software development centers without intruding into your software development processes. We provide a perfect alternative to traditional IT outstaffing and outsourcing companies in Ukraine. Our all-in-one-place solution includes various services which clients can choose (and apply a pay-as-you-go model for pricing).
It all starts with finding an office space, recruiting talented engineers, and continues with legal compliance, HR payroll, and transparent accounting services in Ukraine. We work exclusively in the tech industry and have built teams of IT talents for many outstanding product companies from Europe and the US, including People.ai, ThredUP, Tonic Health, and others.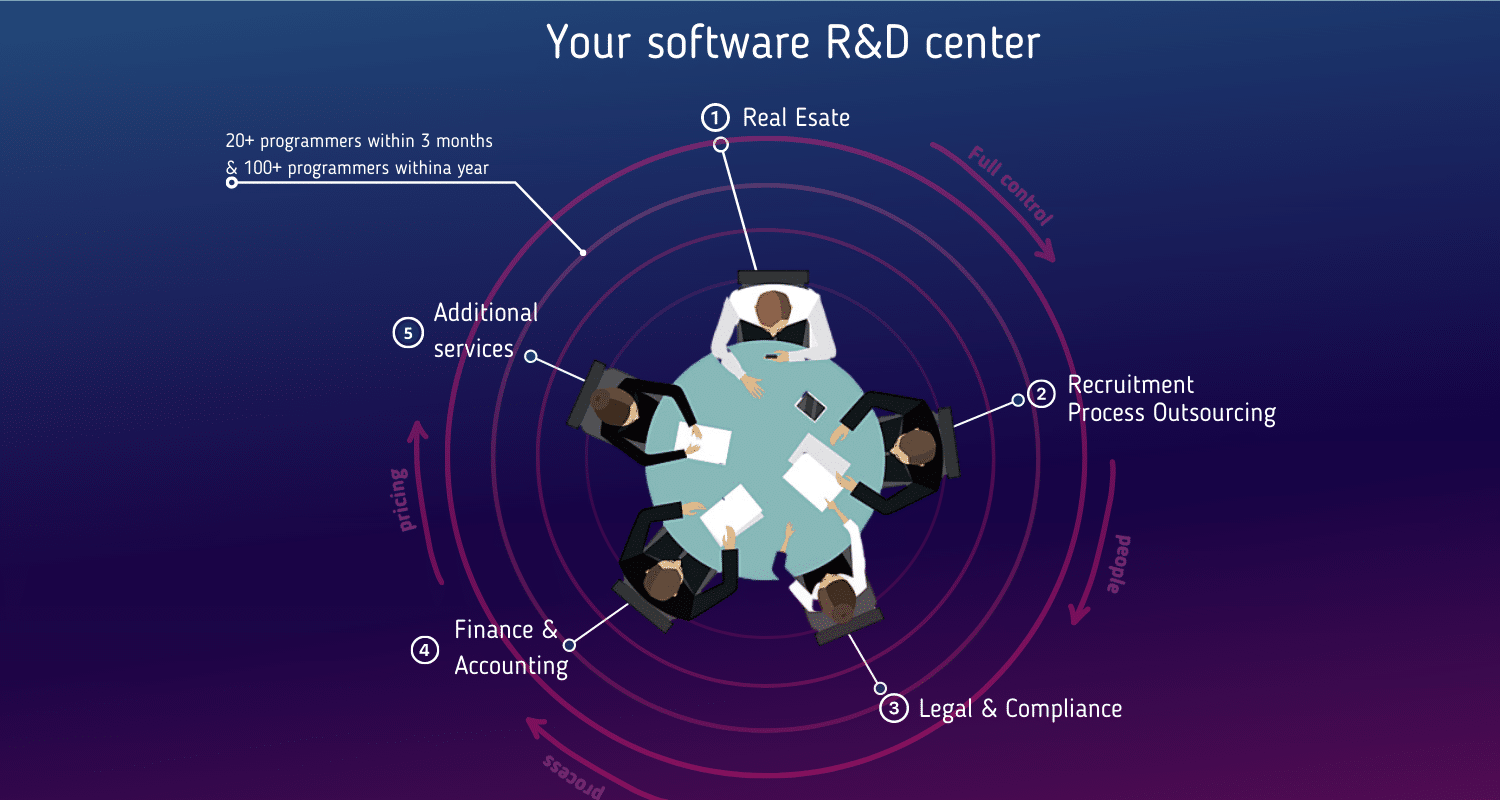 For instance, BigCommerce is a leading US product company that provides innovative e-commerce solutions. For a while they were cooperating with software outsourcing and outstaffing firms but didn't receive the results they expected. The company decided to choose a more cost-effective option and assemble an R&D team in Ukraine with comprehensive Alcor assistance.
Firstly, BigCommerce delegated to us the BPO of IT recruitment. Our professional headhunters engaged over 30 tech specialists within 6 months. Meanwhile, Alcor's accountants took care of the remuneration of these developers and handled the payroll. Our legal team provided the client with a full set of IT compliance services to ensure both legal and profitable business in Ukraine. We also did our best to find a location to fit all the client's requirements, so that BigCommerce was able to move into their brand new office within 1 month. All these IT BPO services in Ukraine made up a fully-backed up R&D center. Sounds appealing? We can do the same for your business!