Regarding R&D, Ukraine can boast nearly 100 software development offices of global tech companies. Google, Snap, Lyft, Oracle, and many others are among them. However, this trend is only gaining ground, so many other product companies are considering quitting outsourcing to open an R&D office in Ukraine.
If you also want to build an IT R&D center in Ukraine, this guide will tell you everything about launching from scratch and managing a software R&D company to help you realize the new opportunity for skyrocketing growth overseas.
What is a Software R&D Center?
A software R&D center is a development office of a tech company often located in an offshoring or nearshoring country.
R&D centers are often associated with international corporations and large enterprises only. However, in the IT sphere, many R&D offices of startups, SMEs, and other middle-sized IT companies function very similarly to traditional research and development antecedents in science.
Software R&D centers focus on developing innovative solutions for the IT product of a company. This goal often requires introducing new features to the existing software product and enhancing its capabilities. Therefore, a team of talented IT specialists is a prerequisite. As a rule, offshore R&D teams consist of 10-50 IT specialists but can grow to hundreds of developers like Boeing, Samsung, WIX, or Snap with their R&D centers in Ukraine. Depending on the specialization of your IT business (game development, AI, e-commerce, fin-tech, health software, security & data, etc.), you choose the required technology stack and decide on team composition.
Technical positions in R&D teams include a team lead / regional manager, software engineers, QA specialists, back-end & front-end developers, a UI/UX designer, and sometimes technical writers. To support the maintenance of the office, you'll also need an office manager or IT infrastructure specialist. The customer and the supplier de facto are the same company. That's why software R&D centers report directly to their head office. Development teams work alone with no intermediaries; thus, product development is fully controlled by one and the same company.
However, offshore research and development companies need help with operational management and usually delegate minor life-supporting tasks to local service providers. For example, the most essential service is accounting for the outsourcing of research and development, but many R&D teams have full support, including recruitment, compliance, and office management.
R&D Center vs Outsourcing
Outsourcing research and development is still drastically different from IT outsourcing. It's a new model for tech business advancement, so more companies are considering this option due to various benefits. Let's compare R&D with IT outsourcing to get a clearer understanding.
1. Recruitment
Having an R&D office makes it possible to recruit IT specialists faster. Talented developers are eager to work for product software companies because it makes them feel valuable and fully engaged in product development. While outsourced development teams get used to working on different projects on a short-term basis, outsourcing companies often shuffle them to balance the projects. Hence, as a customer, you'll have to work with different engineers every time. With your own R&D division in Ukraine, however, you can choose the right people for your team.
2. Commitment
Ukrainian R&D teams, for example, are believed to be exceptionally committed because of the feeling of ownership over the product (that creates more value for their work). Unlike this, outsourced development teams code for specific purposes without having the big picture in their mind. Consequently, R&D teams are far more effective than outsourced.
3. IP rights
Although outsourcing companies sign an IP rights agreement with their customers, it's still risky. Outsourced software engineers use the templates of code for other similar projects. What is more, outsourcing vendors often have just one huge open space. As a result, software engineers from different projects communicate daily for personal and professional purposes. They like going out for meals, meeting in the office kitchen or smoking room to share ongoing work issues, and attending corporate IT events. There's little you can do about it, so that's why a separate R&D center is a way out.
4. Independence
Implementing your corporate culture is impossible on the premises of an outsourcing vendor. Therefore, such an engagement model can be reasonable for minor tasks that don't require long offshore relations. If you're a tech product company and plan to open your software R&D center in Ukraine, it will give way to your vision, policies, and regulations. You are free to build a corporate culture and manage the team independently. Moreover, installing your own hardware and software or equipping your employees with the necessary stuff to make the offshore office look like your original workplace is possible.
5. Costs
Tech companies fancy the idea of small up-front investments in offshoring. On the one hand, IT outsourcing enables product software companies to save money and have the work done promptly. On the other hand, outsourcing vendors are interested in increasing the costs of their services. In contrast, launching your R&D center doesn't imply hidden fees. Pay as you go, regulate the number of services, and build your development center within one month!
Reasons to Open an R&D Center in Ukraine
As can be seen, the R&D model is quite beneficial for tech businesses. However, the most outstanding advantage is the opportunity to accelerate the company's growth. With the following factors, it is easier to make cosmic progress.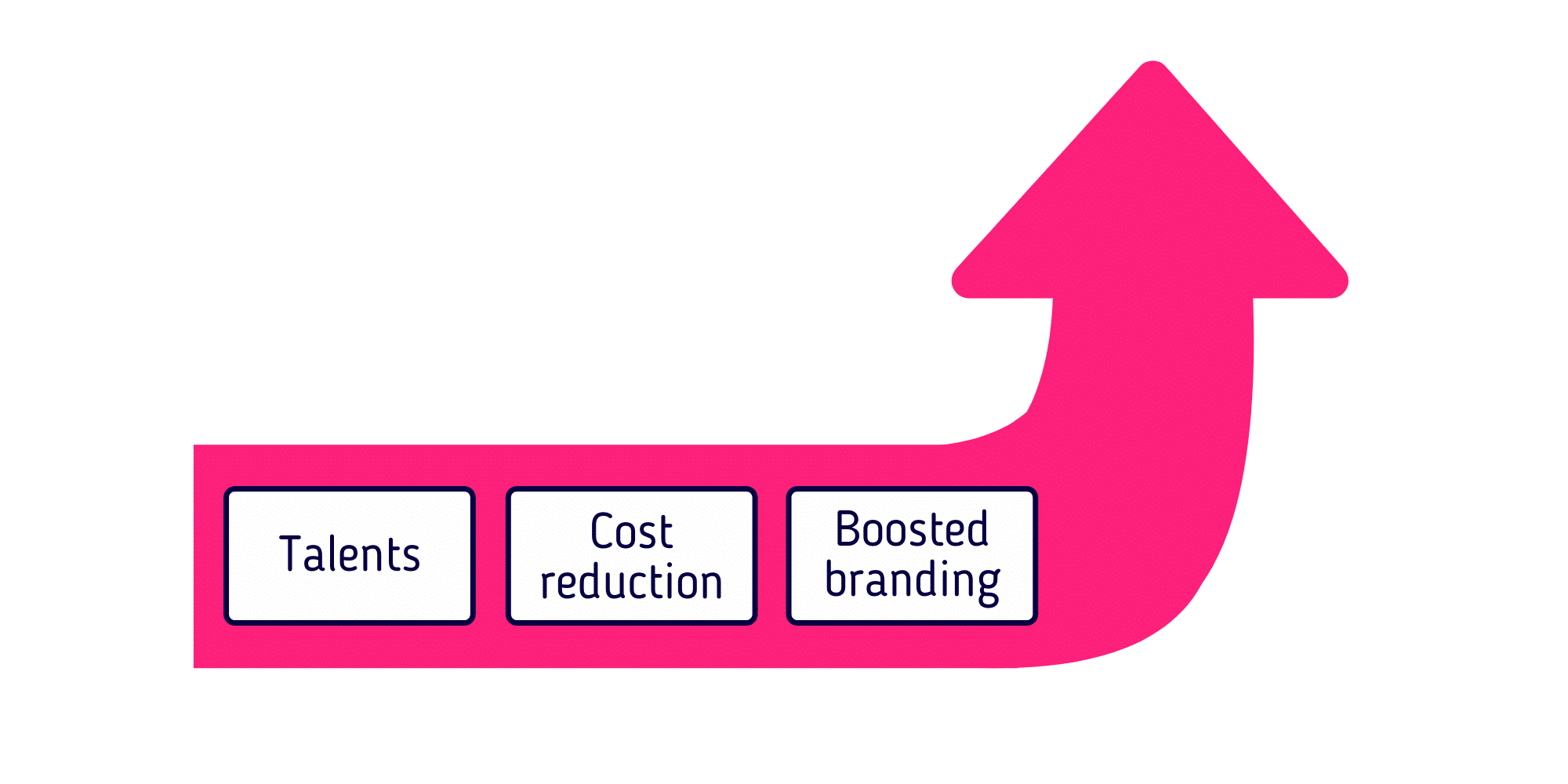 Access to the Pool of Talents
For the IT industry, the most valuable thing R&D centers can give is access to a vast pool of tech talents. Europe witnesses the rise of new emerging markets with a powerful tech potential of Ukrainian, Polish, Romanian, Slovak developers, and Hungarian developers. IT companies are already getting an advantage from it. For instance, in Ukraine, there are over 100 software R&D centers. Amazon, Samsung, Oracle, People.ai, Sitecore, and Grammarly successfully run their software offices in Ukraine. Other companies like Capgemini, IBM, and Ubisoft are well-established in Poland and Romania.
Cost Reduction
Offshoring helps save money and time, which are essential for rapid company growth. The first reason for that is low labor and operational costs. For example, compared to the USA, the salaries of software engineers in Ukraine are 73% lower. Furthermore, building your own R&D office is based on a pay-as-you-go principle. It lets you plan the budget and regulate the number of services needed.
Opportunities for Branding
Research & development centers open great opportunities for entering new markets. If you strive to preserve your brand identity, R&D offshoring may bring effective brand expansion. Starting from corporate branding, IT companies can raise their brand awareness in foreign tech ecosystems. Additionally, it boosts your chances to raise more money from investors as no third parties are engaged in the core business. With your own branded office, it's also possible to do employer branding and attract even more tech-savvy developers.
Ukraine for IT Offshoring
Ukraine is one of the Eastern European countries where the volume of the IT market is growing 22% annually. Although the major capacity of the Ukrainian tech industry is IT services, its startup ecosystem is becoming more substantial. This situation attracts many software product companies and investors to the region.
As of 2023, over 309,000 IT specialists in Ukraine make up a considerable talent pool. They have a good comprehension of English (over 55% of Ukrainian software engineers have at least an Upper-Intermediate level of English), according to the biggest software developer community in Ukraine, DOU. Most tech specialists in Ukraine are young – 21-30 years old. 88% have a higher degree in computer sciences, while only 4% have no higher education. Importantly, nearly 62% of Ukrainian developers take middle or senior positions.
Ukraine hosts many popular tech events in Europe, including meetups, conferences, workshops, etc. Every year about 1,000 events take place for software & QA engineers, top-level managers, venture investors, and non-technical professionals in the IT industry. The largest of them are:
– SaaS nation
– Lviv IT Arena
– iForum
– Year-End Summary Finance & Legal Conference for IT business
– IT Weekend Ukraine
– City Investment Forum
– ITEM
– .NET Fest
IT companies are members of different communities and local clusters. The largest union of software product and service companies is the IT Ukraine Association, which aims to build a dialogue between the local IT companies and the government (to create a comfortable business environment for doing IT business in Ukraine). The IT industry in Ukraine enjoys tax incentives. When properly employed as independent contractors, Ukrainian developers pay just 5% of taxes from their monthly salary (instead of the traditional 30-45% in the EU or USA). Hence, employers save on payroll tax, and software engineers earn more, which is mutually beneficial.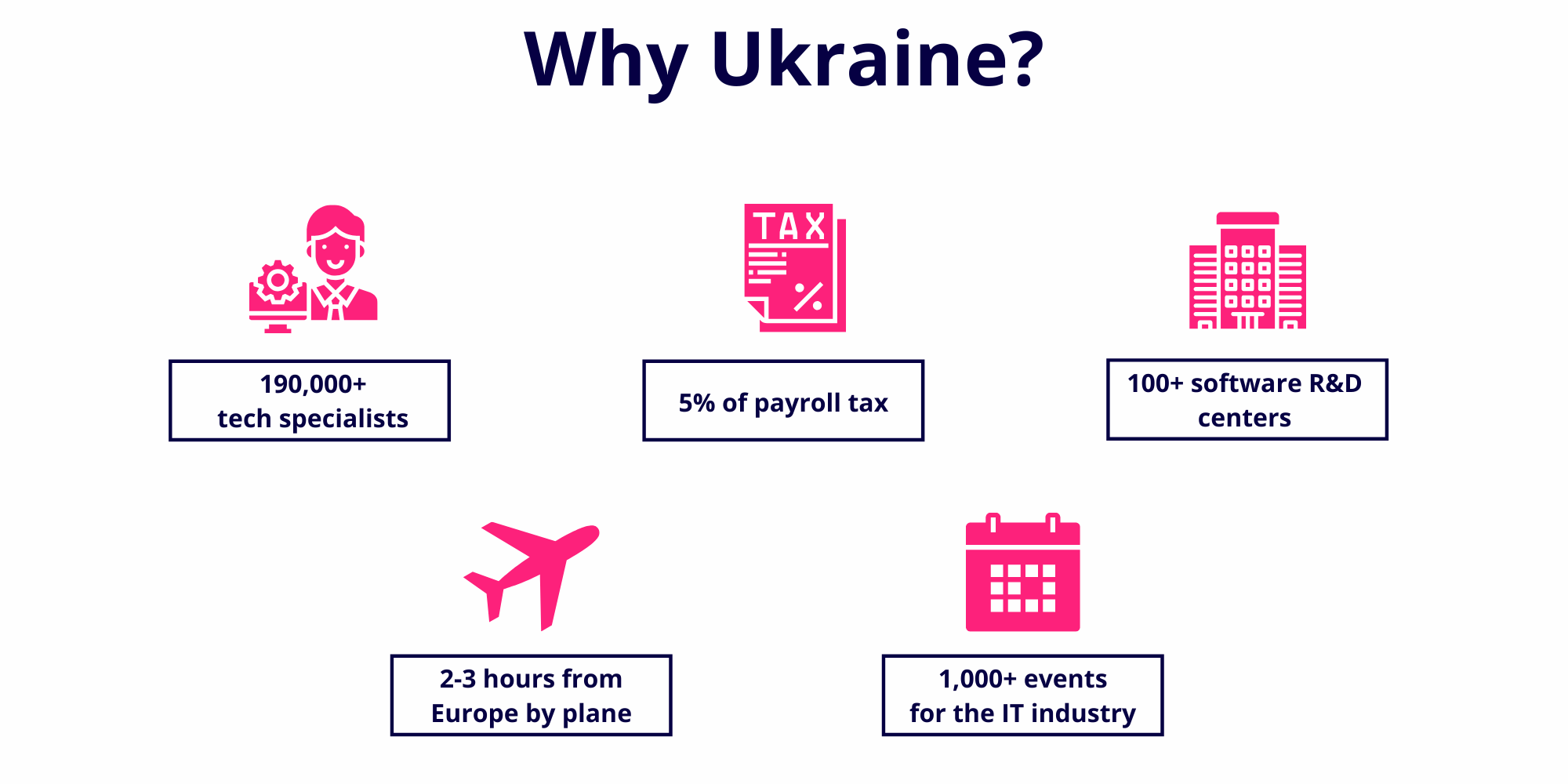 How to Open an R&D Center in Ukraine
When outsourcing research and development, companies may feel confused and frustrated. This process involves studying labor law and finances of the country, as well as the analysis of its market capacities. Software product companies must hire people and then properly employ them, establish an R&D center in Ukraine, provide software & hardware maintenance, utilize security measures, conduct onboarding, etc. First, you need to develop an offshoring strategy and set the goals. Think about the structure of your future team: number of people, roles of engineers, technology stack, and other components. Then, investigate the local labor market and find out its capacities. Travel to the offshoring location to visit several business centers and choose a comfortable office space.
After this, you'll need to do some redecorations, procurements, workplace setup, installation of the security system, etc. In parallel, start IT recruiting in Ukraine, interviewing the eligible candidates. Once hired, software engineers must sign an employment contract and a non-disclosure agreement. Develop the vision of your R&D operational management to launch all processes. This includes HR payroll, office maintenance, and legal assistance. The last yet most important part is to create an inclusive onboarding experience for your new team.
One can hardly imagine a company performing these tasks without outer assistance. With a reliable partner, R&D management is much easier and faster because you are relieved from many red tape and mundane processes. The picture below shows how short your R&D setup checklist can be with a trusted service provider.
How to minimize risks with an R&D in Ukraine
To make everything work like clockwork for your software R&D center in Ukraine, you should include several important details in your offshoring strategy. Working proactively, you'll ensure smooth offshore software development. The following information answers the question "What risks do companies that outsource research and development have?" and explains how to avoid them.
Employer Branding
Indeed, there are many skillful developers in Ukraine, but they may not be ready to work for a foreign company. Since Ukraine is a new market for many American tech brands, even the most popular US-based tech companies are sometimes 'no name' firms there in Ukraine. For this reason, never hesitate to spend money on employer branding, as it will facilitate your life abroad. For example, a good employer brand accelerates the recruitment process. As a result, vacancies are filled within the shortest deadlines. The possibility of headhunting also explains the essence of employer branding and why you'll need it sooner or later.
Office Lease Agreement
What business owners often leave unnoticed is office rent. If you can't come in person to sign a lease agreement, appoint a regional manager to be responsible for that. This person will represent you with a lawyer at the negotiations with the tenant. Another important role in this process is an IT infrastructure manager, who can go and check the chosen office for you, and estimate the security level of your future software R&D center in Ukraine and its comfort, parking lot, noise level, air-conditioning, etc.
Business Trips
Tech companies want to adjust their work with R&D centers and usually invite Ukrainian engineers to the USA for business purposes. There the offshore team meets the whole company staff. The employer organizes introductory training and many team-building events for them. Business trips also sustain permanent cooperation and communication between several offices from different locations.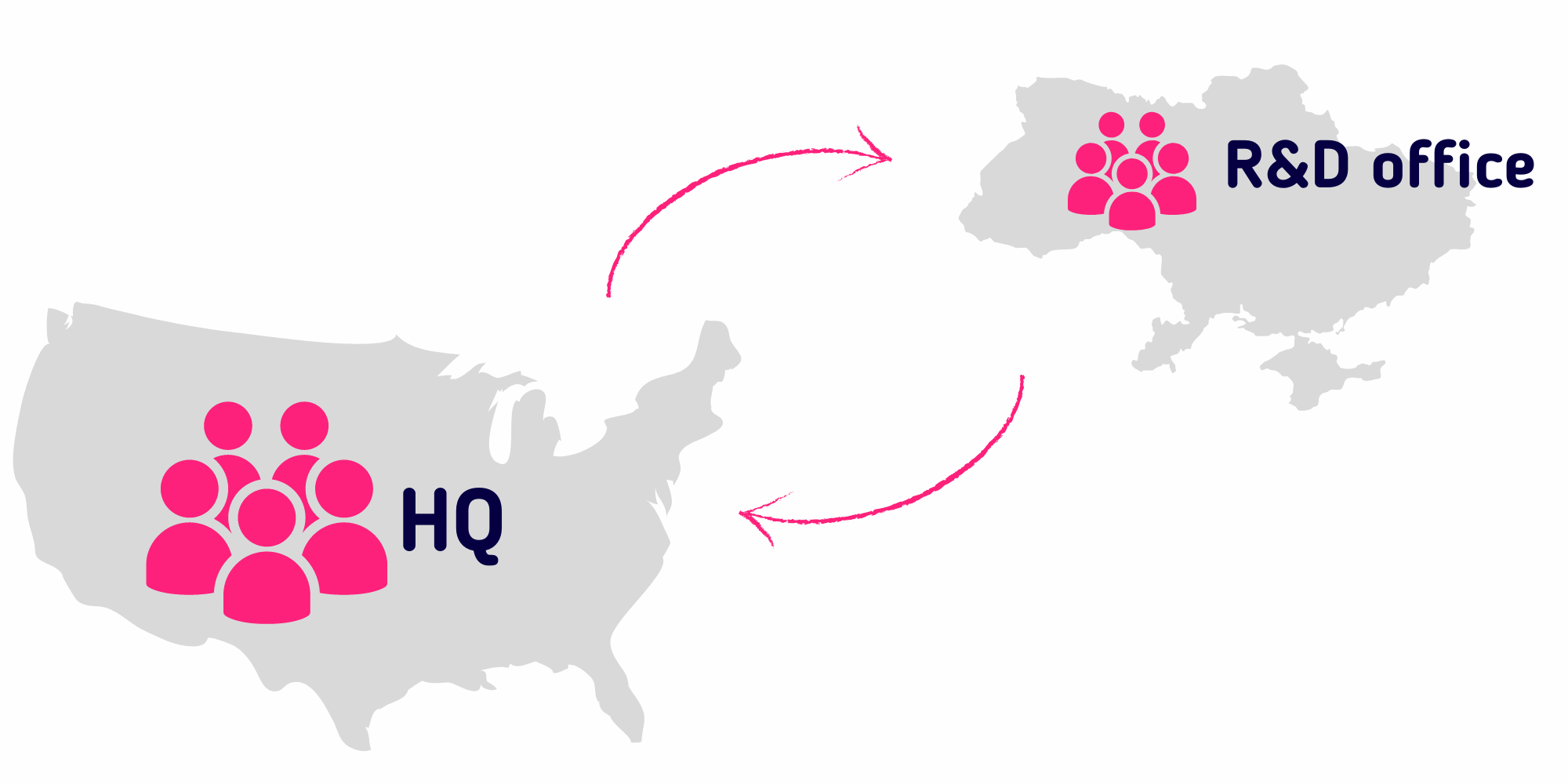 However, sometimes there's a problem with getting an American visa. For instance, Ukrainian developers can be rejected on a business visa because their direct income from the USA is viewed as employment relations. Therefore, to avoid visa issues, pay special attention to the cash flow and type of employment with your offshore development team. Take care of all legal issues beforehand and abide by the law. This will increase trust in your employees and make them feel secure.
Contact local specialists to get a deeper insight into the payroll system in Ukraine. They will help you find the most appropriate kind of employment and prepare templates of contracts and other documents. Generally, these recommendations will prevent tech companies from making common mistakes when opening an R&D center in Ukraine. However, to stay safe, you should contract a local service provider to start offshoring successfully.
R&D Service Provider in Ukraine
R&D service providers aim to facilitate the management of your offshore development office. While many IT vendors suggest single services, Alcor offers full offshore software development services in Eastern European countries, including Ukraine, Poland, Romania, and even Latin America. This includes tech recruitment, payroll & accounting, full legal support, help with office maintenance, M&A deals support, and other additional services.
We did this for People.ai, an American-based company that develops a smart machine-learning platform for sales in the business-to-business environment. They wanted to open a research and development office in Ukraine but started cooperating with different vendors simultaneously. This slowed down their offshoring process and delayed all deadlines.
When they discovered our solution, we consulted People.ai on how to set up their software team in Ukraine more efficiently and signed a contract. After that, our client received a branded development center in Kyiv in just 4 weeks and obtained a team of more than 25 coders within the following few months. Apart from that, we made sure they fully complied with Ukrainian laws and managed their finances properly.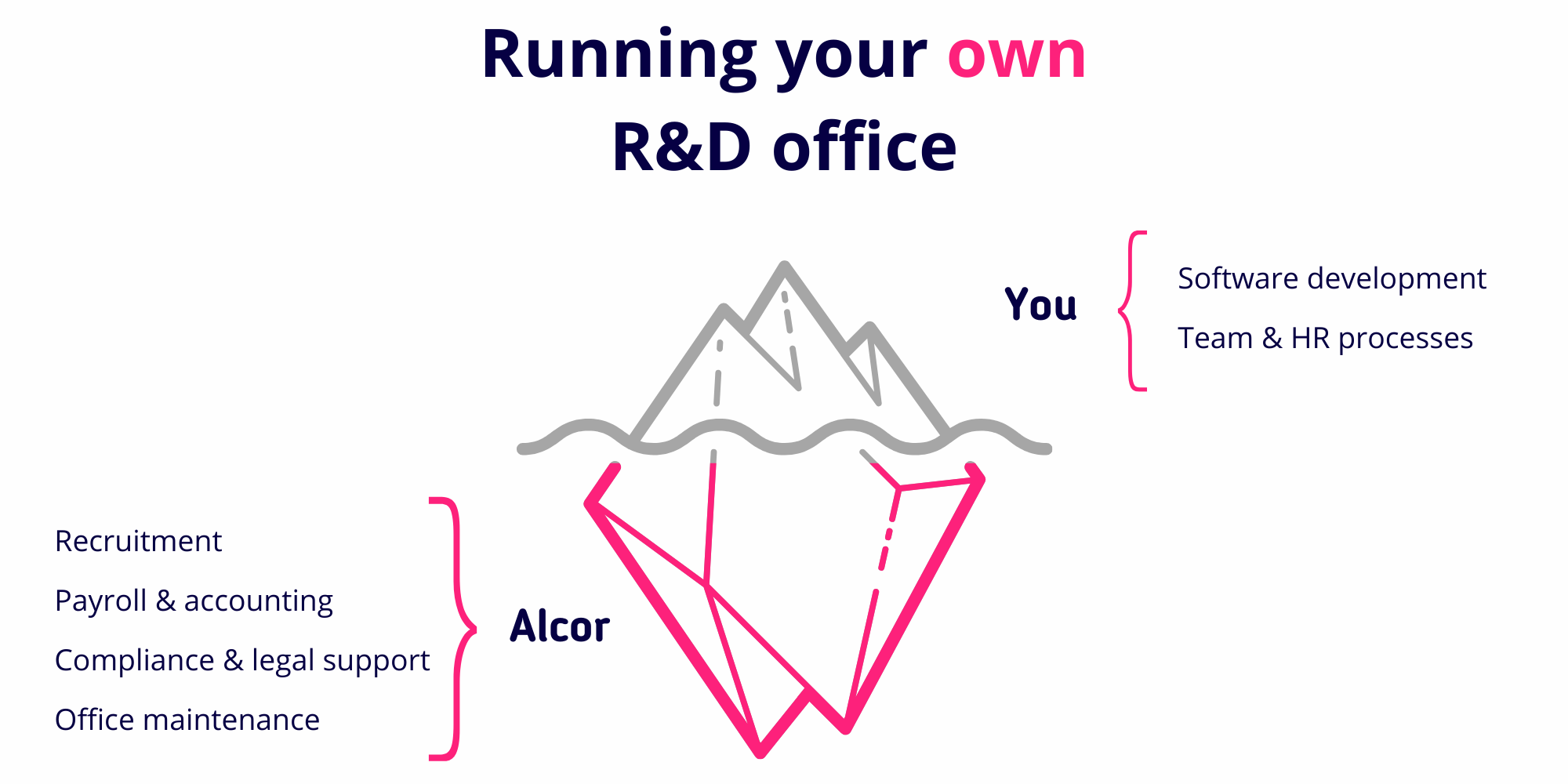 In contrast to outsourcing or outstaffing models, Alcor doesn't control the team in your IT R&D center in Ukraine. We don't have the right to fire or replace software engineers in your team because you remain their employer (thus managing employees independently). Also, the Alcor team doesn't include any developers, so we don't retain any rights to your software product. As a turnkey R&D center provider in Ukraine, we don't have access to your intellectual property either.
What we have is a team of professional recruiters, lawyers, accountants, and account managers who work with tech companies daily. They support the working environment of the R&D team and provide operational management. Alcor strives to help offshore developers concentrate on software development, while everything else is secured by our IT BPO company in Ukraine.
Final Thoughts
As can be seen, if you need to open an R&D center in Ukraine or any other offshoring destination, you should allocate a lot of time and effort. However, it will bring you essential advantages such as access to a big talent pool, and full control over your team, processes, and place. Among all other factors, the most challenging is to set up all processes and make them work in synergy with the head office.