In recent years, the number of Computer Information Sciences and Support Services graduates has been growing at a rate of 5.06%, making it one of the fastest-growing bachelor's degrees worldwide. So, does this mean that the IT industry has enough qualified tech specialists to hire? Well, not at all. IDC Market Perspective predicts a global shortage of full-time developers will increase (from 1.4 million in 2021) to 4.0 million in 2025. Thus, the IT talent shortage is expected to grow at explosive rates as IT specialists look for better work conditions, employers raise the bar for developers, and the great resignation is gaining momentum.
Continue reading to discover why countries worldwide experience this IT specialists gap, and how to overcome this tech talent shortage with minimal losses for your tech company. 
IT Talent Shortages in the World: Numbers & Statistics 
The global IT industry is currently experiencing historic shifts by facing record-high rates of development services. The global IT market grew from $8,384.32 billion in 2021 to $9,358.51 billion in 2022, reaching an annual growth rate of 11.6%. Such a sharp jump caused an inevitable IT specialists shortage worldwide. In fact, by 2030 the global tech talent gap is predicted to reach 85.2M workers, causing millions of dollars of lost revenue. Let's take a look at the IT worker shortage in different countries.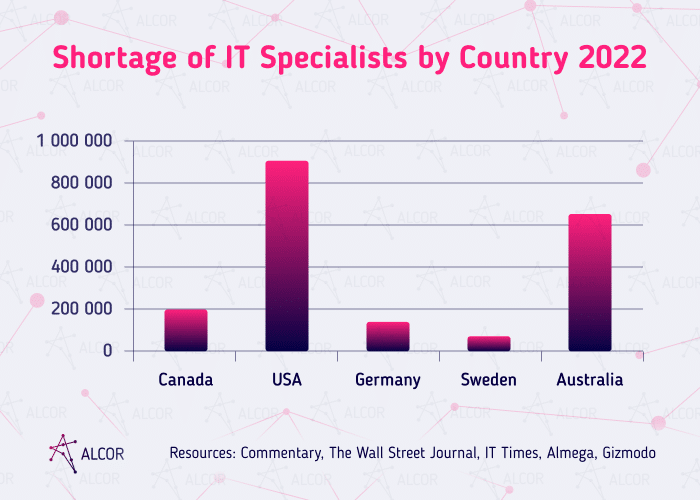 As you can observe in the chart, companies experience significant challenges in hiring tech talents worldwide. The IT talent gap in the US reaches 918,000 specialists shortage. This tendency began to emerge intensively after the Covid-19 pandemic, as the world faced an urgent need for digitization. Moreover, increased pressure on current staff led to a series of job burnout among tech specialists and increased turnover rates in the last few years.  
Why the IT Talent Gap Persists
Why is there a tech workers gap? Well, meet accelerating change, a new reality of the twenty-first century. It is an idea of the exponential nature of the pace of technological change in recent history. Thus, three following factors are coming out of this.
1. Supply-demand problem
The breakneck pace of technological progress created high demand for IT specialists in the global employment market. Yet, the number of skilled tech specialists needed to support the work required is insufficient. The development of the tech industry is so fast that it leaves some university study programs behind, as they're no longer able to prepare students for real-life problems. Therefore, the supply and demand curves simply do not meet labor market equilibrium, causing a global tech employees gap. The good news is that a clear picture of the existing problem and established forecasts on talent demand has allowed the private sector and government to react to the problem and act on labor supply insufficiency. 
2. Too-Narrow Specialization Requirements
Employers set high standards by establishing too narrow and specialized skill requirements for candidates. This approach often creates a double-edged sword, challenging to attain for even experienced professionals, plus significantly squeezes the candidate funnel. What should they do instead? Spend some time or money to train their tech talent internally by offering new tasks, internships, learning initiatives, mentoring programs, and online courses. Grow outstanding professionals from within and let greenhorns come out of their shell. 
3. Great resignation
The Big Quit is a phenomenon that hit the IT industry in 2020 and is still going on as people are rethinking their values and career goals. According to a Gartner survey, only 29% of IT workers intend to remain in their current positions. The Сovid-19 pandemic showed that life is too short to dedicate all of it to office work, and made people face existential crises. As developers have gotten charmed with the idea of a fully remote job, they are not ready to come back to on-site or even a hybrid mode. Also, many developers faced burnout due to the poor work environment and disrupted work-life balance. Therefore, it might be a good idea to focus on retaining your team instead of investing in new job openings.
In this changing world that is only accelerating, usually those who know how to adapt quickly to new realities win – and have some backup plans in case of a lack of skilled talents. So, once you know the causes you're ready to pick up your tools to deal with the IT talent gap. 
How to Pass the IT Talent Gap Challenge
According to the National Center for the Middle Market, 46% of businesses have zero strategic plans to deal with the internal talent crisis. But forewarned is forearmed: here I will give you three working tools to prepare your tech company for the upcoming tech employees shortage. 
It might seem risky at first, as freshly graduated college students lack working experience, but in the long-term perspective they can become valuable assets of your tech company. Fresh blood boosts the diversity of ideas and provides solutions from unique perspectives. Quite often, they are fully familiarized with programming basics, and can work as strong juniors, reaching the middle level fast enough. Aspired to build new connections and develop in their careers, post-graduates are more likely to stay with the chosen company to break limited career progression and grow into higher roles. However, the primary advantage of hiring a college graduate is their adaptiveness. As young tech talent is still in the learning process, they are ready to overcome challenges and modify to the skill set you need, which allows you to create a narrowly focused specialist for your tech company. 
Developers are very conscious about the value of their skills and the high demand in the tech market, therefore they are really picky when it comes to the working environment. Their job tends to be very stressful and responsible, often resulting in burnout and apathy. In addition, the sedentary lifestyle may cause health problems related to bad posture, obesity, and poor vision. Such factors may cause software developers to quit their job. Therefore, it is the primary responsibility of a manager to create an environment conducive to comfortable work (and motivate developers). Allowing tech specialists to work remotely, providing opportunities to learn, health insurance, considering financial rewards, and creating a strong corporate culture will lower turnover rates, thus encouraging your tech team's dedication to the company.
Globalization accelerates the spread of technological progress, gives access to foreign knowledge and what's even more important, opens a larger talent pool of candidates. Eastern Europe is a hotspot of the tech industry with more than 1.7 million qualified IT specialists in the region. Many tech companies are already adopting this strategy and turning to professionals in talent acquisition in the IT sector. Having offices in America, Ireland, and New Zealand, the US software company Dotmatics turned to IT recruitment services in Poland to fill the gap in developers, successfully hiring 24 tech specialists in just a 1.5 year time period with our help.
Consider Alcor BPO Your Trusted IT Recruitment Partner
The region of Eastern Europe is a lifeline for tech companies around the world. Alcor is here to guide you through this market of tech specialists! Concentrating on IT recruitment services in Romania and Poland, we hire senior and lead software developers. Dozens of large IT product companies have already chosen Alcor as their reliable partner. One of those is Sift, a product-based IT company headquartered in the USA. Alcor established their Eastern European development branch of 20 developers within just one and a half years, providing not only IT recruitment services but also qualified legal support and payroll management for their offshore team. 
Our experienced recruiters know how to fight the talent gap. Let's start efficient recruiting together!