At some stage, almost every tech business owner wonders: Is outsourcing good or bad? From my experience of working with international IT product companies, the answer depends greatly on the situation your company is currently in and what aim you pursue. Keep reading to find out when outsourcing could be a solution and when should an organization choose not to outsource.
2 Reasons Why IT Outsourcing Is Good for Business
1. Cost reduction 
Some people argue that outsourcing is often a good choice for technology companies that want to cut their business expenses. Indeed, working with external contractors could lower your costs associated with recruiting, onboarding, the training period for new developers, and payroll taxes. Nevertheless, I'd say that IT outsourcing is rather a beneficial short-term solution but not a long-lasting strategy due to the financial pitfalls it implies.
For instance, not a long time ago I was approached by a tech company that used to work with an outsourcing IT service provider. The client accidentally discovered that they had been paying twice the market rate for a middle engineer in Ukraine for a year and a half. All this time the business owner was convinced that this money was charged for the developer, but it turned out to include a service fee as well. Accordingly, such cloudy pricing makes clients wonder how much they exactly pay for a developer, the cost of maintaining the team, and the vendor's margins because everything is merged into one category. For that reason, your own development team is times cheaper and more transparent than cooperation with an IT service provider. Believe me or count it yourself.
2. Staffing Flexibility
Flexibility is placed among the most popular reasons why outsourcing is good for business. Accordingly, you can scale your development team up whenever you need additional resources and scale it down when the busy season is over. Because of that, IT outsourcing might be also helpful in case your team can't undertake multiple tasks simultaneously or if you're in urgent need of specialists with narrow expertise on board.
Moreover, vendors usually have large talent pools to offer. But let's not forget about the lack of dedication among the programmers who work on the side of a provider. They don't have a sense of ownership over your product, so don't expect them to care much about the future of your business. Contrary to that, in-house teams show more desire to contribute to the overall success.
3 Ways When IT Outsourcing Isn't That Good of an Idea
When is outsourcing not beneficial? Let's have a look at three examples of when IT outsourcing could have a negative effect on startups, companies, and big enterprises. 
1) Startups that want to attract investments
Believe me, if you own a startup, IT outsourcing is most likely to be a bad idea for your business. Outsourcing activities could serve as a signal for investors that you don't have enough expertise and resources. Consequently, the absence of your own employees can have a negative impact on their decision to give money because the team is one of the most important factors they take into consideration.
Outsourcing can also turn out to be a deal-breaker because of the security risks it implies. While collaborating with outsourcing service providers, you disclose confidential information about the core of your product. Contrary to that, your own development center will ensure higher security, as you don't have to share any insights with intermediaries. 
2) Software companies that strive to scale up quickly
I can say with confidence that IT companies that opt for outsourcing or outstaffing often face hardships with hiring. According to our recruitment department, today software engineers prefer working for IT product companies with a unique corporate culture rather than no-name providers. Considering the crazy demand for IT specialists on the market, it's a huge advantage. Therefore, by establishing R&D centers, tech companies receive an opportunity to promote their employer brands and engage top talents who will root for the company's success. Sounds good, isn't it?
3) Technology enterprises with long-term tasks to delegate
In case you have a bunch of core and long-term tasks to outsource, I have some bad news for you. As I have explained above, such a decision has minimum advantages and chances to cut your business costs. Moreover, many unplanned expenses can arise due to numerous adjustments and fixes. Usually, product development requires an extensive understanding of the company's mission and customer issues. Therefore, external contractors who lack experience within your company won't be able to provide you with the best solutions. However, you will still pay extra for the prolonged time of software development.
One of our clients has felt the disadvantages of outsourcing firsthand. BigCommerce is an IT product company from the United States that owns the world's leading e-commerce platform. In an attempt to expand the USA-based business, they started a collaboration with several outsourcing providers. Soon they realized the need to find a more efficient solution and reached out to Alcor for creating their own R&D center with a team of dedicated software developers. In just half a year the BigCommerce team has grown from 4 to 30+ IT talents thanks to our experienced recruiters. The full set of our BPO services that also include accounting, real estate, and legal support has ensured operational comfort and exceeded BigCommerce expectations.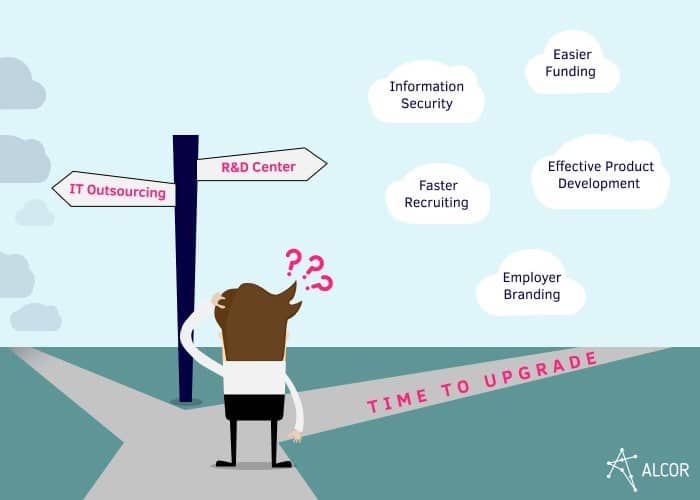 3 Tips How to Make IT Outsourcing Work for You
As you can see, there are both good and bad things about outsourcing. Nevertheless, if you've decided to take a risk, then have a look at the tips and "alarm bells" I've listed down below to avoid possible force majors. 
Choose a Reliable Partner
While choosing a vendor, it's essential to check whether they have proven expertise in the IT industry. Make some research to discover the partner's location, ratings, and a number of relevant cases in their portfolio. I also advise you to read the reviews and testimonials of their previous clients. Don't waste your time, go on Clutch to find the verified information in one click.
Decide on a Beneficial Location
In case you face a lack of local talent, consider getting IT services from abroad. Before choosing a foreign state, pay attention to the number of available developers there. For instance, you can nearshore software development in Mexico where 225,000+ developers can be found, or go with Eastern Europe which boasts over 1 million skilled programmers. Apart from that, IT outsourcing to Poland or Romania appeals to tech entrepreneurs due to their well-developed tech infrastructure. Secondly, consider the remoteness of your partner and time differences. Due to extremely distant locations, it might be inconvenient to arrange your daily activities. To choose a perfect go-to country, I suggest checking the current state of the tech ecosystem there as well, including the availability of conferences, events, and IT communities. Last but not least, take cultural differences into account to avoid misunderstandings on the ground of contradictive values. Don't have a clue where to find excellent IT experts? Go for collaboration with Ukrainian developers!
Discuss the Prices & Guarantees from Square One
Once you prepared a list of potential partners, the negotiation stage starts. Arrange a personal interview or a Zoom call at least. This appointment is the right time to clarify the pricing and cooperation model. You can also ask for a detailed services description and time frames. Unrealistic guarantees or their absence is another red flag. In other words, avoid vendors with transparency issues, but select those who are able to name you clear prices and delivery dates.
Consider Alcor BPO if You Need a Trusted IT Business Process Outsourcing Provider
Considering all the disadvantages of IT outsourcing, many software development companies opt for a more efficient solution. An offshore development center enables them to combat the drawbacks of traditional outsourcing and guarantees cost reduction, secured IP rights, boosted branding, and fast recruitment of committed engineers. Having an R&D office, it is possible to focus on your product and team, while collateral tasks could be delegated to the group of professionals. 
Fortunately, our BPO company consists of experts who can take care of all your operational processes. Alcor's recruiters headhunt the best engineering talents with rare IT skills thanks to deep market expertise, premium HR sources, and a huge database of candidates. Our legal department has an extensive international practice to provide foreign IT product companies with a full set of legal support. If you are looking for skilled accountants to manage your payroll, we also have a team of financiers to help you with this task. Additionally, Alcor can set up an IT infrastructure in the office premises or establish remote workplaces for your developers. All these services combined will ensure the successful operation of your software research and development center in Ukraine.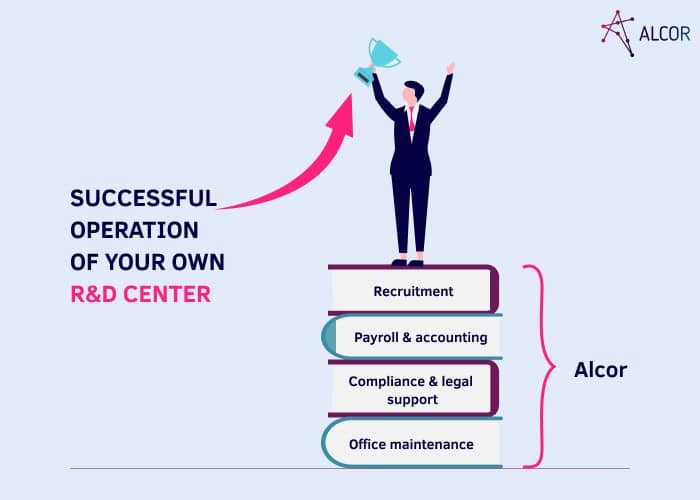 Final Thoughts
Taking all pros and cons into consideration, IT outsourcing to Ukraine could be a profitable short-term solution. However, on a long-term basis, significant drawbacks arise for startups, companies, and enterprises. They include a prolonged time of product development, difficulties of receiving investments, and building up a brand. These are some of the reasons why outsourcing is bad for business.
In case you are looking for a more efficient solution, consider launching your own R&D center in Ukraine with Alcor. Use a full set of our back-office services to forget about the operational processes!