Hybrid apps have become more and more popular due to being accessible on all devices, easy to maintain, and cost-effective. Did you know that Twitter, Instagram, and Evernote are hybrid? Moreover, almost three-quarters of the top 50 retail applications are also hybrid. 
Due to the benefits of hybrid app development, many top tech companies are actively hiring mobile developers all around the world. Basically, they want to assemble a high-performing team that can build a competitive product. But how to work with an offshore hybrid mobile development team so that your app is crowned with success? Keep reading this article to learn how to make it happen!
Benefits of an Offshore Hybrid Mobile Development Team 
A hybrid mobile development team are tech specialists who work together on developing a mobile application with one codebase for different platforms and operating systems. To build such a universal application, software engineers use HTML5, JavaScript, and CSS. IT entrepreneurs opt for offshoring solutions and assemble remote teams, thus cutting down on major expenses to develop the app. Let's have a closer look at the benefits of working with an offshore hybrid mobile development team – which makes it the best choice for plenty of product tech companies!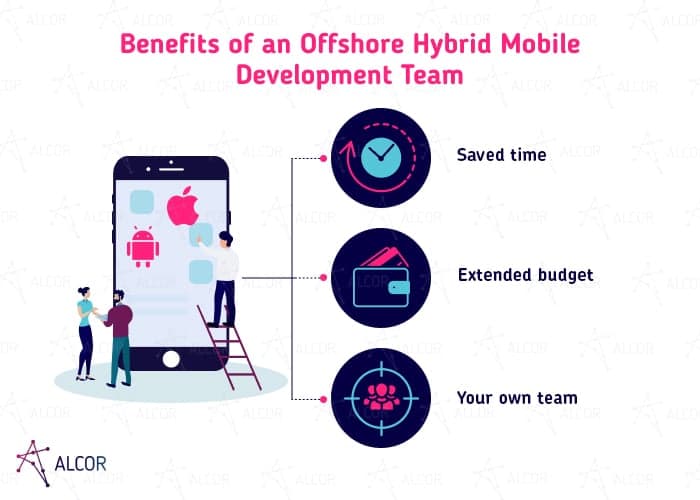 Saved time
If you don't have much time to develop your application, building a hybrid one is the solution. Developers won't have to write different codes for all the platforms since one code can be deployed on different platforms. Another point is that your remote and on-site teams can work around the clock due to time zone differences. Put these things together and you can win plenty of extra time! 
Extended budget
If you decide to build a hybrid app, there's no need for hiring different specialists for 2 operating systems. And that's not only about the number of coders in your team but also regarding salaries – another factor that plays into your hands. Usually, tech companies look for specialists abroad because of lower salary rates. A JavaScript developer in Poland, for example, costs two+ times less than one in the United States.
Your own team of developers
When you assemble your own team you get dedicated developers who are ready to commit to your product. Unlike other models (outsourcing or outstaffing), building your own team gives you more control over the development process. In such a way you can choose any management methodology to organize your development processes and work with your team directly, involving no third parties.  
Big-name companies also involve their teams in hybrid app development. Uber may serve as a good example of a successful one. Uber's performance is one of the best among taxi apps all over the world. The app boasts a user-friendly interface in combination with fast loading. Users of both Android and iOS can get the maximum: access driver's info, add several payment methods, and enjoy nice navigation.
Challenges in Managing an Offshore Hybrid Mobile Development Team  

Even for experienced managers, leading an offshore mobile development team in product development is not so simple. Since your hybrid mobile coders are halfway around the world, it can pose the following obstacles:
Different time zones
No doubt, your remote team will not be as easy to reach as your on-site people due to the time difference. If your HQ is in the US but your remote colleagues are on another continent, the time gap could be as much as 6-9 hours. Without proper time management, this fact may play havoc with your development process and even retard it. 
 
Poor communication
While your US team is always there to meet and discuss ongoing questions, communicating with your remote software engineers as promptly may be more difficult. Consider the fact that infrequent meetings can result in weak team bonding, thus decrease commitment and motivation. That's why you need to pay special attention to communication factors and avoid these pitfalls. 
Insufficient performance tracking
Since your offshore team players are thousands of miles away from you, it's difficult to properly trace their progress. Without appropriate management and performance tracking, it could be difficult to achieve business goals as fast as you want, identify weak points, or meet deadlines.
Proper testing
Sometimes software developers conduct testing stages by themselves, which bear certain risks: a lack of objectivity in testing their own code and retarded development process. It's much better to hire qualified QA engineers who can carry out the testing stage in accordance with all requirements. 
Working with an offshore hybrid mobile development team is easier when you know about all possible challenges, but it's way more effective when you know how to avoid them. For instance, back in its earliest stages Google built such a team to cut down on expenses. Now, this enterprise is the world's second most valuable brand. So, let me share some useful pieces of advice on how to manage an offshore hybrid mobile development team with great success.
Best Tips on Managing an Offshore Hybrid Mobile Development Team 

People management
Make your team feel valued
Don't forget that your offshore mobile software developers are also a part of your team. Praise and recognition are essential to boost their motivation and dedication. Get to know more about them and let them into your corporate culture. It's also good when you have the possibility to organize common team-building activities or invite your offshore colleagues to headquarters.
Find time for daily meetings
Don't forget to keep your offshore team updated with everything that is going on in the company. The best way to do this is to organize video conferences on a regular basis. It will give you a better understanding of what your offshore mobile development team is working on while these distant teammates march in step with your on-site engineers to operate as one system.  
Select efficient management tools
To manage tasks and track the productivity of your offshore team, you can't do without management tools. There are plenty of great instruments that will help you optimize your management process and programmers' workflow, so don't hesitate to get the most out of them.
Technical standpoint
Think about must-have players
Assembling a good team is half the battle, yet to make your hybrid application work, you need a distinct software development team structure. Apart from a reliable local/country manager, team lead, talented coders, and UX/UI designers, don't forget about QA engineers and a product manager.
Set distinct goals
Managing an offshore hybrid mobile development team successfully equates to setting clear objectives with definite deadlines. Your remote mobile developers must have a clear vision of both what they are doing and where they are going. If everyone in your team knows what to do, then the hybrid app development should go quickly and seamlessly.
Consider Alcor BPO Solution to Hire an Offshore Hybrid Mobile Development Team
 
Ledger, an IT company from France that works in the crypto domain, is one of the triumphant offshoring business examples. As part of their product, Ledger is developing a hybrid application which is compatible with both iOS and Android. They were in drastic need of new talents to work on the product, so the client reached out to Alcor to outsource their recruitment process to Eastern Europe. Our recruiters managed to close 4 positions, including a QA Lead vacancy, in just two weeks! All in all, we found more than 10 QA specialists who were perfect fits for our client. Today, the company continues working with these engineers which grew into a solid team of +15 software developers in Ukraine and Poland. 
 
Wondering what is an offshore development center for hybrid mobile teams, how to set it up or just hire hybrid mobile developers? Consider our recruiting services as well. Sift, People.ai, BigCommerce, and Dotmatics have already built their teams with Alcor!  
 
Our recruitment department is a team of 40 specialists who hire Polish developers, Romanian developers, and IT talents from other Eastern European countries. At Alcor, we focus on filling Senior and Lead positions as well as hiring developers with rare technical skills. To find the best candidates for you, our recruiters use a vast internal database of over 200,000+ contacts and premium HR resources. We vow to hire 5 software engineers in the first month and more than 100 in a year! 
 
Apart from IT recruitment in Poland and the rest of Eastern Europe, we can take care of IT employer branding, recruitment marketing, procurement management, and other operational services. Thus, you get your own team of developers with full back-office support.