The success of each IT company depends on their team's performance. That's why more and more top managers have been implementing agile approaches via the team collocation model, to streamline the working process and, as a result, improve the overall productivity and quality of software development projects. In brief, by a co-located team we mean a group of software developers who work in one physical location, where its members practice face-to-face cooperation with no visible barriers available.
Since the IT business environment is constantly changing, some well-established team models tend to become inapplicable due to various factors. Thus, in this article, I'll scrutinize the particularities of team collocation and identify its relevance in the modern workflow set-up and project execution.
5 Advantages of Team Collocation
The сo-located team model is viewed as a classical approach to workspace arrangement, which stands as a reliable and effective means of software project fulfillment. Collocation appeared in the limelight with growing popularity of the groundbreaking agile theory of software project management. Let's have a look at the core advantages of team collocation to determine how they can benefit your project execution.
1. Facilitation of communication
A specific feature of the team collocation model lies in the configuration of office premises. The group of developers is usually placed in an open-plan office where they practice in-person communication, which facilitates fast problem solving. Moreover, ongoing informal discussions in the office can also contribute to strong team cohesion.
2. Promotion of mutual trust and respect
Among other advantages of co-located teams is the augmentation of teamwork. It goes without saying that successful performance is possible only when there is mutual trust and respect between the team members. One of the ways to develop these traits is to assign projects with shared responsibilities that presuppose regular meetings. Such frequent interactions will not only deepen developers' professional knowledge and skills, but also contribute to their understanding of each other's strengths and weaknesses.
3. Working under shared values and goals
When speaking about the benefits of project team collocation, it's worth mentioning the well-balanced corporate culture – a vital aspect of the software engineer working conditions. Nowadays, most developers are eager to work in a company which possesses explicit values and goals. This allows them to get a better understanding of both the product and path that the company pursues. Furthermore, various group projects and team buildings can help programmers feel like an inalienable part of a huge team, making a valuable contribution to mutual success.
4. Product development optimization
Another advantage of team collocation is work efficiency. Thanks to real-life communication, team members can instantly solve any occurring issues. For instance, QA engineers can hold on-the-spot daily scrums with their colleagues in case an urgent issue arises. In addition to that, the co-located team model is also beneficial to streamlining of the coding process, as it enables identifying roles in the group, assigning tasks, and monitoring the progress of the project.
5. Easy and effective team management
And last but not least, co-located development teams are easy to manage. You can assemble programmers at any given time to discuss current matters or check team performance. Moreover, you don't need any intermediaries to help you manage the team, as your communication with the developers is carried out directly and openly.
The diverse benefits of co-located teams convinced BigCommerce, the leading cloud e-commerce platform based in the USA, to choose this model when delegating their software development to Ukraine. They collaborated with a local service company that provided IT recruitment services and managed real estate issues. In half a year, BigCommerce received a team of 30+ programmers who were placed in their R&D office on the basis of a collocation model. Moreover, the partner also provided back-office support to ensure the smooth functioning of the company's software development center in Kyiv.
Osmotic Communication:
How Does It Work in Co-located Teams?
When studying approaches to facilitation of team effectiveness in agile software development, Alistair Cockburn came up with the idea of "osmotic communication". It enables a free flow of information into the background hearing of team members, so that they pick up relevant information as though by osmosis. This type of communication offers a whole bunch of advantages for IT project optimization. The constant bursts of conversation foster knowledge dissemination among the programmers, provide prompt detection and resolution of possible challenges of the project, and boost creative thinking of team members. 
The real miracle of osmotic communication lies in the fact that it happens naturally. Since the team of developers is located in one office room, they can easily initiate any type of conversation. For instance, one of the developers encounters a problem in the engineering process, and asks for advice. While a couple of volunteers are helping him, other programmers can discern some valuable information with the help of peripheral hearing.
In this regard, the co-located team model is considered to be extremely time-effective, as it enables programmers to rapidly address possible errors which leads to faster project fulfillment.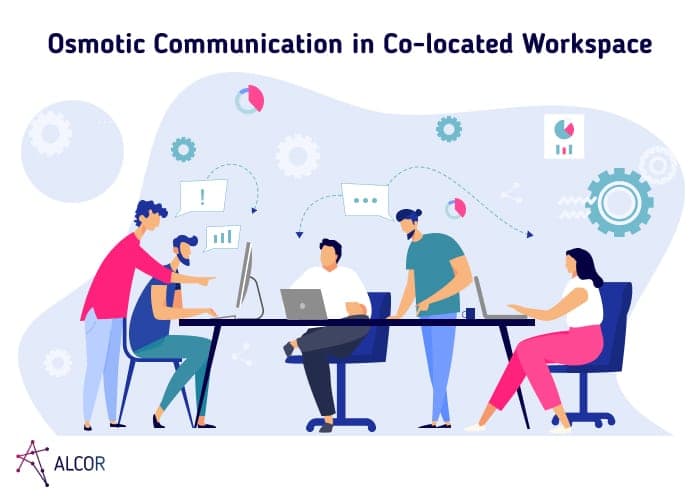 What is the Role of a Task Board
in the Work of a Co-located Team?
The overall productivity of co-located software development teams can also be reinforced with the usage of various agile tools. Let's talk about a widespread one — a task board.
While exploring the specifics of co-located teams in agile, the experts came up with the conclusion that a task board is a useful tool which benefits project management. So, what is a task board and how does it work? A task board is a visual to-do list which helps to orchestrate the workflow and track progress of the project efficiently. This results in congruent teamwork and higher performance. 
The task board is usually divided with cards. They contain information about the project, its members, deadlines etc. These cards are placed in columns which represent different stages of work. A typical task board contains three columns: "to do", "in progress" and "done." The first one shows what exactly should be performed by the team. The second column describes the stage of working on the task. The final one marks successful achievement of the objective. Each co-located team can add any other type of column based on the particularities of their assignment.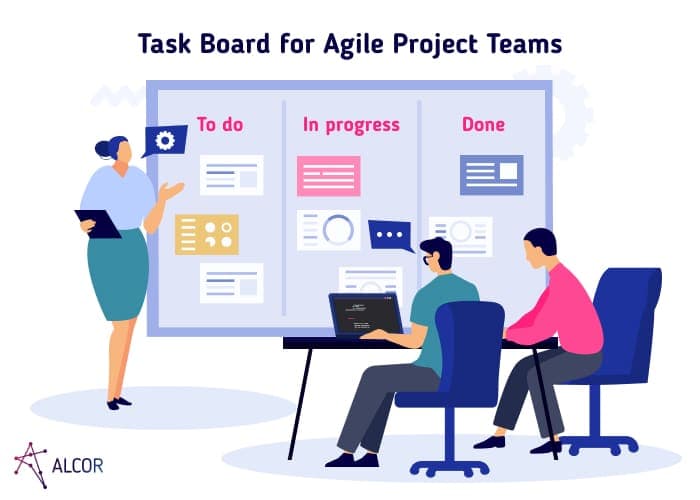 Team Collocation vs. Team Distribution: Pros & Cons
There is an alternative to the team collocation model, which is also used by tech companies to perform agile-driven projects — distributed teams. This is a group of developers who operate from various parts of the world, using digital tools to enable corporate communication. Let's compare these two models to identify their advantages and disadvantages.
Communication and internal interactions
One of the main advantages of co-located teams is direct communication that facilitates teamwork. The communication process in remote teams, in turn, is provided only through the usage of instant messaging apps and video tools. However, such a model can contribute to a better focus and productivity among the employees, since they aren't distracted by external factors of the shared office space, whereas some members of the co-located team might experience concentration issues because of various background noises and high frequency of interruptions.
Team management
It's possible to manage in-house teams of developers directly without any intermediaries. While the communication (as well as work process) of non co-located teams is usually organized with the help of team leaders. Sometimes it may be difficult to exercise progress tracking when having a virtual team of programmers. Therefore, they often use Kanban-based online list-making applications, such as Trello, to manage the projects effectively.
Working process set-up
Since co-located development teams are always in permanent availability, it enables managers to carry out on-the-spot meetings, which hugely benefits smooth execution of the project. When it comes to the coordination of a virtual team's work, it can be more challenging, since its members are geographically dispersed. If facing a problem, developers should deal with it themselves. However, such situations can raise independent specialists, paving the way to their rapid professional growth. Moreover, by having a distributed team of programmers, IT companies can get a round-the-clock business operation (which is highly profitable).
Team extension
Many product companies opt for a distributed team model, since it provides them with access to a global pool of IT specialists. This results in better recruiting and faster business expansion. If a tech company decides to implement the co-located team model, it could encounter a time-consuming hiring process, because the pool of available developers will be much smaller (due to the limited area of search). However, the onboarding of new employees goes much smoother in a co-located team than remote one, since newcomers can be easily introduced into a new working environment.
Expenses
The distributed team model is budget-friendly, as it allows tech companies to save a decent sum of money usually spent on office rental. Moreover, they can cut their costs by hiring IT specialists from abroad. However, to keep the remote team well-functioning it's essential to provide its workspaces with high-quality equipment, which presupposes some expenses. Co-located teams, for their part, imply enormous allocations of funds on office rentals and maintenance, as well as additional operational costs. In many cases, such spending can be a substantial disadvantage, since most tech companies look for affordable approaches to boost business scale-up.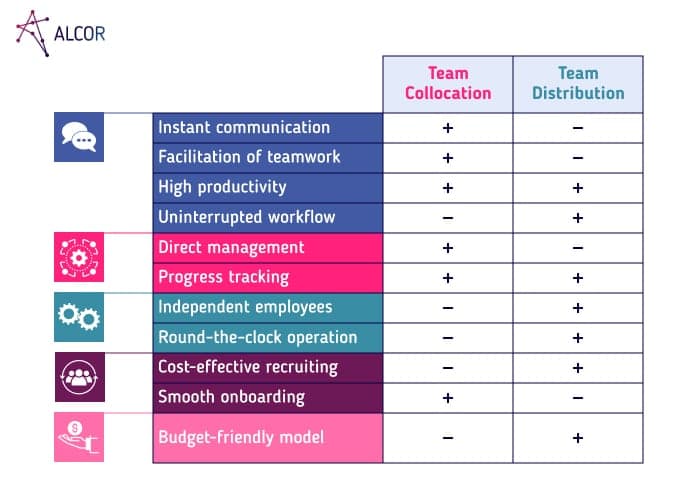 As we can see, both collocated and distributed team models have drawbacks. Therefore, to help you spend less and get more, Alcor created an advanced team model — the software R&D center, which combines the best of both worlds. 
You Don't Need to Choose Team Collocation or Distribution
When You Have Your Own Software R&D Center
By having your own software research and development center in Poland or Ukraine, you will be able to swiftly and effectively extend your team, as you will get access to a wide pool of talented programmers. In addition to that, you will be able to cut your expenses by paying lower wages and taxes. You won't need any intermediaries to manage your IT team, which will work under your brand and stick to your corporate culture. In this way, you will preserve total control over your expenses and secure your IP rights.
The best way to assemble your own development team in Eastern Europe is by cooperating with a local BPO company which has deep expertise in IT recruitment. Alcor is one of the firms which has an exclusive focus on tech positions for IT product companies. When discovering Alcor's model, People.ai, a tech company from the United States, decided to opt for it. We hired a team of 25+ Ukrainian programmers and took over all the back-office operations to ensure the uninterrupted functioning of the company's offshore development center. Among the core ones are payroll and accounting processes and legal compliance. As a result, People.ai got a dedicated team of talented developers, received BPO services, cut their expenses and got the opportunity for business growth. 
Conclusions
The co-located team model has been practiced by companies for a long time. Even though it is considered to be well-functioning, reliable, and beneficial, it can't fully satisfy the needs of modern IT business players. Therefore, it's essential to consider up-to-date agile team models which are devised specifically for product companies. One of such set-ups is "your own remote software team" solution by Alcor which not only provides you with a dedicated team of programmers, but also lets you cut your expenses, secure IP rights, and enter new markets.