Today, more and more IT entrepreneurs are implementing innovative approaches for doing business. The global economic recession, tech labor shortages, and increasing costs are the key factors that force companies to reach increased efficiency and operational flexibility in the globalized environment. That's how business process outsourcing (BPO) came to the foreground, enabling IT enterprises to scale up faster and at the same time cut their expenses significantly. 
Although there are multiple examples of corporations using an offshoring solution successfully, it's not deprived of cases where companies were faced with challenges. Thus, I'd like to share both triumphant and not-so-good outsourcing and offshoring stories, so you wouldn't have to go through the painful lessons yourself but use only the best practices for your IT business.
What is Offshoring?
Offshoring in its meaning is the relocation of a whole or a part of the business to foreign locations for the sake of receiving higher-quality services, accessing bigger talent pools, reducing financial expenses, and obtaining scalability opportunities.
7 Successful Offshoring Examples
There is a great number of things to do first before actually starting the offshoring process. We all know that consistency is the key to success. Therefore, you should go through a defined to-do list when choosing where and how to offshore your tech business.
The first question is "where to offshore?". Successful examples of offshoring companies show that the choice of the destination might be crucial for the outcomes. Eastern Europe is one of the most prominent and beneficial offshoring hubs. The list of real cases below serves as proof of this statement.
1. WhatsApp
Offshoring enables your in-house team to focus on the most relevant challenges your business is facing at a specific time. Right before WhatsApp was launched in 2009, the company offshored its software development to Eastern Europe. WhatsApp relied on offshore talent in keeping the backstage, providing design solutions, and taking care of core app development, while their in-house engineers concentrated on client-related tasks, such as customer support. Soon after that, the messaging app went on top of the AppStore and Google Play. This situation even forced Facebook to overcome its biggest competitor by acquiring WhatsApp for $19 billion. At that time, it was the largest acquisition ever of a company funded by venture capital.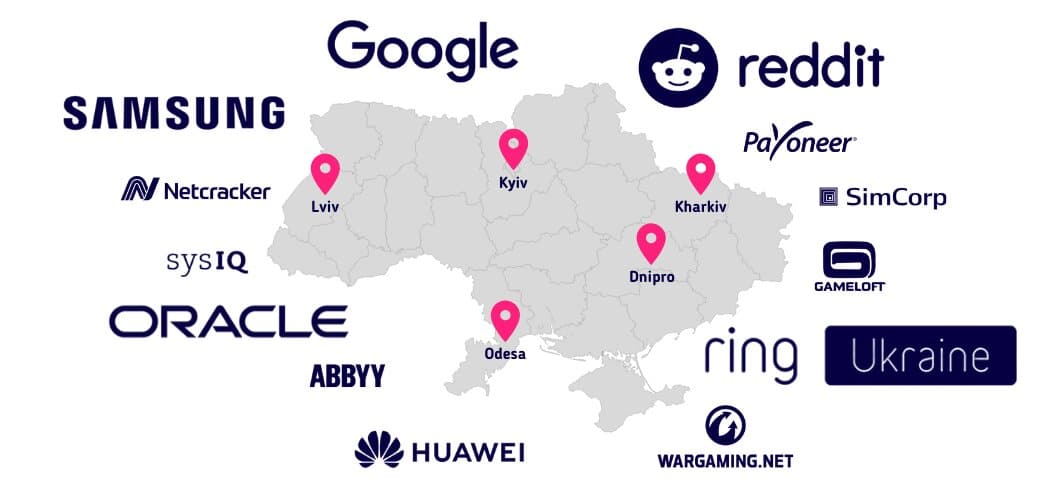 2. Google
This is another big player in the list of successful offshoring companies. In 2020, Google became one of the companies that have offshored to Eastern Europe by establishing its software development team on the base of CloudSimple. Acquisition of this company illustrates that there is always a place for advancement and innovation, even if you already have the world's largest team of developers. CloudSimple is now a part of Google Cloud, and improves its VMware migration solution. There is also no doubt that the decision to offshore wasn't preconditioned by the lack of expertise. However, it enabled a large reduction of business expenses due to offshore hiring. If you are also in need of Eastern European IT talents, consider Alcor as a recruitment provider.
3. Amazon (Ring)
Amazon is also among the companies that use offshoring as a means of expansion. In 2018, it bought the startup Ring with a programming team in Eastern Europe, which specialized in developing outdoor home-security solutions. Accordingly, this deal boosted Amazon's competitiveness in the market. Alcor was happy to provide them with accounting services and payroll outsourcing. What is more, within a year the second offshore development crew was formed in the region. According to recent comments, they praise the Eastern European "big pool of IT talents at a high level of quality."
4. Lyft
Among other prominent examples of companies that offshore IT functions is Lyft. This US-based ride-sharing company is all about creating innovations that trigger customer unrivaled experience. Thus, to take product development to the next level and strengthen their tech community in Eastern Europe, Lyft decided to establish their software team in the region (as EE has exceptionally talented engineers). Since its opening in 2021, the company's crew currently consists of 20 programmers and is expected to grow to 100. Their Eastern European software developers are mostly focused on data mapping, improving Lyft's services.
5. People.ai
People.ai is a software product company, which owns a platform for B2B sales acceleration based on ML technologies, and another offshoring business example. They opted for offshoring in order to find rare engineers to develop AI algorithms. Based in San Francisco, People.ai decided to open a development team in Eastern Europe. At first, they tried to outsource services to several providers simultaneously, which resulted in confusion. After that, they delegated all back-office operations to Alcor. Our real estate managers prepared a perfect location, legal and finance teams offered the most beneficial structure of doing business in EE, while Alcor IT recruiters were searching for top IT specialists. As a result, we hired over 25 professionals and launched a fully equipped development team in just a month. The results exceeded all their expectations!
6. BigCommerce
Among the examples of offshoring companies, there is also the thriving experience of BigCommerce. It's an IT product company that provides innovative solutions for e-commerce businesses. They wanted to expand but faced a lack of skilled software engineers in the U.S. Their cooperation with international outsourcing companies appeared to be exhaustive and non-productive. Consequently, they turned to our IT BPO company for cost-effective solutions in developing their product and growing a professional development team. We were pleased to provide comprehensive support for BigCommerce's software team in Eastern Europe. In just six months, our client's team exceeded 30 developers. 
7. ThredUP
The online resale platform of second-hand clothing ThredUP was looking for ways to expand its team abroad. The company decided to set up a software engineering crew in Eastern Europe and opted for Alcor's solution, becoming a successful offshoring example. Our team provided them with legal support in terms of office lease negotiation and legal compliance. We also performed full-cycle IT recruitment and hired an ML specialist, Java developer, and .Net Warehouse developer, as well as took over payroll & accounting operations. Having a dedicated offshore team in EE allowed ThredUP to achieve unbelievable results, raising $168 million in funding from the IPO and becoming the world's largest consignment store. 
Among other successful offshoring companies that decided to hire developers in Eastern Europe are also Reddit, Samsung Electronics, Oracle, and Huawei.
4 Examples of Offshoring that Went Bad
Not every single decision to offshore is destined to be triumphant. This business move requires much thought and effort, otherwise, failures are inevitable. Let's have a look at the recent examples of outsourcing and offshoring that have gone bad.
Telecommunication Company & Wrong Choice of Provider
There are some reports about a giant telecommunication company, the failed outsourcing example of which is worth discussing. They chose an Asian provider for collaboration, which was good at coding but not so good at the telecom business. Thus, they wasted loads of time trying to develop business applications. The vendor's role is to minimize the risks and possible negative sides, but in this case, they only created more problems. The provided IT services were so poor that the company made a decision to send this process back to the in-house team. Consequently, the client received nothing but financial problems and a stressful legal battle with the offshore partner. This is a living example that shows how crucial the choice of vendor could be. It's essential to select a provider with the proper expertise and track record. 
Product Company & Overpayment
Not long ago we were approached by a client which had an unpleasant foreign outsourcing example. It turned out that for months they were victims of crooked offshoring companies. Examples of fraud are striking. For instance, they were paying a fee for mid-level engineers more than twice larger than the average payment for such a specialist in Eastern Europe. What is more, there was no transparency on rent and utility costs, office equipment, and furniture. If your goal is to reduce costs and then reinvest your savings in product elaboration, for instance, blind invoice payment is not the best option for you. Contrary to that, by hiring your own software team you will be in charge of all decision-making. Alcor can serve you as a trustful partner who will navigate you in an unknown business environment. 
Healthcare App & No Employer Branding
One more offshoring company example is one of our clients who made an unsuccessful attempt to open their own coding crew without external help before the cooperation with Alcor. The medical platform was trying to enter the Eastern European market but faced significant challenges with recruitment. Selective senior IT engineers were uneager to join a no-name company. Therefore, the US-based firm turned to Alcor for employer branding. After a full cycle of marketing promotions, including SMM services and PR activities, the company became renowned in the local market. The next step of cooperation with Alcor was the launch of an offshore development team with our comprehensive support. It was a happy ending with effective office management, arranged legal and financial operations, and a brilliant team of software developers.
IT Offshoring & Inappropriate Destination
It's not uncommon among IT enterprises to choose the wrong destination when offshoring business. However, there is one such offshoring example of an American company that wanted to expand its in-house team by hiring software developers in one Asian country. They knew this destination was famous for a huge pool of IT specialists and low-cost solutions, so they thought it would be a good opportunity to both save their labor funds and scale up swiftly. However, when they got down to business, the reality appeared to be far from their expectations. Instead of getting fast and effective recruitment, they went through 20 job interviews, where only 2 engineers had outstanding programming and problem-solving skills, others were junior-level coders who overwhelmed their experience in CVs and got into the interview. They possessed limited skill stacks, insufficient experience, and low proficiency in English. To save the product quality from deterioration and avoid additional expenses, the American company stopped hiring in this location and found a different offshoring destination.
Why Many Businesses Choose Eastern Europe for Offshoring?
In order not to become an unsuccessful offshoring or outsourcing example, it's crucial for tech business owners to scrutinize available locations to select the most reliable and beneficial option. Eastern Europe has been gaining momentum among Western product companies, as it has over 1 million competent programmers, balanced price-to-quality ratio, lower taxes, convenient location, business-friendly environment, and cultural similarities to the US and Western Europe. Regarding the beneficial EE countries for offshoring, there are several of them:
Poland
Poland has the biggest IT industry in Eastern Europe with over 430,000 Polish developers, being one of the top choices for offshoring in Eastern Europe. Local programmers are skilled in JavaScript, Java, Python, Typescript, and rank 14 in the EF English Proficiency Index. An average salary of a Polish senior software developer is $62,500 per year.
Romania
Ranking #2 by the size of the technology sphere and the number of software developers, Romania is another go-to choice for offshoring business functions for foreign companies. This Eastern European country has a talent pool of over 140K software developers who are well-versed in PHP, Java, C#, JavaScript, React, and C++ and #17 by English proficiency. Regarding salaries, senior Romanian developers earn around $47,000 a year.
Bulgaria
Bulgaria boasts of over 110,000 software developers who have a good command of JavaScript, Python, PHP, Java, and C#. They charge about $58,000 per year when it comes to compensating the work of a senior software engineer. In terms of taxes in Europe vs the US, Bulgaria and Hungary have the lowest corporate tax rates (10% and 9% respectively).
Hungary
Apart from the lowest corporate tax, the Hungarian tech industry is marked by fast growth – 20% in the last couple of years. Furthermore, the number of coders is currently 80,000 people specializing in Python, Java, and JavaScript. What is more, Hungarian developers of senior level charge about $53,000 per annum.
But how to hire professional Eastern European programmers, while saving up to 70% of costs?
Consider Alcor as Your Trusted Partner in Offshoring to Eastern Europe 
The offshoring process doesn't imply getting rid of responsibility, but quite the opposite. The clients themselves are obliged to weigh all pros and cons, build a corporate strategy, choose the most beneficial country for offshoring, and the right partner to collaborate with. Alcor would be pleased to take care of IT recruitment and separate operational tasks to ensure the smooth functioning of your offshore team.  
We need 3-6 weeks to close a vacancy and 8 CVs to get 1 accepted offer. Along the way, you will also receive individual account management support. In addition to that, we can provide you with all-embracing business support that includes a whole spectrum of services starting from payroll & accounting, legal compliance to employer branding and procurement of tech equipment. By choosing only the necessary functions to be covered, you'll maintain full control over the expenses and team.