To begin with, if we want to figure out what new technological trends will be awaiting us in software development in 2022, the best we can do is to take a look at our current situation of technology in software development, with its key factors that will define future of software engineering trends.
Trend #1: New products for co-working
We all remember recent experiences we had due to the COVID-19 pandemic – how hard it was to arrange an office spot at home as well as get used to online meetings. But now, because of what we went through, many companies have had to transform and this led to many new twists for software development trends. In particular, one of the next tendencies is creating new and modernizing older programs for online co-working. From what I can see, there will be 3 main branches of these platforms.
– Employee engagement platforms
We may need them for home offices that will provide more organizational possibilities and automated processes for remote workers: storing documents, controlling their agenda, and many other things we struggled with enormously last year. It is evidently going to be the new trend in software development, or better to say, a part of the continuing global trend for automation of all processes. These programs can be based on progressive CRM systems and we are not going to have a hard time learning them.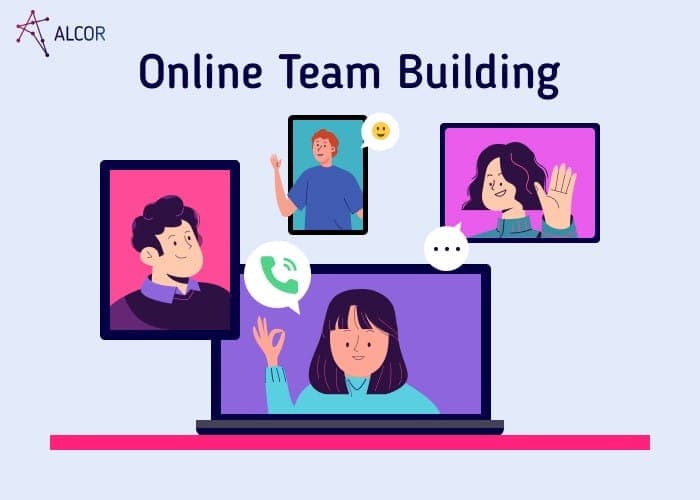 – HR platforms
It is obvious today that every company needs a great HR team on its way to success. Most of us realized this idea even more during the lockdown when we were isolated from one another and there was a lack of interaction with team members and business partners. This led to miscommunication and sometimes resulted in conflicts. For this reason, my strong assumption is that software developers will soon present new platforms to help HR teams keep all their employees united across different locations.
– Team building platforms
Along with the HR team, every company also needs some regular team-building events to keep all members of the crew well-connected with one another. But how can you do it during the quarantine if you have many remotely working employees, e. g. an offshore team? I am 90% sure that this problem will soon be solved with some platforms for team-building activities like Virtual Team Building programs. They will help to keep every member of the team motivated, connected to the values of the company and each other – regardless of their location.
Anyway, there is no doubt that the entire segment of online communication will be evolving rapidly. Statista says that Zoom is expected to reach a quarterly income of over $1 billion by 2022 as opposed to the $150 million they had before the pandemic; whereas according to The Verge, during the quarantine Microsoft Teams enterprise added 145 million active users every single day worldwide. In other words: it looks like every 10th person on the planet uses Teams regularly now. These findings give me the strong belief that the popularity of such applications is only going to be increasing, and these are not just the latest trends in software development but long-term ones.
Find out more information about how you can manage an offshore team successfully.
Generally, the rise of co-working tools is going to accelerate the development of the IT outsourcing market. Given that team management doesn't seem to be a problem anymore, technology companies will feel more eager to go offshore and set up their own development offices in countries with a big pool of IT talents. For example, in Ukraine, there are nearly 200,000 IT specialists who are highly skilled and dedicated. This country attracted such technology leaders as Amazon, People.ai, Reddit, Oracle, Grammarly, BigCommerce, and others that have successfully built their software R&D teams there. To assemble your own engineering team in this location, get partnered with a trusty BPO services company that can provide you with key facts about software development in Ukraine and cover all operational back-up services to run your offshore development center with ease.
Trend #2: Innovations in cloud computing
Another software development trend is the improvement of cloud computing, which is going to be even more relevant in the nearest future.
Since the main idea of cloud technologies is saving space and keeping all kinds of data organized, safe, and intact, this industry is going to give rise to many new cloud-based solutions. For example, cloud gaming technologies appear to be the near-far innovation for online gaming: no more consoles, just a subscription-based gaming service, which can be used on all kinds of devices worldwide.
Interestingly, cloud gaming is just an element of a much bigger picture which we can already see, namely serverless architecture. Many IT companies already prefer to work without the physical infrastructure and to use cloud storage instead. By 2020, 77% of IT companies had already made a step towards this new trend. Another big factor here is cloud-based app development, which offers higher levels of data security as well as faster speed.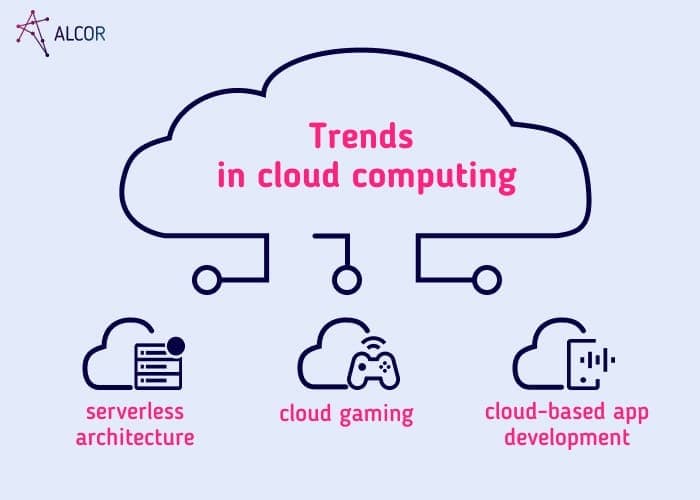 The Tech Jury says that as a segment of the IT industry, cloud computing is expected to grow 15% by 2024. In addition, considering how many businesses already chose cloud services for data storing, this area is going to lead the list of trends in software development for many years in the future.
Trend #3: Advanced software solutions for fintech
By 2019, the FinTech industry seemed to have satisfied all needs people around the world could possibly have. We were already familiar with contactless payment methods and used them regularly, yet when the pandemic started they became something more than a convenient way to pay, i.e. the only safe one. This is brightly shown in the survey Visa (USA) did in summer 2020. The investigation was made among consumers and small business owners in the United States, Germany, Brazil, UAE, Canada, Ireland, Hong Kong, and Singapore. 78% of the respondents had chosen contactless ways to pay due to the pandemic situation.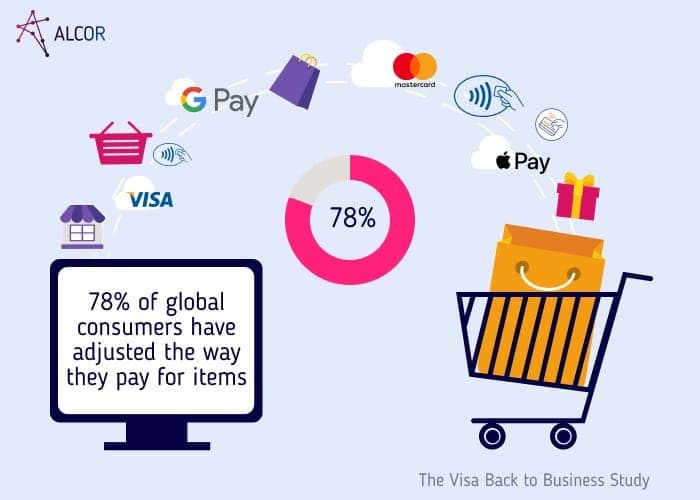 Certainly, this is not the only trend rapidly developing in this industry. To keep their business on track, many business owners had to provide all existing ways of purchasing, such as the option of buying in installments so that a decrease in overall purchasing power would not create a stronger drop in sales. If you open some kind of online shopping website today, most of the online shops have at least one option of buying items in installments via Klarna service or other similar ones.
So, evidently, the fintech industry is going to foster such trends in the software development industry as:
– Banking-as-a-Service (BaaS);
– mobile banking;
– blockchain technologies.
There are many success stories where fintech companies assembled a dedicated software development team in Eastern Europe, which helped them reach a new level of product elaboration and profits. For instance, a company founded in France in 2014, Ledger, creates secure solutions for cryptocurrency, which is one of the top trends in software development. At present they have sold more than 3 million of their innovative crypto wallets. This became possible because of their strong engineering team – which was enhanced with offshore developers. As a hiring partner, Alcor recruited a skillful team of developers in Ukraine for them within a month. It included Manual and Automation QA specialists who completely met all the company's requirements. Grammarly, BigCommerce, and many other companies have already chosen us.
If You're Looking for a Trusted BPO Service Provider,
Consider Alcor BPO
As you can see, there are more than one software development trends that are going to affect the IT industries, as well as our lives, so it's reasonable to be sure of the implementation of at least one of these in your business. The best way to make that happen is to arrange an offshore team of developers.
Surely, most tech companies will be more likely to hire outsourcers from all over the world in 2022 to empower their team, yet at this time they still discover a rather long list of inconveniences that could arise from using outsourcing services. The most critical disadvantages include poor communication, hidden fees, little dedication to their product, and risks for intellectual property. On the contrary, the point of your own offshore development center is that the developers you hire in a different country become a part of your entire team. In this case, tech companies are able to manage the offshore engineers independently and keep software development under control. I think it would be hard to disagree that such an offshore resource looks more reliable than moving your IT outsourcing to Ukraine since it's highly possible to get brilliant results this way.
All the arrangements of the offshore development center can be made by a trustworthy BPO service provider like Alcor, who can provide recruitment (for example, javascript and IoT experts, machine learning, robotics engineers, and many more, all with the highest level of expertise in this field), and many other services that your own R&D center might need. At your request, we can hire a team of professionals for your own R&D center in Ukraine and cover all legal and accounting issues as well as arrange the office and supplies. We can also make sure that the integration of your new offshore team members to your main team is smooth. Our approach is clearly stated in our motto: "Stay focused on your product. We'll take care of everything else". Let's see how it works.
Based in San Francisco, People.ai, an Artificial Intelligence platform for B2B sales, decided to expand their engineering team to Ukraine. For some time the company worked with several service providers simultaneously, which took up too much time and resources. A bit later, the team chose to delegate operational management in Ukraine to Alcor and one month later they were fully covered in terms of recruitment, new office, and accounting support with legal compliance. We engaged over 25 talented IT professionals who filled the essential software development team roles. In this way, People.ai managed to concentrate on their product development and by the summer of 2021 they got $100,000,000 of investments which made the total value of the startup estimated at $1.1 billion.
See the artificial intelligence developer salary rates worldwide if you would also like to assemble an AI team.
Final Thoughts
Proving my initial point, to figure out what the future may bring, we first have to take a close look at the present. From what is going on in the digital industry now, there are three main software industry trends that will have an impact on 2022. These are:
– The growing popularity of online co-working platforms;
– Development of the FinTech industry;
– Rise of new cloud services.
If these latest software development trends have inspired you to make some changes in your business organization, think about boosting it with an offshore R&D center in Ukraine. As a BPO company, Alcor can provide recruitment services, legal compliance, accounting services, real estate, and office supplies for your own offshore development center.