Every company hires employees, yet 3 out of 4 companies do not achieve the needed recruitment results due to a poor talent acquisition process. Too often the candidates are either hard to find, lack cultural compatibility, or leave the company within a short time period.  
If this is the case in your business, you might be wondering: "How can I create a successful talent acquisition process?" Being a professional talent acquisition provider with international experience, we at Alcor BPO answered just that question in this article. So, read up to find out about vital talent acquisition process elements, improvement tips, and effective solutions to streamline it for any tech product company!
What is a Talent Acquisition Process? 
The talent acquisition process presupposes finding, attracting, selecting, recruiting, tracking, interviewing, onboarding, and training new employees of a company or organization. This function is vital for business success as it helps not only hire people with the right qualifications for the job but also match candidates with companies on cultural and psychological levels. To develop a perfect talent acquisition end-to-end process, companies involve human resources and recruitment departments, as well as A-level management.
Why is Talent Acquisition Important for Product Tech Companies? 
Tech product companies often encounter the problem of low developer retention since software engineers tend to change jobs once every 2-4 years on average. They might pursue further career development, receive a salary raise, or get more recognition from swapping jobs, according to Achievers. For companies, such a high developer turnover rate comes at the cost of increased expenses and time on hiring a replacement, and even loss of productivity if the team stays incomplete for a certain period.  
To solve these problems and other IT recruitment challenges, technology product executives adopt the talent acquisition process. Software engineers that were attracted and hired via talent acquisition usually demonstrate exceptional loyalty, high productivity, and better motivation. They tend to stay longer in the company and dedicate more resources to reaching long-term organization goals. 
8 Main Talent Acquisition Process Steps 
In order to develop an effective strategy for acquiring talented developers in your company, follow these 8 talent acquisition process steps.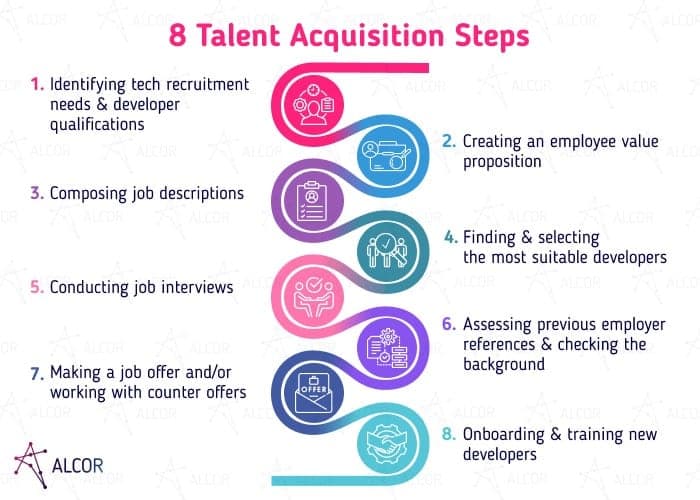 1. Identifying tech recruitment needs & developer qualifications 
The process of talent acquisition always begins with discovering and planning the company's workforce needs. You should analyze how much work must be done to develop your product, what software engineering roles you need in your team, and how many tech specialists you will hire. Based on this information, you will come up with hard & soft skills that your future employees should possess to land a job in your company.  
2. Creating an employee value proposition 
Once you're aware of the number and quality of your future software team, it's time to decide on the perks & benefits that your company offers to developers. For example, a basic employee bonus package includes 20 days of paid vacation, 5 sick leave days, health insurance, procurement management, education and gym coverage, local/foreign business trips, and team-building activities. Your set of perks will be instrumental while communicating with prime candidates. 
3. Composing job descriptions 
After you've shortlisted your company perks & benefits for future employees, you should write clear job descriptions. A classic job description contains information about the company, its product(s), job responsibilities, desired candidate's hard & soft skills, and a description of the employee bonus package. 
4. Finding & selecting the most suitable developers 
One of the main steps of the talent acquisition process is lead generation or candidate sourcing. Professional talent acquisition specialists combine several resources: candidate databases, job-seeking websites, and business social networks to carry out candidate selection. This process is conducted according to important criteria for your company, such as education level, years of working experience, tech stack, soft skills, and others.
5. Conducting job interviews 
After the most suitable developers have been selected, you should invite them to the first interview. Usually, it's an HR interview where your talent acquisition specialist, HR manager, or recruiter is discussing the candidate's skills, working experience, and personal traits. The perfect scenario is if you conduct a basic technical interview for a better understanding of the candidate's expertise level. The second interviewing stage is a more comprehensive technical interview that may include an online coding session or test task, while the third interviewing stage is a call with the team and CEO/CTO. You should note that the number of interviews always depends on the company and position. 
6. Assessing previous employer references & checking the background 
If a developer successfully passes the interview stages at your company, you might request references from previous employers to receive feedback about his/her performance. You can also check the candidate's background, however, you need their consent to do this. A background check is performed to find out whether your candidate has a criminal record, generally complies with laws, or tells you the truth about their education/expertise. 
7. Making a job offer and/or working with counter-offers 
One of the last stages of the talent acquisition process is making the final decision and preparing a job offer for the ideal candidate. The job offer is usually sent in written form and contains the position, salary, starting date, and onboarding details. Sometimes a candidate may have a counter-offer from their current employer or job offers from other companies, so you should be prepared to work with objections and persuade the candidate to accept your offer.
8. Onboarding & training new developers 
After the candidate has accepted your offer, you should supply your developer with a laptop/PC, headphones, and other tools, set up an IT infrastructure for office/remote work, and guide him/her through the working processes in your company. During a probationary period (usually for 3 months) the developer should achieve all their KPIs and prove themselves as a team player. 
5 Tips for Talent Acquisition Process Improvement 
Once you've discovered the most common phases of the talent acquisition process, you may have a question: "How to improve the talent acquisition process in my company?" Well, we at Alcor BPO have prepared 5 basic tips to ensure that your talent acquisition process is as effective as possible.
1) Create a strong employer brand 
According to employer brand statistics at LinkedIn, more than 75% of candidates are researching information about a company before applying for the job. Thus, creating a positive employer brand is one of the best practices to boost the efficacy of talent acquisition. This is a system of communication tools that a company adopts in marketing, PR, and social media activities, which form its image for existing and potential employees. This powerful element of talent acquisition allows you to communicate your vision and culture to potential developers.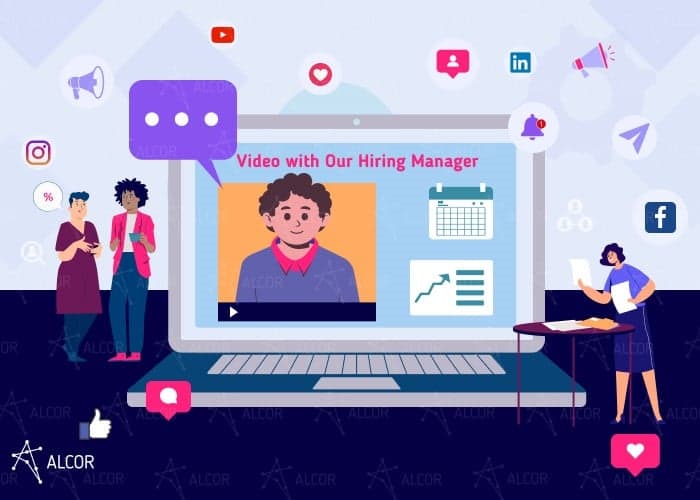 An effective employer branding campaign can even solve the problem of offer rejection from experienced engineers. This is exactly what happened to one of our clients Tonic Health when they decided to create their software R&D center in Eastern Europe. Developers did not know about the company and its products, so most refused their offers. Our team launched a massive brand promotion campaign in the Eastern European market, using marketing, SMM, and PR activities on social media. Now, every second developer knows Tonic Health, and the problem of offer declining no longer exists. 
2) Use tech acquisition metrics and tools 
Another method to improve the talent acquisition process in your company is using performance metrics and tools. When it comes to talent acquisition data analytics metrics, the most important of them are candidate response rate, candidate flow in your pipeline, average time for candidate processing, percentage of candidates that receive interview invitations, number of sent CVs per one accepted offer, number of conducted interviews, and overall offer acceptance rate. As regards the most popular talent acquisition tools, there are the applicant tracking system (ATS), CRM system, Trello, Ideal, HireVue, and many others. 
3) Prepare regular IT recruitment analytical reports 
Weekly/monthly tech recruitment analytical reports are usually based on tech talent acquisition metrics that I have described above. They help you track the performance of your talent acquisition specialists/recruiters and promptly adjust your talent acquisition strategy.  
4) Adopt an executive search to hire rare developers 
An executive search is not only one of the primary practices of expert headhunters but also a great talent acquisition process improvement element. It lets you identify, attract, and recruit developers even with a tech stack that is scarce on the market. This method helped us hire the Head of R&D, Front and Back End Engineers with rare skills, a Ruby on Rails programmer, and other professional developers for Sift in a limited amount of time.  
5) Get assistance from a qualified tech acquisition provider 
In case you need to expand your software team dramatically or set up a new tech team from scratch, you might need help from an experienced talent acquisition consultant that specializes in tech recruitment. This company will provide high-quality talent acquisition services, be your business shelter if you opt for hiring developers in distant locations, help you mitigate all offshoring risks, and even perform other administrative functions to let you focus on your core business. 
Build a Successful Talent Acquisition Process with Alcor BPO 
If you want to know how to choose the right IT talent acquisition provider, just pay attention to the following key elements: 
– Scope of services; 
– IT hiring experience; 
– Number of IT researchers and recruiters;  
– Countries of operation; 
– Case studies, and  
– Client reviews on independent resources like Clutch. 
For example, our international recruitment services company Alcor has been performing IT recruitment services and other back-office functions for US and European product tech companies for about 10 years. Our professional team of 40+ IT researchers and recruiters operate in Eastern Europe and specialize in full-cycle recruiting of Senior/Lead Engineers with rare skill sets. We not only incorporate all the talent acquisition steps and improvement tips described in the article above but also allocate an individual account manager for each client. 
We have an internal database of 200,000+ tech specialists from Poland, Romania, and other Eastern European countries. It not only consists of CVs but also specific information about candidates like soft skills, current English level, and personal workplace preferences. Moreover, we use our IT vacancies page, job-seeking websites such as CleverStaff, Djinni, and others, as well as LinkedIn for recruiting the best software engineers for our customers. 
One of our recent tech recruitment case studies is cooperation with the American-based software product company Dotmatics which produces digital solutions for scientists and researchers. Before they found our solution, the company used IT outsourcing that didn't allow them to supervise the development process. Thus, they opted for an IT team assembling in Eastern Europe. The professional assistance of Alcor helped Dotmatics receive 30 experienced tech specialists into their new team and benefit from managed legal compliance, payroll, and procurement. Moreover, we filled many positions from the first candidate which was a "WOW" service for Dotmatics.