Talent acquisition encompasses a forward-thinking strategy that aims at filling job openings with high performers (A-Players), decreasing the risk of unsuccessful hires, and reducing organizational turnover rates. Considering the ongoing tech talent shortage, IT companies should hire consciously and invest in people who could eventually become senior managers within the business.
Alcor is an international recruitment service provider with deep tech market expertise. My team consists of IT recruiters who are experienced negotiators and HR professionals. During the past 10 years, we have managed to assemble many top-notch development teams that embody the corporate cultures of our prominent clients. In this article, I will share some of the best practices of talent acquisition in the IT sector and explain how to stay attractive to skilled software developers in 2022. Let's start!
IT Talent Acquisition Process 
There are a wide variety of talent acquisition strategies in the IT field. My team and I outlined a useful algorithm for attracting the top talents for IT product companies. Here are the main steps:
1. Identifying an ideal candidate profile
Cooperation between a recruitment agency and client starts with an online or offline meeting. Professional headhunters provide consultations on recruitment process outsourcing and discuss who exactly they need to hire. At this point, it's essential to get a clear understanding of the necessary skills and expertise of a perfect software developer.
2. Preparing a job description with your EVP
After the initial consultation, the recruitment provider collects all of the company's selling points to create a catchy Employer Value Proposition (EVP). This comprehensive set of employer offerings includes both monetary and non-monetary benefits. This information will be used in a job description and communication with applicants. Sometimes, recruitment partners can also take care of complex employer branding and recruitment marketing activities.
3. Executive search for candidates
The next step of cooperation with an IT executive recruitment agency is sourcing. The recruitment department looks for eligible programmers in their network according to the agreed profile. IT researchers contact developers, collect their resumes, and appoint interviews with IT recruiters.
4. Conducting interviews
After the initial sourcing, recruiters then do thorough pre-screening checks and conduct an HR interview on behalf of the client company. At this step, they are responsible for checking English knowledge, basic tech and soft skills. At Alcor, we evaluate programmers diligently: approximately 80% of candidates sent to a client get a further interview invitation.
5. Syncing up with the client
The recruiters then forward the best software developers to the client to continue the interviewing process. Now an employer can communicate directly with an applicant and assess their technical skills in detail. The recruitment provider may help with background checks or collect references.
6. Making the job offer
Once interviewing is completed, the client makes a final decision regarding the job offer. The recruitment agency promptly contacts the programmer and handles the counter-offers, if any. Just to illustrate: on average, Alcor sends 8 resumes to get 1 job offer.
7. Additional support
Some partners offer additional back-office services, so the client can forget about many operational hardships. Upon request, Alcor provides additional support, including procurements management, payroll, and legal matters. As a result, a company can even receive their own offshore development center.
8. Hiring and onboarding
Finally, recruiters congratulate the client on a new hire and prepare them for onboarding. And once everything is done, the provider stays in touch with their team in case of further issues.

Pitfalls of Talent Acquisition in the IT Sector
Talent Scarcity
This is a burning issue, especially regarding IT & tech talent acquisition. The lack of programmers creates a range of difficulties during the recruitment process: from burdensome sourcing to frequent offer rejections. Nowadays, talented candidates receive plenty of emails from tech companies, hold multiple offers, and often have the last word. This fact impacts hiring costs and gives applicants the power in negotiations.
Money Over Matter
While the competition for skilled programmers goes on, employers try to hold onto candidates by raising their salary rates. Accordingly, software developers start to prioritize money over other job aspects. What is more, during these work-from-home times, this trend only intensifies since IT specialists have more options to work for companies across the globe. They rarely communicate online with co-workers, take part in virtual team-building activities, and are not likely to receive an exciting remote experience. Therefore, nothing holds them back if they decide to change jobs and earn more.
Short-tenured Employees
Among other challenges of talent acquisition in the IT sector is short cooperation between the company and its employees. Moreover, in loads of cases such factors as the team, corporate culture, or tech stack are not matters for a quick goodbye. The true reasons are positions and salaries. Many software developers aim at leveling up from middle to senior roles as soon as possible. Therefore, we see a trend of programmers changing jobs every year or two in order to climb the career ladder (and earn more).
Remote Mode
Back in 2020, HR and recruiters correctly predicted a future increase in remote working. It began as a short-term change but resulted in a huge transformation in how employees perceive the norm today. Professionals value virtual work, comfort, and flexible schedules, particularly in the IT industry. Therefore, companies should provide them with comfortable conditions and facilities both during the recruitment process and actual work.
In order to sail through the hardships of talent acquisition in IT, tech leaders can cooperate with an experienced recruitment provider. A reliable partner will provide consultations on recruitment process outsourcing, navigate you in an unfamiliar labor market, handle counter-offers, and ensure executive talent acquisition.
Best Practices of IT & Tech Talent Acquisition 
Shortening the Hiring Process
Talent acquisition in the IT sector has its peculiarities. Skilled software developers are in high demand worldwide and receive plenty of emails from potential employers on a daily basis. In other words, the candidate doesn't get to your 5th interview stage because your competitor opts for only 2 and makes a job offer promptly. Therefore, get rid of time-consuming assignments that usually scare off applicants. Instead of that, try technical pre-screening, short coding sessions, and panel technical interviews. Such an approach will improve the candidate's experience and ensure the effective filling of positions.
Building an Employer Brand
Creating a strong employer brand is among the best practices of talent acquisition in the IT domain. The truth is that software developers enjoy working for prominent companies with appealing corporate cultures and good reputations. Such enterprises don't need to spend a fortune on advertising because qualified candidates come to them organically. This fact reduces the average cost-per-hire significantly.
These are reasonable arguments to showcase your organization's vision and mission. I advise you to start by creating a compelling Employer Value Proposition. Then set ambitious goals, immerse employees in your corporate culture, and adjust your social package to modern requirements. These could be extra mental health days, diverse workshops, and the ability to work from home comfortably.
Promoting Internal Mobility
Another practice worth implementing is the promotion of existing employees to new roles in higher ranks. It's always favorable in terms of reducing employee attrition and costs of IT recruitment. Moreover, such a person has a stronger dedication to the company, attuned to its culture and aware of internal processes. My advice is to introduce mentoring programs, learning opportunities, and internal sharing of open vacancies. That's how you will harness the existing talent and let people grow within your company!
Paying Attention to DEI Metrics
DEI is an indicator of diversity, equity, and inclusion in your organization. Today, tech leaders need to fill vacancies with these three aspects in mind, in spite of the severe competition in IT/tech talent acquisition. There are a couple of reasons for that. Firstly, it forms a positive image of you as an ethical company. Secondly, you will attract and retain Gen Z who values diversity even more than older generations. This is because almost half of the post-Millennials are racial or ethnic minorities. Finally, McKinsey research reveals that diverse companies usually outperform their less diverse industry peers. We may assume that a common mission combined with varied employee backgrounds could promote innovative ideas and approaches.
Developing a Talent Retention Strategy
Many experts claim that Great Resignation will get worse in 2022. The majority of professional IT recruiters (55%) expect that employee turnover rates and the number of unfilled vacancies will only increase. Therefore, as an entrepreneur you should develop a talent retention strategy by finding out what motivates software developers. According to the 2022 State of Software Engineers report, continuous learning is the most common factor that drew people to a programmer career. Moreover, software engineers are problem solvers and strive to apply their knowledge for dealing with global issues. For instance, from the start of the COVID-19 pandemic, they became more passionate about solving public health problems. The picture below shows other aspects that encourage IT specialists today.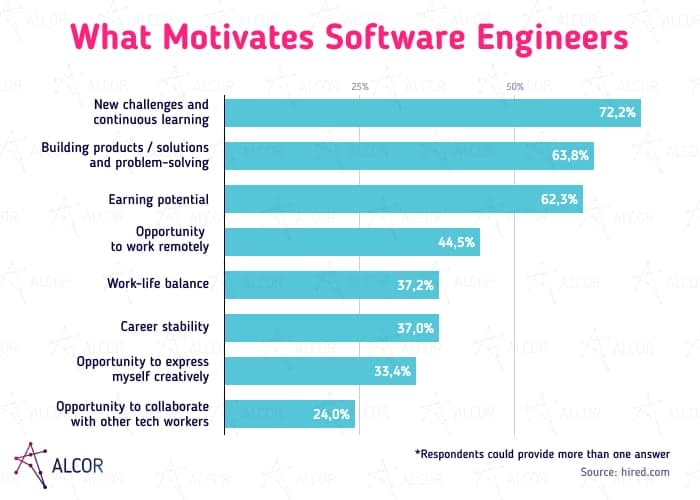 Is It Necessary to Follow Tech Trends to Hire IT Talents?
Today new technologies provoke significant shifts in the world of talent acquisition in the IT industry. More than anyone else, a typical software developer pays attention to high-tech companies that apply current trends to every step of doing business. Accordingly, those IT recruiters who fail to leverage new technology also minimize their chances of acquiring top talents and streamlining the workflow. Let's have a brief look at different types of recruitment tech trends worth implementing for effective IT talent acquisition.
1. AI tools
The use of AI automation gained momentum in the marketplace, starting the digital recruiting revolution and enabling organizations to dramatically accelerate talent acquisition. From that time on, analyzing candidates' resumes for long hours became a thing of the past. With the help of data-driven tools, IT headhunters can easily screen large volumes of applicants, check references, and detect ideal programmers. Apart from a faster recruitment process, AI solutions also help to collect data, make predictions, and avoid unconscious bias.
2. Video interview applications
The interview itself could be a stressful step of the recruitment process and you can't allow poor software to ruin it. There are plenty of great applications for virtual interviews, such as Interviewstream and VidCruiter. When choosing an interview tool, pay attention to a convenient user interface, the possibility to integrate with other technologies you use, and a function to conduct test assignments online.
3. Applicant tracking systems (ATS)
An applicant tracking system serves as a database of candidates that keeps track of specialists throughout the entire pre-hire life cycle, automizing screening and communication. Examples of ATS are BambooHR, Greenhouse, and Zoho Recruit, etc. Depending on the particular software you choose, you will be able to collaborate with colleagues, check performance, get insightful analytics, keep in touch with candidates, examine DEI figures, and more.
4. Candidate relationship managers (CRMs)
A candidate relationship manager stands for a solution used by IT sourcers and talent acquisition professionals to maintain relationships with job applicants and engage them on a deeper level. Sometimes, there is a functional overlap between ATS and CRMs. However, the latter enables recruiters to find, attract, and keep candidates warm by immersing them in your brand. Popular examples of CRM include Yello and Avature.
Consider Alcor BPO for IT Talent Acquisition in Your Company
If you want to improve your IT talent acquisition abroad and overcome hiring challenges in the IT industry, it's best to contact a local service provider. Alcor BPO is a reliable recruitment agency with over 40 headhunters on board and 10 years of market experience. Our recruitment services have international coverage, including such countries as Poland, Romania, Czechia, Slovakia, and other Eastern European states. We focus mainly on tech positions for IT product companies and specialize in hiring Middle and Senior developers.
To attain fast and quality IT and tech talent acquisition, our professional researchers and recruiters together orchestrate full-cycle IT recruitment. They build the right candidate's profile, handle sourcing, screening, and interviewing, etc. Our IT executive recruitment agency uses premium HR resources, thoroughly checks all the CVs, examines English proficiency, and helps clients conduct test assignments.
ThredUP is the world's largest consignment store and one of Alcor's happy customers – who take advantage our comprehensive solution. Based in California, the company was looking for ways to advance its business capabilities and build their own development team in Ukraine. We provided the client with the best local talents, including an ML specialist, Java developer, .Net Warehouse developer, and others. During our collaboration, the ThredUP team in Kyiv grew to 47 people. All of these specialists showed outstanding results and were given stock options.
In addition, we took care of HR payroll, accounting, and business structuring. As a result, ThredUP received a fully transparent model for running a business both in Ukraine and the United States. The company entered the IPO market and raised $168 million in funding, further demonstrating the reliability of our model.