87% of employers around the world struggle to fill positions in their companies. This problem is especially serious when it comes to hiring experienced software engineers, which is what we at Alcor have been doing at a professional level for over 10 years. Moreover, IT business executives reported skills shortages in over 64% of emerging technologies in 2021. These factors make decision-makers in the IT sector expand their developer search fields and access foreign tech talent pools that have the most potential.  
One such direction is Romania, an Eastern European country with the second-largest IT sector and economy in the CEE region. If you're interested in recruiting Romanian software developers, you should be aware of the main reasons to hire programmers from Romania, the peculiarities of working with these specialists, their rates compared to other Eastern European countries and the USA, and the best way to hire them. Keep reading this article and learn all of this in just 12 minutes! 
Why Hire Developers in Romania? 
The reasons to hire Romanian coders are countless but we are going to focus on those that matter the most to product IT companies and startups from abroad: 
Big development pool 
In 2020, Romania could boast of almost 140,000 software developers. Taking into consideration that every year the country graduates 10,000 engineering specialists, we can assume that the IT talent pool of Romania might reach 160,000 programmers in 2022. As I have already mentioned, Romania's IT sector is one of the top-3 in Central and Eastern Europe. 
High level of education 
Being a member of the European Union, Romania can provide access to the top European tech universities for its students. What is more, the country has at least 27 universities that prepare engineering, programming, cybersecurity, and other IT specialists. The most prominent of them are the Politehnica University of Bucharest, the Politehnica University of Timisoara, and the Technical University of Cluj-Napoca, according to world university rankings. 
Similar work culture with western developers 
Romania is only 2-4 hours away by plane from France, Italy, Spain, and all the rest of Western & Nordic Europe. Such proximity to leading centers of education and culture influences Romanian developers so they easily adopt Western values, patterns of behavior and workplace ethics. Thus, programmers from Romania are easy to work with for Western European and American clients. 
Good English proficiency 
According to the EF English Proficiency Index, Romania is in the top 17 countries in the knowledge of English. In Europe, the country is in 17th place out of 35 countries. Each year more and more Romanians improve their English, so communication with local developers is becoming easier. 
Attractive government tax incentives 
When it comes to tax incentives for the IT industry introduced by the government, software development specialists in Romania are exempted from payroll income taxes. Programmers and R&D employees pay 0% income taxes, while R&D companies are exempted from income taxes for 10 years.  
Low salaries 
If we compare React.js developer salaries in Romania and other Eastern European countries, we will see that the programmer compensation of middle React.js front-end coders in Romania is the lowest – $21,000 per year, in Poland – $32,000, in Ukraine – $31,500, in Hungary – $21,500 and in the Czech Republic – $40,000. In comparison to the USA, Romanian coders earn from 4 to 6 times less per year, so Romania is one of the most affordable locations in terms of IT services in the world. See a more detailed comparison of software engineer salaries in Romania and America later in the article.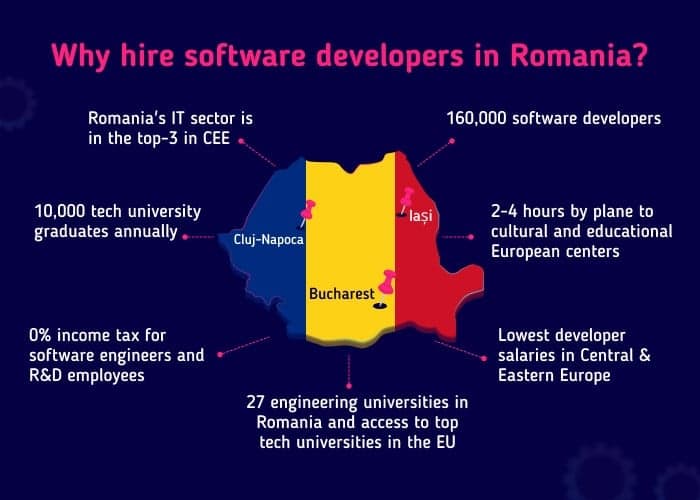 2 Challenges While Working with Romanian Developers 
The first disadvantage that you should keep in mind when hiring Romanian developers is the time difference between your country and Romania. If you're based in the United States and have an Eastern Time Zone, you're 6 hours behind Romania. That is why it's important to use effective IT project management tools like Asana, Trello, Jira or Slack to handle task assigning for Romanian developers successfully. But even without project management tools, Romanian programmers are easy to manage because of their efficient time zone adjustment skills as a result of decades of working with American customers. 
Secondly, Romania has only 21 million residents and only three major tech hubs. The biggest tech hub of Romania is Bucharest, while the other two are Cluj-Napoca and Iași. Thus, the workforce in the ITC sector is saturated in these cities, which results in higher competition in recruitment. Nevertheless, you may consider this problem mitigated due to remote work which lets you hire Romanian developers from different parts of the country. Also, you may consider working with a seasoned IT recruitment services provider that has insider knowledge of the Romanian tech market and developers to forget about any complexities of hiring. 
Romanian vs. American Developers. Skills and Salary Comparison 
The 2022 Pentalog Report, which is based on SkillValue developer ranking, has determined that Romania and the US are in the top 5 countries with the best developers. Romania takes third place, while the United States holds fifth place. At the same time, Romanian programmers have a powerful tech stack that consists of JavaScript, Python, C, C++, C# and mobile technologies, according to the report. On the other hand, coders from the USA are stronger in DevOps and have the highest daily rate in the world. 
Now, let's have a look at the table that contains data about the average base annual salary of different developers in Romania and the US. Note that junior programmers are the ones with 1-3 years of experience, middle coders have 3-5 years of experience, and senior developers have 5-8 years of experience. 
Positions
 Junior
 Middle
 Senior
Romania
USA
Romania
USA
Romania
USA
Full-Stack
Software Developer
$21,000
$92,000
$54,500
$140,000
$72,000
$160,000
Front-End
Software Developer
$21,000
$80,000
$54,000
$120,000
$72,000
$145,000
Back-End
Software Developer
$21,000
$100,000
$54,000
$130,000
$72,000
$151,000
Mobile
Developer
$13,500
$80,000
$42,000
$128,000
$68,000
$140,000
Game
Developer
$10,000
$80,000
$42,500
$100,000
$68,000
$140,000
Data
Scientist
$21,500
$110,000
$54,000
$152,000
$72,000
$170,000
DevOps
Developer
$30,000
$110,000
$60,500
$145,000
$84,500
$170,000
Software Development
Engineer in Test
$18,000
$60,000
$48,000
$90,000
$66,000
$121,000
Embedded
Developer
$13,000
$95,000
$42,500
$113,000
$68,000
$142,000
Sources: Glassdoor, Jobber.ro
As you can see from the compensation table of Romanian vs. American developers, Romanian developers' rates for full-stack specialists are $21,000-$72,000, whereas in America they are $92,000-$160,000. The Romanian developers salary for back-end engineers is also from $21,000 to $72,000 per year, while the same specialists in the US earn $100,000-$151,000. Senior Romanian app developers with mobile engineering skills have a salary of $68,000 while in the United States their counterparts receive $140,000 per year. Romanian game developers have a compensation of $42,500 on average; at the same time game engineers from the US have a salary of $100,000 per annum.
I can certainly make the conclusion that it's more financially efficient for companies to do software development in Romania than in the United States. Moreover, Romanian developers are better at many sought-after technologies, hence the higher quality of software that they build. In case you're up for recruiting middle, senior, lead and other IT professionals from Romania, our company Alcor is here to assist you. 
What You Should Consider to Hire Romanian Developers 
Once you've set your mind to hiring seasoned software developers in Romania, you should ask yourself the following questions: 
– What technical skills do you lack in your company? 
– How many programmers do you need to hire?  
– What level of seniority should they have?  
– How much money are you ready to spend on salaries and employee maintenance? 
– Are you ready to manage them yourself or via a third party? 
The answers to these important questions will give you an understanding of what cooperation model with your developers will be the best for you. Overall, hiring Romanian programmers is almost the same as hiring Polish, Ukrainian, Hungarian, or other developers from Central & Eastern Europe. The most important things are the availability of the needed technical skills, experience with technologies that you require for a project, level of spoken and written English, and the right soft skills to fit into your corporate culture.
4 Most Common Ways to Hire Romanian Developers 
Let's describe the most popular cooperation models with Romanian programmers for international companies. 
1. Hiring Romanian developers in-house  
Big technological companies such as Google, Samsung, Huawei and Amazon established their branches in Romania to hire local developers in-house. They spent millions of dollars to form huge departments of competent recruiters, test different recruitment strategies and streamline this process. All of this sometimes takes months or years, so if you don't have this much time to recruit Romanian coders by yourself, you may consider other cooperation models. 
2. Cooperating with outstaffing vendors 
This employee engagement model applies not only to IT giants but also to middle-sized or even small-sized companies. The main idea of outstaffing is that you cooperate with an outside provider from Romania that lets you lease a dedicated software team. This development team is often already formed by your vendor, so you don't have to worry about their level of expertise and training. On the flip side, such teams demonstrate low levels of dedication to the client's product and are more difficult to manage because they don't perceive you as their primary employer.  
Romanian developers hired via outstaffing will probably require more investments than you initially planned if your project needs adjustments and fixes, which happens in all projects. However, the worst part is that working with these programmers may lead to the loss of core internal expertise and investments because it's not your team that develops software.  
3. Working with outsourcing providers 
Outsourcing is often mistaken for outstaffing, while in reality this model offers you to fully delegate custom product development to your provider. You might save costs and free up more time for other core tasks that you're responsible for if you decide to do IT outsourcing to Romania. But in the long run you may face hidden costs for the services that you didn't request in case your provider is unreliable.  
Such cooperation might even put your sensitive data and IP rights protection at risk if the protection of your vendor's system is weak. For many product software companies, outsourcing might not the best option to hire Romanian developers.  
So, are there better alternatives? 
4. Partnering up with a professional recruitment services provider 
Recruitment services providers are companies that can hire developers in Romania that completely meet your requirements. You can assign your recruitment partner to consult you on the Romanian IT market, find you the best local software engineers and help you draw up individual employment contracts.  
Our company Alcor BPO is an international recruitment services provider that operates in Romania, Poland, and other Eastern European countries and can help you with everything from tech recruitment to legal & compliance support. For over a decade of delivering IT recruitment and other types of services, our team has managed to help People.ai, Grammarly, BigCommerce, Samsung, Sift, Ledger and many other companies succeed in their R&D operations in Eastern Europe.  
The first and foremost function that our clients enjoy is recruitment services. At Alcor, we have separate research and recruitment teams that focus on hiring senior Romanian developers for our customers. We thoroughly consider every candidate before offering their CVs – to save your time and connect you with compatible software engineers from the first attempt. Throughout the hiring process, we adopt different metrics to measure performance and speed up IT recruitment. 
These techniques were of great help when we were hiring 30 talented Ukrainian developers in 6 months for BigCommerce, one of the biggest e-commerce solutions providers in the world. After failing to cooperate with outsourcing agencies, the company found our solution. In addition to recruitment, we found a perfect office for their R&D team, took care of their finances and taxes, and handled all legal operations, including the adoption of GDPR requirements. 
And in case your company is new to Romanian developers, we can offer you help in promoting your employer brand in Romania. We already did it for Tonic Health in Ukraine, a product IT company from Silicon Valley that develops software for patient data collection. Our employer branding campaign for Tonic Health helped them overcome the problem of offer rejection from senior IT specialists, which led to hiring 5-6 developers per month.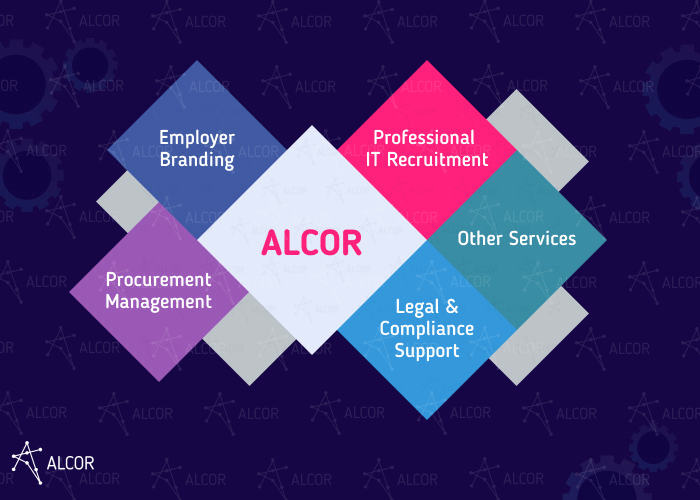 Final Thoughts 
The IT sector in Romania is one of the biggest and fastest-growing in Eastern Europe. Local programmers not only have university diplomas and a high level of English but also a strong tech stack, 0% income taxes and the lowest salary rates in Eastern Europe. You can cooperate with Romanian developers by hiring them in-house in your subsidiary, contracting an outstaffing/outsourcing vendor, or cooperating with a reliable recruitment services provider. Our Alcor team is ready to provide you with professional IT recruitment services supported by operational functions that you may need in Romania.