Every owner of an e-commerce business wants to ensure a top-level customer experience through the website with high performance, user-friendly design, and easy navigation. All these points combined make a route for faster revenue generation and overall success. Therefore, a decision to hire a dedicated Magento developer is a smart business move. Such specialists are in high demand today because they can develop, maintain a web store, and close up its security vulnerabilities.
Keep reading and you will find out where to look for the best talents and what the tricks are to hire Magento experts with excellent skills and a proven track record.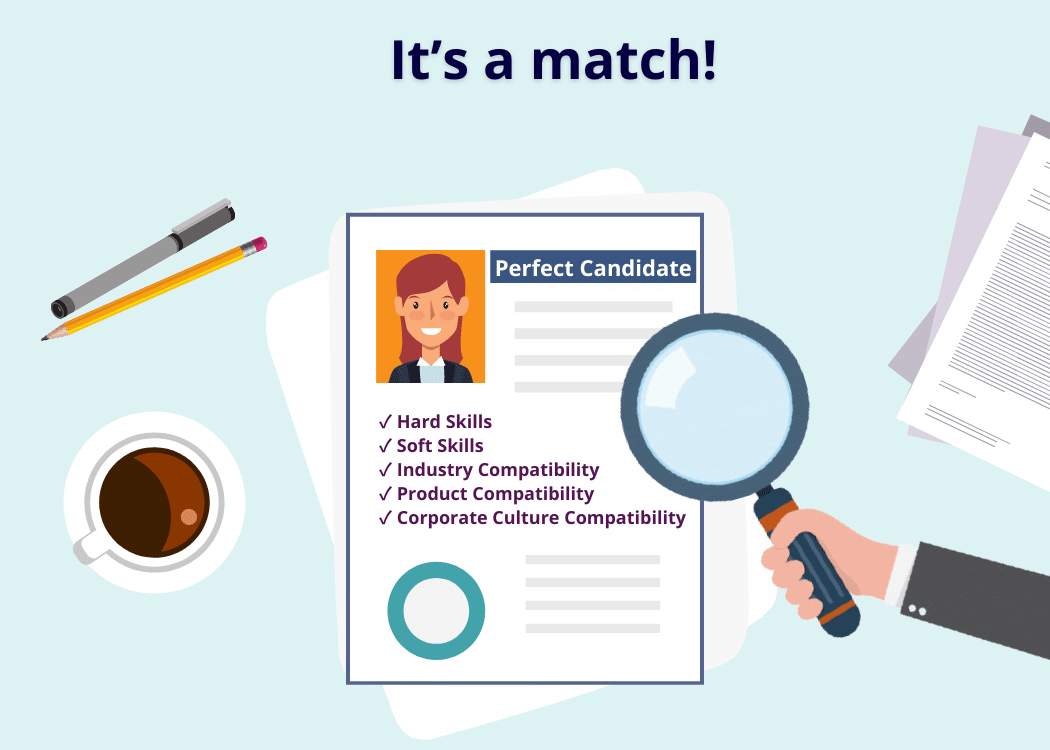 Alcor Turnkey ODC Solution: Get a Dedicated Magento Development Team in Eastern Europe
Establishing an offshore development center (ODC) provides a wide range of benefits, including a brilliant opportunity to hire a dedicated Magento developer. Eastern Europe is the most popular offshoring destination due to the great number of skillful IT engineers, their efficient knowledge of English, lower salary rates, and geographic proximity. These are the aspects that make Ukraine a perfect spot to launch your own ODC and hire a Magento programmer.
Top-level recruitment is an important part of the Alcor Turnkey ODC solution. Due to our large database of candidates, we can find and hire a Magento developer (or a few) that will make a perfect match for your company. During the last year, two of our clients required specialists to develop their websites: Al Tayer – a luxury retailer in the Middle East, and Space 48 – a UK-leading e-commerce agency. We successfully hired five specialists for them, including Front-End Magento developers who take care of the design and visibility of platforms, and Back-End Magento developers who work on the core features of the web stores.
Our recruitment team will present you with only the best specialists, keep you updated throughout the entire hiring process, and ensure fast position-filling. To illustrate our approach to recruiting, let's look at the case study with BigCommerce. It's an IT product company, which provides outstanding e-commerce solutions for powering renowned brands. Because of the shortage of experienced web developers in the United States, the enterprise reached Ukraine to assemble its offshore development team and outsourced recruitment to Alcor. As a result, we engaged over 30 tech specialists just in six months and provided the company with comprehensive support for entry into the Ukrainian IT market. Apart from that, Alcor established a backed-up ODC with a full scope of our business process outsourcing services, including legal, real estate, and accounting support.
Top Platforms to Hire Magento Developers
It is a network of e-commerce developers ready to offer custom Magento solutions. There is an extensive list of experts for site design, implementation, merchandising, and many more.
They are natural places to find and hire dedicated Magento developers. Stackoverflow.com is both a Q&A website and an encyclopedia full of lifehacks for IT engineers. It also has a job board which is widely used for searching for talents. SitePoint.com was also launched as a learning platform for developers, which created an active community of IT talents that are ready to take part in your project. Another prominent platform is GitHub.com and its job board with publicly visible profiles and portfolios of capable software developers.
They provide great opportunities to hire Magento developers of all skill sets. For instance, Toptal.com is famous for its strict vetting system, which leaves only 3% of all applications. Among other freelance marketplaces are Hired.com, Upwork.com, and Feelancer.com that provide long lists of candidates. However, you may need some time to check the coding proficiency of the developers by yourself.
When it comes to professional networking, LinkedIn is an absolute leader. In order to hire a Magento coder, you can post jobs and search for specialists who mentioned Magento as a prominent skill. Apart from that, you can also make use of massive communities of IT talents in the groups section. However, you can find a perfect Magento programmer for hire in the most surprising places, so you shouldn't undermine other social platforms. For instance, Twitter is especially great for posting job offerings. Just don't forget to use #Magento and #MagentoJobs while tweeting.
The Ultimate Guide on How to Hire a Magento Developer
As you can see, it takes much time and effort to hire a Magento web developer on your own. Additionally, the high demand for such specialists on the market makes this task even more burdensome. According to a Ukrainian job website Djinni, around 131 local IT enterprises are looking for Magento developers today. Our recruitment team reports that there are on average 21 proposals for each candidate. Because of that, an experienced recruitment provider is your life vest in this fast-paced labor market. Are you wondering how to attract Ukrainian talents with Magento experience? I'll walk you through the entire hiring process and tell you the tricks for successful position filling.
Current Market Trends
Considering that the responsibilities of Magento developers don't differ much across companies, a higher salary rate is the first thing to convince them to change jobs. That's how we headhunted one of our recent candidates. Although the rates go up for the most skillful professionals, Ukraine is still a beneficial location to hire a dedicated Magento developer. Why? Because the USA and Western Europe tend to establish much higher average pay rates (check out our research on Golang developer salary and React Native developer salary to see this trend). Despite the ever-shifting IT labor market trends, let's have a look at the table that shows relevant salaries for April 2021.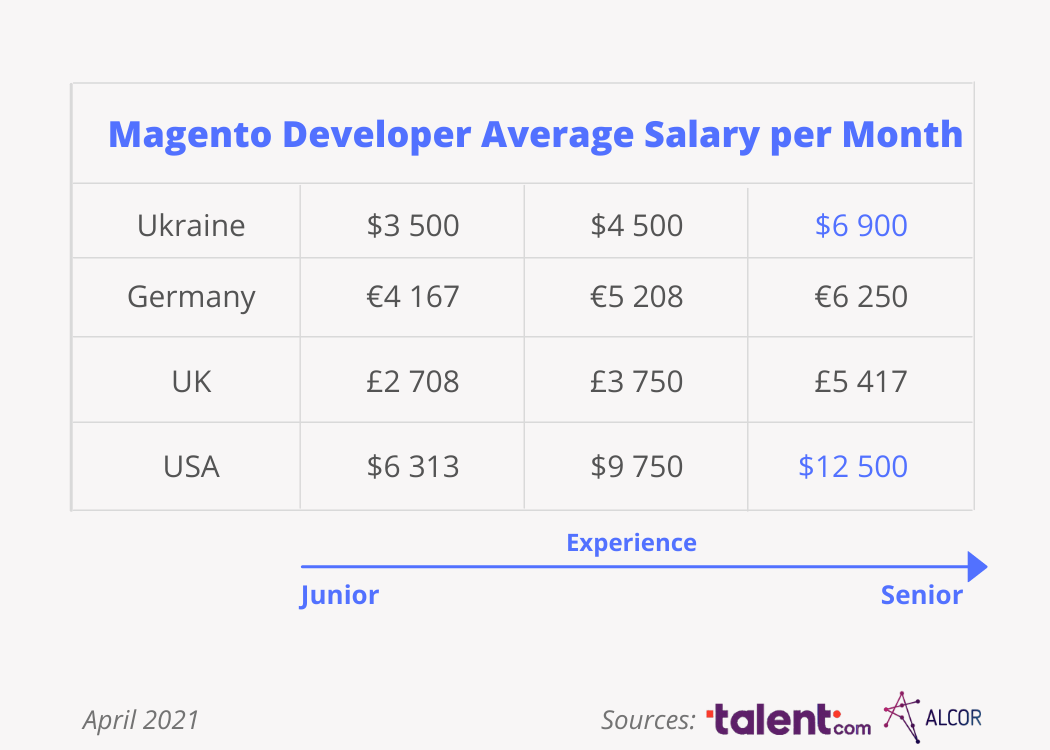 *Please note that all salaries mentioned above are gross except for Ukrainian ones. To calculate gross salaries in Ukraine, add 5% of taxes.
Another vital point IT specialists pay attention to is the social package, including benefits such as medical insurance, flexible working hours, educational compensation, training programs, etc. For instance, when the pandemic broke out, Grammarly (one of our clients) launched a course of lectures and workshops to deal with anxiety and maintain the mental health of their employees. In 2020 they also arranged additional day-offs in May and December for rest. Our other customer Luxoft shortened the period after which newcomers can get insurance and offered yoga classes for the entire team. Both companies also launched free online courses for employees' children.
Hiring Process
Honestly, the shorter the hiring process will be, the better. For instance, our clients opt for 2 interview stages and make their decisions quickly. In essence, time-consuming tests and assignments can only scare off potential candidates. In order to headhunt a dedicated Magento developer, it's also useful to know their preferences. For example, in most cases they aren't interested in short-term projects, so 6-12 months duration is a minimum. From my experience, I can say that Magento developers value the opportunity to work part-time and may take several projects simultaneously. They prefer to work remotely, so the Alcor model of establishing fully-equipped home offices is especially beneficial. Moreover, if you are a no-name company in the Ukrainian labor market, the chances to recruit an outstanding professional are lower. Because of that, it's reasonable to take care of your employer branding before entering an unknown IT environment.
Skill List:
Understanding of PHP. Magento is written in PHP language, so past PHP developers are likely to be successful within the Magento framework as well. 
They must be familiar with Modular Development, MVC architecture, Object-Oriented Programming, MySQL, and XML.
Mastery of the PWA-related technology is in the essential skill set as well.
Javascript, Jquery, and Node.js are vital points for Front-end Magento developers.
Magento 2 certifications prove the expertise in the Magento 2 platform.
E-commerce Integration enables automation and saves plenty of time during the web development process.
Experience with different themes, modules, and extensions can bring a customer's website to a new level.
Past experience and portfolio. Ask certified developers whether they have any experience within your industry and what similar products they have worked on.
Soft skills are rather subjective, but they are important for building a long-term relationship. Therefore, don't forget to pay specific attention to the personal qualities of your future employee.
Final Thoughts
To conclude, it's not that easy to find great Magento developers, particularly due to the high demand for them on the market. In addition, you may need to spend a lot of time searching and selecting candidates in accordance with your specific requirements. That's why delivering this complicated task to a reliable vendor is a pain-relieving solution. We will be pleased to assist you in hiring Magento developers or any other software engineers with the best experience and skillsets.
All in all, Alcor is a BPO company that is ready to take care of all your operational processes, including recruitment, legal compliance, real estate, and accounting. These services all together make up your own effective offshore development center, which is a beneficial alternative to traditional outsourcing.