An engineering manager (EM) is a valuable player who leads the team and sets the course for product development. Tech product companies stage races to hire top-notch engineering managers with a strong skill set. So, what are these skills that make them brilliant and highly demanded specialists? Keep reading this article to find out the most significant engineering manager skills. With this information, you will hire the best talents!  

Ultimate Engineering Management Skills List 

First and foremost, a good engineering manager is a specialist with T-shaped skills. T-shaped people possess a specific set of qualities that make them the most desirable candidates. The vertical bar represents in-depth knowledge and excellent core skills in a certain niche like software development, cybersecurity, or web design. The horizontal bar, in turn, stands for the wide range of cross-functional expertise and the ability to work in other relevant areas.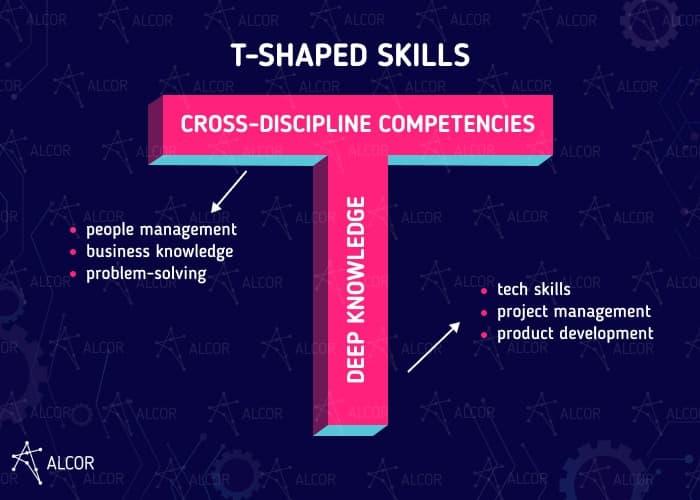 Since the IT market is constantly changing, T-shaped software specialists are in great demand among tech companies. Engineering managers with T-shaped skills can provide deep insight into the core development process and apply broad general knowledge for product enhancement. And there's a set of skills for an engineering manager which are a must-have for this role. Let's have a look at 10 most essential characteristics in detail.  
1. Tech skills
A technical background and knowledge of the necessary tech stack are essential engineering management skills. To guide the development process and team members from a technical standpoint, EMs have to be good at programming languages, frameworks, and architectural patterns, etc. Notably, it's a common practice when a software engineer progresses to an engineering manager position, in the process obtaining strong technical skills. 
2. Leadership  

One of the skills of an engineering manager that plays a vital role in people management is the ability to act as a leader. Good managers must take a proactive position to motivate team members and establish rapport inside the team. This applies not only to internal proactivity, but also to external networking: a lot of engineering managers attend IT conferences or online webinars as speakers and participants, developing their relations with colleagues outside the company. Thus, EMs set an example for tech specialists, inspire them to face new challenges, and learn from their mistakes. Engineering managers also set the vision of future product, so they know how and where to lead the team. As a result, a highly motivated team with a strong leader builds the road to successful products. 
3. Tasks management  

Accurate project management is impossible without proper task allocation. Engineering managers must know agile and scrum principles to efficiently plan sprints and task execution. Knowing how to organize the workflow / workload inside the team reduces the risks of overtimes and burnout. Moreover, good managers delegate responsibilities without micromanaging other employees. They should know what tasks to assign to which software developer, so that staff stay motivated while dealing with challenging work. 
4. Flexibility
Among the skills needed to be an engineering manager, being adaptable can't go unmentioned. Technologies develop at a fast clip, changing the rules of the game and introducing new concepts. That's why it's crucial for a program manager to be up to date with current IT trends so that they can provide the team with modern tech solutions. Another important point is being ready for any alterations during the development process. Sticking to the initial plan is not always a winning strategy, thus engineering managers must keep their eyes on the ball and respond to any changes quickly. 
5. Communication
Good engineering managers must have strong communication skills to clearly deliver any message to their software developers and participate in job interviews with potential team members. EMs collaborate not only with programmers and a program manager, but with other departments, partners, and stakeholders, so they must be good at explaining software technologies in everyday language. This skill also deals with giving and receiving regular feedback during one-to-one meetings. An engineering manager should know how to get on the right side of the team to build healthy communicative habits.
6. Analytical mindset
While speaking about skills required for engineering management, analytical thinking doesn't stand aside. EMs have to deal a lot with assessments of the team's performance, develop strategies, and sometimes participate in the product design and testing stages. That's why deep analytical skills are a must to give feedback, evaluate information, and make forecasts. 
7. Problem-solving
Holding a leading position means taking responsibility for both people and the product. Whenever a problem arises, competent engineering managers must see creative ways out. This skill is not only essential for smoothly running the development process and further product success, but also ensures that pessimism doesn't get instilled in the team. If a programmer is sure that their mentor can act as a problem solver, every employee will be more open and dedicated.  

8. Attention to detail
The engineering management skills list wouldn't be complete without an eye for detail. While working with a program, code, or any technical task, small mistakes could cost a lot. EMs are involved in the development process as well as supervising and controlling it, so they have to be scrupulous and spot the gaps before they lead to mistakes. 
9. Defining priorities
Key engineering management skills include prioritization. In such a way, EMs can make the best use of the team, organizing the working time efficiently. Moreover, it helps to meet deadlines and not to waste efforts. This competence is also crucial for meeting objectives and setting further goals that are mandatory functions of any leader. 
10. Budgeting 
Of course, EMs also participate in the budget formation and its allocation. They are expected to know how to manage the cash flow and plan expenses for recruitment, onboarding, and employee training etc.
How to Hire a Specialist with Good Engineering Management Skills 

 
Hiring an engineering manager with strong leadership and professional skills is not easy. An employer has to be aware of the specifics of the EM position and prepare versatile engineering manager interview questions to find the perfect fit. Usually, tech enterprises entrust such a task to professionals — IT recruitment companies. Experienced headhunters monitor Engineering Manager salary alterations in the markets, have vast talent databases, and know how to conduct proper interviews, thus defining the true-to-fact skill level of EMs – yet it's up to you which route to choose, keep the recruitment process in-house or delegate it to an external provider. Still, if you want to hire a good specialist, pay attention to these factors before sending a job offer: 
People management 
Since engineering managers have to work a lot with people, they must be excellent coordinators. EMs who can't guide the team will never bring it together – it's about being a good leader. If the manager can't provide teammates with constructive feedback and guidance, they won't be able to grow, build a high-performing team, and become even better leaders in the future.  

Technical competence 
Regardless that an EM's role is more about team management, having a strong technical background is a must. Insufficient computer skills may result in costly expenses and retard the development process. No tech specialist will follow or respect a leader with weak technical competence or who can't complete an engineering task themselves – as this only leads to low-level KPIs and an unmotivated team.   
 
A well-rounded approach to recruitment ensures hiring a skillful EM and reduces all risks. Have a look at Dotmatics (acq. by Insightful Science), an American product company that develops digital products for scientists. They decided to delegate the recruitment process to Alcor as a recruitment provider and assemble a team of developers in Eastern Europe. One of the positions included an Engineering Manager and was closed within one month! The candidate met all company expectations regarding technical background and soft skills. But it wasn't the only filled position: with the help of our recruiters, Dotmatics built a team of 30+ tech specialists including senior and lead positions. All of them have good both hard & soft skills while some of the programmers work on a rare tech stack. Moreover, the Alcor team ensured that Dotmatics runs its business transparently and seamlessly by helping with other back-office operations and acting as a guide in Eastern European legislation.  

Delegate Hiring Engineering Manager to Alcor BPO with Turnkey Solutions 

One American product company that works in the healthcare domain reached out to find an engineering manager for their team. They needed a specialist with engineering manager key skills: strong technical background, good management skills, and a proactive professional attitude. One of our candidates was a Senior QA specialist who had tech lead experience and wanted to apply for a more advanced position. We took both the client's and candidate's preferences into account and they hired this highly qualified IT specialist swiftly. An attentive approach and readiness to come up with something new resulted in a competent QA engineering manager for our client. And then we delivered our "WoW" effect by hiring 22 more IT specialists including a tech lead position that was closed from the first candidate! Apart from it, we provided our client with other operational services so that all business processes run seamlessly and transparently. How did we do it? 
 
Alcor BPO is an international IT recruitment company with more than 10 years of experience. We aim at hiring technical specialists from Poland, Romania, and other Eastern European countries. Our recruitment department consists of more than 40 specialists who conduct thorough full-cycle hiring at a rapid pace. Headhunters at Alcor prepare candidate profiles and provide clients with blind resumes to pre-approve the required hard and soft skills. In such a way, clients receive verified candidates with proven track records for their future development teams. With our vast talent database, we can guarantee to hire 5 software developers within 1 month, and more than 100 within a year!  

Final Thoughts 

As you see, EMs are involved in hiring, code reviews, team management and other managing processes. That's why their skill set is quite broad. Understanding the skills needed for an engineering manager raises your chances of finding the right  candidate to join your team. During the interviewing stages, you can check necessary skills via asking proper follow-up questions and getting to know more about the candidate's previous experience.
 
If you decide to delegate the hiring process, our recruiters know how to find the engineering manager who will be a super fit for your development team. People.ai, Ledger, BigCommerce, Sift and other tech giants have already chosen us as a reliable partner. Alcor is here to hire the best tech talents from Eastern Europe and establish a turnkey software R&D center for you too!