Recently, Eastern Europe has become a strong competitor to other regions in terms of software development services. Hungary in particular is home to thousands of professional programmers, while its high-tech industries are expected to become the engine of the country's economy in the 2020s. During this transformation, many business leaders and investors are noticing Hungarian potential and IT talents.
My team and I prepared a comprehensive analysis of Hungary as an offshoring destination to assemble a development team. We are an international recruitment provider with an exclusive focus on tech positions for IT product companies. At Alcor, we have over 10 years of market experience and deep knowledge of hiring Senior software developers.
Read this article to learn about the average salary rates in this country and the process of hiring developers in Hungary: advantages and disadvantages. Finally, I'll present several engagement models to help you choose the best solution for your business.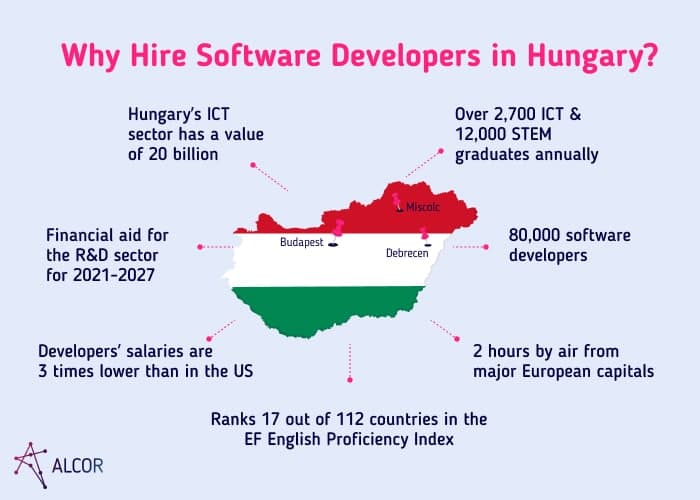 Why Hire Developers in Hungary?
Business Environment
Hungary has a booming IT industry and favorable climate for software development. In recent years the ICT sector has increased by more than 20%, to USD 20 billion. Thus, the digital economy makes up about 25% of the country's total GDP. The Hungarian government puts a lot of effort into development of the industry. It introduced tax relief schemes, announced a strategic partnership with many tech companies and increased the financial aid for the R&D sector for 2021-2027. For these reasons, many international IT giants such as Microsoft and Nokia chose this country as an offshoring location.
Tech Education
The secret of successful IT offshoring lies not only in the number of IT specialists but also in quality. Among the benefits of developers in Hungary is their high programming literacy. There are around 70 institutions in the country with computing programs, including the University of Szeged, Budapest University of Technology and Economics, and Obuda University that prepare excellent professionals. Over 2,700 ICT and 12,000 STEM students graduate each year, driving industry expansion.
English Proficiency
Another factor that eases the process of working with Hungarian developers is their mastery of the English language. According to the EF English Proficiency Index, Hungary is ranked №17 out of 112 countries. Its overall English proficiency is graded as high with a score of 593. Thus, Hungarian software engineers shouldn't have any problem communicating with their English native speaker colleagues.
Time Zone
Companies that opted for moving a part of their business to Hungary enjoy a smooth workflow thanks to the convenient time differences. The country is situated in the GMT+2 time zone, making it easy to cooperate with both EU countries and USA. Moreover, Hungary is within 2 hours by air from major European capitals. Therefore, you can even arrange a personal visit to monitor your own remote development team.
Pitfalls of Hiring Hungarian Developers
Talent Scarcity
Although the Hungarian talent pool is expanding constantly, IT companies still feel the scarcity of software developers. The country has over 9.5 million population and about 80,000 IT specialists. These numbers are not as impressive when compared to other East European countries. Just to illustrate, in Poland there are 350,000 developers and in Romania over 119,000. Nevertheless, collaboration with an experienced recruitment provider might diminish this issue and attract the best tech talents to your company.
Limited Number of IT Hubs
In case you opted for offshoring to Hungary, your city of choice should definitely be Budapest. There is a lack of other options, as most IT specialists are concentrated in the capital. You may also consider Debrecen or Miscolc but they are not as major as Ukrainian IT hubs (Kyiv, Lviv, Kharkiv, and Dnipro) or Polish ones (Warsaw, Krakow, Wroclaw, Katowice, and Tri-city). However, Budapest itself is quite a beneficial destination. It was ranked 22nd in Tholons Services Globalization City Index — a barometer of the attractiveness of a location by such metrics as influence and business services.
Operational Hardships
If you own a European-based company, your nearshoring experience is likely to be smooth because Hungary is a part of the EU. This fact eases legal compliance, tax complications, and HR payroll, etc. However, tech companies from the United States or elsewhere outside the EU are likely to face operational difficulties. The solution is the partnership with a reliable all-in-one-place company that will navigate you in an unfamiliar environment, prevent unpredictable expenses and ensure uninterrupted workflow.
People.ai is an IT product company based in San Francisco that opted for such cooperation. They develop a platform that uses machine learning technology for B2B sales acceleration. The company was interested in expanding its engineering team abroad and chose Alcor as a trustful partner. Apart from full-cycle recruitment services, we backed up the client with additional support. Alcor handled the HR payroll, legal compliance, and IT infrastructure management. These services reduced the operational headaches significantly and resulted in the company's own offshore development center in Kyiv within 1 month. People.ai continued its business growth with Alcor, raised $100 million of investment and became a unicorn in 2021. Nowadays, Alcor can do the same in many Eastern European locations.
Average Hungarian Developers' Salary Rates
To analyze Hungarian developers' rates I took the data from Glassdoor, Indeed, Profession, and Totaljobs. The table below shows the annual software developer salary (Hungary Vs USA). Note that the average pay is presented in gross.
Position
Junior
Middle
Senior
Hungary
USA
Hungary
USA
Hungary
USA
Full-stack Software Developer
$19,970 
$92,000 
$43,728 
$140,000 
$59,484 
$160,000 
Front-end Software Developer
$16,604 
$80,000 
$28,344 
$120,000 
$44,616 
$145,000 
Back-end Software Developer
$18,868 
$100,000 
$31,140 
$130,000 
$48,000 
$151,000 
Mobile App Developer
$21,288 
$80,000 
$35,652 
$128,000 
$59,484 
$140,000 
Game Developer
$24,000 
$80,000 
$34,200 
$100,000 
$57,600 
$140,000 
Data Engineer
$22,086 
$110,000 
$37,320 
$152,000 
$60,000 
$170,000 
DevOps Developer
$25,908 
$110,000 
$37,272 
$145,000 
$64,800 
$170,000 
QA Engineer
$18,972 
$60,000 
$27,024 
$90,000 
$42,840 
$121,000 
Embedded Developer
$21,528 
$95,000 
$33,780 
$113,000 
$45,084 
$142,000 
Hungarian salaries were converted to US dollars at a relevant exchange rate for July 2022.
As you can see, the Hungarian developers' salary is relatively modest when compared to US wages. In fact, it is approximately 3 times lower. As regards specific positions, DevOps and Data Engineer have the highest average pay rate in both countries. For instance, Senior-level professionals are paid around $60,000-$65,000 per year in Hungary and $170,000 in the US. By contrast, a QA Engineer has the lowest remuneration. The Senior Engineer earns $42,840 in Hungary and $121,000 in the United States per year.
Guideline on How to Hire Hungarian Developers
Once you start a recruitment process, it's essential to articulate which employee you're looking for. That will help you make a final decision and not lose an excellent candidate. I shortlisted some points worth checking out when hiring a Hungarian software engineer.
1. Tech Skills
Naturally, the first aspect worth mentioning is the technical skills of an applicant. Decide which tech stack is a must-have for your product and select the languages, frameworks, and tools that are vital to know to become a part of your development team. For instance, the job requirements for Node.js developers could contain Express, React, Angular 2+ frameworks and AWS, Azure. Meanwhile, Java software engineers are usually requested to master Java, Spring, Kafka, AWS, Scala, and Git. After that, check the competency by technical tests.
2. Soft Skills
This aspect is often underestimated and leads to misunderstandings. You should underline important personal traits that can add value to your business to avoid such problems. I advise you to examine the communication skills of Hungarian developers, creative problem-solving, ability to work both in a team and independently. Apart from that, check their motivation and learning capabilities by asking about recent courses taken, professional literature they read, and events they participated in. Without a doubt, you'll get more by investing in an employee who strives for self-development.
3. Company Compatibility
Another point to consider is company compatibility. A recruiter should ask a candidate for his/her portfolio and examine the programmer's previous projects. Pay attention to products they previously developed and the industry they worked with. You are likely to boost your market competitiveness by hiring developers with working experience in companies similar to yours.
4. Cultural Aspect
Software developers in Hungary share many cultural similarities and work ethics with their colleagues in the USA and Western Europe. They know their responsibilities very well and treat employers with proper respect. However, apart from national peculiarities think about your corporate culture as well. Make sure that you share common values, attitudes, and behavior principles in the work environment.
Choosing a Model of Cooperation with
Hungarian Developers
Independent Freelancers
The first option of collaborating with developers in Hungary is via freelance portals. Among the most popular international marketplaces, there are Upwork, Hired, and Freelancer. There is also Toptal which approves only 3% of all applications due to a strict vetting system. The good point is that you can save money on training, social packages and benefits that companies normally give to in-house employees. Although you can find some great freelancers on these websites, you need time to check the expertise of all possible contractors by yourself. Moreover, some developers might be irresponsible and indifferent to your product's success.
Software Companies
Some tech companies choose to delegate their software development to local IT companies that operate as outsourcing providers. Most of them offer web and mobile app development services in Hungary. Although such a decision seems to be a relatively cheap and quick solution, it has many pitfalls. In fact, you won't have any control over team management and product development, only seeing the final outcome. Moreover, external software developers usually have little commitment to your product, so numerous adjustments and fixes are almost inevitable as well as hidden fees for them. All of these combined are likely to deliver poor results and lead to overpayments.
Outstaffing Agencies
Tech businesses that want a more flexible solution sometimes opt for outstaffing. It enables them to work with Hungarian developers via third-party vendors. This model provides more control over the development process and team adjustments compared to outsourcing. Nevertheless, it still implies some problems from a long-term perspective. For instance, you may deal with buy-out fees if you decide to officially hire your temporary development team. Other issues include lack of dedication, absence of shared corporate culture, and insufficient employer branding.
Recruitment Providers
A business leader can also hire Hungarian developers by partnering with a recruitment service provider. Firstly, such a decision relieves the company from the burdensome process of selecting and interviewing the candidates. Secondly, the client receives a fully dedicated software development team that works under their brand and roots for the company's success. You maintain full control over internal management and development processes and don't share confidential data with a third party, thus securing your IP rights.
BigCommerce is a US-leading e-commerce platform that benefited from this option. The company used to work with Romanian and Ukrainian outsourcing companies. Eventually, they decided to switch to a more cost-effective solution for assembling their own development team and reached out to Alcor. We engaged over 30 tech talents for BigCommerce in 6 months. The company's leaders were astonished by the quality of new hires and characterized their Ukrainian R&D team as a competitive one. Now the client is 100% intellectual property owner and has top-notch programmers that focus solely on their product.
Unlike other staffing providers, Alcor BPO provides additional services, including recruitment marketing and IT employer branding to promote your company and vacancies on the market. Upon request, we can also manage other back-office operations, such as payroll and accounting, legal compliance, and IT infrastructure setup. With our services, you will get transparent pricing, business navigation — and no buy-out fees!