Artificial Intelligence (AI) has been evolving at an unprecedented pace during the last decade. For some companies, these technologies have already become manna from heaven, while others are only just exploring their possibilities. According to the NVP survey, 91% of businesses have an ongoing investment in artificial intelligence, while the global pandemic became a driving force for 55% of companies to accelerate AI strategy adoption. Consequently, these factors will lead to AI market size enlargement to around US$ 1,5 billion by 2030. 
Since AI is becoming a mainstream technology, more and more tech enterprises need qualified specialists to aid in its prompt integration. That's when offshoring comes into play. But how and where to build an offshore software development AI team? Keep reading this article to find out about workable hiring practices and tips, or delegate tech recruitment to Alcor BPO and get your own AI team in Eastern Europe!
Which Model to Choose When Recruiting Offshore AI Developers?
AI technologies are frequently integrated by IT companies for automation of some of their processes, implementation of data-driven initiatives, etc. All of that is done by AI engineers who develop applications and software on the basis of deep neural networks and machine learning algorithms. And nowadays, more and more founders of tech businesses prefer hiring offshore AI developers who function just as an in-house team but are located in a low-cost country. When making a decision to transfer AI development abroad, these tech leaders face a dilemma of choosing between the IT offshoring or outsourcing model — that have some fundamental differences. 
Outsourcing is about delegating tasks to an external software development vendor. Firstly, a client finds an outsourcing company that possesses the needed expertise for the project. Then they delegate software development to this vendor. Finally, the client gets a finished product. 
At first glance, this business model looks pretty appealing, as it allows you to close the expertise gap quickly and get one-time tasks completed. However, when IT companies outsource software development, they can face some pitfalls. These include possible data leakage, overpricing, absence of direct communication with the engineering team, little control over the programming process, and deprivation from an opportunity to get additional funding.
Now, unlike outsourcing, offshoring is about setting up your own team of software developers abroad. Depending on the geographic proximity, you can nearshore — hire programmers in a neighboring country, or farshore — tap into labor markets that are hours aways from your immediate area. Offshoring development can both provide you with access to a large pool of talented specialistsб and allow you to spend less on wages & taxes. 
You can headhunt engineers yourself or delegate this very task to a local IT recruitment provider. For instance, your partner can find offshore AI developers for your remote team, as well as cover the necessary operational functions. By going offshore, you can maintain full control over software development and expenses, protect your IP rights, and exercise engineering team management yourself, that is, without any third-party interference. Keep reading this article to find out about how to choose a reliable IT recruitment provider for productive collaboration.
How to Hire Offshore AI Developers Successfully?
Going offshore can be quite challenging, especially if you are not aware of all the nuances of this business process. Therefore, I compiled a list of factors that you need to consider before offshoring, and also prepared a list of the best practices for hiring offshore AI developers.
Factors to consider before starting to offshore:
One of the main advantages of offshoring is the elimination of labor shortages by opening doors to the markets with huge talent availability. Therefore, when checking the options, pay special attention to the destinations with considerable talent pools. For instance, Eastern Europe has more than 1 million skilled programmers, including experts with rare tech stacks. 
Offshoring can become a truly cost-effective approach to scaling up when you select an inexpensive destination for setting up a development team. For instance, if you are an American IT entrepreneur, you can save a decent sum on labor expenses and taxes by offshoring to one of the Eastern European countries. The average programmer salaries there are about 2-3 times lower than in your immediate area. Moreover, the payroll taxes are much more manageable in this region as well. In Poland, for example, they typically range from 8,5% to 12%. Keep reading this article to find out about the annual AI engineer salary in Eastern Europe.
Another factor that you need to ponder for building a dedicated offshore AI team is the quality of tech education. You should make a decision in favor of only those countries that provide their IT specialists with the best tech knowledge & training. For instance, dozens of STEM universities in Eastern Europe are included in the QS World University Ranking 2022. Moreover, software developers from this region often take leading positions in various rankings, such as the SkillValue report and HackerRank Best Developers list. 
The level of English language proficiency determines the effectiveness of communication with your remote team of offshore AI developers. Therefore, you should select those destinations where programmers possess at least a B2 level of English. Such Eastern European countries as Poland, Romania, Hungary and Slovakia are ranked as 'countries with high proficiency' on the EF English Proficiency Index list. 
This final factor identifies the degree of foreign AI developers' adaptability to some culture–specific differences. As practice shows, it's much easier for US-based companies to build an offshore team in destinations like Eastern Europe, which in general shares the same western mentality. That's why undertaking IT recruitment in Poland, Romania or other countries in this region can be a good idea.
Best practices to hire AI developers
Imagine you have selected the best location for setting up your own team of offshore AI developers. Now you might be wondering how to start hiring well-versed IT specialists in this country, so that your company could scale up successfully. To help you out with the interview preparation, I made a 3-step guide for hiring managers.
Have distinct job requirements
Before starting the recruitment process, you should have a clear vision of qualifications that your AI engineers will need to have. It's good to compile an ideal candidate profile that will help you navigate through the manifold of CVs. While working on it, pay special attention to expertise levels, as the requirements for each of them can vary. In case IT companies are choosing offshore AI developers of a middle level, they tend to opt for those who have:
BS / MS in information technology, computer engineering, data science, or mathematics;
3+ years of experience with AI domain programming languages (e.g. Python, C++, Java);
3+ years of experience deploying AI models (plus deep knowledge of machine learning frameworks and deep learning toolsets).
You can learn about the basic skill stack of an AI engineering professional in the picture below.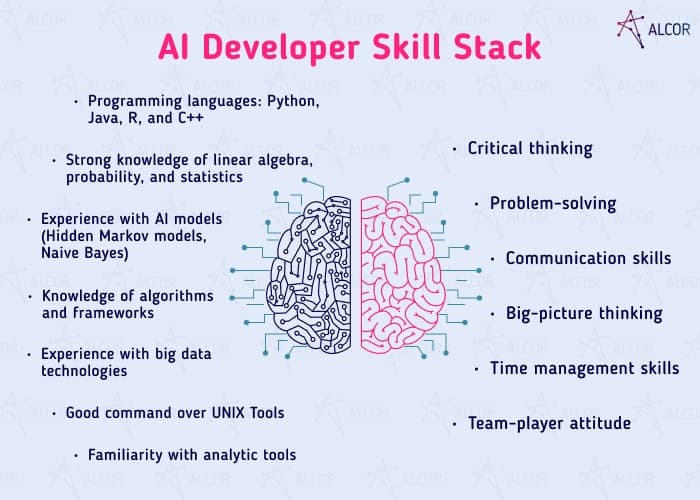 Compile a list of AI developer questions to ask on the job interview
When an ideal candidate profile is ready, it's time to proceed with questions you need to ask your candidates for hiring well-versed remote offshore AI developers. I recommend involving 3 types of questions to ask developers: general, background/experience-related, and tech expertise ones (see the examples below). You can also prepare a test to check their skills, so you could get a complete portrait of your applicant.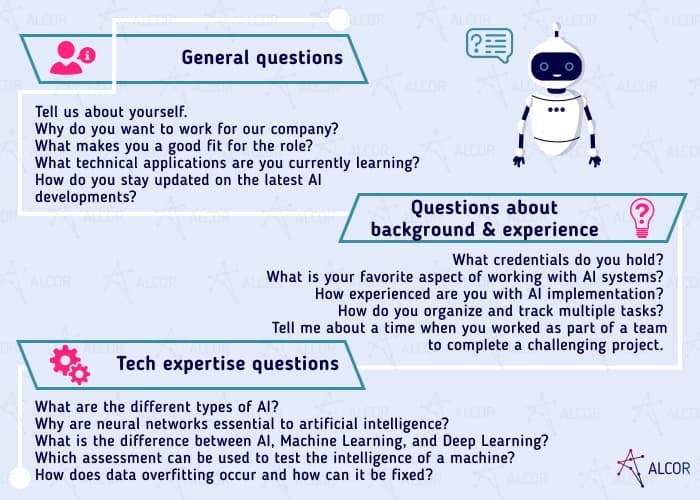 Set a well-balanced compensation program
As developers are the backbone of your company's success, you need to make sure they are paid well. My advice is to scrutinize the local market to establish the most competitive salary rates for an AI engineer. To prevent your talents from changing loyalties, you should also devise an attractive employee bonus package. It may include different bonuses (annual/spot/retention/referral ones), health (dental/vision) insurance, gym membership, life insurance, paid sick leave and vacation, tuition reimbursement, etc.
Offshore AI Developer Salary Rates in Different Countries
When hiring a team of offshore AI developers, it's vital to consider the price-to-quality ratio. Unfortunately, not many IT companies dig into this issue before going offshore. As a result, some of them get poor coding and have to spend more time and money on finding better specialists who can fix or make a product from scratch. Therefore, if you are an American IT entrepreneur, I recommend you focus on the European market, which is well-known for quality services. Now, let's have a look at the chart below to identify locations with the most affordable rates of AI engineers. 
According to the data that my team collected from local job search websites, the lowest annual AI developer salaries can be found in Poland ($30K – $58K) and Romania ($23K – $40K). The German market, in turn, has the highest price tags for these specialists in the region ($60K – $97K). Thus, you can significantly cut your labor expenses and get quality services if recruiting Polish or Romanian developers.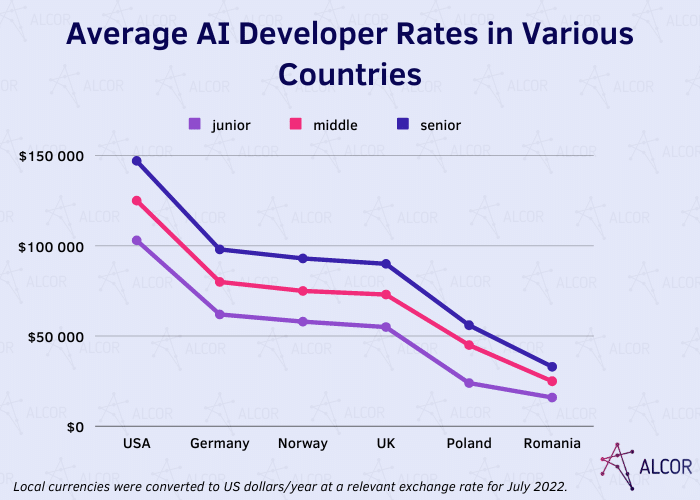 Possible Pitfalls of Recruiting Offshore AI Developers
IT recruitment plays an integral part in successful offshoring. That's why finding a professional hiring vendor who can provide you with visible and timely results is of utmost need. Here are 3 red flags about recruitment agencies which you need to know.
1. Service provider with no experience in hiring software developers 
There are quite a lot of recruitment agencies that provide hiring services of a broad spectrum. However, the headhunting of programmers significantly differs from other positions. Therefore, don't waste your time and money on collaboration with service providers who don't have any experience in hiring engineers. It's better to avoid vendors without relevant knowledge of the local tech market as well.   
2. Low-quality recruitment services
Some hiring agencies tend to show off by promising a lot of resumes for your position. But when it comes to business, they will flood you with dozens of CVs, offering candidates who don't suit your requirements. Thus, to avoid time-consuming and inefficient hiring, take time to know more about the provider's approaches to finding, interviewing, and onboarding candidates. Ask them about metrics like CV-pass rate, cost per hire etc. to guarantee the quality of hires. Get acquainted with their case studies and read comments about their services on independent platforms.
3. Absence of guarantees 
Another bad indicator of your partner's trustworthiness is the lack of guarantees to ensure the quality of services. A professional recruitment agency would suggest at least a free substitution of the candidate in case they fail the probation period.
Hire Offshore AI Developers with Alcor BPO
Finding an experienced and responsible IT hiring provider may seem like a mission impossible — some companies spend months searching for such a vendor. So, if you'd like to save this time and focus on your core business, you may consider Alcor's services! We are an international tech recruitment company that has been building offshore development teams for over 10 years. Among our clients are such leading product companies as Grammarly, Sift, ThredUP, Dotmatics, Ledger, and others.
If you are interested in hiring offshore AI developers, Alcor's team will be pleased to make it possible just like in the case of People.ai. This former tech startup — and currently a mature US-based product IT company — had the intention to set up an offshore AI team in Eastern Europe. People.ai wanted to get top IT specialists with high expertise and a broad skill stack to develop, manage, and upgrade their AI-based platform. Thus, they reached out to Alcor. Within a month we hired 25+ seasoned developers, plus provided operational support: payroll & accounting and legal solutions for the smooth functioning of their remote team. As a result, our client got a great team, retained full control over their offshore AI developers, enjoyed transparent pricing, protected their IP rights, and could promptly scale up as needed.
How do we do that? Alcor's IT recruitment department consists of 40 qualified researchers and recruiters, who can swiftly and effectively hire Polish developers, Romanian programmers, Hungarian software engineers, and other Eastern European coders of high expertise levels. Our team utilizes up-to-date recruitment tools and makes great use of our internal developer database of 200,000+ verified candidates. Alcor's clients get a chance to enjoy full-cycle IT recruitment with comprehensive support on each stage. In addition to that, we offer a 3-month warranty for candidate substitution free of charge.